When should I start the loan process?
After you decide you are personally ready to buy a new home, making sure that you are qualified is possibly the most important and first step you should take in the home-buying process. Realtors are more comfortable about showing you new homes if you have gone through the prequalification process with a mortgage lender.
The loan prequalification process is fairly simple and not overly time consuming. Most mortgage lenders these days have easy access to their application via a secured Internet site, or the good old paper application is still out there, too. Either way, online or face to face, the original time commitment will be less than one hour. This is time well spent to start your home search on the right foot.
Note:
Be prepared!
Your lender will ask for some standard documentation at this time to complete the prequalification process. These documents include:
• Two years of federal tax returns
• Two years of W-2s
• Your two most current pay stubs
• Two months of statements for all assets
If you have these items readily available, the process will go much smoother and take less time.
What is the standard timeline for closing on a home loan?
Once you and your Realtor have finalized a contract for the purchase of a new home, we can begin the financing.
Best bet? Allow 30 days from the completed, signed contract to the closing date.
Don't have 30 days? Sometimes 30 days just isn't an option, but if you are prequalified with a lender, and the lender has all your information, accommodations should be made to satisfy all parties involved.
Keep in mind that at this point, the house-hunting process is over, and you can take a deep breath. However, this is just the starting point for the financing process, and there is still work to be done.
What should I expect during the loan process?
When the lender receives your finalized signed contract, our time clock starts ticking. Within three days of the application, we are required to provide you with early disclosures. This will be a document packet outlining cost and expenses of your loan, estimated monthly payment, loan terms and government-required disclosures. It is important to review these disclosures and return them to your lender in a timely manner with any questions or concerns.
As the homebuyer, you will be coordinating with your Realtor to set up any inspections and walk-throughs. It will also be your responsibility to secure homeowners' insurance, on the property and get all contact information to your lender.
As the lender, we will order the home appraisal, title commitment and flood certification. During this time, we will begin processing your loan. This includes, but is not limited to, updating the application, verifying funds to close, verifying employment through your employer, reviewing title work, reviewing appraisals, reviewing income documentation and sending the file to underwriting. Don't be surprised if you get a request from your lender for current documentation during this time.
The lender will work with the title company to finalize all details of the closing, at which time you can expect to get a final settlement statement. The statement is a breakdown of all closing costs, prepaid items and cash that will be required at closing. Title companies will require your closing costs to be in the form of a cashier's check or wire the day of closing.
How much will I be required to have for a down payment?
Despite what you might hear these days, there are still many different financing options out there for the homebuyer. Conventional loans are available for as little as 5 percent for a down payment; however, to avoid private mortgage insurance, you will be required at minimum to put down 20 percent.
Government loans are still alive and well, too. FHA home loans require 3.5 percent down, and USDA and VA loans have 100 percent financing options available.
A good time to discuss all these options is during the prequalification process. There are many lending institutions that offer portfolio loan options. Also, don't forget the equity in the home you might be selling. If this is not happening simultaneously, there might be a possibility for a bridge loan.
The bottom line is there are many financing options available, and your mortgage lender will be a wealth of knowledge as to what is available to you.

Leighanne Lamb

NMLS# 468555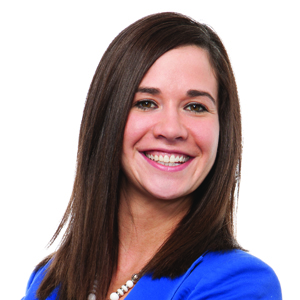 Leighanne is a vice president of real estate lending at Landmark Bank with more than seven years of experience helping all kinds of buyers and homeowners with real estate financing. She has both her MBA and undergraduate degree in business management from William Woods University. Call her at 573-499-7307, or email her at [email protected].
Landmark Bank is an Equal Housing Lender and a Member FDIC.