Breast cancer patient hopes to be cancer free after treatments and community support.
Kelly Kraus knows a thing or two about strength: both inner and outer strength. As the only woman working in a plumbing supply warehouse, she takes pride in carrying her weight just like the men. After being diagnosed with breast cancer last year, Kelly learned to channel her inner strength, which she says is "all about positive attitude."
When Sherry Hockman called Kelly, 50, to tell her she had won a room redesign through Room of Hope, Kelly says she was surprised but thrilled.
"As women, many of us relate to the fear of breast cancer," Sherry says. "It's a lot to take on emotionally, so I was thrilled to do this for Kelly."
Kelly's journey began roughly three years ago when doctors found a cyst during a routine mammogram. Over the next few years, she noticed a bump that seemed to be growing rapidly. A biopsy showed it was breast cancer.
After treatment reduced the size of a mass in one breast, another mass was discovered in the other. Fortunately for Kelly, she responded well to chemotherapy and radiation. "Doctors gave me a tough chemo round because I was pretty healthy and strong," she says. She will be done with her Herceptin treatments by November, and she says she has a good shot at being cancer free.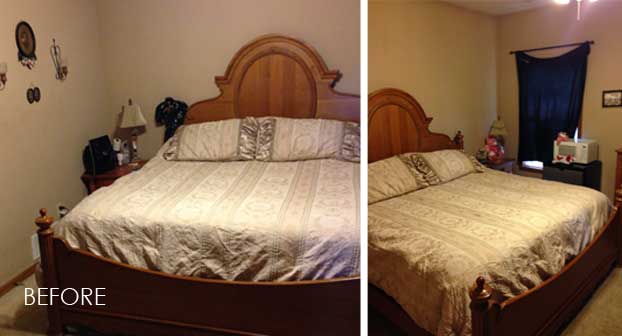 A little this, a little that
"Oh my!" Kelly yells choking back tears as she enters her redesigned room. It's exactly what she wanted. The rich purples and Victorian furnishings in her bedroom parallel her traditional taste in the rest of her home. Even dogs Bubba and Sasha, a Boston terrier and English bulldog, came in to check out the new digs.
"She's got an edge to her, so I went ahead and brought in the zebra print," Sherry says as Kelly laughs and covers her mouth with excitement. Kelly is far from cookie cutter. Anyone who knows Kelly knows her one true love is reflected more in the edgy elements of her new room; riding her Harley trike around Columbia with her spouse, Charlie Knigge, remains her favorite pastime.
If she and Charlie aren't in the garage or outside working on their motorcycles, Kelly says they're relaxing in her bedroom, complete with a California king bed.
"She wanted a place to rest and get away, and that's a pretty basic desire. I just wanted to give her a peaceful space." — Sherry Hockman, Room of Hope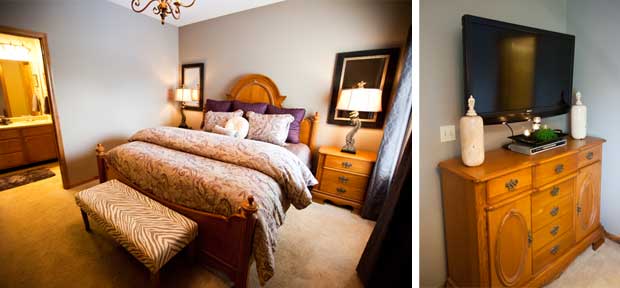 "She wanted a place to rest and get away, and that's a pretty basic desire," Sherry says. "I just wanted to give her a peaceful space." Light-diminishing window treatments, bath salts and rich purple bedding add to the theme of relaxation.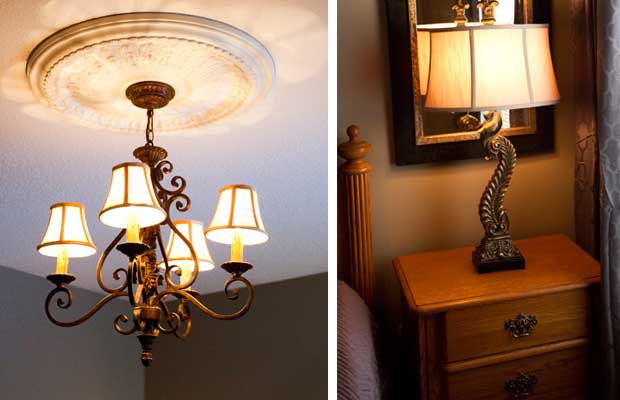 Bronze lamps with Victorian details, a chandelier and rich purple hues create a traditional vibe on a low budget. "It's definitely tough to do Victorian locally on a low budget, but my team and I did our best to do it well and give it a little edge," Sherry says.
Although Kelly says she trusted Sherry's ideas and vision, she did have two requests throughout the redesign process. One was to mount her TV up above her dresser, if possible. As an avid NASCAR fan, she risked a crick in her neck watching races on her TV's low position.
Her second request was to coordinate donations from her warehouse to help the Room of Hope project. "Here I am trying to serve her, and she's asking how she can help Room of Hope," Sherry says. Sherry aims to make a big impact with the resources she has, but the project is still relatively small scale. Spreading the word about Room of Hope and getting more volunteers and companies to donate are the key parts of being able to complete bigger more elaborate projects.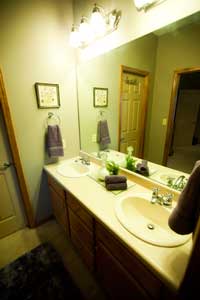 Fortunately, Room of Hope recipients and their loved ones have stayed involved and volunteered at other recipients' redesigns. Kelly will undoubtedly be no exception and is working to contribute whatever materials her company, Columbia Winnelson, is able to.
Even through chemotherapy, radiation and surgeries, Kelly has maintained a giving spirit. "She's always thinking about someone else even in her darkest hours," says Dawn Frederick, a breast nurse navigator at Ellis Fischel. Dawn presented Kelly with the information to apply for Room of Hope and has been present during her treatment the past year. She surprised Kelly at the reveal, and several other University Hospital employees also attended.
Coping with cancer
Kelly doesn't shy away from hard work, so receiving so much information and consideration for her cancer was strange, she says. She works with no air conditioning in a warehouse and also has a mowing business with Charlie. She isn't used to being idle. Despite rigorous chemotherapy, she only missed a few days of work. At work and at Ellis Fischel, Kelly says she was treated like a capable person.
"My boss and all the amazing people at Ellis Fischel really helped me to push forward and not just feel like a sickness," she says.
Her royal blue trike and loyal partner, Charlie, helped Kelly through a trying year. She and Charlie ride often and once a year travel to Waynesville, Missouri, for a Harley-Davidson event. Wind in her hair on an open road with the man she loves seem to serve her best. "He really is the best partner I could ask for," Kelly says. "He shaved his head with me and kept telling me I was strong."
A few weeks into treatment, Kelly brushed her hair and found it was filling up the brush. She decided then she didn't want to go through the pain of seeing her hair fall out little by little. "You're the same person with or without hair, so why not make the best of it?" Kelly asks. She rotated between bandanas and a wig her friend made. She is donating the rest of her wigs to others going through similar treatments because wigs can be expensive.
"I appreciate people asking how I am, but I don't want pity. Despite the cancer, I can still watch my grandson grow up and have a great life." — Kelly Kraus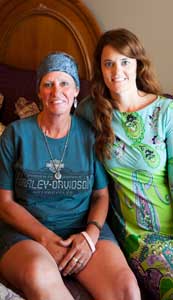 Support from loved ones fueled her to put a smile on her face even when days were difficult, but there was one thing she wouldn't accept. "I appreciate people asking how I am, but I don't want pity," she says. "Despite the cancer, I can still watch my grandson grow up and have a great life."
Hayden, 4, already has a knack for motorcycles. Kelly describes him as a joy when he hops on a bike or jumps into her bed that's 10 times his size. She, Hayden, Charlie and dogs Bubba and Sasha can now pile into a Victorian oasis. In fact, the bed is Kelly's favorite part of her new space.
"I work outside all day, so when you lay in bed, you just want to be peaceful," she says.
And peace is exactly what Kelly's Room of Hope gives her. Because we all, especially the hardest working among us, deserve a little rest.
A special thank you to:
Holiday Inn Executive Center
Eva Hockman
Dietlinde Stitzer
Dr. and Mrs. Jim Ferneau
S. Stewart Home
Bright City Lights
Ehlmann Electric

Sherry Hockman, University Health Care System and Columbia Home have teamed up to bring patients at University Health Care the opportunity to have a gift — a gift of hope. Each chosen patient receives a room redesign to help him or her cope with his or her medical challenges and feel at ease. These projects would not be possible without the help of volunteers.