Decorate your home with rustic finishes for winter
The winter season is a time to get cozy and hibernate at home, but to make it through the season without a full home makeover, CH's interior design editor, Sherry Hockman, has a new take that can last through the holidays and into the New Year.
Photographed above: Mink ottoman, $199.95, I.O. Metro, Teak bowls, $199.95 for two, I.O. Metro, King tree green stem, $49.95, I.O. Metro; Sanford knit pillows, large, $198 each, small $154 each, Studio Home; Vintage rug pillows, $225 each, Studio Home; Brown and red wool throw, $95, Studio Home; Natural moss balls, $4.50, Bright City Lights; Interlude Home Rialto Grand Lanterns, large $350 each, small $284 each, Studio Home; Zodax Fur Pillows, $39 each, Studio Home; Cedar cone topiaries, $37 and $72, S. Stewart Home; Wood and metal lantern, $57, S. Stewart Home; Birch bark wreath, $57, S. Stewart Home, Woven rope and metal bowl, $36, S. Stewart Home; Metal vases, $44 and $87, S. Stewart Home.
"Cozy comes in many different styles, but we chose rustic since it can go with traditional, contemporary or transitional style of home," Sherry says. Rustic décor includes earthy elements such as stone walls and terra cotta tiled floors or can be as simple as rustic paint finishes and furnishings. Take a tour of one Columbia home CH rustically revamped this winter.
Tips:
-Decorate with greenery, pinecones, antlers, fur pillows and owls to get this trend. You can even go with a white or champagne color palette to resemble the snowy outdoors.
-Baskets and glass pieces are always Sherry's favorites. "They can be changed from season to season with small investments of fillers," she says.
-"Colors and patterns are the statement you first notice in a room," Sherry says, "but the impact of textures can be just as dramatic. Texture creates ambience." To get that textured look, Sherry suggests adding layered rugs, weathered wood, dimensional artwork, smooth leather and more. Chose rustic metals and rich woods for a masculine feel, or go with velvet or silk to create a formal feel.
Sherry's Top 10:
-Fur pillows
-Lanterns
-Antlers
-Shag rugs
-A cowhide ottoman or rug
-Heavy wood pieces
-Leather furniture or accents
-Knit and fur throws
-Burlap or plaid accent pieces
-Moss spheres in a large bowl
Throughout the home tour: All light fixtures courtesy of the Harvard Court Collection at Bright City Lights, prices range from $235-$490. Midsummer Night and Iron Gate paint colors courtesy of Johnston Paint.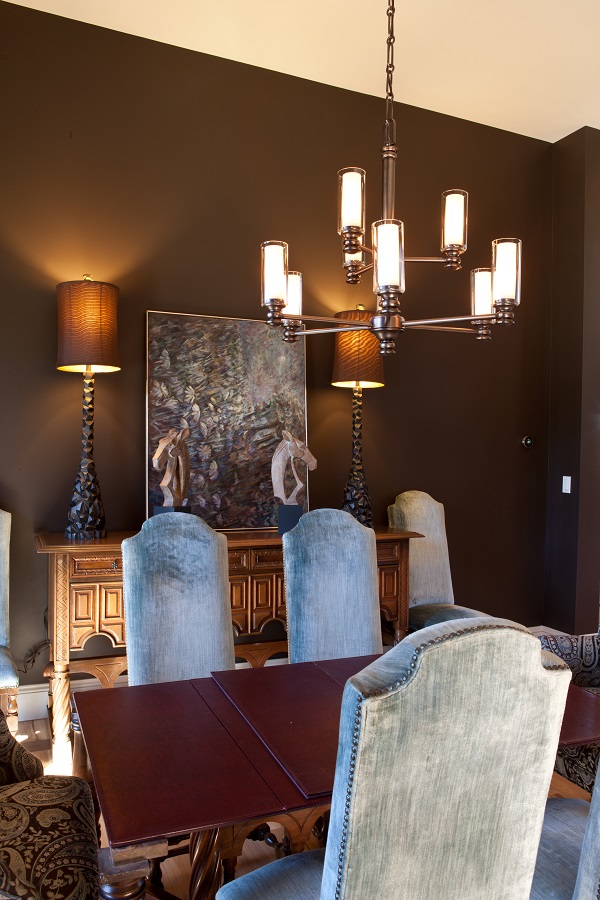 Lamp Eldon, $209, I.O. Metro, Horse statue, $79.95, I.O. Metro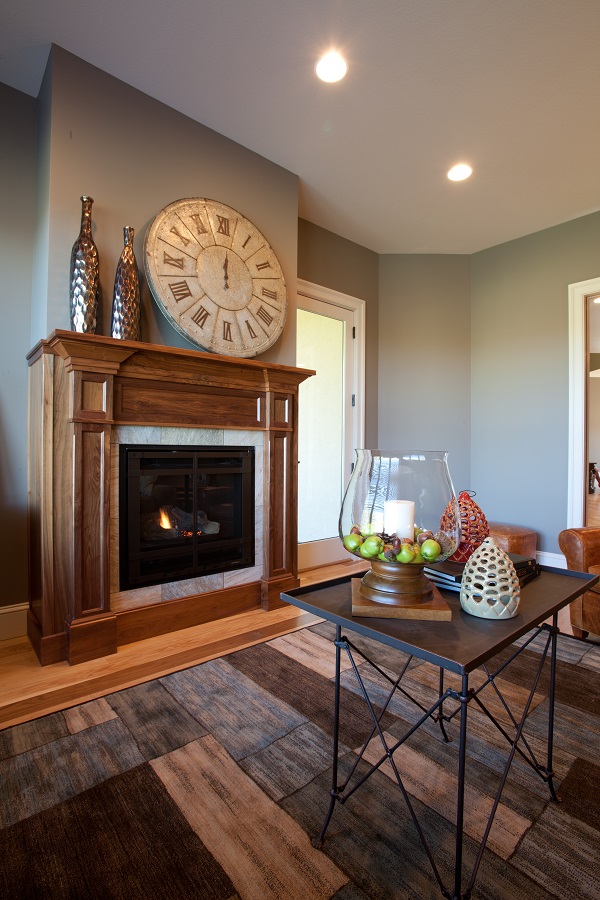 White Monaco vase, $14, Bright City Lights; Metal table, $125 Bright City Lights' Metallic finished ceramic bottles, $56 and $42, S. Stewart Home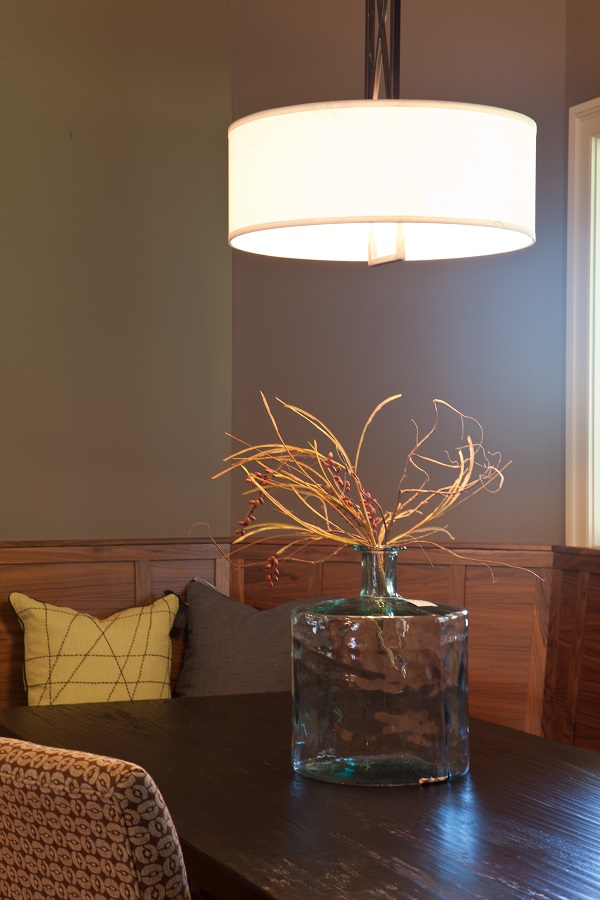 Green pillow with diagonal stitching, $52, S. Stewart Home, Large recycled glass vase, $85, S. Stewart Home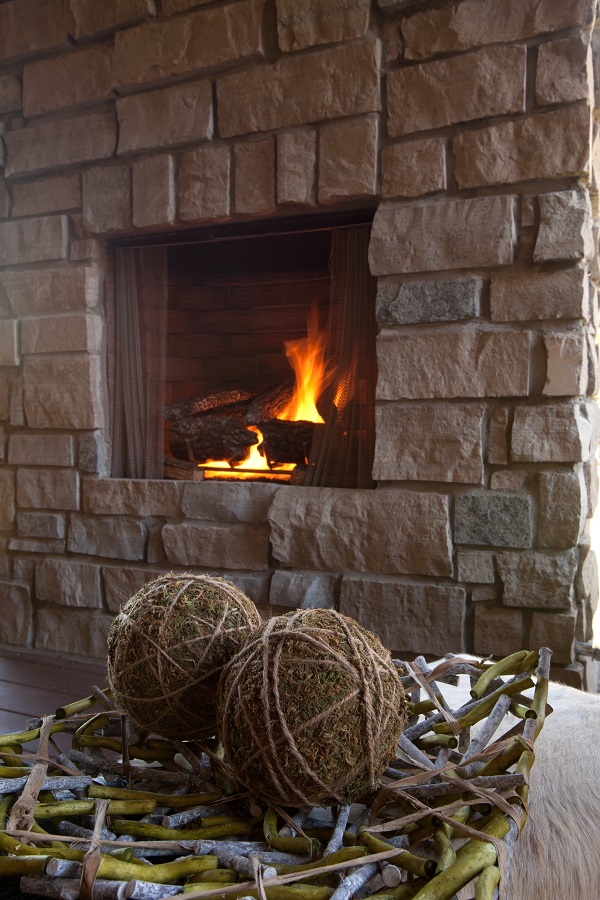 Willow and birch stick tray, $21, S. Stewart Home, Moss balls, $4.50, S. Stewart Home