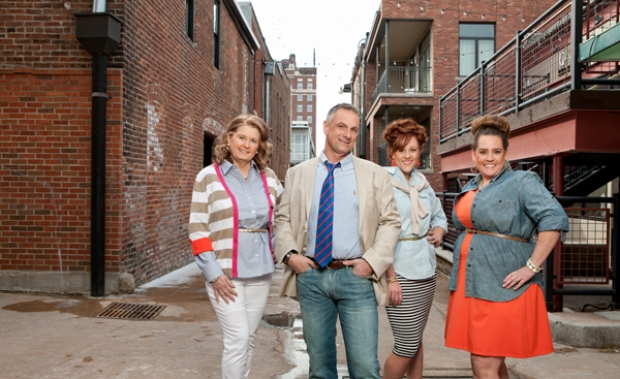 From young professional to mature adult, rocking a chambray shirt can be trendy for any age group.
Styled By: Mitchell Drinkard
Hair and Makeup by: Victoria Araujo and Jennifer Hovis at Blanc Studio
20s

Holly Phillips
Age: 25
Years lived in Columbia: Five months
Profession: Office manager at The Eye Gallery
Describes her style as: Classically trendy
Holly loves: Bare Minerals makeup, high heels, purses and eyeglasses.
About Holly: Holly met her now husband, Tyler, in 2006 when they both were associated with the organization Youth With a Mission. She has taken several teams to do mission work overseas to places including Thailand, Morocco and Jamaica. Holly keeps in shape by running marathons and has completed the Bass Pro Marathon in Springfield, Mo., multiple times. "There's no feeling similar to completing a marathon," she says. "It's great to be involved in a community of runners."
The Look: Ralph Lauren Chambray Two-Pocket Shirt, Dillard's, $75, Chelsea and Violet Sweater, Dillard's, $34.50, Vince Camuto Striped Skirt, Dillard's, $59, Gianni Bini Platform T-Strap Sandals, Dillard's, $69.99, Marchon Sunglasses, Dillard's, $99, Gold Skinny Belt, Dillard's, $19.60, Vince Camuto Orange Clutch, Dillard's, $158, Anna and Ava Bracelets, Dillard's, $20-25, Anna and Ava Earrings, Dillard's, $15.
30s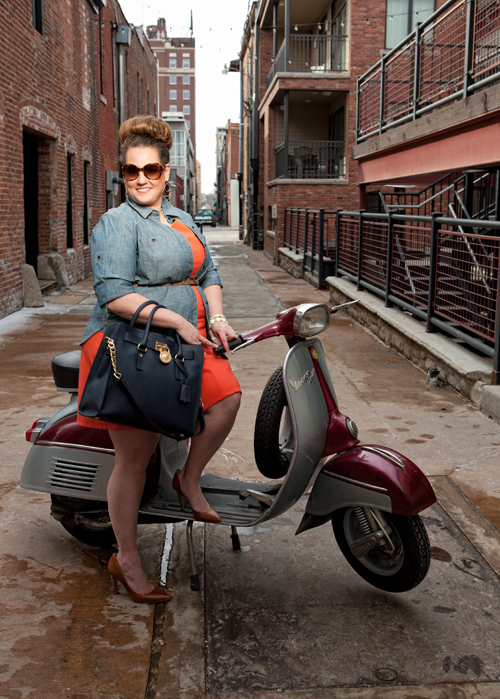 Jayme Dement
Age: 33
Years lived in Columbia:  Jayme actually lives in Ashland, Mo., but commutes to Columbia for work.
Profession: Business development manager at Bob McCosh Chevrolet, Buick, GMC, Cadillac Inc.
Describes her style as: Less is more
About Jayme: Jayme is your tell-it-how-it-is kind of girl. "Most people who know me would agree with that," she says. She was born and raised in Farmington, Mo., and has been married for 15 years with two kids, ages 10 and 12. Something that people might not know about Jayme is that she is a lifetime Girl Scouts member.
The Look: Ralph Lauren Women's Chambray Two-Pocket Shirt, Dillard's, $69.50, Antonio Melani Orange Dress, Dillard's, $159, Anna & Ava Necklace, Dillard's, $30, Ann & Ava Bracelets, Dillard's, $20-25, Anna & Ava Earrings, Dillard's, $15, Jessica Simpson Camel Pumps, Dillard's, $79, Michael Kors Navy Purse, Dillard's, $358, Michael Kors Sunglasses, Dillard's, $99.
40s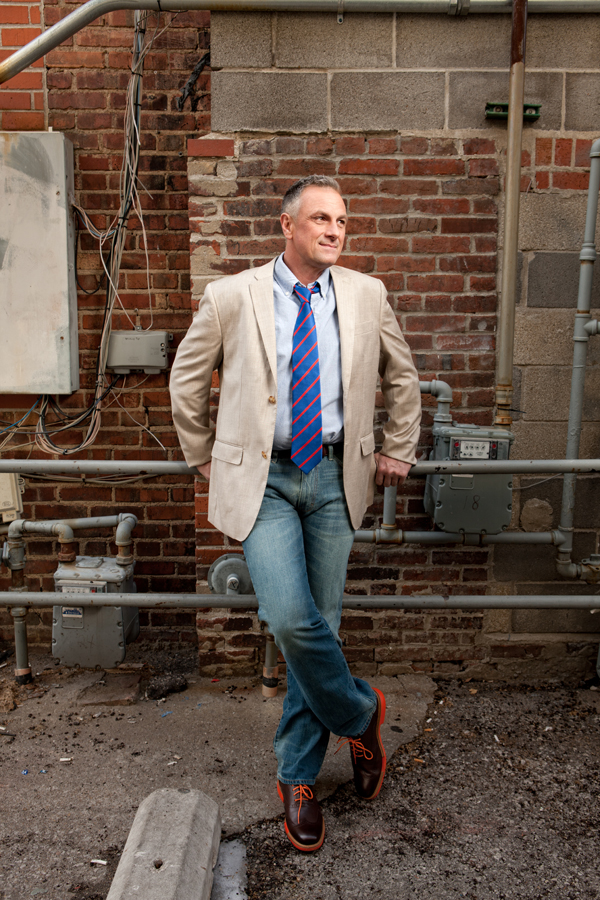 Tim Chancellor
Age: 46
Years lived In Columbia: Born and raised
Profession: CEO at Enviteme LLC
Describes his style as: Trendy
About Tim: Although he is a Columbia native, Tim has also lived in Clearwater, Fla., and Kansas City. Tim has traveled to Guatemala, which he says is one of the best places he's ever visited. However, he also enjoys Clearwater, as well as Bull Shoals Lake if he's looking for a weekend getaway. "I love to be part of the community," he says. "I love to volunteer for festivals, especially True/False Film Festival and Roots N Blues N BBQ." Although this "mobile partier" can be the ringleader or a great time, Tim hates public speaking. "I can debate or have a natural conversation, but in front of a large crowd, I get nervous. As long as I keep eye contact with someone, I'm fine."
The Look: Ralph Lauren Chambray Sport Shirt, Dillard's, $89.50, Perry Ellis Herringbone Linen Jacket, Dillard's, $185, Cremieux Jeans, Dillard's, $69.50, Krimson Striped Tie, Dillard's, $60, Cole Haan Great Jones Wingtip Oxfords, Dillard's, $198, Johnston & Murphy Belt, Dillard's, $49.50.
50s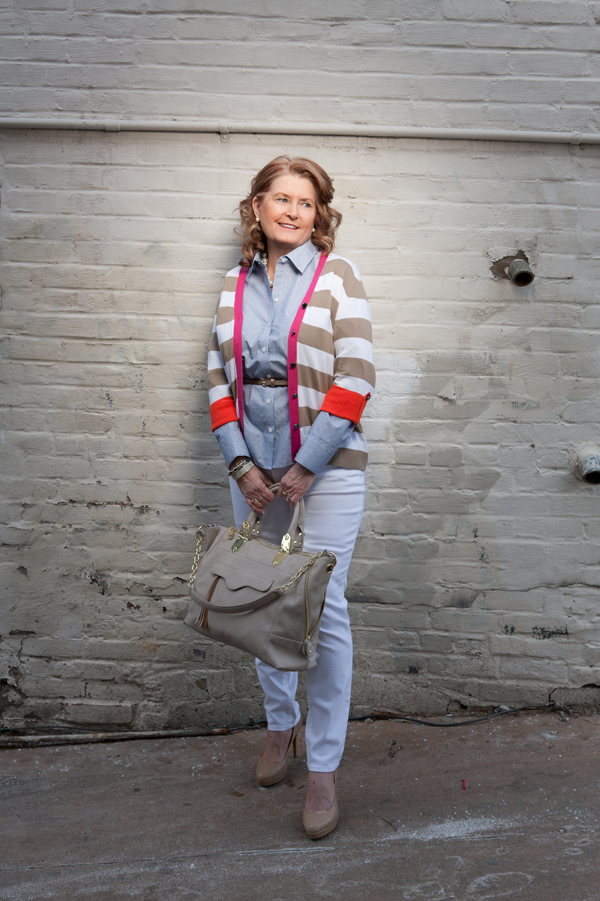 Charlut Shepherd
Age: 58
Years lived in Columbia: Moved back to Columbia eight years ago
Profession: Registered nurse with AmeriSourceBergen Hotline
Describes her style as: Simple and classic
Charlut loves: Lipstick and eyeliner; she never leaves the house without them on.
About Charlut: Charlut had recently seen "becoming a model" on someone's bucket list, and she decided to add it to her own, which brought her to the Columbia Home Fresh Faces Casting Call. She has now checked that off her list, in addition to a lot of other activities that would categorize her as a daredevil. She's jumped off cliffs in Mexico, swam with dolphins and sharks, gone parasailing and even driven a fleet of huskies on a dogsled. You go, girl! When she's not out being adventurous, Charlut enjoys living in Columbia with her husband of 38 years.
The Look: Westbound Polka-Dot Chambray Shirt, Dillard's, $45, Westbound Striped Sweater, Dillard's, $45, Cremieux White Jeans, Dillard's, $89, Gianni Bini Nude Pumps, Dillard's, $59.99, Pearl Short Necklace with Bow Clasp, Dillard's, $25, Gold Skinny Belt, Dillard's, $19.50, Anna & Ava Bracelets, Dillard's, $20-25, Steve Madden Satchel, Dillard's, $108.
Behind the Scenes of Fresh Faces

Our four fashion models received the full treatment from Blanc Studio's stylists.
Each of our models was touched up using Dinair makeup. Why do master stylists Victoria Araujo and Jennifer Hovis choose to use the airbursh applicator instead of traditional makeup techniques?
What it is: A lightweight makeup applied through an air gun machine that produces a thin, even layer of makeup and creates a very matte finish, a finish that can be thin or heavy depending on the application.
The benefits: Airbrush makeup is long lasting. Unlike traditional makeup, your picture perfect makeup will not rub off or look anything less than flawless and fresh even if it's mid-evening.
Airbrush makeup has become extremely popular in the past few years. This is largely due to the perfect complexion on models who are airbrushed to give every part of their bodies a flawless finish. But there's a difference between airbrushed photos and airbrush makeup. Airbrush makeup is a technique used to directly apply makeup to models. It is nontransferable, which means that slight rubbing or brushing against something or someone will not cause the makeup to come off of the face. Black clothes will remain black after hugging someone wearing airbrush makeup. Airbrush is also used often to camouflage tattoos or any unwanted skin discoloration or imperfections.
Airbrush makeup sessions start at $35.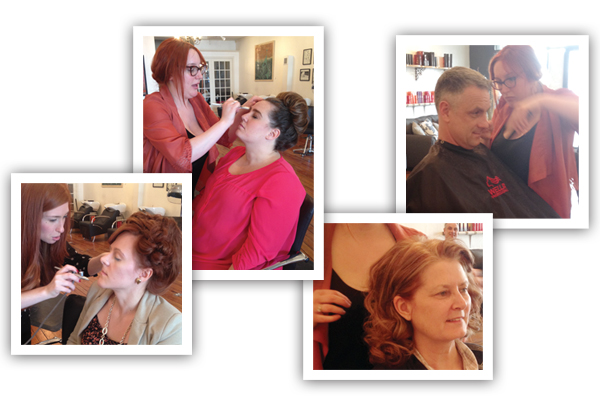 Style Me Handsome
Tim Chancellor, our male model, played nicely with all the estrogen in the salon on photo shoot day. And believe it or not, Tim received just as much styling as the ladies did. However, stylists Victoria and Jennifer know that when men come into their studio, they're all about quick and easy looks.  But the stylists want to warn men that quick and easy doesn't always mean aesthetically pleasing.
Men, here are some simple tips to get you on the right style track:
Start to Finish:  A trendy, short cut begins with a good haircut and ends with good product.
Knowledge: Product knowledge is key for men, not only for the look of their style but for their scalp health. Cheap product can lead to clogged hair follicles, which can lead to loss of the follicle, aka hair loss!
Quality: Having a good stylist behind your hair not only ensures that your hair will always look nice, but also it helps you keep your scalp a healthy, happy place for hair to grow.
Long story short, the incentive for a men's haircut should be a good haircut, not a 10-minute wait and a pitcher of beer.
Male haircuts start at $25.