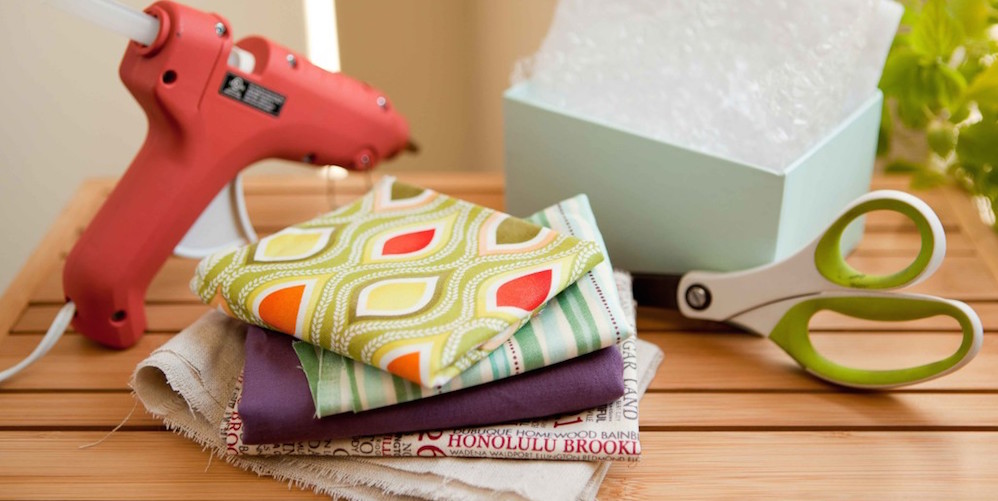 There are a select number of women who neatly put away their jewelry each night in heirloom jewelry boxes, the rings nestled between velvety cushions, the necklaces hanging delicately from small golden hooks, the earrings compartmentalized in pairs.
But for most of us, our daily bedazzlements clutter our counters and nightstands, top off mail piles and rest next to the kitchen sink. This quick tutorial brings the jewelry box to your go-to jewelry spot and keeps the clutter undercover.
What you'll need:
Scissors, Glue gun, Small cardboard box, Batting or packing foam or bubble wrap
Five different types of fabric
Process:
1. Cut the sides of the cardboard box to a height of 1 ½ inches with scissors or a box cutter.
2. Choose one of your fabrics and cut out a rectangle that's about 4 inches larger than the base of the box on all sides. So if the base of your box is 4 by 6 inches, your fabric needs to be 12 by 14 inches.
3. Center your box on the fabric. Glue inside the corner creases on the inside of the cardboard box, and pull the corresponding side of fabric up over the wall of the box and adhere into the crease.
4. Do the same on the opposite corner and pull the fabric until it is slightly taught. Repeat with the other two sides.
5. Channel your inner gift-wrapping spirit to tuck and fold your fabric so the corners are pleated. Secure the pleat on both of the inside walls of the corner of your box with a bead of hot glue. Repeat with all four corners, for a total of eight times. You might have some excess fabric in the bottom of your box that will be covered up by the batting rolls, and it may even help them fit into the box more snuggly.
6. Cut four strips (or more, depending on the dimensions of your box) out of your batting foam. They will need to be the same length as your box. Roll into logs about 1 ½ inches high, and cut off the excess and glue in place. Repeat with all four strips.
7. With the other four fabrics, cut rectangles about 3 inches longer than the length of each batting roll and about 6 inches wide. Wrap around the batting roll so about 1 ½ inches hangs off each end, and glue in place. Repeat with each batting roll.
8. Finish off all eight batting roll ends just like you would wrap a present.
9. Once you've wrapped all of your batting rolls with fabric and folded and secured your ends, you can place the rolls snuggly in your upholstered box. Place your rings in the valleys between batting rolls.