Two Degrees of Shakespeare's
Photos by Anthony Jinson
This story originally appeared in the October 2023 finance issue of COMO Magazine.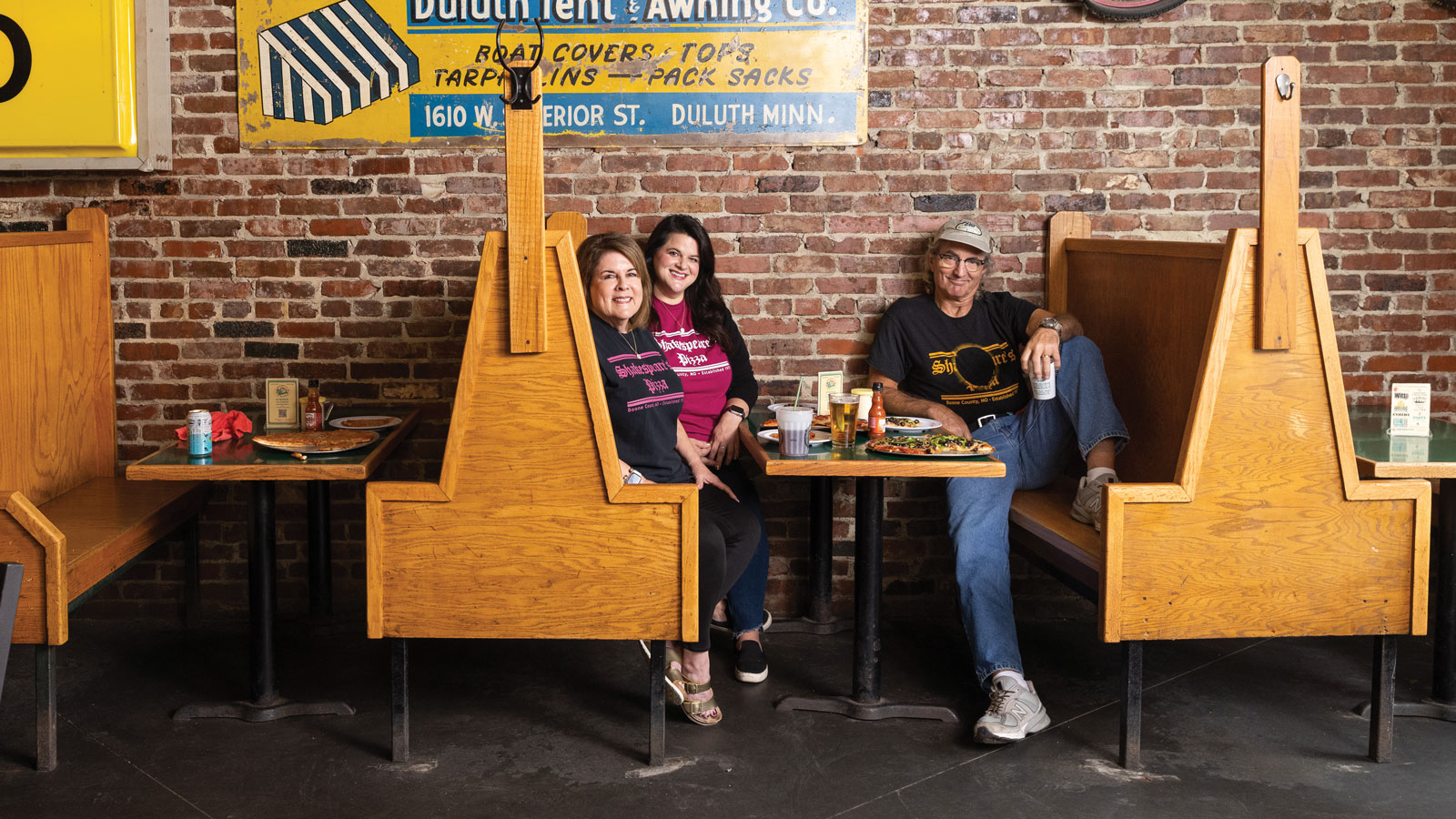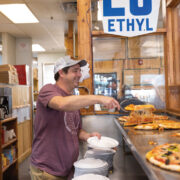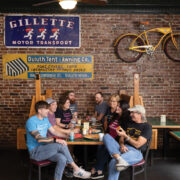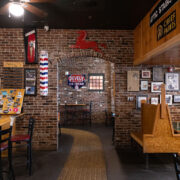 View Gallery
Over the past five decades, Shakespeare's Pizza has undergone some big transformations in location and service while keeping things endearingly the same. And now it's time to celebrate.
"The menu hasn't really changed much over the years," says Kurt Mirtsching, general manager and Shakespeare's employee since 1978. "Anytime we try to add something new, our customers say, 'Oh, that's awesome!' then order their usual. At some point we realized if it ain't broke …"
The humble, oft-told origin story of the nationally recognized pizza joint begins with owner Jay Lewis simply trying to find a job where he could be his own boss.
"We were in our twenties and had no experience in the restaurant industry," says Jay's wife and Shakespeare's co-owner, Nancy Lewis. "Jay had good work ethic and he needed somewhere to work."
"A guy walked into a bar — and walked out owning a pizza restaurant," Mirtsching laughs, recounting when Jay purchased Shakespeare's from Bill Hahn in 1976.
"Jay always used to say, 'It's just pizza' which is a sarcastic, funny way to look at what we do here," Mirtsching says. "It's the running joke that we're throwing a big party, but that is what we really are doing. We work hard, but we don't take it too seriously."
The way Mirtsching sees it, consistency has been vital to Shakespeare's success throughout its 50-year history. The strong brand survived the demolition and rebuilding of the original downtown location in May 2015, the expansion to two additional Columbia locations in 2003 and 2012, and the establishment of a flourishing line of frozen pizzas.
Patrons can be assured that the fresh pizza dough baked several times daily, the robust tomato sauce, and the thickly sliced meats and vegetables are the same no matter when, where, or from whom they are ordered — and it keeps them coming back for more.
But it's not just the pizza. The establishment has cultivated a nearly tangible devotion over the decades, that has been passed down generationally and intertwines employees and customers into the Shakespeare's culture.
The Hands That Prepared It
Shakespeare's has employed thousands of people through the years. Dozens have stayed for more than 10 years, are legacies (their parents worked there), or are still employed, and the business takes credit for countless marriages and relationships.
"And maybe a few divorces," Nancy chimes in.
Mirtsching laughs, adding, "In Columbia, it's not six degrees of Kevin Bacon, it's two degrees of Shakespeare's. Everyone knows someone who knows someone who has worked here."
As to why that is, Mirtsching says, "Our employees do the work — clean bathrooms, cook, serve, but they also want to be themselves and we give them the space to do that — it's authentic respect. If you run your business right and have respect for your workforce, it grants you the success to have the resources to give back to employees and the community."
Toby Epstein, manager and employee since 2005, says his long tenure at Shakespeare's is a result of the family-owned aspect and owners treat their employees like family.
"There's a lot of camaraderie in the industry. Working for a restaurant is hard work and requires people with good work ethic," Epstein explains. "Those that don't have it get spit out rather quickly. Those that do have it become friends. And as stressful and as busy as this restaurant can be, you get to work with your friends, and that can make it all mean a bit more than just work."
The Mouths That Ate It
Mirtsching says Shakespeare's customers are often celebrati ng when they come in, creating their own good memories and that filters into the atmosphere.
"Important memories like first birthdays, baby showers, engagements, rehearsal dinners and even a few weddings and receptions — it's kind of cheesy," he says, smiling.
Columbia native and Mizzou alumna Katie Burnham Wilkins has a long history of vivid, priceless memories with Shakespeare's connection.
"Shakespeare's was cool before restaurants were cool — the quirky artwork, old signs and photos, bikes on the wall. When I was a child, it was the one place we all agreed on for family dinners," Wilkins says, adding that she now shares that tradition with her husband, Marcus, and daughter, Harper. "And although he technically proposed to me at The Pasta Factory where we worked and met in college, it was during one of our Sunday dinners at Shake's he told me he wanted to go ring shopping."
Turning the Big 5-0
To commemorate such an epic milestone, the Shakespeare's team started planning the 50th anniversary celebration more than two years prior. They wanted to hold a separate event at each of the three locations but were unsure how to make that happen.
The team joined forces with Samantha Boisclair of Party Perfectly, a local event planning and supply company that helped guide and execute the celebrations.
In February 2023, the Shakespeare's team held a 50th birthday kick-off celebration at Shakespeare's West. Shakespeare's lovers from near and far were invited to bring their memorabilia, including shirts and pictures, as well as their favorite stories to share and reminisce.
The second installment, Shake's Recess, was a family-friendly event held in June at Shakespeare's South, where attendees played a variety of recess games, including a speed pizza eating contest, tricycle pizza delivery challenge, a rock, paper, scissors tournament, and a T-shirt unfreeze race.
"It was so much fun. We even had a 'Shake's Cup Cup' trophy made from Shakespeare's cups," says Alysia Lewis, Nancy and Jay's daughter and the eatery's director of operations. Entry fees were donated to Shakespeare's nonprofit partners.
The team chose six nonprofits for donations and to showcase throughout the festivities: Rainbow House, Missouri River Relief, RagTag Film Society, Special Olympics Missouri, Unchained Melodies, and Welcome Home.
"There are so many worthwhile nonprofits in Columbia, it was really difficult to narrow it down to just six," Nancy Lewis says.
On September 23, prior to the Big Bash, Shakespeare's hosted a private employee alumni event, to which all past and current employees were invited, and all three locations closed.
The final celebration, the Big Bash, was held on September 23 at the downtown location on Ninth Street. Working with the city of Columbia and The Blue Note, the street was closed for a free concert featuring musical performances by STRFKR, Liz Cooper, Bad Bad Hats, and local band Tri-County Liquidators on a stage in front of the Missouri Theatre. Free Shakespeare's pizza was available as well as Bud's BBQ and Munchi's Fish & Chicc'n.
Other local collaborations to commemorate the monumental milestone available at the Big Bash included Logboat Brewing Company's Golden Nugget Golden Ale and 4 Hand Brewing Company's Mango Lemonade Seltzer, both specially created for the celebration.
"It has really been a big learning curve for all of us, but you only turn 50 once," Alysia Lewis says.
"We all felt it was important that the community knew that the 50th celebration was a big thank you to Columbia for supporting us. We brought a lot of resources to these events because we wanted to give back to our customers and employees," Mirtsching adds. "Without them there would have been a lot of cold pizza sitting around."
In the restaurant business, 50 years is a long time, and generational restaurants, like Shakespeare's, can bring time-specific, cherished memories flooding back.
"One of the things that flew under the radar in the demo of the original building was someone wrote on the wall, 'When the dust settles, all that will be left is memories,'" recalls Matt Turner, a Shakepeare's employee from 2003 to 2010. "I think that's what Shakespeare's is for everyone. You wouldn't think so much could happen under one roof, but it did."