This story originally appeared in the October 2023 finance issue of COMO Magazine.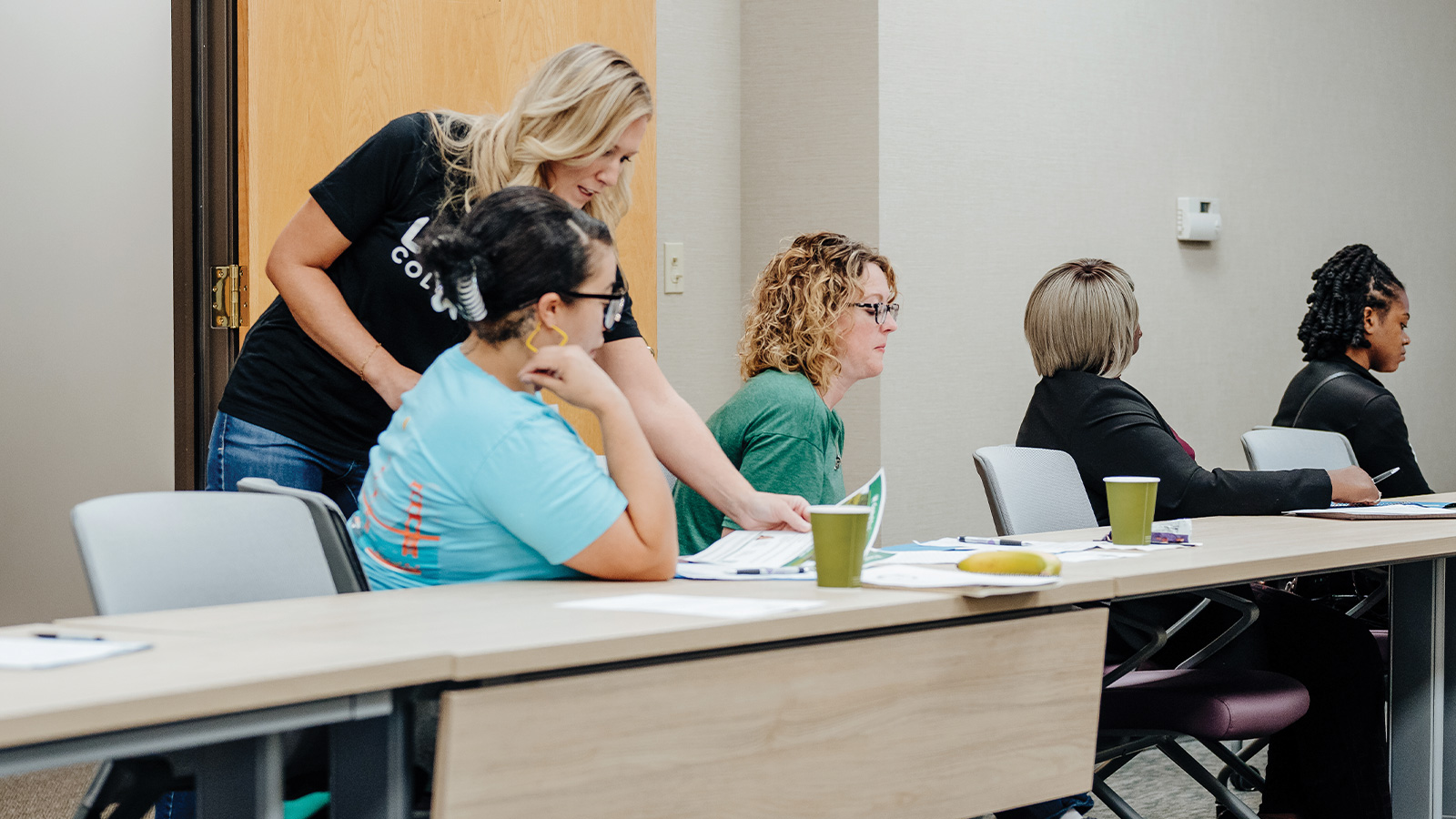 Financial coaching, community support, and a joyous journey to success.
In the heart of downtown Columbia, one faith-based nonprofit is going the extra mile to transform the city one personal budget, one personal dream at a time.
Love Columbia, an organization founded in 2008 for the purpose of neighbors helping neighbors, has a mission to seek out the most vulnerable and disadvantaged and lift them up.
Executive Director Jane Williams passionately explains, "We come alongside our neighbors who are struggling to provide for their basic needs or create a path forward in life and provide a range of services that includes life skills coaching and financial and practical assistance."
Founded during The Great Recession, a time of historic economic downturn, Love Columbia quickly realized that finances, and the need to understand and not fear money in everyday living, was a much-needed service. Today, the economy is pressing upon Americans yet again with inflation and rapidly rising prices of just about everything.
As a financial coach and Housing and Urban Development (HUD) counselor, Sherry Wyss understands the economic climate and financial hardships that area residents are experiencing.
"It's tough with this housing market, but by connecting people with resources and support, they're still qualifying for home loans," she says.
Love Columbia offers a range of financial programs in response to existing and emerging community needs that "meet people where they are," Williams adds. She applauds Love Columbia's clients "for having the courage to share their financial situation and seek coaching."
Williams continues, "We recognize that many people were not taught money management skills as they grew up and need a supportive environment to learn as adults."
Wyss describes a unique tradition Love Columbia has in the "Joy Bell," a handbell that is rung to celebrate victories small and large alike. She laughs when telling how people can even be seen, and heard, shouting and dancing down the hallway while ringing the bell. Williams reiterated that joy.
"Every day, we see one person's contribution, whether it is what they enjoy doing or an unneeded item they have, change the life of a neighbor and add joy to their own life as they give," she says. "Every day we see lives and family trajectories changed and stress relieved through our coaching programs."
Love Columbia offers finance-specific programs including Credit Score Building, Basic Budgeting, Extra Mile Financial Coaching, First Time Homebuyer Workshops, and Pre-Homeownership Housing Classes. These classes are offered in one-on-one and small-group settings. The classes are individualized and supportive.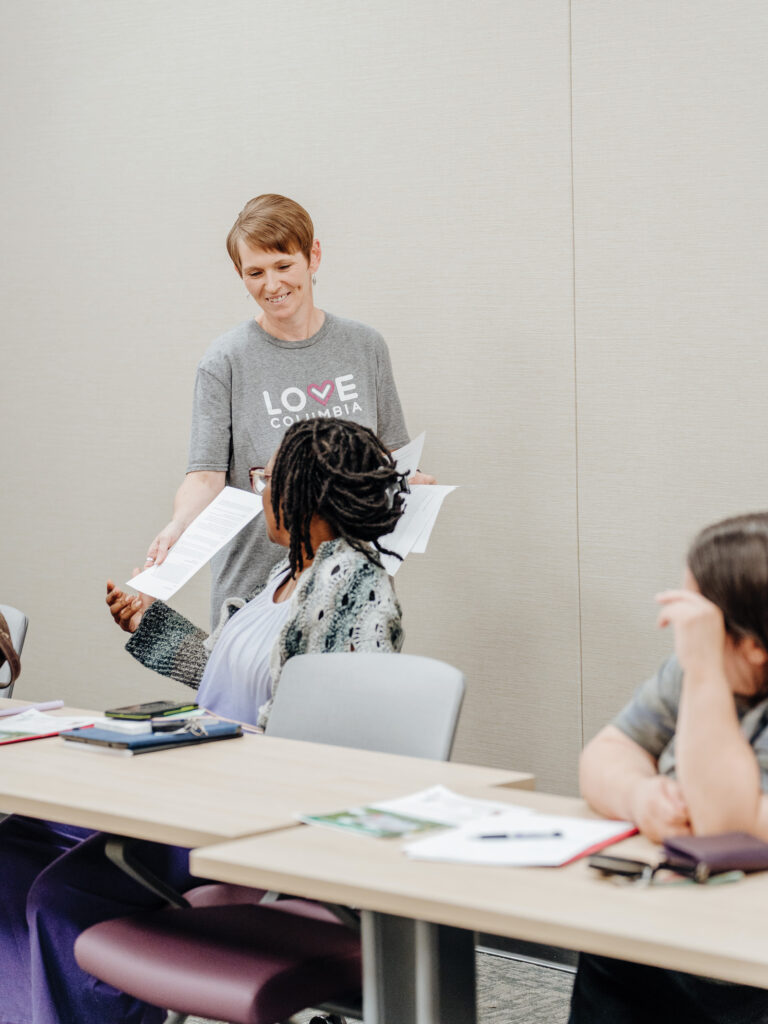 Most classes are free to attend, with scholarships available to those who cannot afford to pay for classes with fees. Love Columbia opens its doors to all Columbians seeking a healthy relationship with personal finances and financial freedom. Financial coaches, like Wyss, consider the potential anxiety and fears participants may carry as personal baggage, things that are often barriers to seeking help in the first place.
Love Columbia's website shares the testimony of one client, who said, "You believed in me until I could believe in myself."
"As with other skills, money management is best learned through a combination of education and opportunity to practice," Williams says. "Having the support of a coach who also serves as an accountability partner makes all the difference. We come alongside our neighbors who are struggling to provide for their basic needs or create a path forward in life and provide a range of services that includes life skills coaching and financial and practical assistance."
Williams has been with the nonprofit from the beginning, as one of the organization's founders. Fifteen years ago, when a small group of people coordinated the efforts of about a dozen churches and a few passionate volunteers to help neighbors in need, Williams emerged as an advocate and community organizer and has since led Love Columbia's response team to a network of over 80 churches, dozens of business partners, and hundreds of volunteers, with more than 30 staff members.
In 2021, the nonprofit, originally founded as Love Inc., officially became Love Columbia and moved its core services to 1209 E. Walnut St., a move that greatly increased accessibility and capacity to serve more people and engage even more volunteers.
"Love Columbia connects relationships and resources to love people forward," Williams says, repeating the organization's mission statement.
The impact translates to Love Columbia serving 2,100 households last year, and by mid-2023, some 1,500 households had already been served. Wyss beamed, "This is the most rewarding work I've ever done. I love connecting people with resources and seeing people become first-time homebuyers. I love giving people hope and seeing hope on their faces."
Having the right people in the right positions has been key to the organization's success.
"Our team includes staff with financial expertise and trained community volunteers, some of whom are financial professionals and others are just caring people who understand the importance of financial education and learning sound practices," Williams explains. "Several of our coaches have been through our program themselves and want to help others in the same way they were helped."
There are currently 64 individuals in Extra Mile, a one-on-one, 16-week money management coaching program that started in 2012. This unique program operates on a point and incentive system where participants can earn weekly, mid-program, and end-of-program financial rewards. Additionally, participants gain peace of mind, improved money management skills, a larger support network, and improved relationships, in addition to access to a pay day relief loan after four weeks in the program.
Wyss, who came to Love Columbia with more than 20 years of banking experience, sees herself as a mentor and cheerleader, someone who's there to faithfully extend support and reassurance.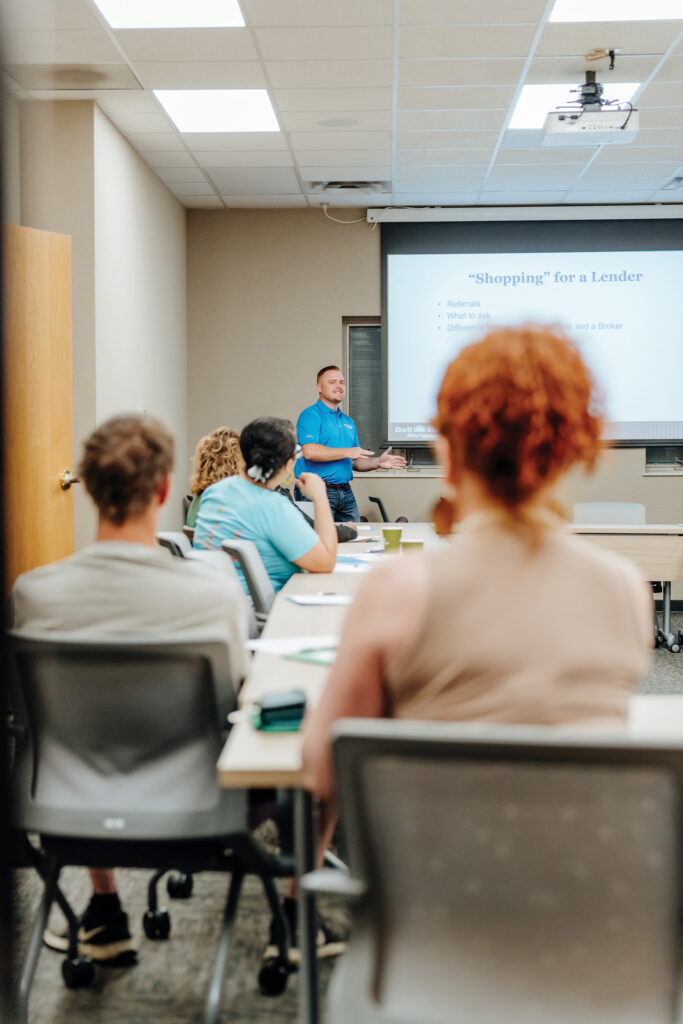 Extra Mile is designed for individuals who are motivated to learn how to better manage their finances, desire change, have a stable income, and are willing to be open about their finances.
Wyss adds that Love Columbia is a HUD-certified agency and the only place in Columbia that offers a first-time homebuyers class, a program that connects potential homebuyers with funding assistance through a city grant.
Love Columbia offers other services like rent, housing and utility assistance, career coaching, and personal development, in addition to operating a furniture bank and resale store. The nonprofit also offers a robust online information library that's free for all to access with topics ranging from basic needs, health and wellness, finance, and career resources, to a wide array of situation-specific topics. The online library also maintains a local available housing list, equipped with an interactive map.
Williams says the organization needs more volunteers to coach or teach classes, adding, "We match the time, skills, and resources of people who want to help with the needs, hopes, and dreams of their neighbors."
The nonprofit relies on the generous support of partnering agencies, local businesses, and the general public to go the extra mile for local residents struggling to meet a variety of challenges.
---
Love Columbia
1209 E. Walnut
573-256-7662
lovecolumbia.org
[email protected]