(Re)discover COMO Outdoor Dining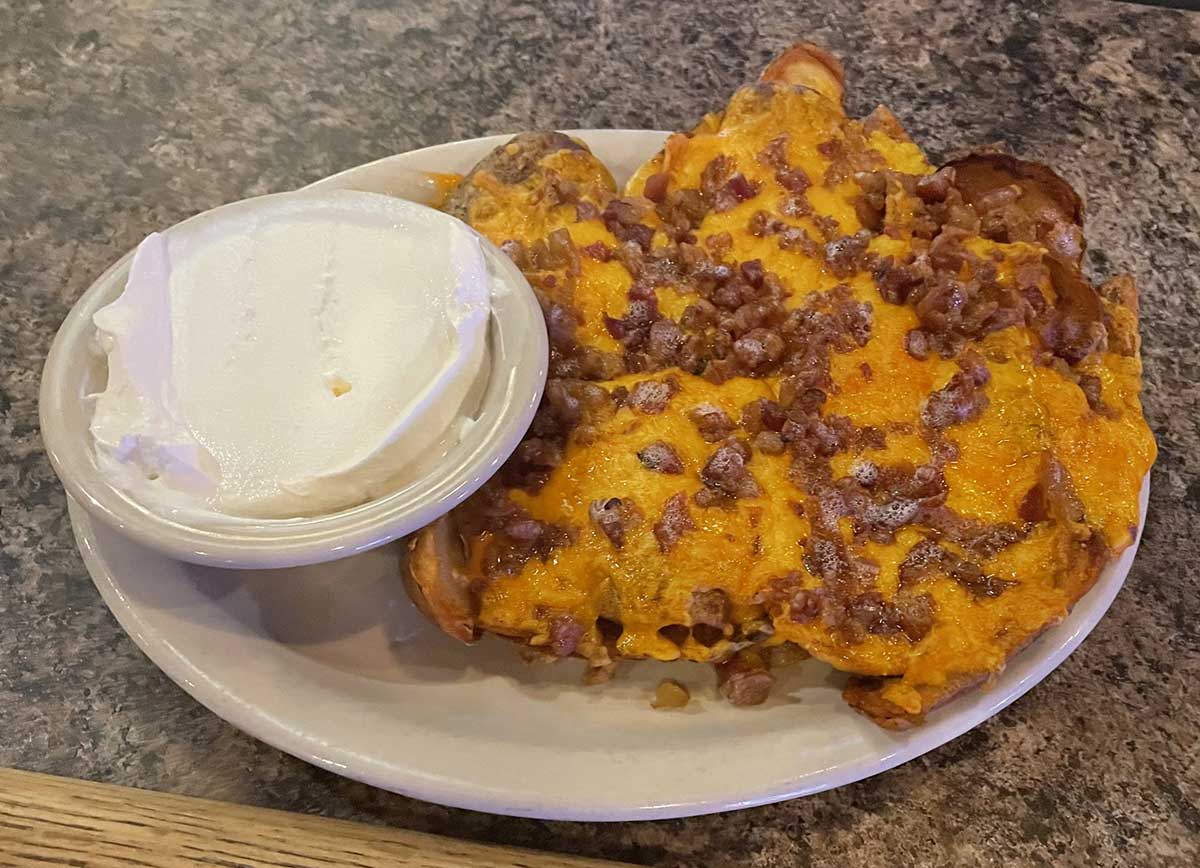 Check out these four outdoor dining experiences: The Roof, Just Jeff's, The Heidelberg, and Ozark Mountain Biscuit Co.
If you're looking for a variety of local dining and drinking establishments that offer an outdoor experience – and who doesn't love a taste of fresh air with a taste of their favorite entrée or beverage? – here are some delectable options to consider.
As I offer some recommendations for your consideration, I must provide you with full disclosure: I am not a food critic. This installment of "(Re)discover COMO" offers some nibbles of information about the feasts that await you — but I don't provide you with my unsophisticated culinary opinions. I hope this piece does not sour your pallet and instead leaves you curious to visit these local eateries and taverns for yourself.
Prepare yourself for Missouri weather — hot, cold, and wet (all on the same day, sometimes) — and dare to ask the hostess for an outside table for your friends and family. These are just a few morsels of outdoor dining options that make dining in COMO a unique experience.
The Roof
Set on the top floor of The Broadway Hotel at 1111 E. Broadway in downtown Columbia, The Roof promises to "elevate your experience," offering both indoor and outdoor rooftop experiences.
CAPTION – The Roof provides fantastic views of downtown as well as tasty offerings such as a variety of flatbreads.
"Our roof terrace is an open area with a very beautiful view," says Jeff Davis, The Roof's director of nightlife. "It is an ideal spot for any type of crowd. We bring in college groups gathering together during the week or even a romantic couple on the weekend to grab a nightcap."
The Roof's terrace offers large comfortable chairs nestled around two gas firepits. There are also a variety of tabletop seating options to take in the downtown view below.
The Roof does not require reservations, but the space is available for rent for special events from the banquet manager. In the fall, Davis plans to incorporate "soft reservations" — meaning The Roof will set aside available tables for groups of 15 or fewer.
"We also plan to offer an igloo option [in the fall]," he says. "This is where people can gather and drink inside of an igloo structure on the terrace outside."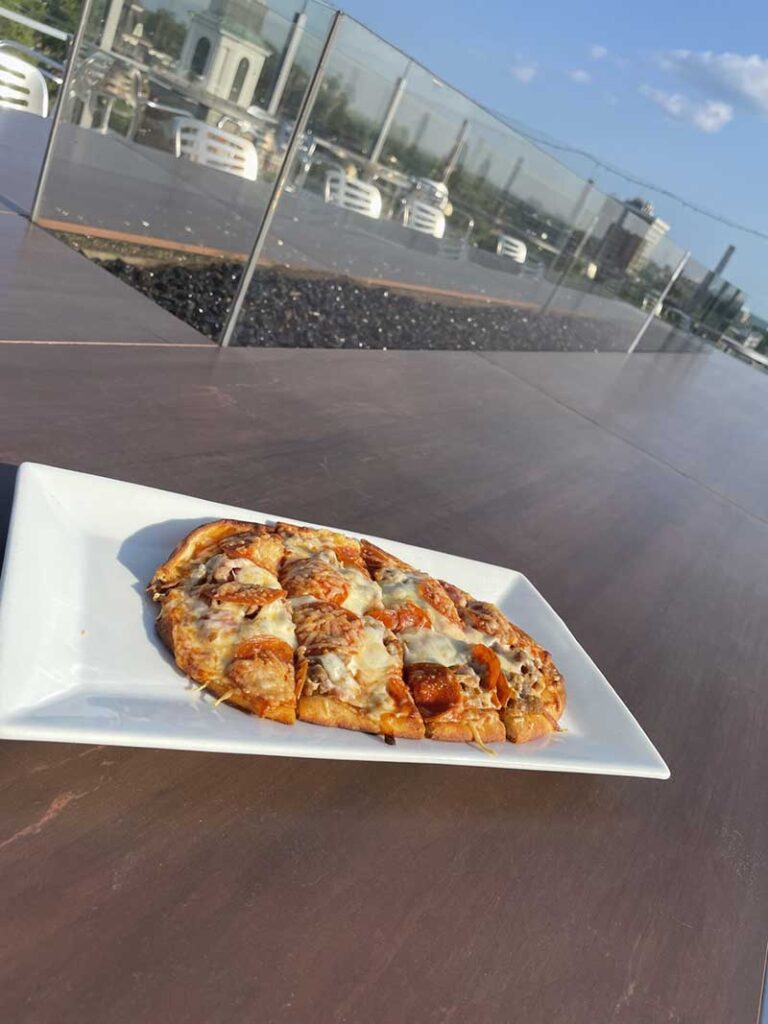 As far as food fair offerings go, The Roof has a variety of small plate options, burgers, nachos, sandwiches, and flatbreads.
"We have American cuisine," Davis adds. "Our food offerings go really well with cocktails."
Although Davis says he likes all the food options, he concedes that the signature menu selections are the cheeseburger and flatbread options.
He also suggests "Sunset on Broadway" as a signature cocktail for patrons to enjoy. This is also the most popular drink, he notes.
---
(Re)discover COMO: MU Museum of Art and Archaeology
(Re)discover some of COMO's hidden gems
(Re)discover COMO: The Veterans Urban Farm
---
In addition to the bird's-eye view of the downtown district, Davis says, The Roof prides itself on the atmosphere provided by its dedicated team of workers.
"From the employees to the mixture of the crowd here — it is always something new here," he adds. "We have regulars that come in and know us by name, but we also have a lot of travelers, too."
Davis said he takes great pride in providing Southern hospitality to all the guests at The Roof and he hopes it will be a Columbia destination for many years to come.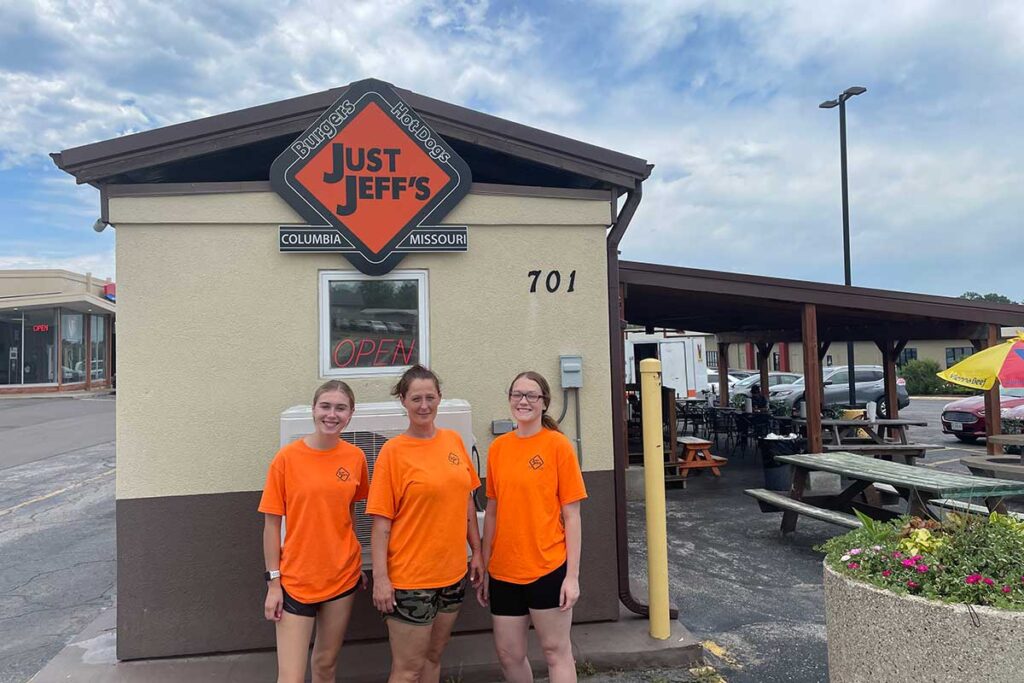 Just Jeff's
After visiting the rooftop of one of Columbia's finest hotels, you will want to drive to a restaurant located in the middle of a parking lot. Strange as that statement may seem, the journey is worth it.
Just Jeff's restaurant, located at 701 Business Loop 70 W, offers outdoor dining or drive-thru for its patrons. The unique establishment does not have indoor dining.
"We do our best to make our outdoor dining friendly and comfortable," says Nicole Spencer, co-owner of Just Jeff's. "We are also pet-friendly and family-friendly."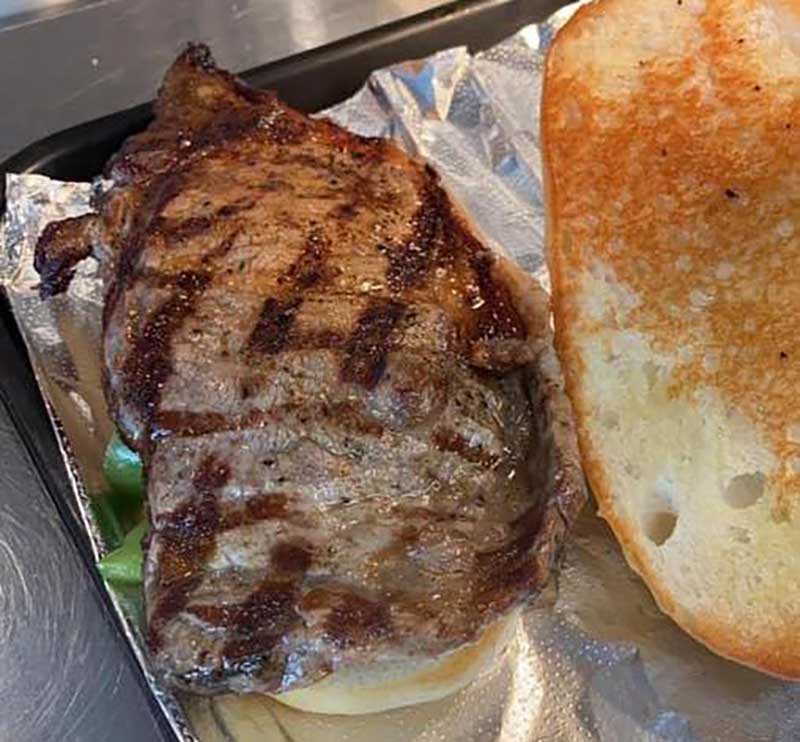 The theme behind Just Jeff's — beyond the made-to-order food that attracts crowds every day at lunch — is the inviting atmosphere provided to customers on the patio. Team members, proudly clad in orange T-shirts, deliver fresh and hot meals to tables in a picnic-like setting.
The theme behind Just Jeff's — beyond the made-to-order food that attracts crowds every day at lunch — is the
inviting atmosphere provided to customers on the patio. Team members, proudly clad in orange T-shirts, deliver fresh and hot meals to tables in a picnic-like setting.
To help patrons beat the summer heat, Just Jeff's recently placed an air cooler outside on the patio area. There customers dine at a variety of tables either under umbrellas or under the metal awning.
Spencer describes the food offerings as "fast-casual" at Just Jeff's. That's because everything is made to order and the customer gets to choose the toppings on their burger or other items.
"Jeff likes to say it's a burger like your mama used to make," Spencer adds with a chuckle.
Offerings at Just Jeff's include a wide variety of hamburgers, pork tenderloins, hotdogs, BLTs, onion rings, crinkle-cut fries, tater tots, soft drinks, iced tea, and juices.
"The favorite is the double cheeseburger," Spencer notes. "That is our top seller. They say it is the perfect meat-to-cheese ratio."
Spencer shared with me a tidbit of the tantalizing history that is Just Jeff's as she chopped fresh onions and prepared other fresh toppings in the backroom of the establishment. As Jeff's wife, she ought to know the origin story of what has quickly become a lunchtime landmark in Columbia.
"Just Jeff's began his business with a hotdog cart," she says. "We offered Vienna all beef hotdogs, but our burgers quickly moved to the top as best sellers."
If you have any trouble locating this establishment, just ask any local where the Business Loop is and look for the little tan and brown building surrounded by cars on any given afternoon between Firestone Complete Auto Care and the Parkade Center. In that parking lot, you can also enjoy your double cheeseburger in the shade and watch the Just Jeff's team deliver bags of food to hungry lunch-goers all afternoon.
Living, working, or just visiting Columbia you can't get around the fact that this is a college town. Mizzou is at the center of nearly all aspects of life here. As you explore our outdoor dining options, you cannot (and should not) ignore the University of Missouri campus area.
As with any list, there are dozens of options you can choose from on or near the Mizzou campus. My humble recommendation provides you with both a great view and some longevity when it comes to restaurants near campus.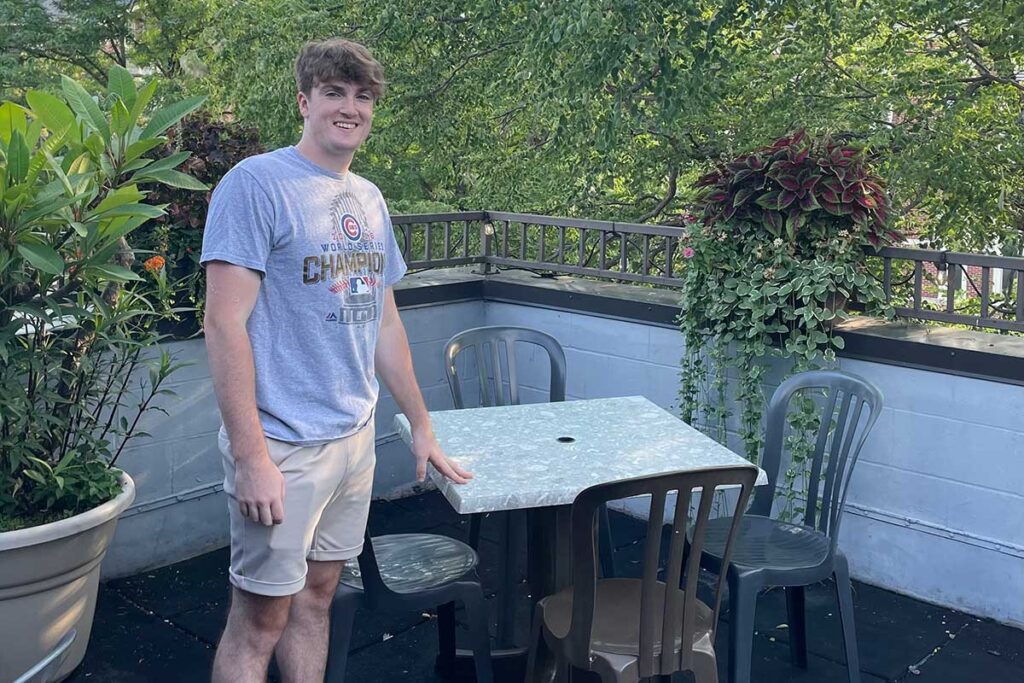 The Heidelberg
"We offer a casual, comfortable, kind of a classic university restaurant and bar," says Richard Walls, owner of The Heidelberg. "We also offer a great view of Ninth Street and the university."
The Heidelberg, located at 410 S. Ninth St., is in the heart of the University of Missouri campus. The restaurant offers both indoor dining and patio dining on its second-floor patio.
"We are somewhat unique because two-thirds of our patio is covered," Walls explains. "So typically, all of our group reservations tend to be under the covered portion in case it does rain."
The patio's partially covered setting allows the space to be open year-round. With amenities such as overhead heaters and tarps in the colder months, you will find outdoor dining to be popular at The Heidelberg after Mizzou football games or during and after other sports-related events all year round.
The restaurant accepts reservations for parties of eight or more if you wish to call ahead.
The Heidelberg menu offers a wide variety of American foods that includes sandwiches, wraps, hamburgers, salads, appetizers, and a German Wurst Plate featuring Nuremberg-style bratwurst and knackwurst from Hermann.
"Our signature appetizer is the Marty's Wings with parmesan peppercorn ranch," Walls says. "Our favorite sandwiches are the reuben and hand-breaded pork loin sandwich."
On the traditional side, Walls recommends the German potato salad, adding, "That is something that most restaurants just don't have."
As far as signature drinks go, Heidelberg patrons seem to savor "The Sweet Tart."
"The Tweet Tart tastes like it sounds. Plus, we have 12 different beers on tap," Walls notes.
Affectionately known as "The Berg" or "Old Heidelberg" to patrons, The Heidelberg has been serving the community for over 60 years, originally opened in 1963 by Dick Walls, George Petrakis, Marty Sigholtz, and Jim Martin. The business even survived a fire in 2003 which led to an extensive remodel of the restaurant. Richard Walls, son of Dick Walls, said he had worked every position at The Heidelberg before taking the reins.
Walls and his staff continue "The Heidelberg way" where tradition and quality go hand in hand.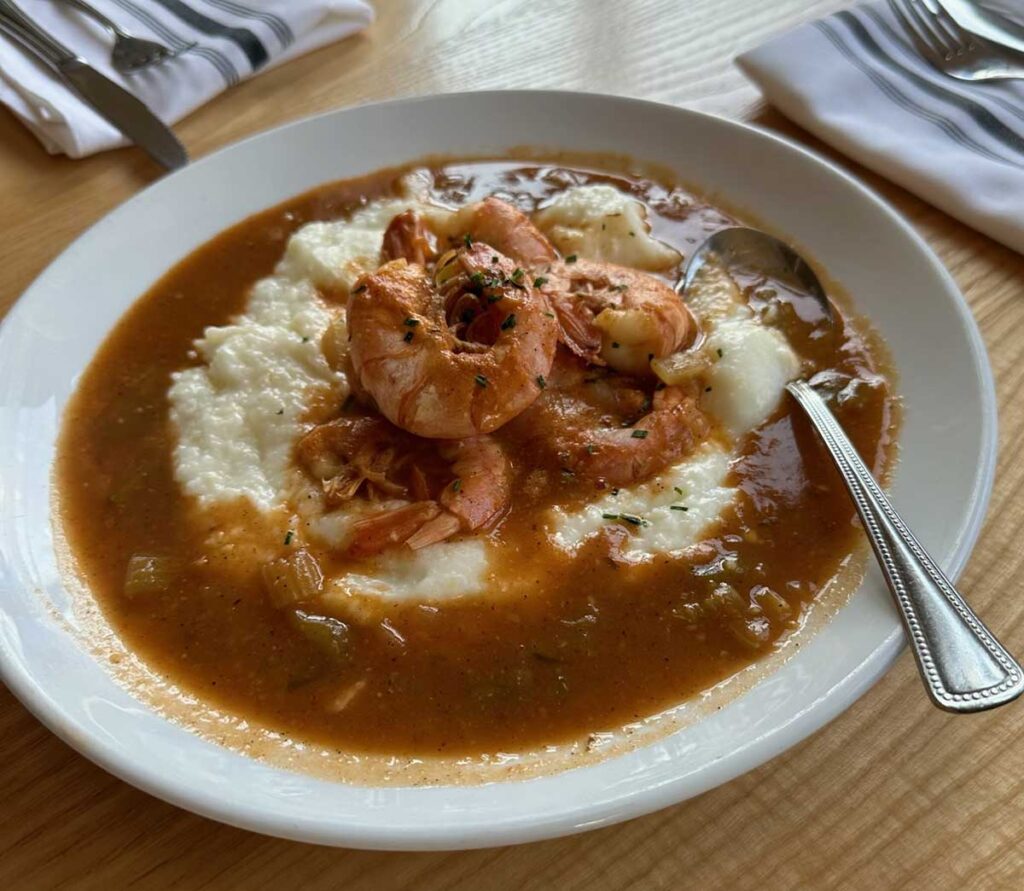 The Ozark Mountain Biscuit Co.
Our final outdoor dining option for your consideration takes you to the Stockyards District of Columbia. Nestled in between the Columbia College campus and Logboat Brewing Co., you will find the spacious patio dining offerings at the Ozark Mountain Biscuit Co., 1204 Hinkson Avenue.
The restaurant offers indoor dining, but the large outdoor dining area offers 12 tables for up to 75 guests. You can enjoy the sunshine, or you can pop-open a colorful umbrella while you enjoy a meal, appetizer, or drinks.
"We do Southern homestyle favorites," says owner Bryan Maness. "We use sourced locally ingredients and we craft everything from scratch so you get a high-end product that is still approachable to folks."
Maness is especially proud of his restaurant's history, as it started out as a food truck. Although it still operates the "Biscuit Truck" and catering business, the restaurant has allowed him and his team to expand Ozark Mountain Biscuit Co.'s offerings.
Previously while operating his food truck outside of Logboat Brewing Co., he saw the building across the street come up for lease and renovation. That's when Maness jumped at the opportunity to open up a brick-and-mortar restaurant.
"This is an area we have been operating in for a long time and we have a great relationship with Logboat across the street," he adds. "And since they don't have a dining option, a patio adjacent to their beer garden seemed like a good fit."
The atmosphere at Ozark Mountain is laid back, clean, and inviting.
"We want you to feel like you are at home here," said Maness says.
Ozark Mountain Biscuit Company does not accept reservations, but will try to accommodate large parties if you call ahead.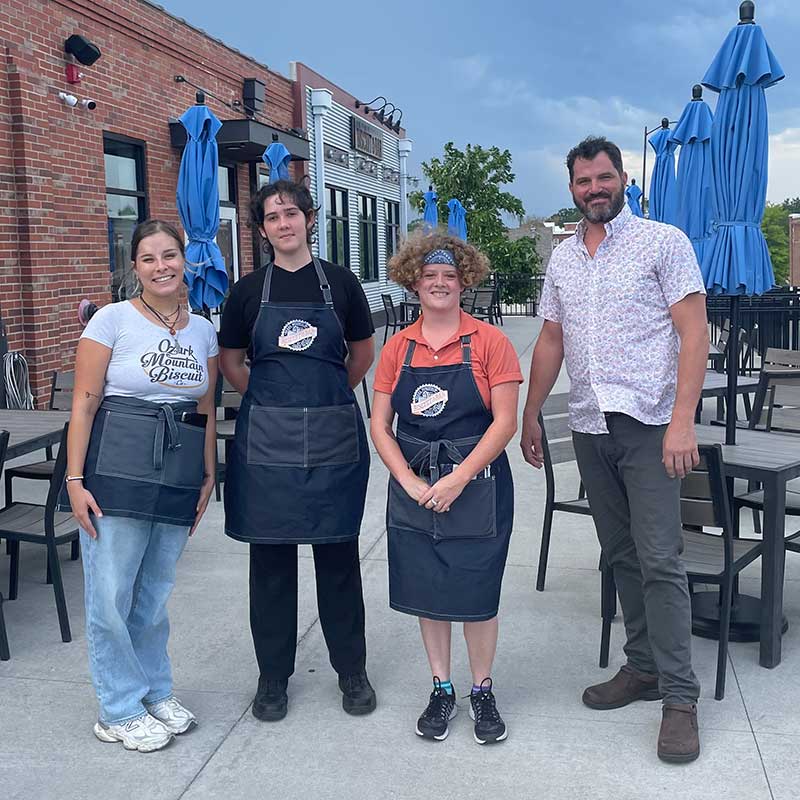 As far as signature dishes go, the fresh-from-scratch biscuits get most of the attention. Other offerings that diners should consider include a brunch menu offered before 4 p.m. daily. The restaurant also offers a wide variety of appetizers, "big plate" dinners, sandwiches, soups, and sides.
"You had better try our biscuits," Maness says with a grin. "Biscuits come with most of our dishes, and we make our sandwiches with biscuits, too."
In addition to the biscuits, Maness says that fried chicken is also one of the most popular menu items with customers.
There are also gluten-free and vegetarian options available as well for patrons.
As far as adult beverages are concerned, Ozark Mountain offers a wide variety of house cocktails, wines, and beers. The menu also features some local beer offerings from the brewery just across the street.
Maness notes that he opened the restaurant at the beginning of the pandemic, so the patio area was vitally important for his plans. He wants to ensure that his restaurant's visitors feel welcome and safe.
Just a sample
This short list of outdoor dining establishments is just a sampling of establishments you can enjoy in the Columbia area. I did my best to select locally owned businesses and a variety of settings to consider.
I hope you will venture out for breakfast, brunch, lunch, dinner — or drinks — sometime soon to a patio near you. When you do, please don't forget to tip your servers generously.
---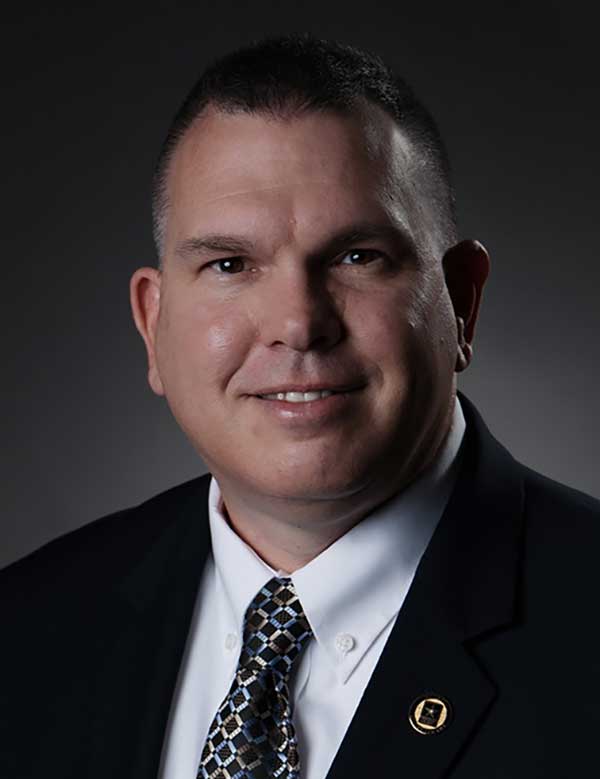 ABOUT THE AUTHOR
Jamie Melchert is a long-time Columbia resident who enjoys the arts, entertainment, and the outdoors. Among his work experiences, he is most proud of his military service with the Missouri Army National Guard. He now enjoys traveling with his wife and family to destinations near and far. Jamie is exploring old and new places to help residents like him, as well as newcomers, (re)discover COMO.