Teaching Columbia's Future Chefs
Photos by Lana Eklund
This story originally appeared in the May 2023 issue of COMO Magazine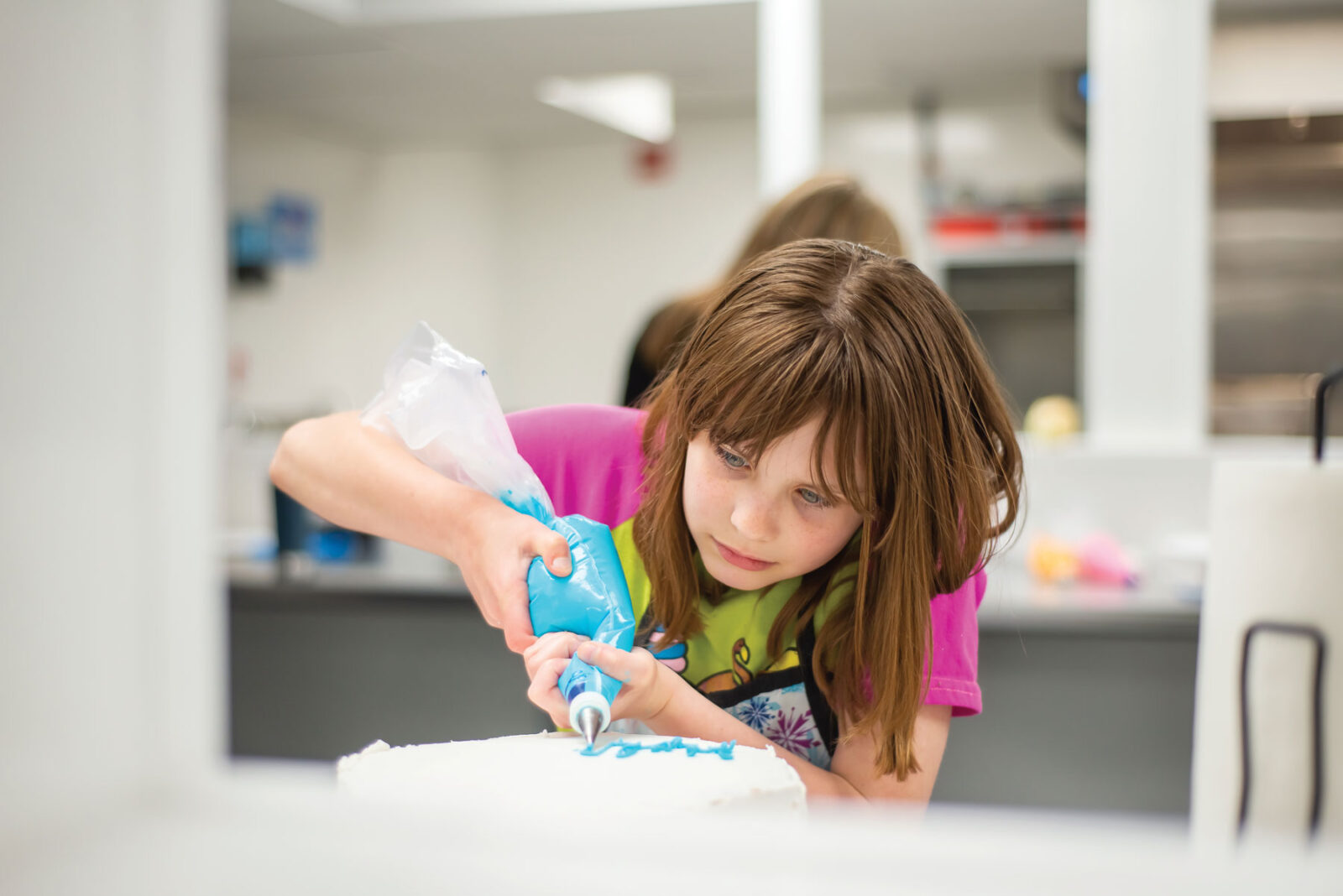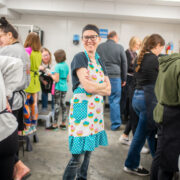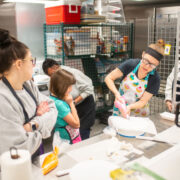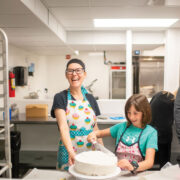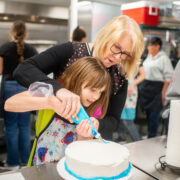 View Gallery
Back 2 Basics Cooking sharpens delectable culinary skills.
In 2014, Ashley Nichols used her self-taught kitchen expertise and founded Back 2 Basics Cooking, a program that offers beginning-level cooking classes for ages 3 and up.
"I didn't really know what I was doing back then," Ashley says, laughing. "I had a lot of food allergies, so I did a lot of home cooking for my family — always enjoyed it. I decided I wanted to share my love of cooking with adults and kids alike."
Initially, Ashley says she had to move the location of her cooking school around using whatever kitchen space she could find.
"I have been in a lot of kitchens in the Columbia area over the years, including a cabinet shop showroom kitchen," she says.
In 2022, Back 2 Basics Cooking finally found a home at the CoMo Cooks Shared Kitchen, a community-driven culinary space in Columbia that provides a fully equipped kitchen for individuals and businesses to use on a shared basis.
Located at 14 E. Business Loop 70, CoMo Cooks is designed to meet the needs of local food entrepreneurs, caterers, bakers, and other culinary enthusiasts who require a professional kitchen to prepare their products or host cooking events. The space offers a fully equipped, health department-certified commercial kitchen with modern appliances, ample workspace, and storage facilities that can be rented at a cost-effective tiered billing plan.
In addition to the physical facilities, CoMo Cooks Shared Kitchen fosters a collaborative and supportive environment where members can connect, network, and learn from each other. It serves as a hub for culinary creativity and entrepreneurship, enabling food enthusiasts to pursue their passions and grow their businesses.
The CoMo Cooks kitchen is a gleaming collection of stainless-steel appliances and countertops, all of it super-sized for commercial production.
"For most of my students, it's the first chance they've had to experience a commercial kitchen," Ashley says as she describes the excitement her first-time students often feel.
Ashley says her cooking classes are focused on teaching fundamental kitchen skills to both kids and adults who are interested in learning or improving their culinary abilities. The hands-on cooking classes emphasize the basics of cooking such as knife skills, cooking techniques, and meal planning. These classes are designed for beginners or those looking to refresh their culinary skills and gain confidence in the kitchen.
"It is so exciting to see an adult or child trying something new in the kitchen and finding success," says Ashley.
Back 2 Basics offers nine different cooking classes, each with its own targeted skills, age range, and cost, plus birthday party packages and a kids' cooking camp during the summer.
All food, cooking utensils, aprons, and everything needed for the class is included and participants receive a copy of all recipes to take home. Ashley says another perk is that participants are not required to clean up after the class — it is taken care of.
"Unlike many activities geared toward children, cooking is a skill that any child can benefit from for the rest of their life," she explains.
In the Mini Chef Class (ages 3-6), kids learn basic food prep skills as they prepare a dish, such as apple cinnamon muffins or scrambled eggs, or learn to decorate cupcakes.
During the Junior Knife Skills 101 (ages 7-15), Ashley introduces participants to the basics of using a knife safely and correctly. Students start the class with a child-safe knife and end the class safely and effectively using a chef's knife.
Ashley remembers a mom who was so nervous about her middle school daughter using a knife that she had to leave the class and come back, only to find that she had done amazingly well.
"It can be so hard to get out of the way of our kids because of our own anxieties, but when we can, they usually thrive," she says. "At least that has been my experience, not only with my students but also with my own children."
The Kids Culinary Cooking Club (ages 7-15) class allows each junior chef to prepare and enjoy a two-course meal, while building a solid foundation of kitchen knowledge and experience.
Students in the Junior Chefs 'N Chaperones (ages 7-15) class team up with an accompanying chaperone to cook a full meal, which they will enjoy together afterward — making this the perfect experience for mothers, fathers, grandparents, aunts, uncles, or guardians to join in on the fun.
"The kids' classes focus on things they can make themselves with minimal supervision. I really love when people tell me that their kids made something at home that they learned in my class," says Ashley.
Ashley also offers classes like sushi making and cake decorating that are intended for adults, but kids are welcome if they can work on their own and are accompanied by an adult.
"I was really surprised when I started offering these classes how many kids were interested in attending," says Ashley. "But they love it, too."
The wildly popular Back 2 Basics kids' summer cooking camp is already full for 2023. During the week-long class for 3 and a half hours a day, students learn cooking and baking skills, kitchen sanitation and food safety best practices, and knife skills. Ashley says for summer 2024 she plans to offer more than one session.
"My favorite thing about what I do is probably working with the kids," she adds. "They teach me as much as I teach them."
In addition to their regularly scheduled offerings, Back 2 Basics also hosts birthday parties and team building classes for groups. During the birthday party class, eight participants learn to prepare an entree and dessert chosen in advance from a list of options. Ashley says allergy-friendly options are available if requested in advance. You can book any of these classes or purchase a gift certificate by visiting the Back 2 Basics website or follow them on Facebook to keep up-to-date on upcoming classes and events.
Once a month, Back 2 Basics Cooking teams up with Tiny Town Play Café to offer a kids' cooking class at the local play space. Tiny Town offers child-sized playhouses including a grocery store, a school, an office, a house, a vet clinic, and a construction site where kids can go inside, dress up, and partake in imaginative play. You can read more about Tiny Town on page 48 of this issue.
"I am honored to have the opportunity to serve our community in this way," Ashley explains. "I have had some kids that have come since the beginning and are still coming. It is so amazing to watch them continue to grow and the pride they feel when they learn and accomplish new things in the kitchen."