A sweet legacy in downtown Columbia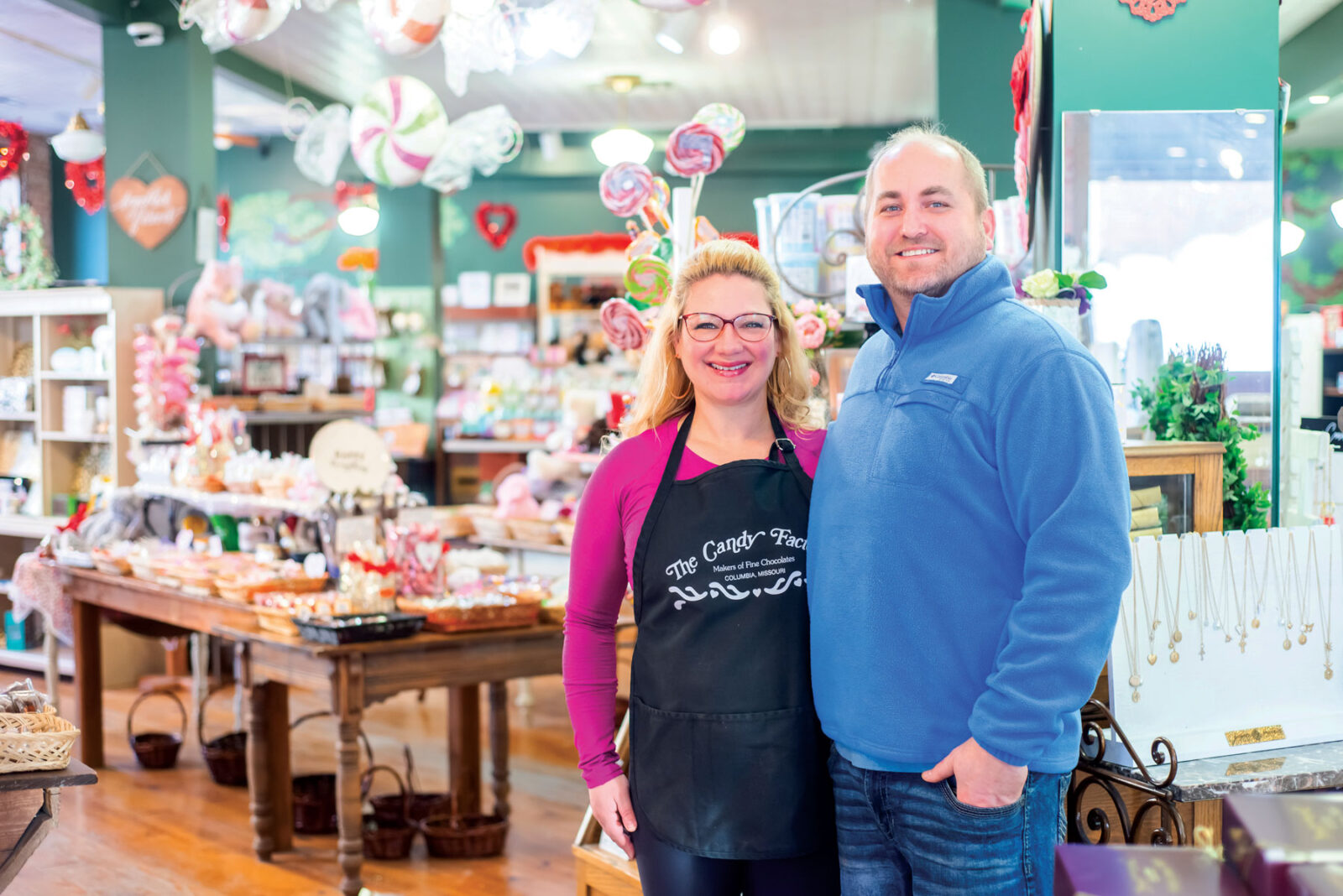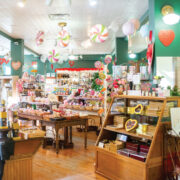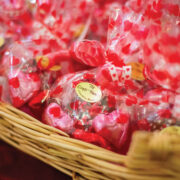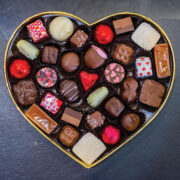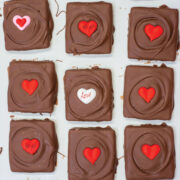 View Gallery
The Candy Factory celebrates a half-century of handmade confections and delighting the senses.
An iconic, family-owned business and cornerstone of downtown Columbia for nearly 50 years, The Candy Factory continues to produce gourmet, handmade confections that delight the senses.
To step inside beneath the striped awning is an experience in itself – the kaleidoscope of brightly colored candies and packaging easily melds with tantalizing aromas of slow-cooking caramel and toffee and freshly-popped popcorn.
Open year-round, The Candy Factory transforms its interior seasonally offering a variety of limited-time specialty holiday items, as well as its beloved favorites. New and returning customers alike delight in the hand-dipped caramel apples at Halloween, French silk chocolate eggs at Easter, and of course, the coveted, perfectly double-dipped, chocolate-covered strawberries for Valentine's Day.
Amy Atkinson, co-owner of The Candy Factory, says one of the most important components of the famously delicious chocolate-covered strawberries is that the strawberries are delivered fresh directly from the farms in California, resulting in an undisclosed number of boxes sold each year.
"We have people come in from all over the Midwest saying they are purposefully driving through Missouri so they can stop at The Candy Factory for their strawberries," she says. "It's pretty special."
When viewing the rows of delicacies in the glass display cases, consumers may not realize or appreciate the intensive labor that goes into making just one chocolate salted caramel. The caramel is made from scratch and cooked in an old-fashioned copper kettle over an open flame while it is gently stirred by hand. Then the molten caramel is poured into pans where it cools overnight. The next day the slabs of caramel are cut into squares, covered in either milk or dark chocolate, and hand-sprinkled with just the right amount of sea salt.
The History
The Candy Factory opened in 1974 and is touted as one of the first woman-founded businesses in Columbia.
"Georgia Lundgren had some really wonderful candy recipes that she made for her family and friends, and they encouraged her to start a business," Amy says.
In 1986, Georgia sold the business to Columbia locals Sam and Donna Atkinson, who used their creative vision, innovation, and leadership to continue to expand and grow the business over the next nearly 20 years.
"Not only does Sam Atkinson have a brilliant business mind, but he is also a mechanical genius," says Amy of her father-in-law. "He designed and built much of The Candy Factory's equipment from scratch and our family jokingly refers to him as MacGyver."
Amy notes that Donna's forward-thinking business mind and continued adaptability to new trends in the candy, gift, and consumer markets are key factors in the business's success.    
Sam and Donna's son, Mike, who was 5 years old when they took ownership, remembers helping his parents out in the shop. "I was a literal kid in a candy shop," he says, laughing.
After high school, Mike moved to Texas to attend Baylor University in 1999 where he met his wife, Amy, and it was love at first site. The two coincidently started dating at a Mizzou vs. Baylor football game and were married in 2004.
Just one year later, Mike and Amy received a call from Sam and Donna asking if they wanted to be the next generation of owners of the family candy business. Amy remembers that she and Mike looked at each other and said, "How many people get the opportunity to run a candy store? Whether we love it or hate it, we at least have to try."
Today Mike and Amy work side-by-side as co-owners, concurrently maintaining and growing the legacy of The Candy Factory.
"I truly enjoy working with Mike every day – there is no one else I would trust to run a business with. We play on each other's strengths – he does the things he's good at, I do the things I'm good at, and we collaborate a lot," says Amy.
While many things are still the same at The Candy Factory — including Georgia's original, hand-written chocolate recipe kept under lock and key — over the years Mike, Amy, and their team of skilled candy makers have continued to experiment with new flavors, ideas, and processes.
"The business has grown tremendously as we strive to make the same delicious candy recipes, but on a much larger scale with a much larger team and add new products," Amy says. "A lot of the creative force behind that is Mike." She says that the popular chocolate-covered potato chips were a Mike creation.
The Candy Factory offers a one-of-a-kind viewing room, open Monday through Friday, located upstairs outside the production facility for customers to come and see the magic happen.
"We want our customers to know that the candy they are buying is made here, onsite, by hand," says Mike. He adds that it has also become a hot selfie spot. "We've noticed that some people like to come and take photos of not only us but of themselves and our unique candy-making kitchen."
The Legacy
The Candy Factory currently has 15 full and part-time employees.
"Our team is phenomenal," Amy says. "Our confectioners are full-time career people who are working around the clock to put out high-quality, consistent gourmet products. Their attention to detail must be immaculate. It's part science, part artform, and they are really refined at their craft."
Additionally, Amy says the retail staff, made up of mostly college students, not only serves the customers but also packages the candy behind the scenes, often staying in Columbia over breaks to work the holidays.
"We have a family of employees here. It is so much bigger than one person – we are a team."
As The Candy Factory's 50th-anniversary approaches in 2024, Amy says she and Mike often daydream about the next evolution of their beloved shop.
"I love being downtown and a part of this vibrant community," she says. "We are committed to making delicious, quality chocolates and candies, and committed to doing right by our team, our community, our customers, and each other to the best of our ability."