Everything and the New York-style bagel
Photos by Drew Piester
This article was originally published in the December 2022 issue of COMO Magazine.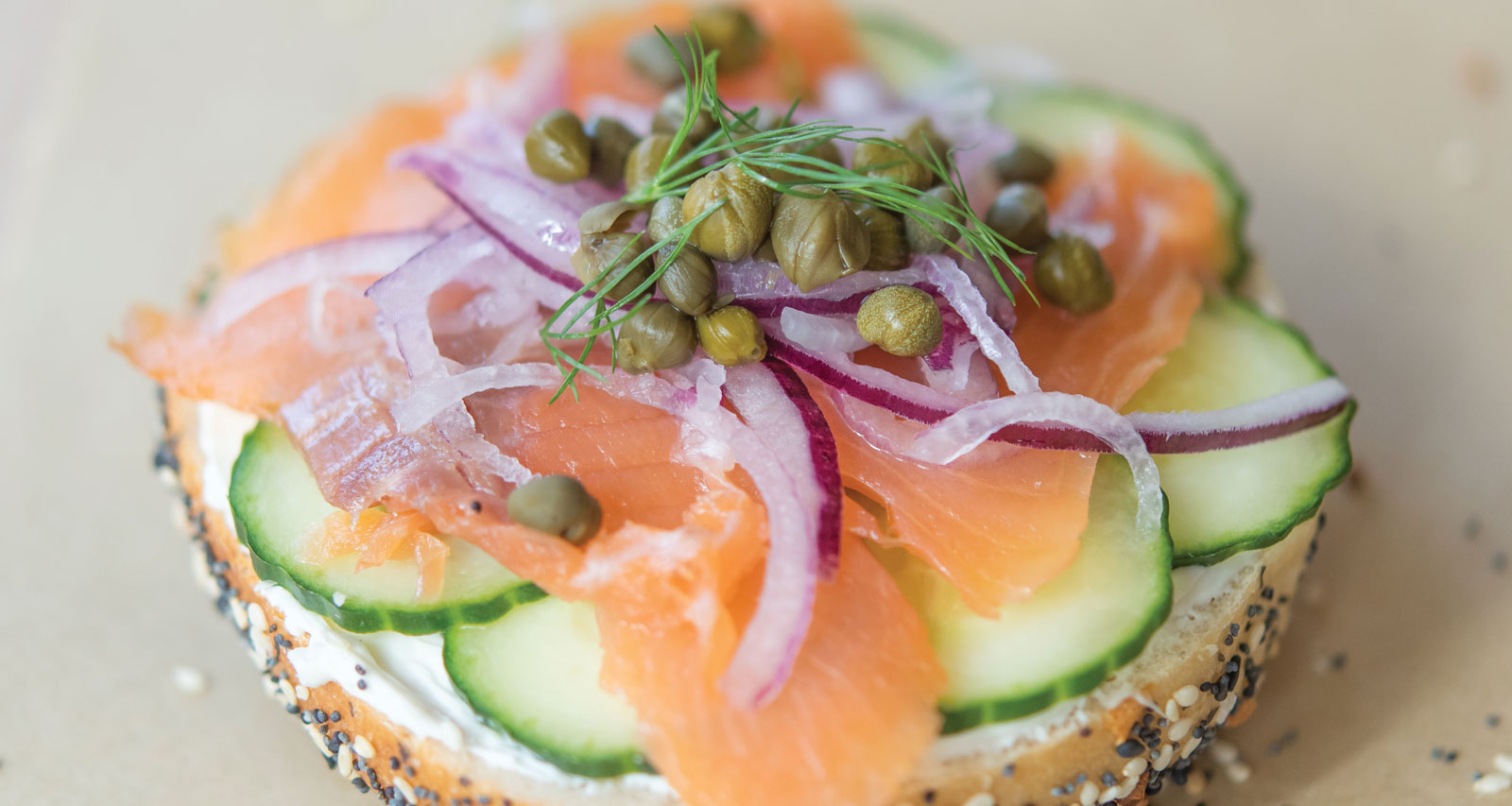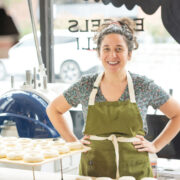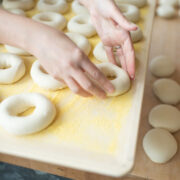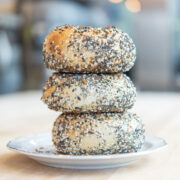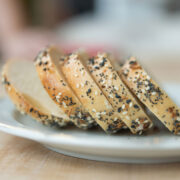 View Gallery
Goldie's Bagels boils and bakes a delicious taste of home.
Earlier this year, Goldie's Bagels transformed from pop-up shop located inside local restaurant Pizza Tree, owned by Amanda Rainey and John Gilbreth, to an expanded eatery with a location all its own at 114 South Ninth Street.
Beyond Goldie's signature New York-style bagels, Columbia's only Jewish deli has an expanded menu featuring bagel sandwiches, spreads, and pastries.
Amanda, who grew up in a tight-knit Jewish family in St. Louis, moved to Columbia to attend Mizzou, graduating in 2006 with a bachelor of arts in sociology. That is when she joined Congregation Beth Shalom, where she taught religious school and gave private lessons to bar and bat mitzvah students.
"Opening Goldie's Bagels was important to me and the Jewish community," says Amanda, who provides mini bagels for children's Sunday school and hallah for services to Congregation Beth Shalom, and caters bar and bat mitzvahs.
"Since there is only one synagogue in Columbia, the Jewish community is small and supportive but diverse consisting of people from all over the country including a mix of professors, locals and transplants," she says. "We haven't had a rabbi for three years – just interim or student rabbi – but the congregation has stepped up and led services."
Bubbe-inspired decor.
The shotgun-style interior of Goldie's Bagels has an open-kitchen layout with a walk-up counter for ordering and pick up, although welcoming smiles can be found in place of the good-natured yelling and teasing typical of a Jewish New York deli.
The rear of the eatery has a collection of eclectic tables and chairs for dining in, walls adorned with authentic family photographs and tchotchkes that came from the basement of Amanda's bubbe (grandmother), as well as wall hangings inspired by bubbe's quilt squares. "People come in a lot and say it feels like I'm at home," says Amanda.
"We're hosting a family reunion in January," she says. "There are nine grandkids, nine great grandkids, and bubbe is turning 90, so it is a really special occasion. She is a true matriarch."
Amanda says more than 30 family members are coming to Columbia, some for the first time. She plans to host Friday night Shabbat at Goldie's, including matzo ball soup as well as food from the Barred Owl, which also catered her and John's wedding.
"I'll make bagels for the day after the reunion and John's band The Onions will play for the first time since Covid," she says.
Tweaking the recipe.
When Amanda started making bagels in Pizza Tree's kitchen late summer 2020, she cleverly adapted the existing ingredients and ovens, creating an innovative new way to craft her product. "The dough is different than the pizza dough John uses, but not super different. We had to tweak the recipe a bit and the way we shape and proof," she says.
Amanda's bagel-making is a two-day process. The first day the dough is made and shaped into rings using a dough divider. "It's an unconventional way to make a bagel," Amanda says. "Traditionally you cut strips and roll them out, but Pizza Tree makes dough balls, and we adapted that process."
The formed bagels proof overnight, then early the next morning the bagels are boiled for a quick 30 seconds, seasoned, and baked in a pizza oven upside down on a bagel board that is wrapped in wet burlap, which keeps the tops of the bagels moist and elastic so as not to harden and crack open during baking. Then the bagels are flipped right side up to finish baking.
"When we first opened, I did everything from baking all the bagels to washing all the dishes. Initially I was only offering bagels and cream cheese, slowly adding things to and expanding the menu. I didn't come from a restaurant background, so I had to learn everything as I went," Amanda says.
Paying homage to the black-and-gold
Today, Goldie's Bagels' staff of 14 produces approximately 350 bagels a day during the week Tuesday through Friday, and close to 650 per day on the weekend, including traditional flavors like everything and blueberry, plus their own signature Goldie's bagel with turmeric and black sesame seeds, a nod to Mizzou's gold and black school colors.
Thirty-pound blocks of cream cheese are made spreadable by whipping in a super-sized mixer, and then the ingredients are added to make the four or five different spreads on the menu.
"Weekends here are slammed, but I enjoy it! It's super busy from 7 a.m. until we sell out or close," Amanda says. "We try to waste as little as possible so we would rather have less choices and sell out of things than have things thrown out."
In addition to made-fresh-daily bagels and schmears, Goldie's menu features open-faced bagels such as the Yenta with smoked salmon lox, whipped cream cheese, capers, cucumbers and red onion, and bagel sandwiches.
"We also make the rye bread for the pastrami sandwich served on Tuesday – we get the pastrami from Buds Barbecue," says Amanda. "They are so nice and love what we're doing here. It's a great partnership – we trade bagels for part of the payment."
Goldie's offers catering for small events such as office meetings, baby showers and open house events, but has no plans to expand the space or menu.
"I think a lot of places try to grow too fast and try to open a second location and then realize they're spread too thin, making it hard to maintain consistency," Amanda says.
Delivering service — face to face.
With no phone number or online ordering, customers are encouraged to "Come in and see us!" Amanda says she's not interested in overwhelming her staff, letting them focus on delivering great food and service.
"I also don't think it is fair to make the people who came in and want that face-to-face interaction to have to wait. If customers come in and we have bagels, we have bagels and if we don't, we don't," she says. "As a mom of a 3- and 6-year-old, I'm very used to saying, 'You get what you get, and you don't throw a fit.'"
Being a part of and giving back to the local Columbia community has always been at the forefront of the Goldie's Bagels mission.
"We have been giving out a free bagel and a coffee to anyone who comes in and says they need a meal since we opened," Amanda says. "Recently we decided to put up a sign and start the Neighbor Account so we could track what we were giving and so people could contribute. It went viral when a very online rabbi posted it to Twitter! These days we feed 6 to 10 people a day."