Briefly in the News: December 2022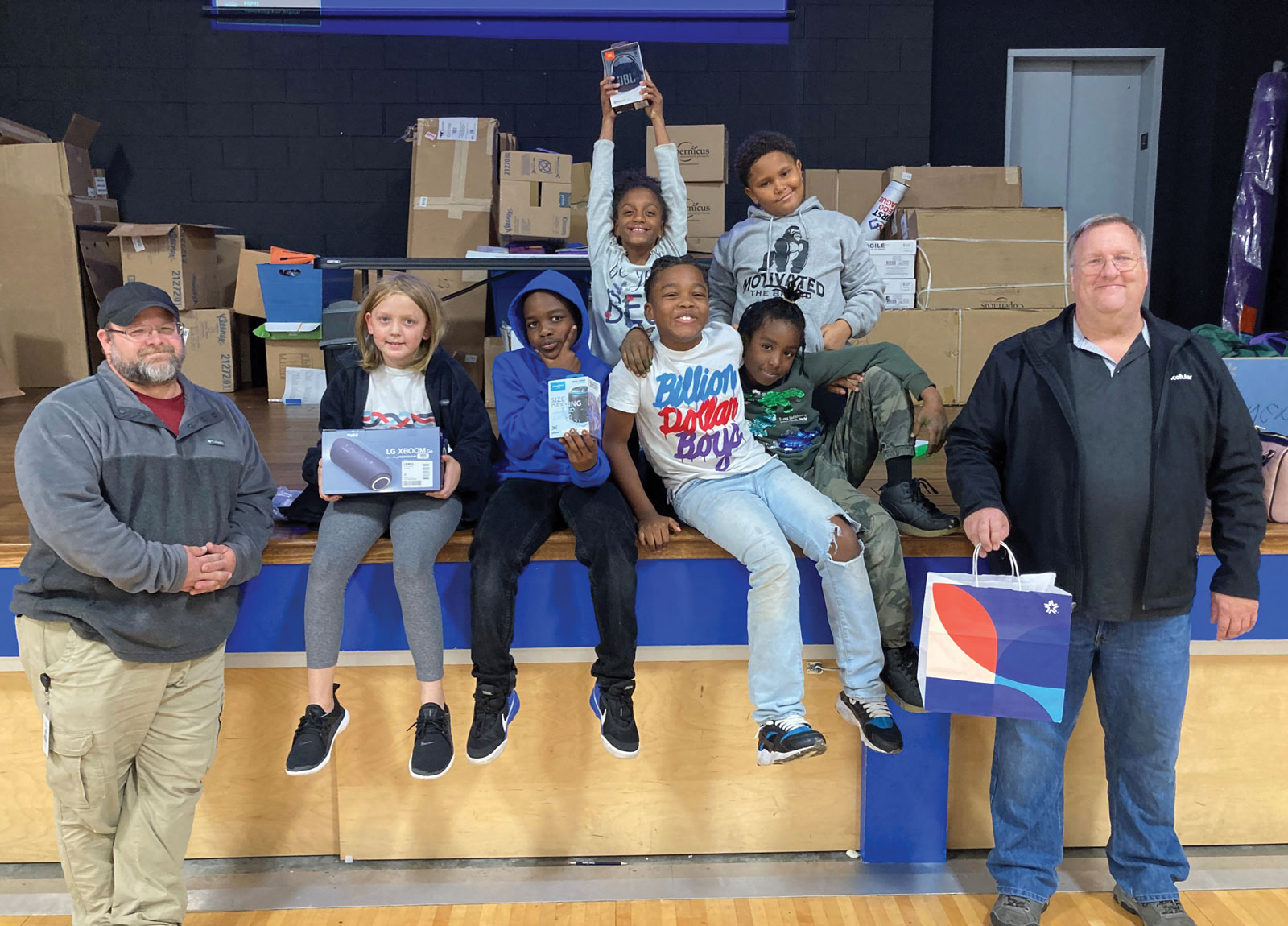 COMMUNITY
UScellular hosts 'Ask an Engineer' event at Boys & Girls Clubs of Columbia
To help drive interest and develop understanding of engineering careers, UScellular representatives visited Boys & Girls Clubs of Columbia to discuss the importance of science, technology, engineering, and mathematics (STEM) in wireless technology.
Local UScellular engineering associates, Christopher Brinkman and Zach Perry, led an "Ask an Engineer" session to show club members how STEM applies in specific careers. During the session, the children heard about the vital role UScellular engineers play in maintaining a strong network in Missouri. Participants learned a rundown of everyday tasks from how texts are sent and received to how cell towers are used to ensure coverage for customers. The engineers also discussed how they entered the STEM field and the lessons learned along the way.
UScellular is focused on addressing gaps in STEM education and is connecting more than 200,000 of tomorrow's innovators each year with the resources they need to help shape future opportunities.
Since 2015, the company has donated $188,000 to the Boys & Girls Clubs of Columbia along with $92,000 in hot spots and two years of wireless service through its After School Access Program to help keep club members connected to reliable internet service. 
---
COMMUNITY
Single-family real estate sales show decline
Single-family home sales stats for Boone County have been posted to midmohomefinder.com, showing that sales have declined from this time last year by 33% to 149 units. 
Overall home sales are down almost 15% year-to-date and down 2.7% compared to 2019. Specifically in Columbia, home sales have declined 13% year over year.
Property prices have continued to increase from this time last year, with the average price increasing 14% to $333,724 and the median price up 18% to $295,000. Larger price increases were in the city of Columbia last month, with the average price up to $362,936, a 25% increase, and the median jumped 23% to $309,000.
Days on market continue to increase to 28 days, up 47%. Homes priced from $300K to $749k had an average of 42 days on market, while homes under $300k averaged 17 days on market.
Pending listings (homes under contract) were down 30% last month signaling that, more than likely, the number of sales per month will continue to decline through the end of the year.
---
CELEBRATIONS
Inaugural 'That's What She Said Columbia' to feature local women's stories
Since 2013, The She Said Project's That's What She Said performances have been inspiring audiences and empowering communities throughout the country with powerful, intimate stories shared by local women. In this inaugural production in Columbia, 10 women from the community will take the stage and share their own stories of success, hardship, and overcoming barriers.
The show is under the direction of Allie Teagarden, who moved to Columbia in 2017 from Champaign-Urbana, Illinois, where That's What She Said was founded. With 11 years of experience leading teams, managing programs, and supporting students in public higher education across the Midwest, Allie recently pivoted her career to focus on serving the Columbia community and developing the potential of the people within it by bringing That's What She Said to Columbia.
A variety of local businesses, many of them women-owned, are investing in the mission of That's What She Said to celebrate and empower women's voices in Columbia. Each That's What She Said live show supports a local nonprofit organization with a percentage of the ticket sales. The local partnering nonprofit for this year's show is True North of Columbia, whose mission is to provide safety, shelter, education, and transitional support for those who have been affected by domestic and sexual violence and to empower all to create a safe community.
That's What She Said strives to bring together women of different ages and backgrounds to capture a wide range of personal stories, from hilarious, to empowering, to tear-jerking.
The upcoming That's What She Said Columbia will take place at the Missouri Theatre on April 15th at 7 p.m. The performances will feature local women who are leaders in business, education, public service, media, and the arts here in Columbia. The full lineup of speakers will be announced in early 2023.
---
BUSINESS
City of Refuge launches City Boutique
City of Refuge announces the grand opening of City Boutique, a new store providing gently used, donated items. The shop also has future plans to sell artisan pieces produced by the Columbia refugee community.
Many of the donated items do not meet the immediate needs of refugees served by City of Refuge, so the store intends to sell these items, including household things, toys and games, and decorations, providing financial benefit for City of Refuge's ongoing work with resettled refugees.
City Boutique is open to the public from 9 a.m. to 4 p.m. Monday through Friday at 10 North Garth Avenue in Columbia. 
Global conflicts in places like Afghanistan and Ukraine continue to create a crisis of displaced persons crossing international borders, hundreds of whom arrive annually to make a new permanent home in the Columbia area. City of Refuge mobilizes more than 150 volunteers to serve over 1,200 resettled refugees every year and to celebrate their contributions to our community. The boutique's operations will support these needs.
Executive director Debbie Beal says, "All proceeds from our sales go directly back into City of Refuge's refugee programming and care — they will help make our everyday work happen. When you buy here, your dollars will have a global impact. The money you spend at City Boutique will make a difference in the lives of real people. Real people with real needs that come into our office every single day."
---
CELEBRATIONS
2022 annual Kindness in Business Awards honorees listed  
Children's Grove and Missouri Business Alert have announced the 2022 honorees of the Kindness in Business Awards, a celebration of Boone County businesses and nonprofits that have shown and promoted kindness in dealings with customers, employees, youth, and the community at large over the past year. The honorees were chosen by a local committee following a public nomination period.
This year's honorees include:
Kindness to Youth: Day Dreams Foundation, Dream Tree Academy 573, Flourish Initiative
Kindness to Employees: Family Physicians Inquiries Network, ParentLink, Shek Boutique & Sagebrush Salon
Kindness to the Community: Goldie's Bagels, Rock the Community, Satin Stitches.