Rolling in With Baja-Midwest Fusion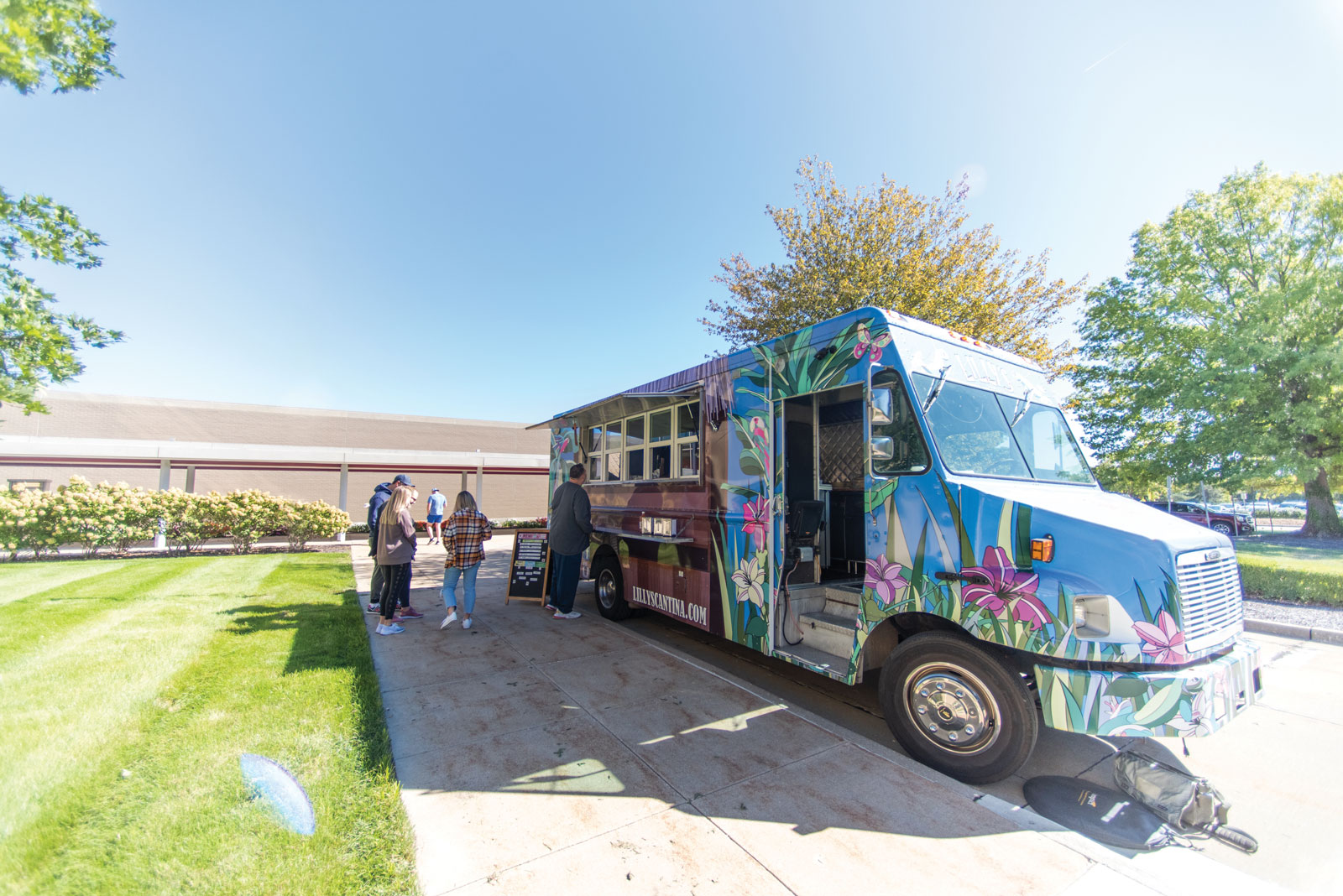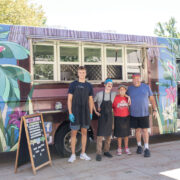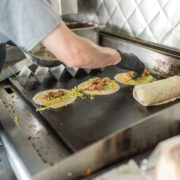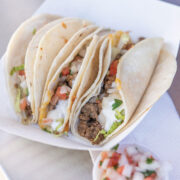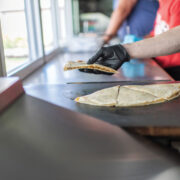 View Gallery
Rolling his vibrant food truck all over town, George Nickols is living the dream "slinging tacos" to the masses.
Originally from Baja, California, George Nickols, the proprietor and chef de cuisine for Lilly's Cantina, grew up in a big family with a distinct heritage — Mexican American and English-German.
"Southern California is a treasure trove of ethnic diversity when it comes to people and cuisine, including in my own family. It is a special place to grow up and learn about cooking because there is so much diversity — Mexican, Thai, Chinese, Korean…," George said. "And food trucks are everywhere out there. People love them!"
George has always been involved in food and cooking, but not always formally.
"All my friends growing up had parents that cooked. Everybody cooked. I would go to one friend's house and his mom might be Korean and another friend might serve Brazilian fare," he said.
It was during this integral part of George's childhood revolving around food that he started picking up methods, recipes, and inspiration from his grandmother, aunts, and other family members.
"Growing up, everyone always hung out in the kitchens. Families — mothers, brothers, sisters, aunts, uncles, cousins — and there would always be a central figure who would be cooking and preparing food," George said.
George moved to Columbia in 2008, bringing his love for diverse food culture with him. He was working in car sales when he began seeking a career change and literally set the wheels in motion for the future of Lilly's Cantina. "I was always very interested in the food truck business since it gives one more freedom than starting a brick-and-mortar facility."
At the time, Columbia's food truck scene was less robust than it is today, and George was anxious to get the ball rolling and join the movement. According to IbisWorld.com, the U.S. food truck industry continues to gain popularity, especially as outdoor dining has become more common in the wake of the COVID-19 pandemic. There are approximately 30,156 food truck businesses in the U.S. as of 2022, an increase of 8.2% from 2021, totaling nearly $1.4 billion in revenue.
The first step for George, toward Lilly's Cantina, was purchasing a food truck that he found in Milwaukee. He then drove the truck to Houston, and had it completely rebuilt by Houston-based Chef Units, a manufacturer specializing in producing new, custom-built, and renovated food trucks, trailers, and concession stands.
The process took approximately one year, but George said the result was worth the wait. In 2014, after picking up his new custom food truck, he procured the appropriate permits and licenses for food trucks and food service in Columbia.
"And the next thing you know, we're slinging tacos!" he says laughing.
The truck is named after George's daughter, Lilly, a Hickman High School sophomore who works on the truck part-time.
Lilly's Cantina specializes in what George calls "Baja-Midwest fusion," with flavors originating from his Southern California and New Mexico roots and international travels, but with a midwestern twist.
The food truck menu offers a combination of tacos, quesadillas, burritos, and nachos as well as vegetarian options that can be included or substituted in any of the menu items. Every plate includes made-from-scratch ingredients such as slow-marinated meats, fresh salsas and sauces, all served with accompaniments of shredded cheese, ripe tomatoes, diced onions, cilantro, and limes.
The Lilly's Cantina taco menu also highlights a selection of seafood. The Mahi-Mahi tacos are cooked with red cabbage, served with cilantro-lime sauce, and placed on warm corn or flour tortillas. Lilly's also offers shrimp or lobster tacos.
The burritos weigh in at approximately two pounds each and are chock-full of good stuff wrapped in a warm, fourteen-inch flour tortilla. George says his most popular burritos are the Garbage and the OG Cali.
"Garbage" is a nod to the sheer number of ingredients in this burrito — 11 to be exact. It's stuffed with chicken, beef, lettuce, red sauce, sour cream and cheese. The OG Cali is filled with marinated beef, house-made chips, rice, beans, Pico de Gallo, and the house-made roja sauce made with a mixture of Mexican peppers. The Lilly's Cantina menu also offers chicken, carnitas, beef and veggie nachos and quesadillas.
George says there's an off-menu item patrons ask for so often he "might as well add it to the menu at this point." The Thai Chicken Rooster is a Korean-inspired version of The Rooster, a burrito starring chicken, rice, beans, Pico de Gallo, lettuce, and cheese. "People's palates here are little different than they are in southern California. I'm surprised they like it."
George works daily with fellow chef Chris Jones, who brings 10 years of food service industry to the table. "We were introduced by a friend, and then he randomly came wandering in three years ago," says George. Chris makes and prepares all the cold food which includes Pico de Gallo, guacamole, and fresh sauces.
Lilly's Cantina can be found serving its delicious offerings at various locations around COMO, including Veterans United Home Loans, Harry Truman Memorial Veterans Hospital, Boone County Health Department, Thompson Center for Autism and Neurodevelopmental Disorders, and Cooper's Landing. You can also find them rolling up to local festivals such as Food Truck Palooza in Centralia, Street Food Throwdown in Ashland, or The True/False Film Fest in Columbia.
The food truck operates independent of any power source so there is no need for electric plugs or extension cords, making Lilly's Cantina a prime choice for catering events
George says he has no plans for a brick-and-mortar location or expansion of any kind, as he stays quite busy enough. "I love what I do, and I hope to keep doing it forever and ever." 
---
Upcoming Lilly's Cantina locations can be found on their Facebook page (@lillyscantinacomo) or visit foodtruckyourself.com, a website that provides the location of local food trucks.