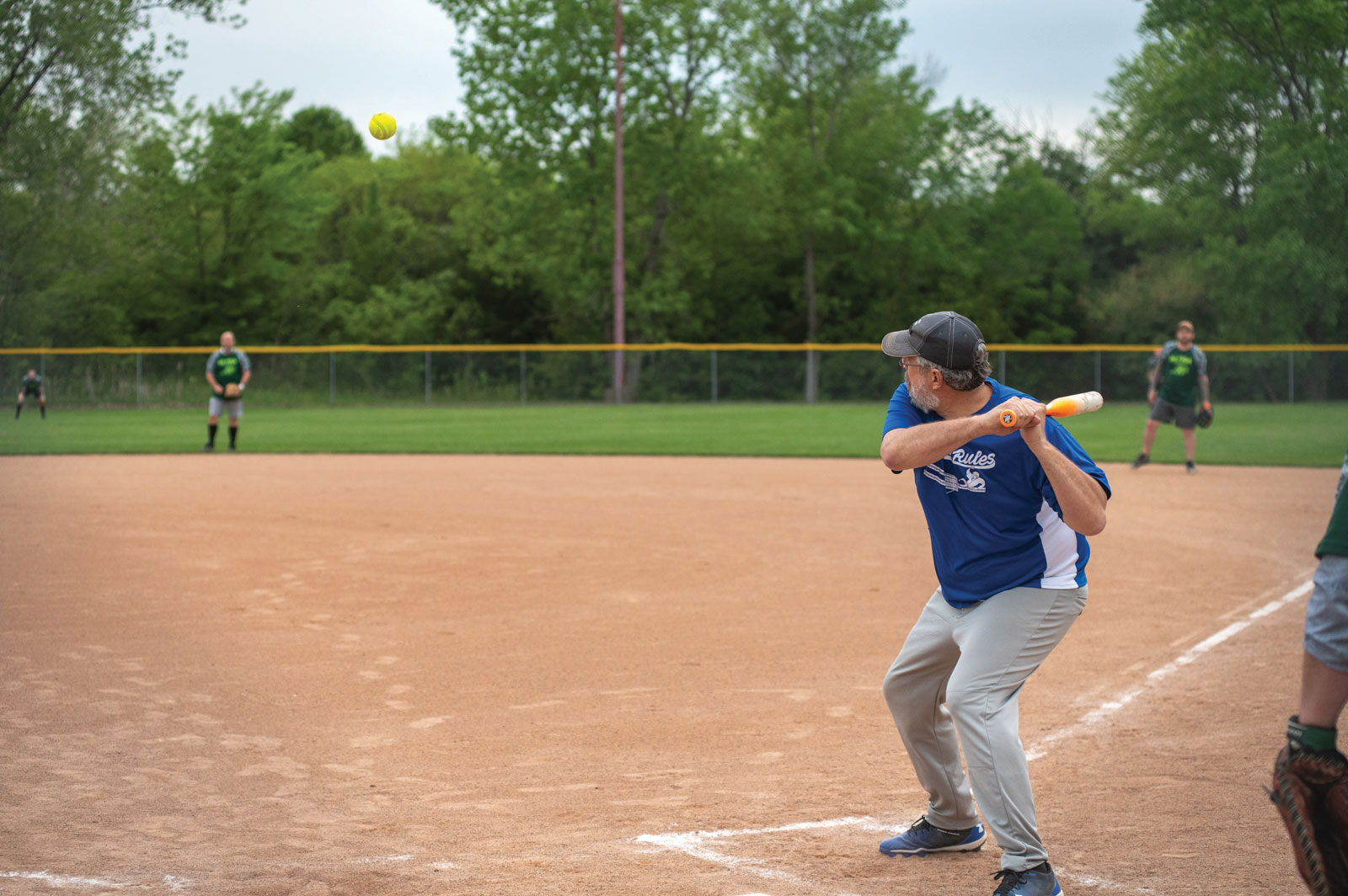 Adults sports leagues offer competition and community to COMO residents.
In the evenings and weekends, COMO's fields, courts, and gyms fill with camaraderie, competition, and spectators as adults engage in a variety of sports leagues. From skilled athletes to those looking to try something new, there is an option for every type of athlete.
---
Mid-Missouri Kickball League
Louie and Adriana Nieman met playing kickball in St. Louis in 2009. They even played kickball on their wedding day. So, it just makes sense that after returning to COMO, the duo founded the Mid-Missouri Kickball League in 2017.
"After moving back to Columbia, we realized this community was missing the kickball community which brought us together," Adriana says. "The goal of the league is to provide an outlet where adults can get out, have fun, and make new friends. The league has intentional networking events, fun gameday activities, and we focus on having fun more than anything else."
Each co-ed team has 12-16 players ages 21 and up, and requirements are in place to ensure that a team's players are of different genders. There are no practices, and each season includes eight games over five weeks. Playoffs are held in week six, and medals are awarded to the season champions.
While the first season had four teams and 64 players, this past spring's season saw an increase to 16 teams and 260 players. And the league boasts another fun success story — one couple proposed in the middle of a kickball game last fall.
"Popularity has grown dramatically over the last five years," Adriana says. "I think the interest has grown organically by people having fun (and) making new friends and new connections, and by the league being well organized. We focus our organization on our games and team activities, we have open communication, and we created an easy registration process. When people are having fun, they talk about it at work and such. The potential for fun is what brings people here, not the big red ball."
As a COMO native, Adriana says that supporting local businesses and nonprofits is extremely important, and the Mid-Missouri Kickball League has participated in fundraising events for local nonprofits.
"We are happy to facilitate the games for anyone who is looking for a unique fundraising opportunity," Adriana says. "Each year, the league owners passionately host a large tournament benefiting Welcome Home. We team up with Fulton's Coalition Against Rape and Domestic Violence organization. In the past, we have held tournaments for Central Missouri Humane Society as well as Boone County Animal Care."
For registration information, visit midmissourikickball.com. Players can sign up as an individual and be placed on a team or can sign up as a team captain and recruit a team of players.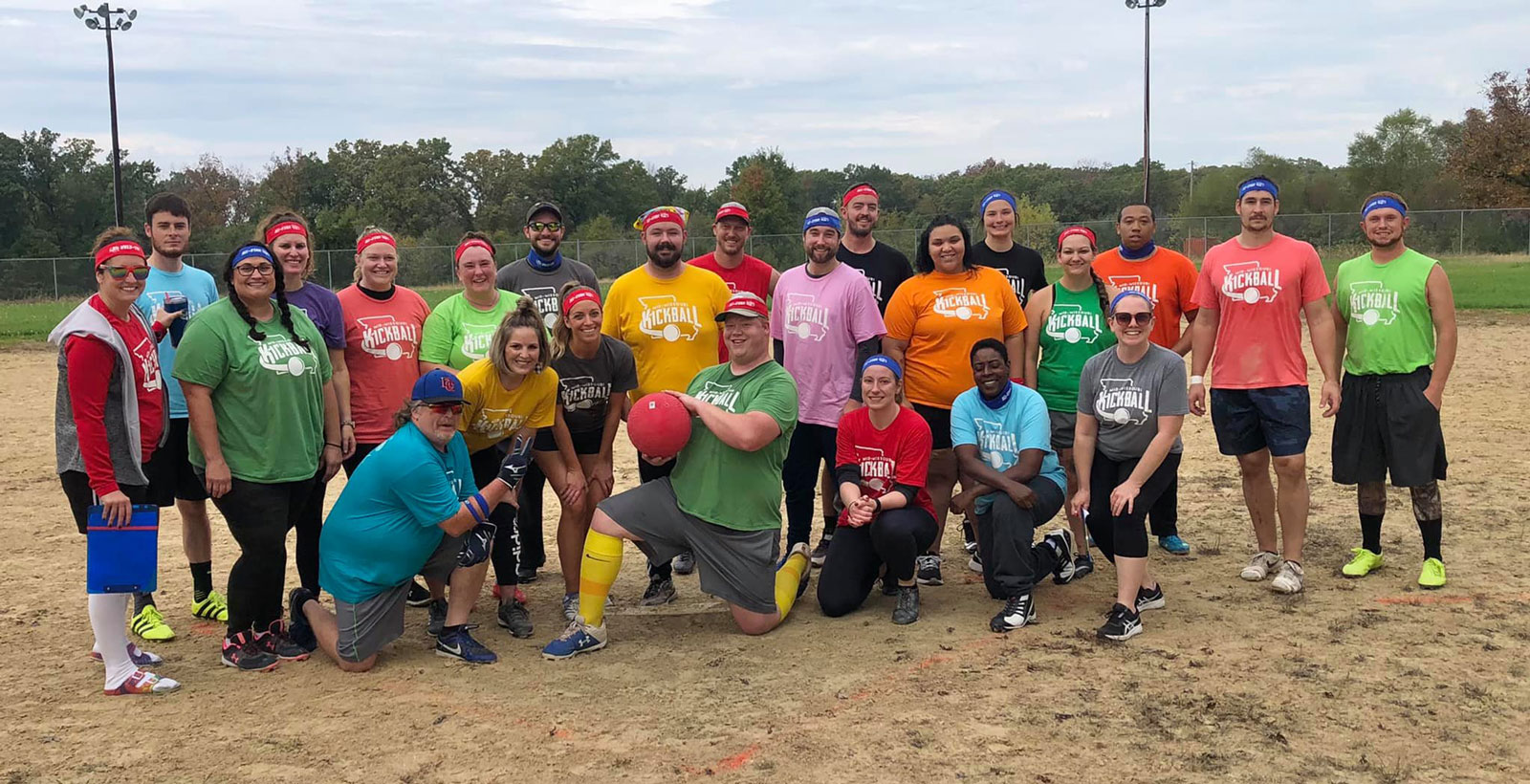 ---
Columbia Park and Recreation Adult Softball League
Six nights each week through the spring, summer and fall, adults take to the fields at the Rainbow Softball Center as part of the Columbia Parks and Recreation adult softball league. It's a COMO tradition that dates back at least 40 years. There are mens teams and co-ed teams, along with C, D and E leagues for players with a variety of skill levels.
"Adult softball, and all adult sports, allow for individuals to have an outlet from the business and stress of life," says Joey Wilmes, recreation supervisor for Columbia Parks and Recreation." Whether they prefer the competition of some of the more competitive leagues or enjoy the fun and socialization of the recreational leagues, it allows them an activity to get together with friends, play, and have fun."
That's exactly what around 110 teams of 10-15 players do each season. Eight-game spring leagues begin in early April. Summer leagues — also eight game-seasons — begin in late June, while the six-game fall league seasons begin in early September. Each season also offers a Doubleheader League where teams play two games nightly instead of one. Two weeks at the end of the season are set aside to play any games that were rained out. Practices are organized by team captains.
Leagues are held every night of the week except for Saturday, which makes the league accessible to any and all who wish to play.
While league participation dropped during the height of COVID-19, Joey says that adult sports have seen a drop in participation nationwide, but the numbers are slowly beginning to increase.
"While our participation numbers are rising slightly each year post-COVID, the participation is not what it was years ago," he says.
To register for the adult softball league or other adult sports offered through the Parks and Recreation department, call (573) 874-7460, walk into the Parks and Recreation office at 1 S. Seventh Street, or log on to the Parks and Recreation website, como.gov/parks-and-recreation/sports/.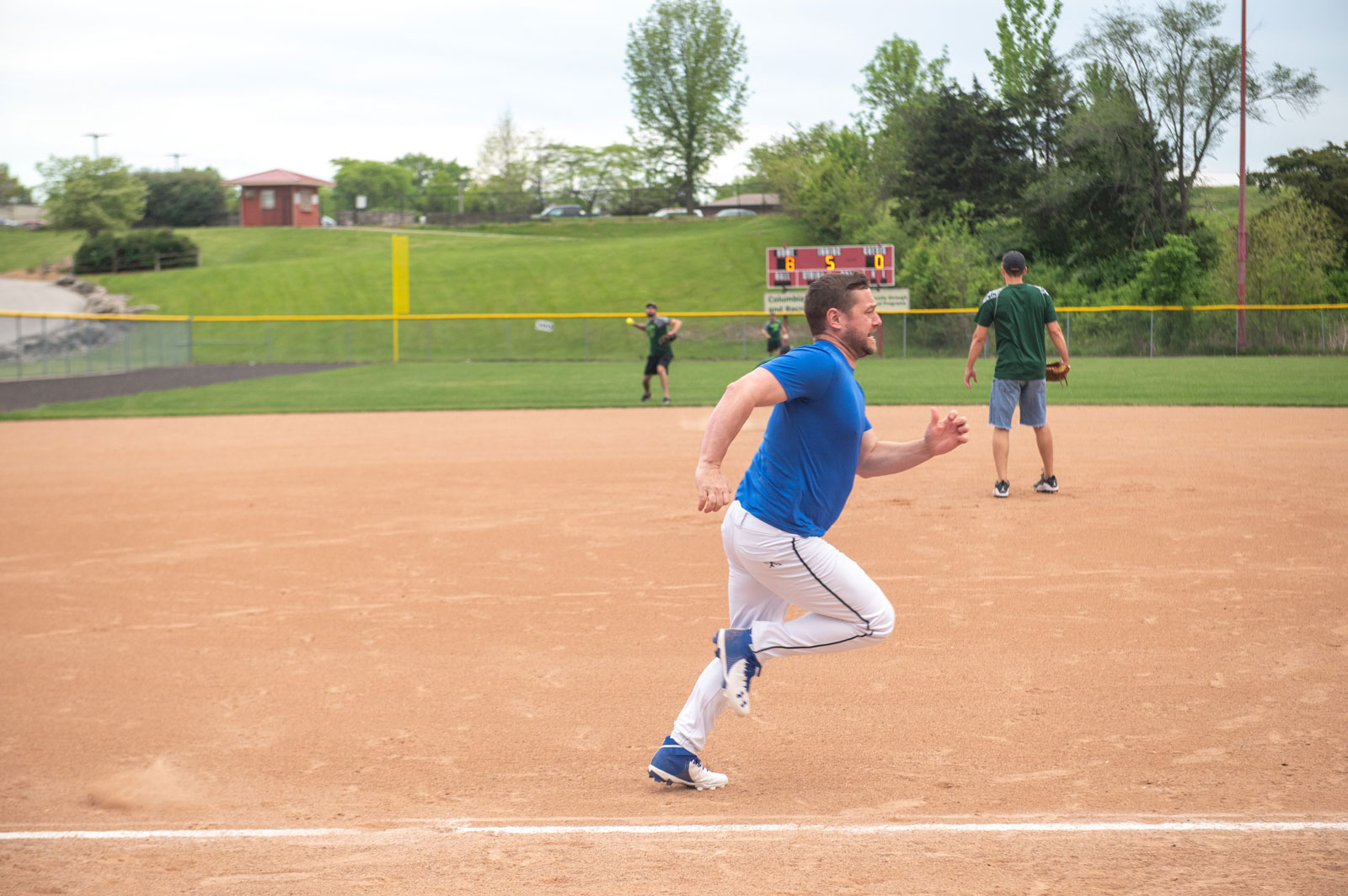 ---
Show-Me Pickleball Club
Interest in pickleball has been steadily building around the country — and in COMO, it's no different. Since its formation in 2010, the Show-Me Pickleball Club has seen membership climb steadily to 300 people.
"Ever since the first year, it's been a slow and steady growth," says Club President Doug "Chief" Schwandt. "Each year, it grows as people become aware and introduced to the sport, they quickly want to play more and meet more people to play. The club is a good forum for that."
With bootcamps for new players, opportunities for tournament play, social events and more, the club is an inclusive, welcoming, and supportive place for both new and seasoned players.
"Pickleball is so inclusive and cross-generational," Doug says. "We have people in the club in their 80s who play regularly. It has a big social component to it, and it brings people together to form friendships."
Members of the club are invited to participate in several leagues throughout the year hosted by the club's development committee. The committee is dedicated to introducing more players to the sport.
The club's play is almost all doubles, whether men's, women's, or the mixed variety.
Membership to the Show-Me Pickleball Club is $25 per year and includes socials and a t-shirt. Membership dues also support courts, nets, shade structures, and promoting pickleball around Columbia. More information can be found at showmepickleball.com or on the club's Facebook page.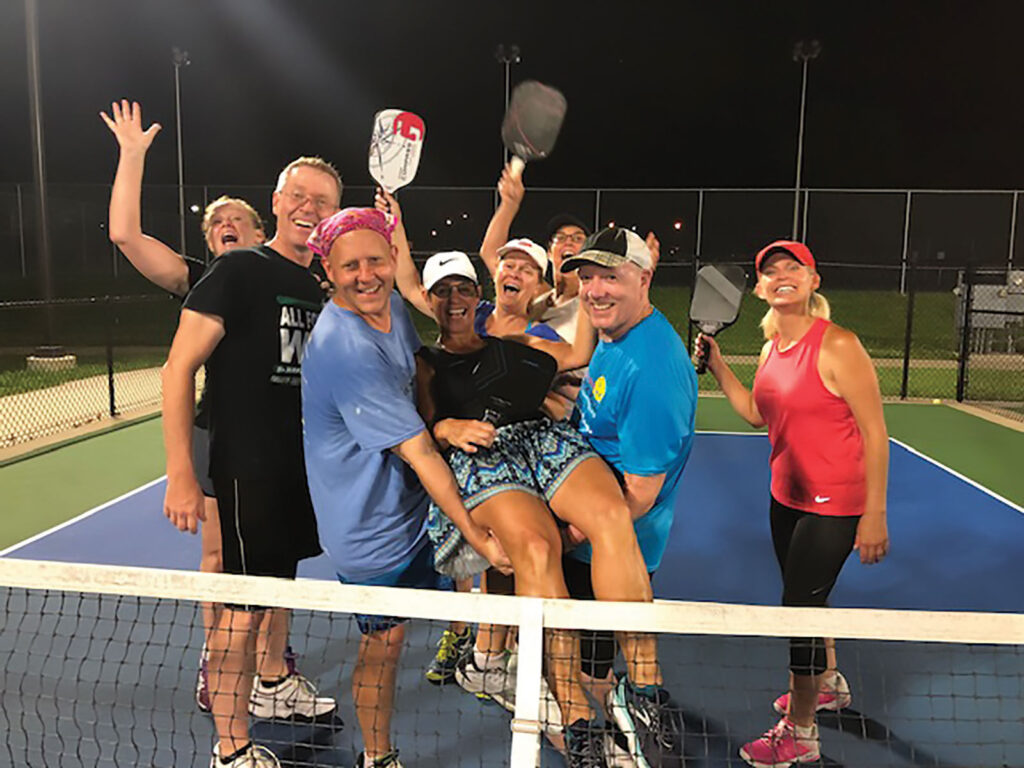 ---
Columbia Ultimate Players
In COMO, Ultimate Frisbee is a year-round sport. With three outdoor seasons and an indoor winter season, Columbia Ultimate Players is accomplishing its goal of facilitating the growth of and increasing the participation in the sport around Mid-Missouri.
"We not only want to be a fun group, but also a group to be able to teach anyone how to play, so we can be a good first step for anyone who is interested," says Luke Stir, a representative for CUP.
With 50-60 players each season, an average of four co-ed teams compete in a round robin season followed by a tournament that determines the season champion. Team captains draft teams from the pool of registered players, and CUP honors the buddy system, which means the league will try to place players who sign up together on the same team. CUP is open to all players, regardless of experience or ability. Because of the way teams are drafted, participants who play multiple seasons will play with different teammates, and on different teams, each season.
"We don't have a practice, but for anyone who is interested or new, the captains, the experienced players from our club team, Locomotion, or the college teams will gladly teach you how to play Ultimate," Luke says.
While Ultimate Frisbee in Columbia dates back to the formation of the UMC Frisbee Flyers in 1978, CUP in its current form began in 2002. There has been continuous league play in COMO for the past 20 years, with the exception of leagues during the COVID-19 closures in 2020.
"Interest in Ultimate has increased over time, especially since 2020," Luke says. "As more people have heard about our league, we have been seeing new faces who like to learn and have fun playing Ultimate."
Registration information is available on the Columbia Ultimate Players Facebook page or by emailing [email protected].