Photos by Keith Borgmeyer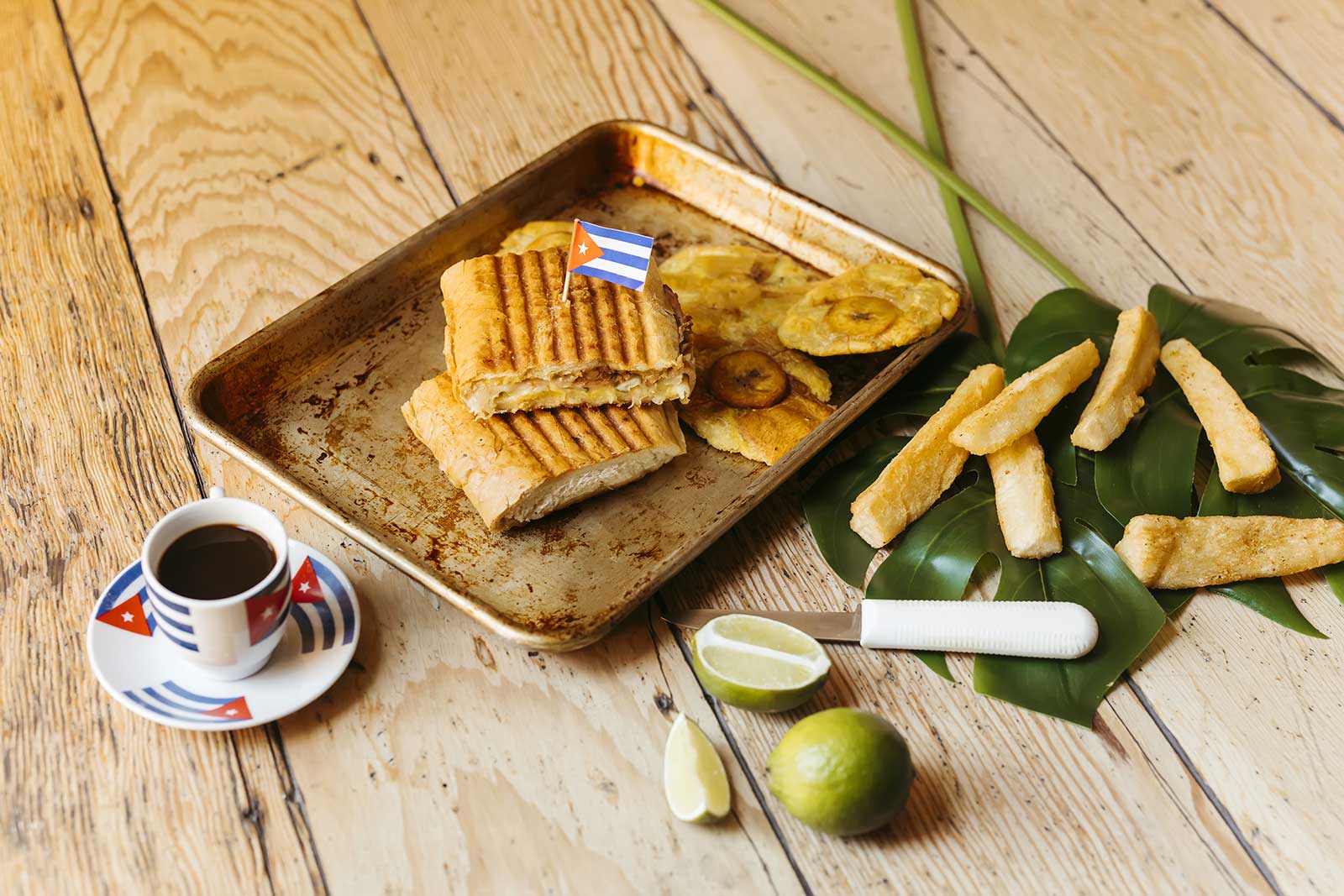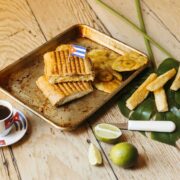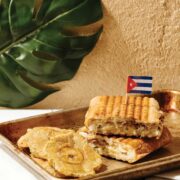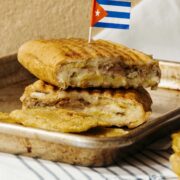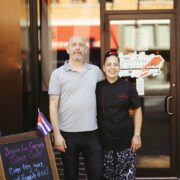 View Gallery
Chefs Katy Ugalde and Greg Butler bring the food of Sagua La Grande to Columbia
Born into a family of cooks, including her mother, grandmother, grandfather, and brother (who is a pastry chef), Katy Ugalde has always felt she was destined to be in the restaurant industry. "There is only one lawyer and one teacher [in my family]. Everyone else is in the business," shares Katy.
Katy and her husband, Chef Greg Butler, opened Sagua La Grande on September 8, 2019, in downtown Columbia, at 114 S. Ninth St. The original location was to be in Green Meadows, but due to unforeseen circumstances, the contract fell through. It was real estate broker Arnie Fagan, who also owns the pop-up shop Cool Stuff, who helped Greg and Katy find and sublet their current location from a prior tenant.
Originally from Sagua La Grande, Cuba (namesake of their restaurant), Katy came to the United States in 1997 and moved to Dallas, Texas. "I didn't speak a word of English," says Katy. Her first job was waiting tables at Tony's Wine Warehouse, which was owned by a French chef who also spoke a little Spanish. 
"He was the first person to give me a chance and I worked for him for 10 years. He's also the one who encouraged me to learn English." Katy says it was a struggle to be in a new country and not speak the language. She faced many challenges, including discrimination in the kitchen. "I cried every day, and he would say, 'Katy, you can do it.'"
Katy moved to Columbia in 2010 to work at the Hilton Garden Inn, where she met Greg Butler. The two discovered they were a great team and continued to work together at subsequent locations, including HyVee Market Grill and J. Huston Tavern, in Arrow Rock. Ultimately, they tied the knot in 2017.
Like Katy, Greg grew up in the kitchen. "My older brother, who is also a cook, helped me get my first restaurant job at a barbecue joint in Springfield when I was 16," says Greg. "I worked my way up from dishwasher to prep to line cook."
Greg received his culinary degree from the Kansas City Culinary Institute in 2009. Additionally, Greg is a certified kung fu instructor. In 2003, he moved from Springfield to Columbia to teach, and he still currently teaches once a week at the Martial Arts Center in Columbia, where his son teaches full-time.
"I always wanted to open a restaurant," says Katy. "But everyone tells me, 'You loco!' I was freaking out and scared." Despite her fears, Katy and Greg managed to get their new restaurant location ready to open in six weeks.
"I already knew what the menu would be," laughs Katy. "I've been thinking about it my whole life. There is no Cuban food in Columbia, and I wanted to bring all my family recipes, passed down for generations, to the people here."
Cuban cuisine has been shaped by its history, including the Spanish colonization, the arrival of African slaves, and the influence of neighboring Caribbean countries, resulting in a variety of unique food traditions studded with marinated, fall-apart tender meats and hints of citrus. The flavor-focused dishes rely heavily on cooking stocks, spices, and vegetables — onions, garlic, bay leaves, cumin, peppers, and tomatoes especially.
The tropical climate in Cuba fosters the growth of many fruits and root vegetables that can be found in Cuban dishes. Tostones, a common food staple in Cuba, are made of flattened, deep-fried green plantains. The Loaded Tostones, a creation of Katy's, is a nacho-like dish with layers of cheese and lechon (pork) or black beans topped with shredded cabbage, tomatoes, cucumbers, and onions tossed in Mojo sauce. Mojo sauce can be found on many of the dishes on the menu and is a diverse sauce packed with garlic, citrus, and olive oil. It's good for marinating or dipping.
"The thing about Cuban food that I love, and learned from Katy, is that slow-cooked, citrusy, tomatoey, savory combination of flavors," says Greg. "We also save the braise from each batch, so the flavors just continue to build."
One of the most popular dishes on the Sagua La Grande menu is Cuba's national dish. Ropa vieja (meaning "old clothes," a reference to the folk tale that gives the dish its origin story) is usually made with flank or skirt steak. The meat is pressure-cooked and shredded and served in a tomato-based stew of garlic, pepper, and onions with black beans and rice. Ironically, the Communist Party of Cuba criminalized the illegal consumption of beef in 1979. To this day, beef is pretty much an unattainable luxury for Cuban nationals, so the dish is consumed by only expats and tourists in Cuba.
One of Katy's father's favorite dishes, arroz con pollo, combines yellow rice with slow-roasted, shredded chicken thighs, peppers, onions, and peas. It's a must-try.
Recently Katy added the Cuban fritada to the menu: a burger blended with three meats (chorizo, ground pork, and ground beef) topped with Swiss cheese and lemon garlic aioli.
Perhaps the most well-known Cuban dish, the Cubano, showcases flavorful, slow-roasted pork, ham, Swiss cheese, pickle, and mustard on toasted Cuban bread.
Katy says that every dish on the menu is 100% authentic and made from scratch. "Most of Columbia didn't know anything about Cuban food before we opened. A lot of people have assumptions about Cuba that are inaccurate due to the politics, but I want to show them it is not what they are thinking."
Sagua La Grande is open Tuesday through Friday for lunch and dinner and available for curbside service and delivery. The restaurant offers catering, including delivering to sororities, fraternities, and local businesses. "We love when local businesses support each other," says Greg. The café also partners with Columbia Culinary Tours, adding a bit of diversity to the downtown food scene experience.
"My customers are such a blessing. When you are new, it can be super hard," says Katy. "But we love introducing Cuban cuisine to the Columbia community."