A Budding Family Business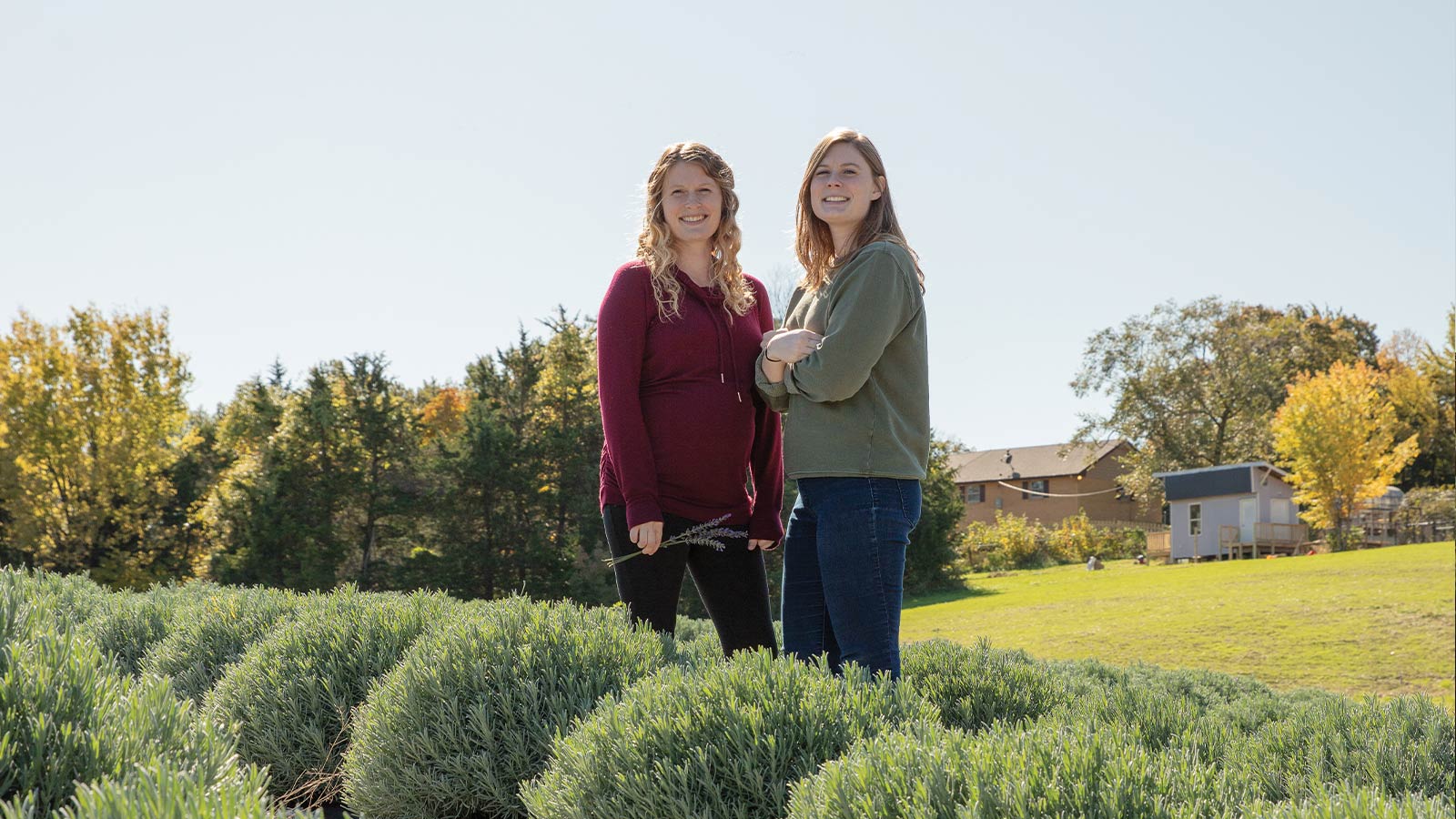 Two sisters embrace an adventure to grow lavender and other lovely plants in the small river town of Rocheport.
As fields of lavender take root in the rich Rocheport soil, so does a budding family business. Since 2017, sister duo Kelly Wisch and Kimie Grimm, along with the help of their husbands, have tended The Lookout Farm, where they sell homegrown and handcrafted lavender products. The sisters have spent the past two years cultivating their crop and their shop. You'll find goods well-suited for every room in your own abode — culinary lavender buds, an herbal tea blend, lavender cocoa, candles, soaps, cleaning sprays, and more.

Their story is woven with serendipity and hard work. For years, the sisters sought out a business venture to begin together, but nothing hit the mark. Inspiration struck Kelly while on a walk with her toddler, who pointed at a blooming lavender plant in her neighbor's yard. "I wonder," she thought, "if you can farm lavender in Missouri?" Fast forward a few months and the duo had more than just answers to that question. They had a plan in progress.

"My husband and I had just stayed here [in Rocheport] at a B&B, and then in the fall this property came up," Kelly says. It was the perfect property, it turns out — rolling hills ideal for growing lavender and a house with a finished basement apartment, ideal for two sisters and their husbands starting a family business. The two families moved in, and within a few short months, they planted lavender bulbs in the ground. One season later, they attended their first Columbia Farmers Market as vendors.

Most Saturdays from April through October, you'll find them at the farmers market, but that's not the only place you can purchase their products. Their online shop is open all year, and soon, a shop on the property will welcome visitors for pop-up events.

As with almost all businesses large and small, the COVID-19 pandemic has changed some of the plans for The Lookout Farm's 2020 season. School tours were canceled, and the rollout of on-farm shopping was postponed. But nothing here was halted; instead, a pick-up station, painted a fitting shade of lavender, was placed at the entrance to the farm. This contactless delivery method enabled customers to keep stocking up on products while practicing social distancing methods.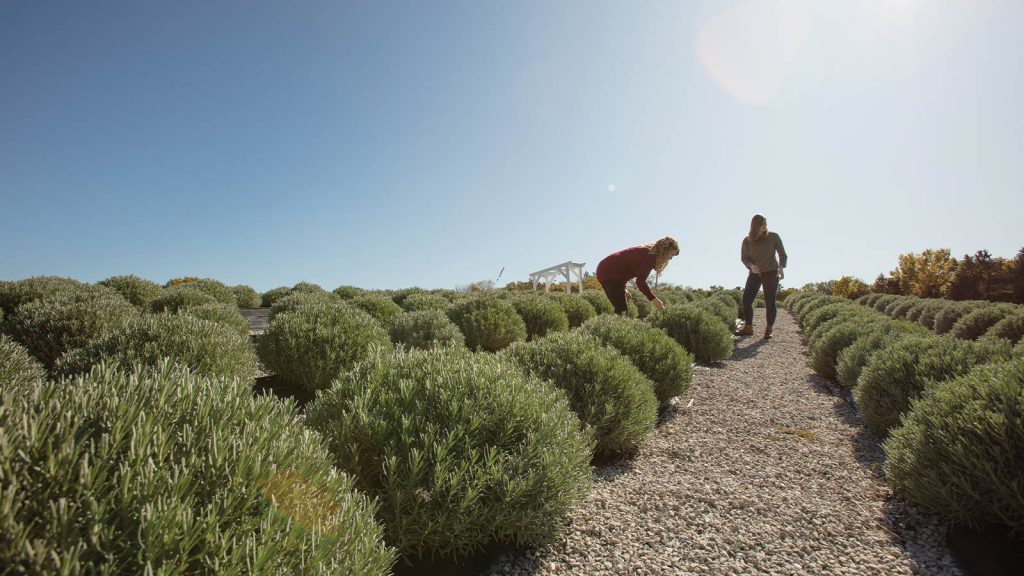 Seasons of Growth
In the time since the sisters planted their first lavender bulbs, they've shared seasons of growth individually and together. "Me and Kimie, we're not complete opposites, but we're pretty different in most ways," Kelly says. "It's just been really cool to see those gifts mesh together as one really cohesive 'get 'er done' kind of thing."

Much like growing lavender, strengths don't always blossom overnight.

"This last year, we've been really narrowing down what the jobs are that we have and who is best for them, and then we're trying to be really good about me and Kimie taking on most of those things. We do see this as our business, and our husbands are helping. Because they have full-time jobs, they're our main support."

The sisters share a passion for the education piece of their business; school tours are always a highlight. And even for those well-beyond schooling years, there is a lot to learn about lavender and other exciting projects happening at the farm. Take last year's new product: the loofah bar.

A loofah is a plant in the gourd family that bears long fruit; the dried interior of this fruit can be used as a natural sponge in the form of what most of us know as a household loofah. In the midst of a very busy year, this new project brought unexpected success. "Every article I read talked about how hard loofahs were to grow, and so I said I'll try four of them and see how it goes. And we just had the craziest year that we have had — it was too much to remember. My garden just went to hell, but for some reason, my loofahs went crazy. My whole garden felt like, I wouldn't say a full-on failure, but it was not pretty to look at. But these loofahs just grew in mass."

At the end of the growing season, she ended up with 35 nearly three-foot-long loofahs, which were then cut, dried, and turned into soaps or sold alone. The sisters found out that when most people think of loofahs, they think of the sea. But alas, it's the same soil that fosters waves of grain, not water, where loofahs grow.

This summer, they'll turn their focus to another section of their ever-expanding garden: wildflowers. "I just think it will be really cool to have people come and pick their own bouquets," Kimie says. "I think it's going to be beautiful, but also just really fun to see kids running around and grabbing flowers."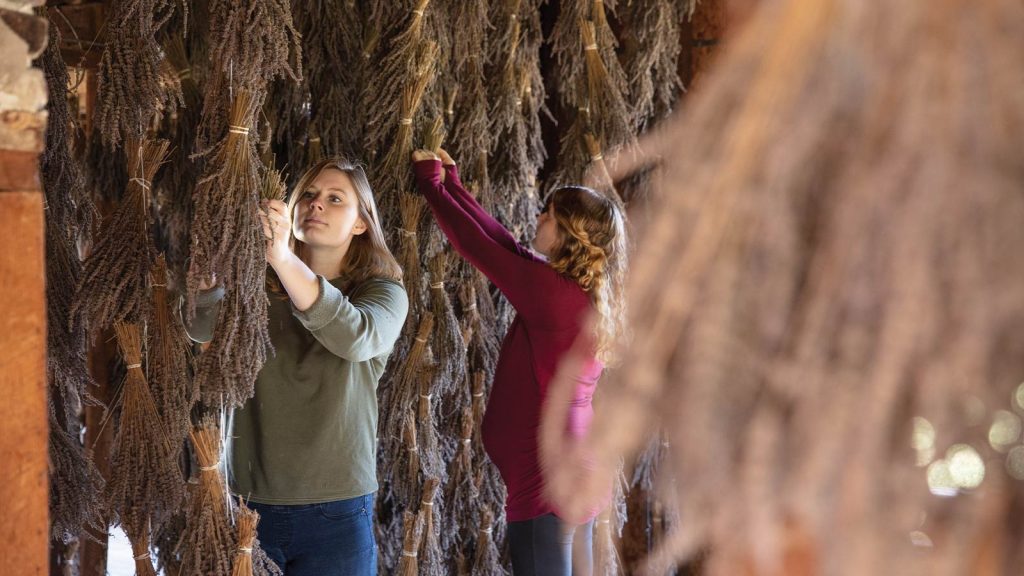 The Flow of a Family Farm
Just this year, both sisters welcomed new babies into their families. (In fact, Kelly was in labor when I called for our interview, and when I followed up a couple months later, Kimie was just a week away from her due date.) It's no small feat, they say, growing a family and a business all at once. But it's certainly not out of reach. "It's just real life," Kelly says. "And we've learned that from some of our farmers market friends . . . with me already having two kids, I've found people are very gracious and understanding. It's real life, and honestly, [taking care of the kids] is our first job, so the farm duties come after that."

But the farm is fun for the kids, too. "Kelly's kids help with the tours," Kimie says. "Her daughter is 5, and she's super excited about showing people the land and stuff, so they're really a big part of it too."

The pace of the town, slow like the Missouri River, has taught them to embrace a more passive approach, at times, to business. "Rocheport is way more easygoing than even Columbia, so we're still in the process of kind of adopting the Rocheport way of, 'Well, life happens,'" Kimie says. "So that's been fun, but it's also something we need to get better at too — more go with the flow."

Luckily, the flowing fields of lavender can help with that. Known for its relaxing properties, using lavender products can relieve anxiety and stress — helping with the slowdown we all need once in a while.