photos by Keith Borgmeyer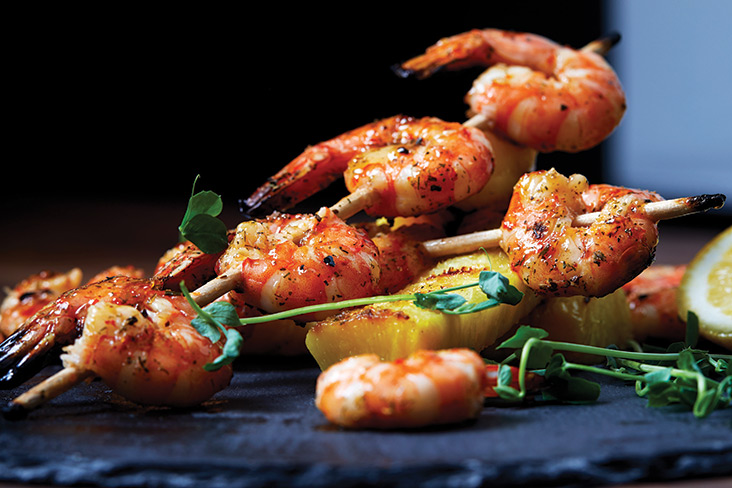 Tempt your taste buds with these local exotic flavors.
There's a time for comfort food, for classic fare that takes you home, wraps you in a blanket, and sings you to sleep. And then there's a time for adventure, for a meal that transports you to another place filled with flavors you might not recognize or really even enjoy at first.
In Columbia, you'll find many an adventurous dish, and we're begging you — give those flavors a chance. Some of my favorite local restaurants serve food that I didn't grow up eating and flavors that were not remotely familiar. These meals have turned into beloved pastimes. These restaurants each offer a little bit of an adventure on their menu. (We've tried them to prove it). You should take a bite, too, and see where it takes you. But for now, we've penned a selection of our own food adventures for you to experience right here on the page.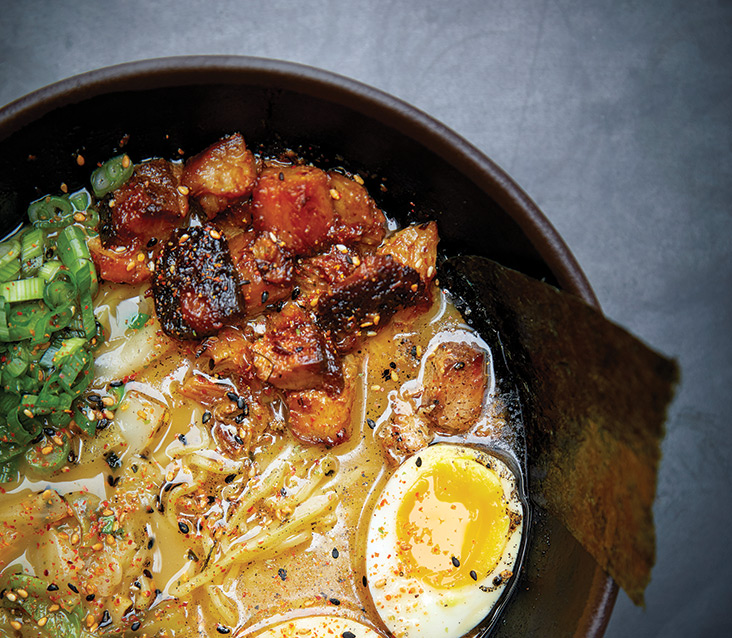 Le Bao Asian Eatery
Jina Yoo's sophomore eatery hearkens to the street foods found in her native South Korea, made for quick, casual dining — small bites that pack a big punch of flavor. As a huge fan of Jina Yoo's Asian Bistro, I couldn't wait to try her new venture. And it did not disappoint my taste buds.
Le Bao is coming up on its first anniversary in the North Village Arts District, occupying a slot in the old Brady Glass building. The eatery isn't just one of the only places in Columbia where you'll dine inside a repurposed Quonset hut; it's certainly the only local spot where you'll find an array of freshly-steamed bao and buns.
What is bao? Good question. Dumpling-shaped steamed bread rolls filled with an array of meats and veggies. The buns? The concept is taco-like—but the buns are about half the size of a standard taco shell, pale and squishy, sort of like memory foam (pictured at top). Jina's pick (and mine) is the fried chicken bun, a crispy combo of Korean and American fare. Then there's always the trustworthy, yet delicious, pork ramen (pictured above).
If you're craving something sweet, try a bing bing shaved ice. Bing bing, a nickname for the traditional patbingsu, is Korean shaved ice. The "pat" refers to the red bean paste traditionally used in these frosty creations, and though it's found in many variations of shaved ice, it's been said that Koreans were the first to incorporate this ingredient into the cold dessert.
Order the Seoul Tango to get a taste of the traditional with a fun twist. Bing bing shaved ice is topped with green tea ice cream, sweet red bean paste, and another surprise — Frosted Flakes. And though her menu doesn't feature any of the world's most exotic foods — no pickled pig or chicken feet here — you'll surely find something that will surprise your taste buds.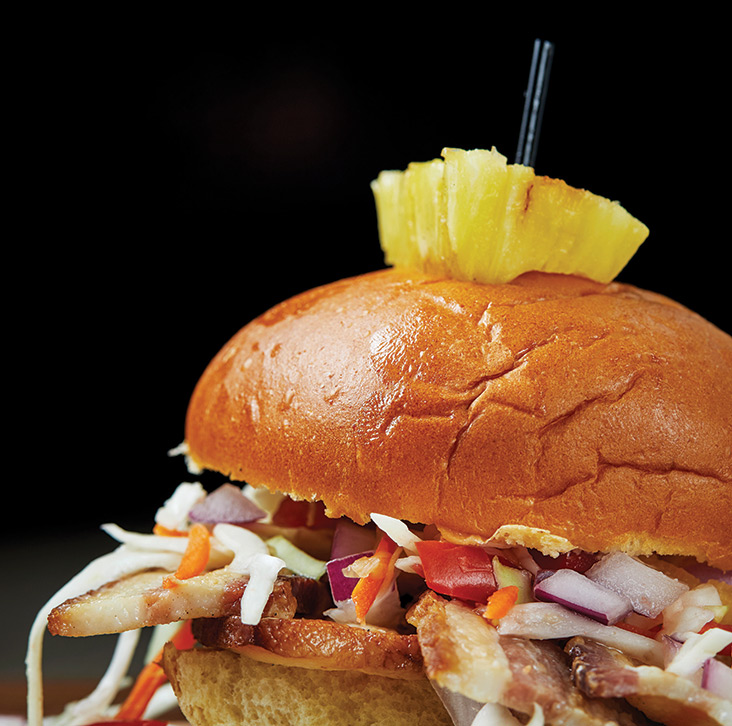 Chim's Thai Kitchen
A warm breeze, a sunset-painted sky, and Chim's on the river: a favorite warm weather combination of mine. Drive down winding gravel roads to Cooper's Landing on the Missouri River, claim a picnic table, and head over to the trailer where all those good smells are coming from. That's the Chim family cooking up something delicious.
If Mama Chim is there, it's likely that the heat will be cranked up a notch — but no worries, you can specify how spicy you want your meal to be. My go-to is always the pad Thai with a Thai tea. This tea, which has an orange hue, is made from strongly-brewed black tea and is often spiced with star anise, crushed tamarind, and cardamom. The brew is then sweetened with sugar, sweetened condensed milk, and served over ice.
You will want to bring bug spray — riverside dining in the summer means mosquitoes will be hungry, too. A few years ago, I would have said to bring cash as well, but Chim's now takes cards. Hurrah! Last tip: you'll want to stay within earshot of Big Mama Chim (although she has a vast range) to make sure you hear your name called to retrieve your order.
Barred Owl Butcher & Table
Barred Owl uses as many locally-sourced ingredients as possible, but this doesn't mean what you'll find on the food or drink menu is familiar. It's a favorite pastime of mine to pull up a seat at the bar to try the most outrageous cocktail on the "visitors" menu, usually a wild card thrown in by Barred Owl's "spiritual advisor" Andrew Ruth. House-made shrubs, infused liquors, and the freshest herbs all find their way into your glass.
The food is just as enticing. Chef Ben Parks and butcher Josh Smith find enjoyment in using every part of the animal they can. Sure, you'll find traditional cuts like rib eye on the menu, but you'll also find selections like oxtail ragu and rabbit confit. The menu changes by the day, so there's always a new appetizing surprise.
You can find Barred Owl on East Broadway, just across Providence from downtown.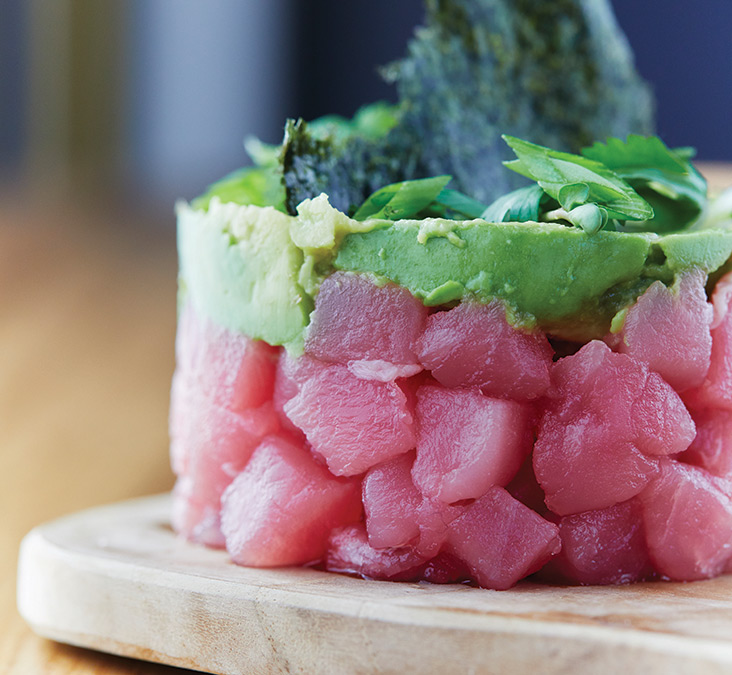 Park Restaurant & Bar
When you get out in nature, you have a couple choices: stick to the pavement or veer off the beaten path in search of your own adventure. You'll encounter the same choices at Park, one of Columbia's newest restaurants. Located off Highway 63 at the Discovery Parkway exit, the menu is a medley of American classics and Asian-inspired delights crafted with fresh, locally-sourced ingredients.
Like a park, the eatery aims to be a gathering place for its guests, a controlled environment where you can get to know different flavors from different places. And whether you enjoy fish, beef, pork, or a vegetarian option, these exotic flavors are available to you.
Try the Poke Stack (pictured above), a dish that hails from Hawaii. Traditionally, poke, which simply translates to "chunk," is served as an appetizer using raw tuna and marinade. Park's version uses sushi-grade ahi tuna marinated in sesame citrus dressing with fresh avocado, cilantro, green onions, nori, and fresh micro-greens stacked on crispy wonton chips.
If raw fish is too far off the beaten path for you, go back to the crossroads of classic and adventurous and try the Thai burger. It's a delicious combination that highlights the best of all its ingredients — a tender Angus beef patty and thick-cut applewood smoked bacon with provolone cheese, house-made Thai peanut sauce, and cilantro jalapeño jam on a pretzel bun. Or there's always the citrus grilled shrimp skewers or Park pops (pictured below).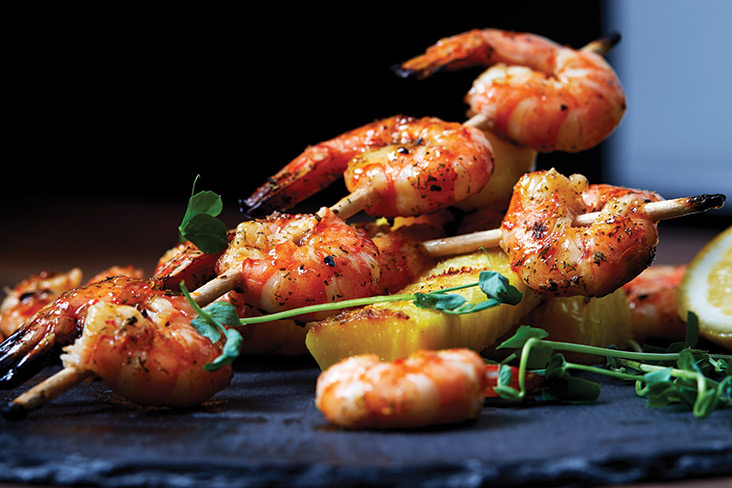 Tortilleria El Patrón
I first stopped in to meet Carmen and Jose Morales when their tortilleria, or tortilla bakery, opened in 2018. They were making hundreds (if not thousands) of fresh corn and flour tortillas per day in the small shop in the 700 block of Vandiver and selling tamales on select weekends.
Since then, they've expanded into the space next door to open a restaurant, where they serve traditional Mexican dishes that their family has made for generations and they continue to make at home. This family knows what they're doing when it comes to food. I trust her to fill my to-go bag with her favorites — tacos stuffed with tender lengua de vaca (cow tongue) and a splash of hot sauce. You won't need much.
Cool the heat with a mangonada, a frozen drink made with mangoes, lime juice, tajín seasoning, and chili sauce finished with a tamarind straw. If that's too adventurous, try one of their sweet waters: agua de piña con coco (pineapple with coconut, my favorite) agua de horchata (rice water) and agua de melón (cantaloupe water).
Jamaican Jerk Hut
I had the great pleasure of vacationing in Jamaica as a child with my parents on our spring break adventures. The trips consisted of floating down a sleepy river on a bamboo raft, sunbathing on white sand, and my favorite activity, enjoying the local fare.
at the resort where we stayed. In her two-room house, which had bare concrete floors in the pocket-sized kitchen and bathroom, she composed a magical meal. I can still hear the sizzle of the chicken and smell the spices wafting through the space and spilling out the open windows. The end result: jerk chicken and red beans and rice, followed by a scoop of rum ice cream and a swig of Ting. It's one of the fondest food memories I think I'll ever possess.
So I jump at the chance to share a hefty portion of the Jamaican Jerk Hut's rendition of the meal with my parents. I always order the jerk chicken with a side of red beans and rice and a Ting. One bite takes me right out of the Midwest and back to that Jamaican mountainside kitchen.
During the warm months, Jamaican Jerk Hut can be found roving around town in their food truck or at their brick-and-mortar location in the 700 block of Vandiver.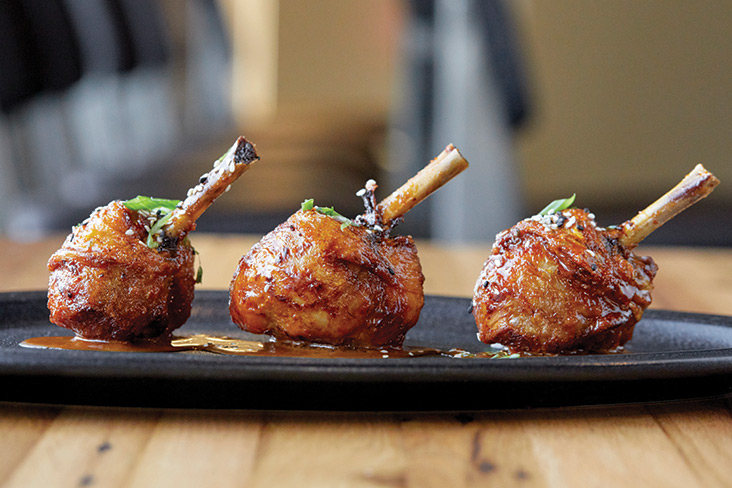 Bubblecup Tea Zone
I used to order a chocolate snow with boba almost every shift when I worked at the mall in college. My boyfriend (now husband) was sort of disgusted by the giant gelatinous tapiocas — the boba — that would slip through the wide straw with every sip . . . that is, until he tried them. And now we can't reign in our boba addiction. We even bought some to make at home.
Before the south Bubblecup location opened on Grindstone Parkway, we trekked downtown to Ninth Street in our parkas and snow boots during the terrible winter to get our fix. Whether you're craving something hot, cold, sweet, or somewhat savory, Bubblecup can deliver. Get a tea, a slush (water, ice, and flavor), or snow (milk, ice, and flavor). The list of options stretches up and down the wall, ranging from familiar flavors like pineapple to more exotic options like taro root.
We jumped on the matcha tea train a while ago; we can't get enough of that earthy flavor, of the tea that truly tastes like the color green. A matcha snow is now our go-to, and it's a great alternative to a bowl of ice cream. I'm telling you — this drink is worth an adventure through the snow.