Women of Excellence Finalists – Real Estate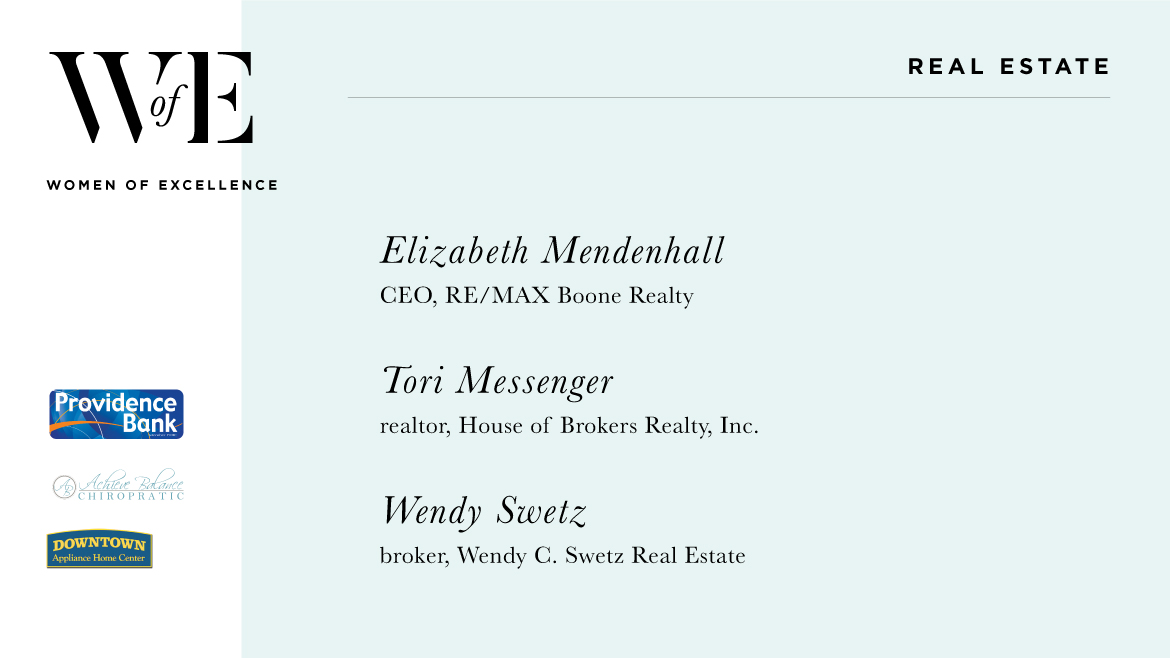 The Women of Excellence awards celebrate exceptional Columbia businesswomen in eight categories — education, finance, health care, hospitality real estate, retail, public service, and professional excellence — who strive to grow in their field, mentor other women, and serve in the community.
Finalists in each category will be honored at an awards ceremony and cocktail reception from 5:30-7:00 p.m. on Tuesday, February 26, at the Champagne Ballroom.
The finalists for excellence in real estate are:
Elizabeth Mendenhall
CEO, RE/MAX Boone Realty
As CEO of RE/MAX Boone Realty, Elizabeth Mendenhall has the opportunity to work for entrepreneurs who are building Columbia and to assist people in finding their dream job. Her leadership roles give her a platform to empower agents, increase their market value knowledge, and equip them to be advocates for homeowners. Mendenhall just completed her term serving as the 2018 President of the National Association of REALTORS, the largest trade association in the world.
Tori Messenger
Executive Director, Home Builders Association of Columbia
Tori Messenger is a full-time real estate agent for House of Brokers, Inc., where she helps buyers and sellers achieve their real estate goals. She also serves as the executive director for the Home Builders Association of Columbia where she assists with membership growth and retention and serves as a liaison with the National HBA.
Wendy Swetz
Owner, The Company, Wendy C. Swetz Real Estate
Wendy Swetz has lived in Columbia since she was 13 years old, and she received her Missouri real estate license in 2007. She has worked with hundreds of happy sellers and buyers over the years, and her goal is to make her client's moving process fun, easy, and convenient. She is in the top five percent of real estate agents in Columbia and owns her own agency: The Company.
Click here to see the finalists in other categories.