Women of Excellence Finalists – Public Service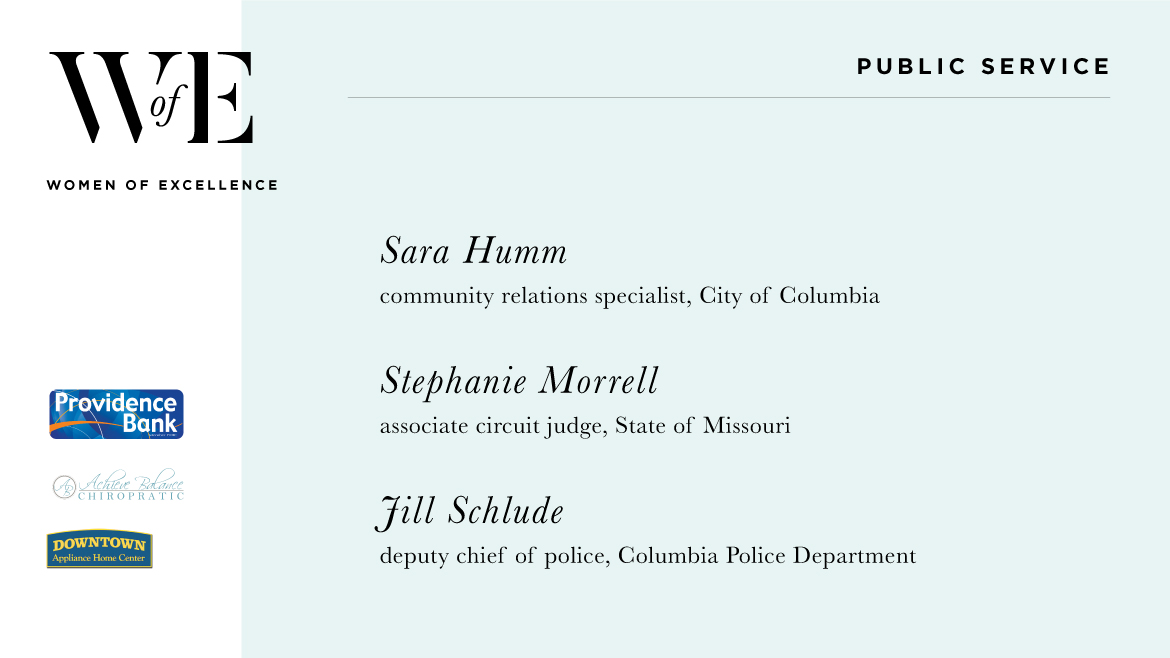 The Women of Excellence awards celebrate exceptional Columbia businesswomen in eight categories — education, finance, health care, hospitality real estate, retail, public service, and professional excellence — who strive to grow in their field, mentor other women, and serve in the community.
Finalists in each category will be honored at an awards ceremony and cocktail reception from 5:30-7:00 p.m. on Tuesday, February 26, at the Champagne Ballroom.
The finalists for excellence in public service are:
Sara Humm
Community Relations Specialist, City of Columbia
Sara Humm works in the city's community relations department doing communications of all kinds. Her job involves writing, editing, social media management, strategic communications, crisis communications, website management, relationship building, and much more. Overall, the goal of her job is to inform residents about city business and why it's important.
Stephanie Morrell
Associate Circuit Judge, State of Missouri
As a newly elected associate circuit judge, Stephanie Morrell presides over various matters before the 13th Judicial Circuit Court. She handles criminal and probate matters, including estates, guardianships, conservatorships, as well as other types of cases assigned by the presiding judge. Before taking the bench, Morrell served as a Boone County prosecutor and the Sturgeon City prosecutor.
Jill Schulde
Deputy Chief, Columbia Police Department
According to the City of Columbia's website, Deputy Chief Jill Schulde oversees the support services bureau, which includes administration, administrative support, and operations support, as well as the operations bureau, which includes special operations and patrol operations.
Click here to see the finalists in other categories.