Women of Excellence Finalists – Finance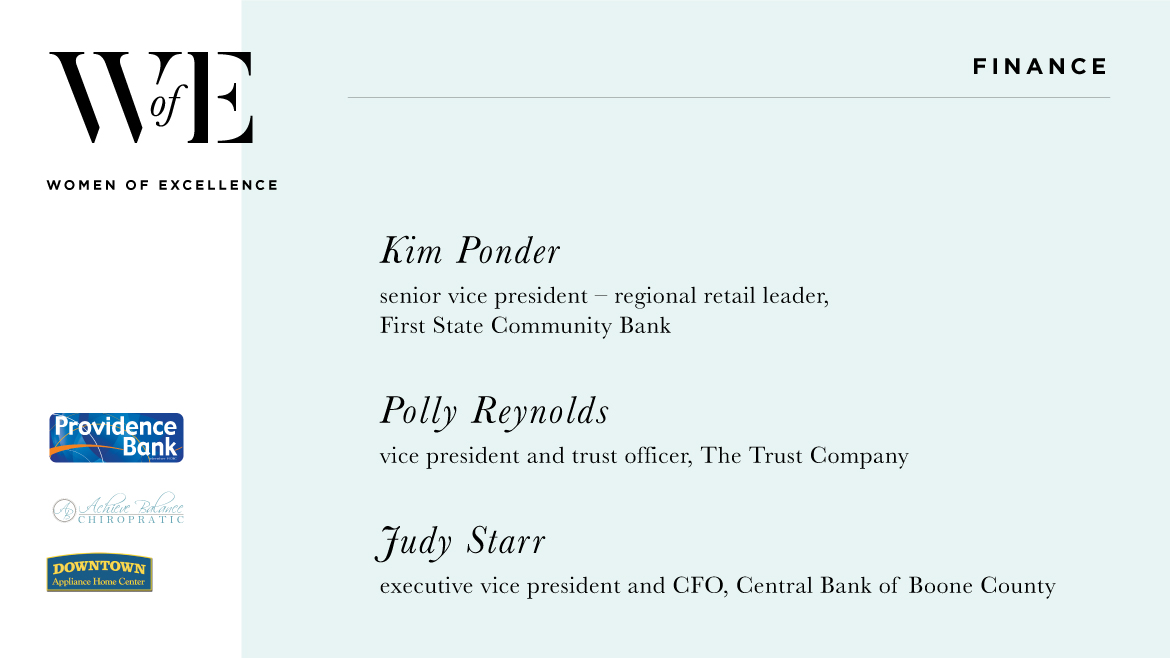 The Women of Excellence awards celebrate exceptional Columbia businesswomen in eight categories — education, finance, health care, hospitality real estate, retail, public service, and professional excellence — who strive to grow in their field, mentor other women, and serve in the community.
The finalists for excellence in finance are:
Kim Ponder
Senior Vice President and Regional Retail Leader, First State Community Bank
As the senior vice president of First State Community Bank, Kim Ponder's role is to build, develop, and support retail initiatives within the bank's six community markets within Central Missouri. She describes it as a high energy position that allows her work with outstanding members of each market to deliver exceptional service.
Polly Reynolds, CPA, CTFA
Vice President and Trust Officer, The Trust Company
As vice president of The Trust Company, Polly Reynolds manages the Columbia branch of the company, which offers financial services to businesses and individuals. Those services include investment management, comprehensive financial planning, trust and estate administration and settlement, and retirement plans. She is driven by the relationships she has with her clients.
Judy Starr
Chief Financial Officer, Central Bank of Boone County
As executive vice president and CFO of Central Bank of Boone County, Judy Starr is responsible for many non-customer facing activities in the bank. She oversees accounting, bank facilities, investment of excess funds, and deposit account rate management. She also acts as liaison for those activities where their holding company provides support, such as auditing and compliance.
Click here to see the finalists in other categories.