Women of Excellence Finalists – Education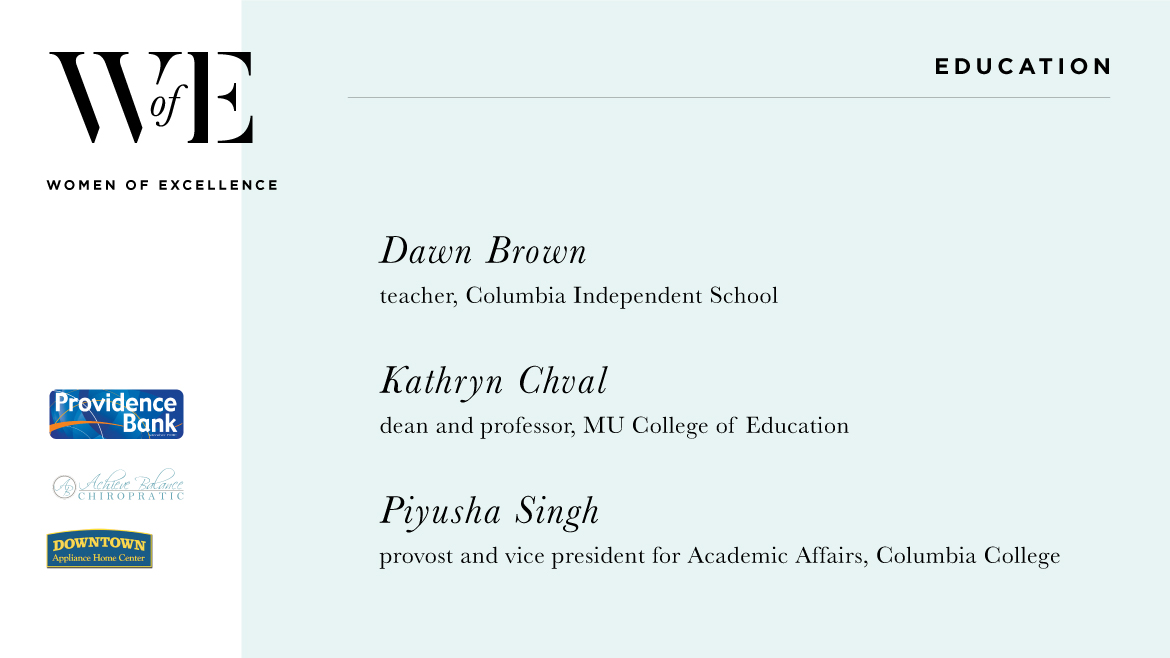 The Women of Excellence awards celebrate exceptional Columbia businesswomen in eight categories — education, finance, health care, hospitality real estate, retail, public service, and professional excellence — who strive to grow in their field, mentor other women, and serve in the community.
The finalists for excellence in education are:

Dawn Brown
Fifth Grade Teacher, Columbia Independent School
A teacher at Columbia Independent School, Dawn Brown spends her days with fifth graders who love learning, work hard, and are curious people. Her passion is literacy education, and she enjoys listening to students talk about the books they've read. She also enjoys seeing how their geometry, multiplication, and area skills come together as they tackle more challenging concepts.

Kathryn Chval, PhD
Dean and Professor, MU College of Education
As dean of the College of Education, Kathryn Chval, PhD, serves as the chief academic and administrative officer, leading its educational, research, service, and economic development missions. She leads a team of 600, who educate 2,500 students and support 40,000 living alumni worldwide.

Piyusha Singh
Provost and Vice President Academic Affairs, Columbia College
As the Chief Academic Officer for Columbia College, Piyusha Singh works with faculty and staff to ensure a consistent, high quality, academic experience across all the college's venues. Since the academic experience consists of so many different facets, she coordinates multiple teams including student affairs, libraries, tutoring, and more.
Click here to see the finalists in other categories.