A Capitol Conversation: The McCaskill-Hawley Race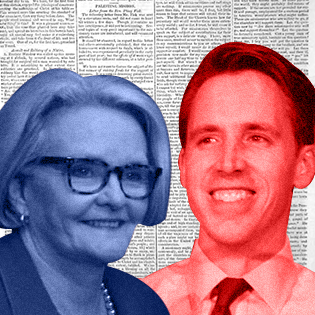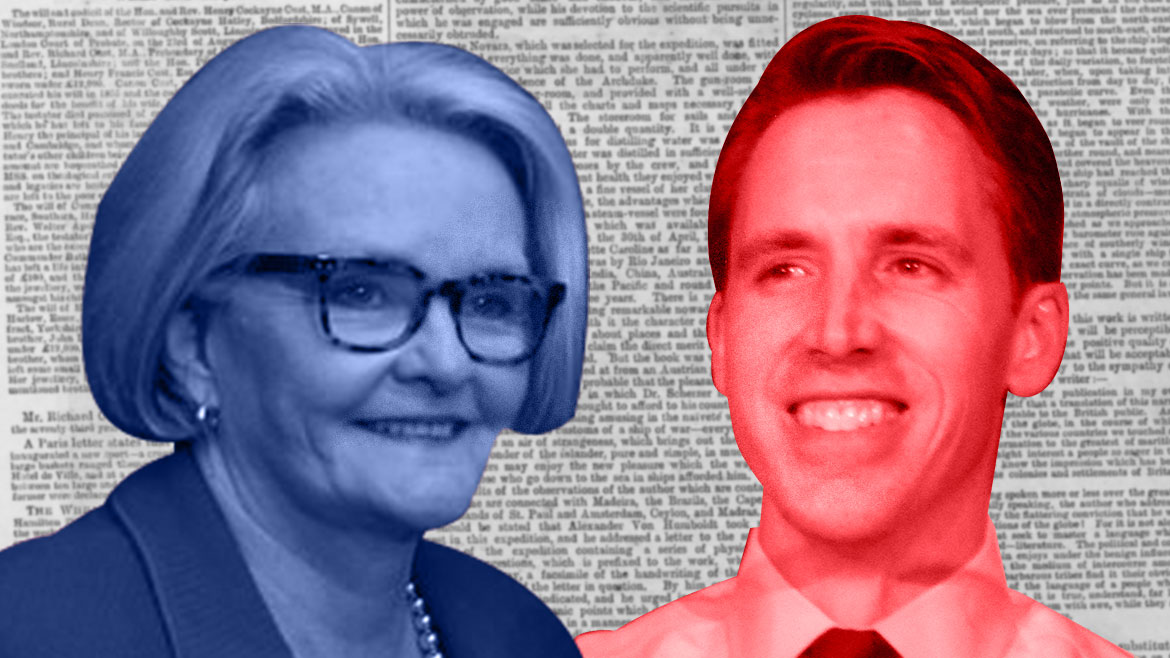 Missouri's August primary election produced few surprises, particularly with the race for the U.S. Senate seat currently held by Democrat Claire McCaskill. The incumbent won re-nomination in a walk over six challengers. Republican Josh Hawley, currently the state's attorney general, garnered more than half the total vote in a field of eleven Republican candidates. It's the race everyone expected and the race they got.
The general election campaign turned ugly quickly. First, anti-McCaskill ads slammed her for using a private airplane on what was promoted as a bus tour. That was followed by ads spotlighting McCaskill's votes in favor of tax subsidies by which her husband, Joseph Shepard, has profited. At the same time, anti-Hawley soft money painted the Republican as a tool of corporate masters, spotlighting his acceptance of millions of campaign dollars from Missouri manufacturing tycoon David Humphreys.
Following President Donald Trump's success in Missouri in 2016, where he carried the state by nearly 20 points, Republican strategists labeled McCaskill vulnerable with a capital V. And while she has maintained a substantial lead in fundraising ($4.3 million to Hawley's $1.87 million in an April to June report), pollsters have shown the race to be a dead heat. At this writing, a poll from Missouri Scout puts both candidates at 47 percent.
McCaskill has lived on the political edge for a long time. In her first race for statewide office in 1998, the Democrat convinced enough voters it was not necessary to be a certified public accountant in order to be the state auditor to defeat CPA Chuck Pierce by four points.
In 2004, she unseated incumbent Bob Holden in the Democratic primary for governor only to lose to Republican Matt Blunt by a margin of less than three points. In her first U.S. Senate race in 2006, McCaskill unseated incumbent Jim Talent by a margin of 49.6 percent to 47.3 percent.
By 2012, the continuing shift from blue to red in the Missouri political landscape had pundits predicting a loss for McCaskill at the hands of conservative House member Todd Akin. With the race deadlocked, Akin's televised comment suggesting female biology prevented the victims of "legitimate rape" from getting pregnant was a campaign gift to McCaskill, and she defeated the Republican by more than 15 points. No one expects that kind of reversal of fortune in 2018.
Josh Hawley's entry into the senate race comes two years into his term as state attorney general. He was among a number of constitutional law attorneys general put in office to do what Republicans in Congress had not done with much success: push back against the Obama administration through lawsuits.
Right-wing news site Breitbart labeled Hawley as (senate majority leader) "Mitch McConnell's No. 1 Recruit" for the U.S. Senate in 2018. Hawley has said the Trump White House also pushed him to get into the race, and the president has made repeated visits to help Hawley raise money. The candidate also has benefited by financial support from the Republican Association of Attorneys General.
Hawley's short tenure as Missouri Attorney General has been marked by the investigation of former Governor Eric Greitens.
While the Republican argued for transparency and the subpoena power needed to dig deep into the use of a self-deleting messaging app, his political opponents seized on his prior acceptance of campaign dollars from Greitens' political organization. Hawley's moves to disconnect from Greitens created tensions within the Republican party. And McCaskill began to talk about Hawley's lack of prosecutorial acumen, hoping perhaps to trigger an Akin-like implosion. That has not happened.
Looking forward, both candidates have been pushed to take positions on the issues Missouri voters will see on their November ballots. McCaskill has said 'yes' to medical marijuana, the gasoline tax increase, a higher minimum wage, and the so-called "Clean Missouri" amendment for campaign contribution limits, lobbyist restrictions, and redistricting reforms. Hawley initially stepped lightly, saying only that Missouri voters should have a say on all those questions. Eventually, he said he was "inclined to support" at least one of the three medical marijuana proposals.
Republicans currently hold a 51-47 (with two independents) majority over Democrats in the U.S. Senate. The Independent senators caucus with the Democrats. So the McCaskill-Hawley race clearly figures into the political control of the chamber going forward.
Kermit is an award-winning 45-year veteran journalist and one of the longest serving members of the Missouri Statehouse press corps.