Volkswagen Test Drive – 2018 Tiguan SUV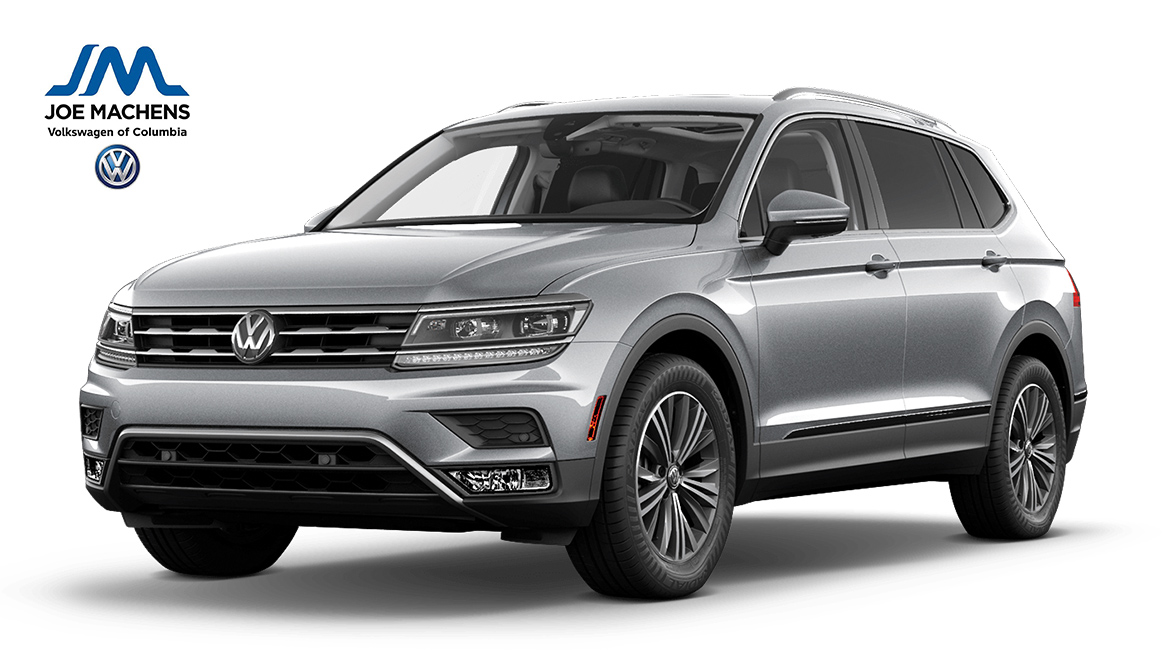 I love my car. I mean . . . I REALLY love my car. I drive a 2012 Volkswagen Passat V6 SLE. Before Dani (yes, that's her name), I had a minivan to drive all of my children around in. I needed something that was more "me," and I found it in my Passat immediately after my oldest child got her own car.
This year, I turned 40 and Dani turned 176,000 miles. I have decided that it's time for me to consider getting a new car. This decision comes with a fair amount of angst for me as I decide what to do. I mean, how does one replace the perfect car? As a professional problem solver, I decided to create a rubric to measure my new car choices against to see how they fit me. Here's what I came up with.
Volkswagen:
This is an easy one. It has to be one. I'm a diehard, loyal fan. My car has been mechanically sound for all of her 176,000 miles. The service department at Joe Machens Volkswagen is amazingly thoughtful and attentive. Even the parts department has been great as I have purchased both accessories for me and parts for my son's 2003 VW Jetta. VW it has to be.
Parkability:
During the course of doing my job as President of The Business Times Company, I spend a significant amount of time downtown. I can parallel park Dani in just about any space on the first try. Being a size that enables me to still do this is a must.
Sass:
Let's face it. I need a certain level of spunk in my car to match the spunk in my spirit. One of my favorite things about my car is that I have keyless locking, unlocking, and starting. I merely touch the door handle to lock or unlock the car. Also, no fumbling in my purse for keys — push button start and off we go!
Not only do I need this aesthetically but I need it with speed and pep. On the outside, my Passat looks very classy but unassuming with her dark gray metallic paint and black leather interior. However, Dani is a speed machine. Even at 176,000 miles, I can smoke most cars getting on to the interstate. My kids always want to drive my car because it's more "fun" than theirs. I can only assume it means they want to go fast. (I say no.)
Gas Mileage:
Lastly, I drive from Boonville to Columbia every day for work. Often, I even have to make an extra trip back and forth because of something my children have forgotten or need. This means that I need my gas mileage to be efficient. I don't want to sacrifice financial efficiency for sportiness.
So now you can see what's important to me in selecting my next new vehicle. In addition to this scorecard, I have the best partner in this process with Joe Machens Volkswagen. They are committed to helping me find my next car and letting me take my time doing it. Over the course of the next several months, I will be reporting back on my test drives of new vehicles from Joe Machens Volkswagen and how they measure up against my rubric. By the time December gets here, I will make my selection and tell you which it is. Wish me luck!
Test Drive: Part 3
2018 VW Tiguan SUV

Upon arriving at the dealership, Murali (Machens VW GM) grabbed a salesperson to help me find the Tiguan that I would be test driving. Mikey Glasgow helped me with the necessary paperwork, found the keys and introduced me to my ride for the next few days. He was hilarious and quite thorough even though I made him give me the Reader's Digest version. The slate grey Tiguan with all the works made a really great first impression. I kept the car three days to put it through the pace of my "normal" life including the Fourth of July festivities. Here is how it scored on my test:

Volkswagen:
Check.
Parkability:
This being a smaller SUV loaded with a backup camera, it parked like a dream! I mean, I was the envy of all parallel parking fearing people in downtown. One shot and perfect!! Definitely gets a 5 on this.
Sass:
This Tiguan had some sass. It has the keyless system I liked. The leather was luxurious. I was impressed again by the infotainment system. In fact, it was the first time I noticed that specific name for it even though I know all the rest had it too. Everything I need to be entertained or informed was within fingertip range and very easy to use. This car also has the adaptive cruise control and blind spot monitor which can be super helpful as I spend so much time on I-70. I loved that it has all wheel drive, I could tell the difference when all four wheels were working. It's definitely not as peppy as my Passat and that is a big challenge for me. However, the sunroof/moonroof combo taking up the entire roof and making me feel like I was in a convertible really made up for it. I give it a 3.5/5 for sass.
Gas Mileage:
Pretty decent gas mileage in this SUV. Factory information states that it gets 23 mpg. I got close to this myself. I give it a 4/5 for fuel efficiency.

I'm getting close to finishing my search with only two models left to go. While I went in to this quite sure that the Passat was for me, that Atlas is looking better all the time. It is a for sure runner up at this point.
Meet the Test Driver:
Erica Pefferman
President, The Business Times Company
Current Car:
Make: Volkswagen
Model: Passat V6 SEL
Year: 2012
Name: "Dani"
Color: Grey with black leather interior
Current mileage: 181,272
Favorite trip: St. George Island, FL
Schedule your test drive with Machens Volkswagen today!
1200 Vandiver Dr. Columbia, MO | joemachensvw.com | (855) 461-4061
Part 1 | Part 2 | Part 4 | The Results
Sponsored Content