For Starters: Cover Recipes
photos by Keith Borgmeyer
The staff's picks for great holiday "go-to" appetizers are baked brie and goat cheese, topped with roasted cranberries. Stunning in presentation but so very simple to prepare, these easy appetizers are festive and holiday-ready.
Cranberry Pomegranate Baked Brie
INGREDIENTS
12 oz (about 3 cups) fresh cranberries
1 cup pomegranate juice (see notes)
3/4 cup granulated sugar, more or less to taste (see notes)
1 cup pomegranate aerils
2 8oz wheels brie
1/4 cup honey
1/2 cup candied walnuts or pecans
Rosemary, for garnish (optional)
Artisan crackers, for serving
INSTRUCTIONS
Combine the cranberries, pomegranate juice and sugar in a small saucepan and placing over medium-high heat. Bring it to a boil, lower heat to a simmer, and let it cook for about 5-10 minutes, or until the cranberries have all popped. Adjust sweetness to taste by adding more sugar, if necessary. Stir in the pomegranate aerils. Transfer to a glass container and cool completely. This can be done a few days in advance.
Preheat oven to 350°F. Place wheels of brie on ovenproof serving dishes or a parchment lined baking sheet and bake for about 7 minutes, or until the cheese is starting to soften. Top with the honey and cranberry pomegranate sauce, and return to the oven for about 2-3 more minutes, or until the brie gooey and soft.
Remove from oven, top with candied nuts and garnish with rosemary, if using. Serve warm with crackers.
NOTES
Depending on the pomegranate juice you find, there can be a difference in strength and sweetness — note that pomegranate juice that is fresh tastes different from pomegranate juice from concentrate. Either will work, just taste and sweeten your sauce with sugar accordingly.
The sauce can be made in advance, making this even easier when you are entertaining.
(By Liren Baker, Kitchen Confidante)
Baked Goat Cheese and Roasted Cranberry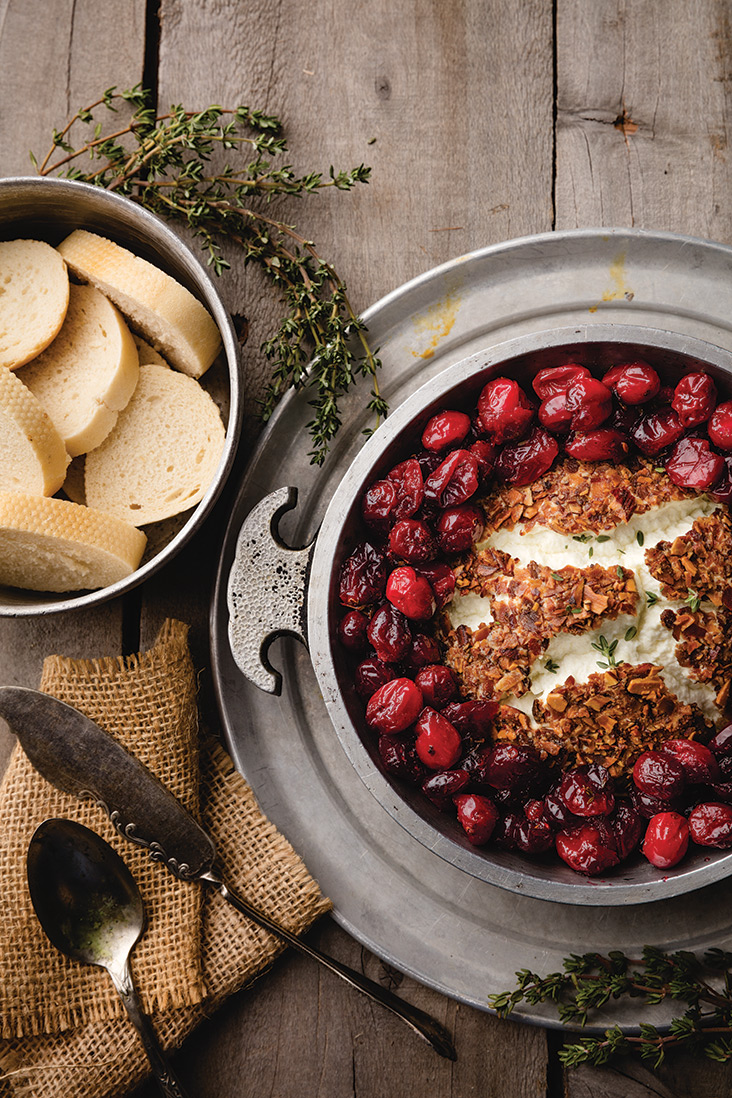 INGREDIENTS
1/3

cup unsalted almonds

2

tablespoons balsamic vinegar

1/2

cup honey

2

cups fresh cranberries

1

tablespoon thyme

10

ounces goat cheese
INSTRUCTIONS
Preheat oven to 350 degrees. Spread the almonds on a baking sheet and bake for 6 minutes. Remove pan from the oven and pour the almonds into a small bowl. Set aside.
In a medium bowl, combine the balsamic vinegar and honey. Add the cranberries and thyme to the bowl and stir until they are covered by the liquid. Set aside for 5 minutes.
On a cutting board, chop up the almonds. Set aside 1/2 tablespoon chopped almonds and roll the goat cheese in the remaining almonds. Use your hands to mix the almonds into the goat cheese and form the goat cheese into a disc. Place the goat cheese in the center of a pie plate.
Pour the cranberry mixture around the cheese. Sprinkle the set aside almonds on top of the goat cheese.
Place in oven and bake for 30 minutes. Serve hot with crackers or bread.
(Courtesy of Honey & Birch)
Appetizers by Nancy Galloway, Karen Miller, and Carolyn Allen.