For Starters: Appetizer Recipes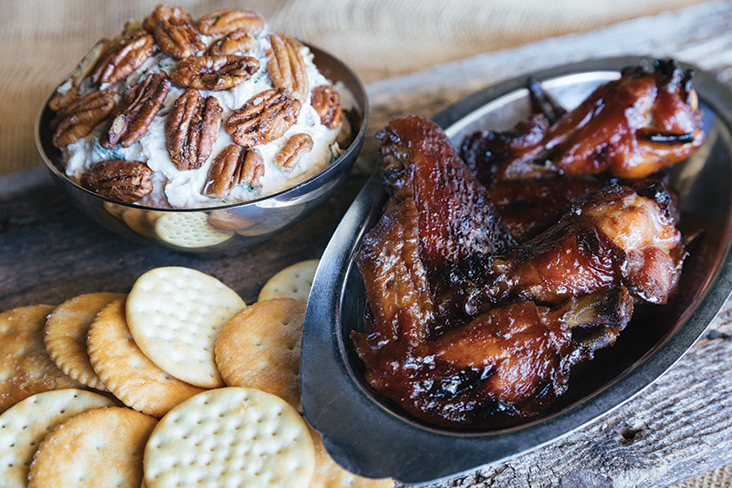 Local hostesses show off their favorite finger foods.
Chipotle and Rosemary Roasted Nuts & Parmesan and Thyme Crackers
From Nancy Galloway
"Planning and advance preparations are vital to my sanity and enable me to enjoy an evening of entertaining. These recipes can be prepared well in advance and will give your guests a little something to nibble on before dinner is served. "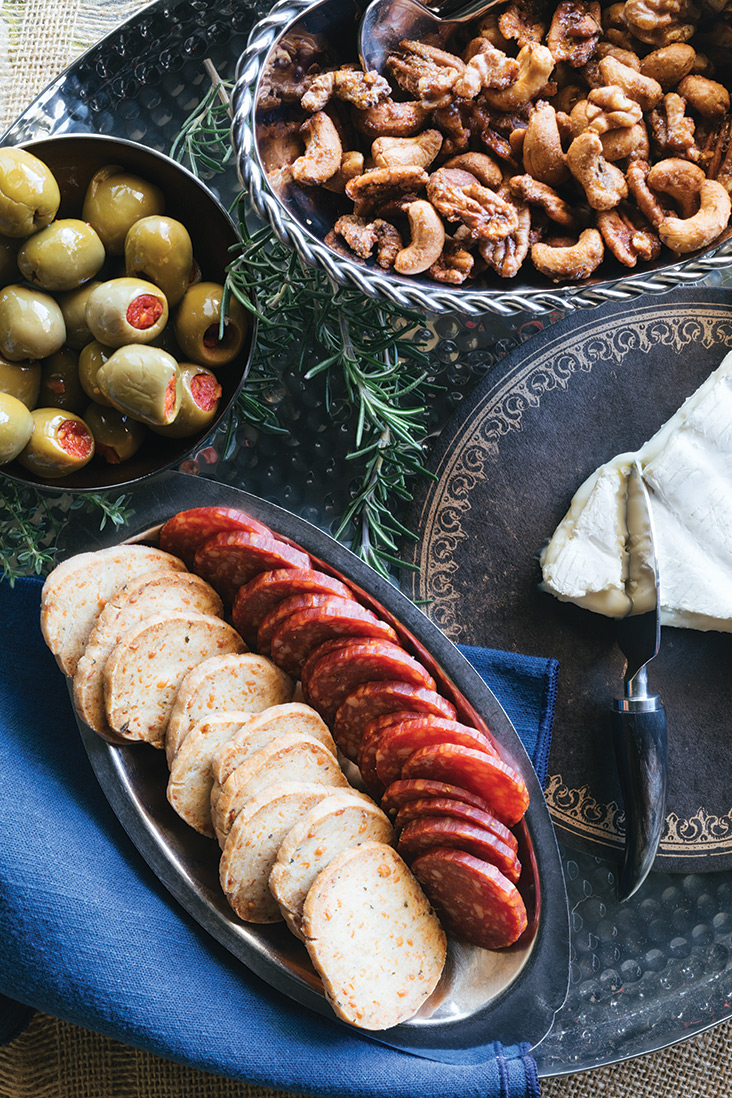 Chipotle and Rosemary Roasted Nuts
Vegetable oil
3 cups whole roasted unsalted cashews (14 ounces)
2 cups whole walnut halves (7 ounces)
2 cups whole pecan halves (7 ounces)
1/2 cup whole almonds (3 ounces)
1/3 cup pure maple syrup
1/4 cup light brown sugar, lightly packed
3 tablespoons freshly squeezed orange juice
2 teaspoons ground chipotle powder
4 tablespoons minced fresh rosemary leaves, divided
Kosher salt
Preheat the oven to 350 degrees.
Brush a sheet pan generously with vegetable oil. Combine the cashews, walnuts, pecans, almonds, 2 tablespoons of vegetable oil, the maple syrup, brown sugar, orange juice, and chipotle powder on the sheet pan. Toss to coat the nuts evenly. Add 2 tablespoons of the rosemary and 2 teaspoons of salt and toss again.
Spread the nuts in one layer. Roast the nuts for 25 minutes, stirring twice with a large metal spatula, until the nuts are glazed and golden brown. Remove from the oven and sprinkle with 2 more teaspoons of salt and the remaining 2 tablespoons of rosemary. Toss well and set aside at room temperature, stirring occasionally to prevent sticking as they cool. Taste for seasoning. Serve warm or cool completely and store in airtight containers at room temperature.
Note:  A nice container of these nuts also makes a nice hostess gift.
(Courtesy of The Barefoot Contessa)
Parmesan and Thyme Crackers
¼ pound (1 stick) unsalted butter, at room temperature
4 ounces freshly grated Parmesan cheese (about 1 cup)
1 teaspoon minced fresh thyme leaves
½ teaspoon kosher salt
½ teaspoon freshly ground black pepper
1¼ cups all-purpose flour
In the bowl of an electric mixer fitted with the paddle attachment, cream the butter for 1 minute. With the mixer on low speed, add the Parmesan, thyme, salt, and pepper and combine. With the mixer still on low, add the flour and combine until the mixture is in large crumbles, about 1 minute. If the dough is too dry, add 1 teaspoon water.
Dump the dough onto a floured board, press it into a ball, and roll into a 9-inch log. Wrap in plastic and refrigerate for at least 30 minutes or for up to 4 days.
Meanwhile, preheat the oven to 350 degrees. Cut the log into 3/8-inch-thick rounds with a small, sharp knife and place them on a sheet pan lined with parchment paper. Bake for 22 minutes, until very lightly browned. Rotate the pan once during baking. Cool and serve at room temperature.
Note: This is one of those recipes you can easily double or alter the thyme leaves with another fresh herb of your choice.
(Courtesy of The Barefoot Contessa)
Sausage Stars
From Karen Miller
"This is my go-to recipe because it's versatile. They are attractive, individual, and easy to serve. I bake all the wontons at once and seal the extra in a large baggie. Any extra filling lasts in the refrigerator about three weeks. This appetizer is great to have available for last-minute guests."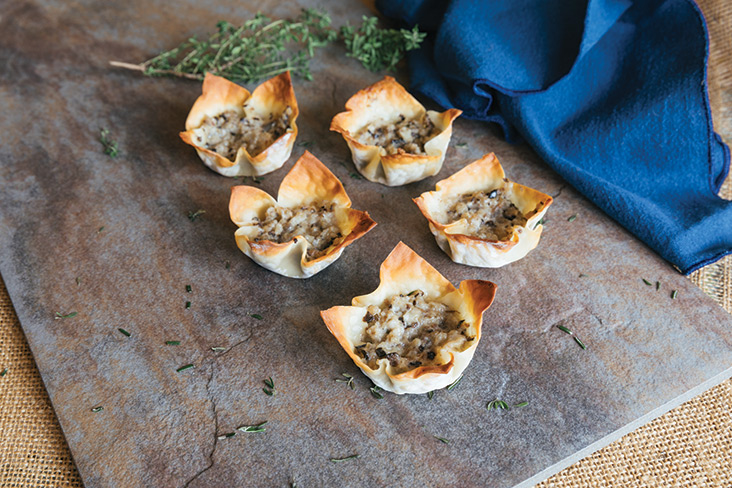 1 pkg. of your favorite breakfast sausage – cooked & drained
1 pkg. Monterrey jack shredded cheese
1 small cans black olives – chopped
1 pkg. wonton wrappers
1/2 pkg. Hidden Valley Ranch dressing mix & ingredients needed to make it from scratch or a bottle also works
Make Ranch Dressing according to package directions – set aside.
Brown Sausage – drain.  Mix with cheese, olives and ranch dressing in a large bowl.  You can let this refrigerate overnight for better flavors or a minimum of 30 minutes (makes it easier to spoon into shells).
Push a wonton wrapper down into cupcake tins to make individual forms.
Bake at 350 for 5-8 minutes until slightly brown.  Remove and place all of them on cookie sheets until you are ready to fill with sausage mixture.
Fill wontons with sausage mixture and re-bake at 350 for 5-8 minutes on cookie sheets until bubbling hot.  Serve hot – keep in a warming tray for party.
Salmon Cheese Ball and Teriyaki Wings
From Carolyn Allen
"The salmon cheese ball is one of my favorite recipes because the salmon provides a different and unexpected taste. It's a great addition to our annual Super Bowl festivities, and compliments most foods. The teriyaki chicken wings are simple and delicious."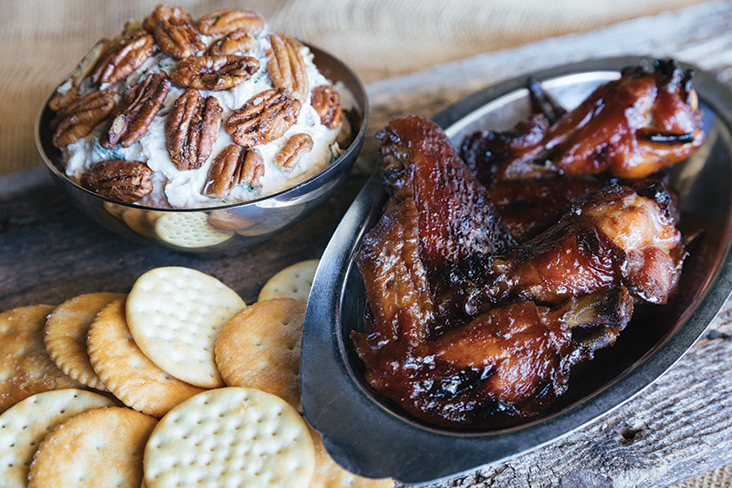 1 can salmon 16 oz.
1 pkg. cream cheese (softened)
1 tbsp lemon juice
1 tsp horseradish
1/4 c sour cream
1/4 c miracle whip/mayo
1/4 cup chopped (grated) green/ red onions
1 tsp Worcester sauce
1/2 tsp dill weed
Dash(es) salt, pepper, garlic powder
Parsley flakes
Chopped pecans
Preparation:
Remove all skin and bones from canned salmon and discard. Flake remaining salmon meat.
Mix in a medium ball all ingredients except parsley flakes and pecans.
Once ingredients are thoroughly mixed and blended – form into a ball and cover with waxed paper or plastic wrap and chill for several hours until firm.
Once chilled roll salmon ball into parsley flakes and pecans until completely covered.
Teriyaki Wings (using prepared teriyaki marinade)
3 pounds chicken wings
Teriyaki marinade
Honey
Olive oil or spray coating
Wash wings and soak in ice water.
Remove from water and dry with paper towels. Place wings in a plastic Ziploc bag with a teriyaki marinade and shake until wings are covered. Place in refrigerator for at least 30 minutes and while chilling turn bag to keep wings coated.
Prepare baking dish and coat with olive oil or spray to avoid sticking.
Bake in preheated oven at 350 degrees for 1 – 1 1/2 hours. Cover wings with marinade while baking. Turn wings while baking in oven. Drain when wings are almost done and continue to bake. When wings are ready place under broiler for a few minutes.
Remove from oven and drizzle with honey. Serve.