For Starters: More Appetizer Recipes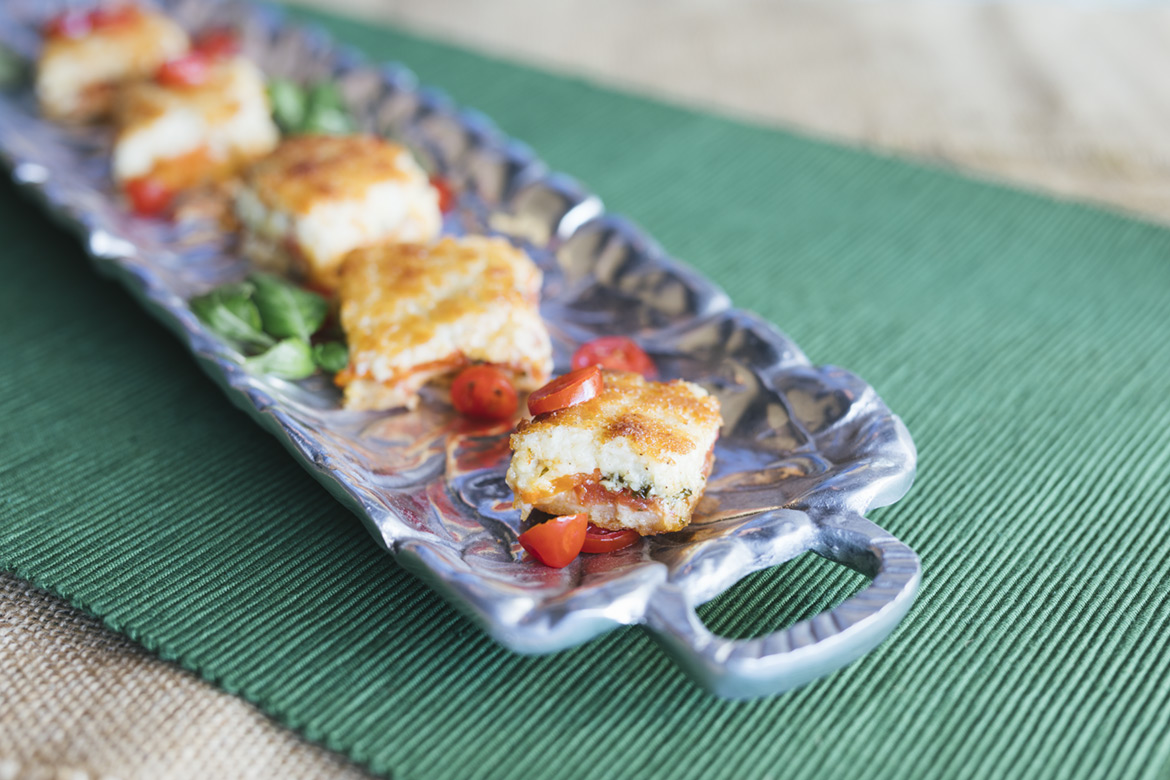 Jackie Baugher shows off her favorite finger foods.
Cold Marinated Shrimp
"This recipe is from my friend Sandye Edlund, who happens to be one of my favorite cooks in town. I have never had an average dish from her kitchen—EVERYTHING she makes is spectacular."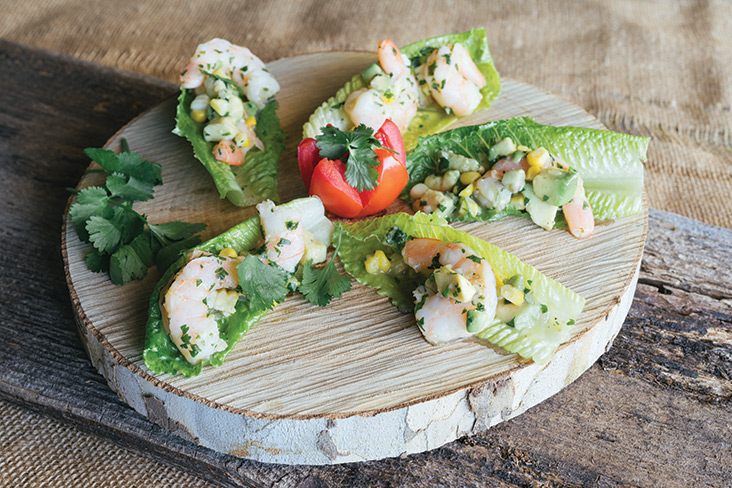 Makes 8 appetizer servings. Prep: 20 minutes, Chill 1 hour
If making this ahead, get all the ingredients (except the avocados) ready to combine; place in individual zip-top plastic bags, and store in the refrigerator. Once you arrive at your destination, peel and chop the avocados; gently stir together up to 2 hours before serving, and chill.
1 lb. large cooked, peeled shrimp
2 medium avocados, chopped
1 cup chopped fresh cilantro
2 tbsp. chopped red onion
Lime vinaigrette
Garnishes: fresh cilantro leaves, red onion slices
Combine first 5 ingredients. Gently stir in lime vinaigrette to coat. Cover and chill at least 1 hour. Garnish if desired.
Lime vinaigrette:
Makes about ¾ cup. Prep: 5 minutes
½ cup fresh lime juice
¼ cup honey
1 garlic clove, pressed
½ tsp. salt
¼ tsp. pepper
1/3 cup olive oil
Whisk together first 5 ingredients. Gradually whisk in 1/3 cup olive oil until blended.
Fig Crostini's
"I love making this quick and easy appetizer, especially during the busy holiday season. I have shared this recipe with all my fig-loving friends in Columbia—so much so that sometimes Schnucks is out of fig spread!"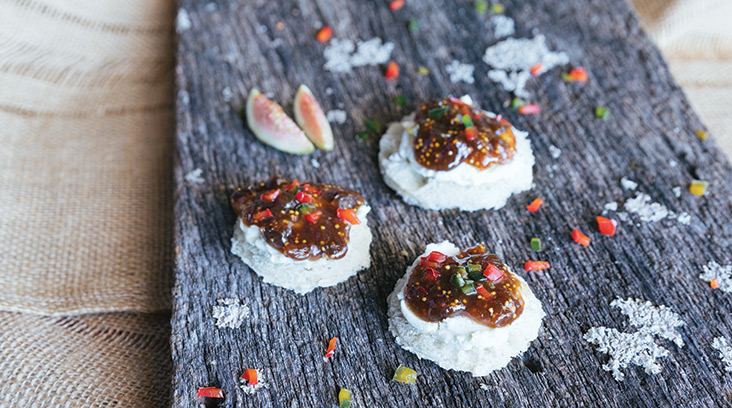 Cut sourdough bread into circles
Make crostini's
Cover in goat cheese
Top with fig jam
Top with tiny jalapeño pieces
Basil Tomato Tart
"Another holiday favorite of mine."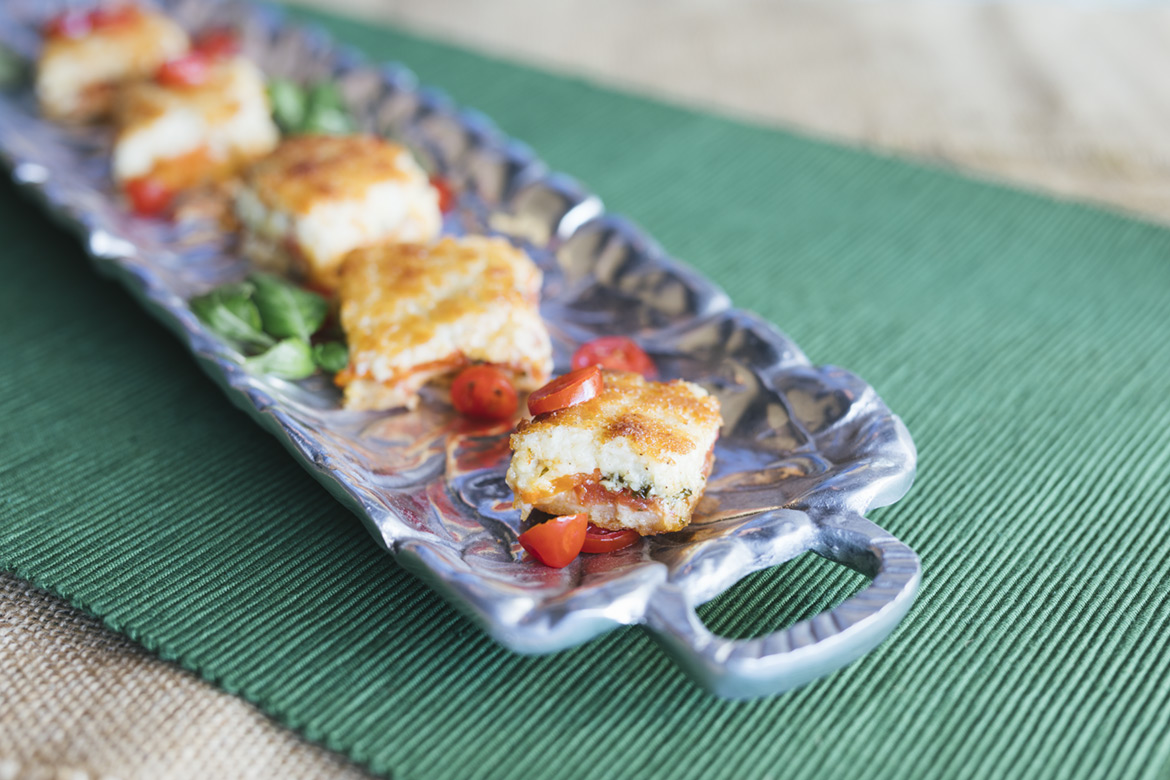 1 refrigerated unbaked pie crust
2 ½ c. shredded mozzarella cheese
5 Roma tomatoes
1 c. loosely packed fresh basil leaves
4 clove garlic
1 c. mayonnaise
1 c. grated parmesan cheese
½ tsp. pepper
Unfold pie crust according to package directions. Place in a 9-inch quiche dish or glass pie plate. Flute edges; press with the tines of a fork, if desired. Pre-bake according to package directions. Remove from oven. Sprinkle with ½ cup of mozzarella cheese. Cool on wire rack. Cut tomatoes into wedges; drain on paper towels. Arrange tomato wedges atop melted cheese in the baked pie shell. In a food processor, combine basil and garlic; cover and process until coarsely chopped. Sprinkle over tomatoes. In medium mixing bowl, combine remaining mozzarella cheese, mayonnaise, parmesan cheese, and pepper. Spoon cheese mixture over basil mixture, spreading to evenly cover the top. Bake at 375 degrees for 35 – 40 minutes or until top is golden and bubbly.