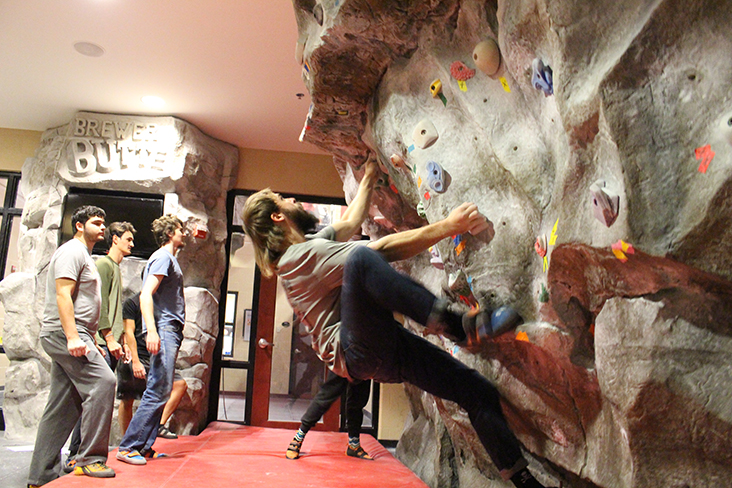 MU Climbing Club hosts BoulderFest.
Every semester, the MU Climbing Club hosts BoulderFest, welcoming new climbers and alumni alike. For many, Brewer Butte, the wall at MU's recreational center, was their first exposure to rock climbing. Though some will tell you the natural features of the top-roping wall make it difficult to learn on, the controlled environment and helpful climbing technicians make it a very safe start for those interested in the sport.
The climbing club's president, Husain Agha (pictured below), recalls his first experience with the sport. "I started after my first semester as a freshman," he says. "I walked into Scrogg's Peak [the top roping wall] looking for something to do during my first summer in Columbia. I met a very excited Haley Allen, who showed me the ropes, and I was hooked within an hour. Never looked back, though occasionally have looked down."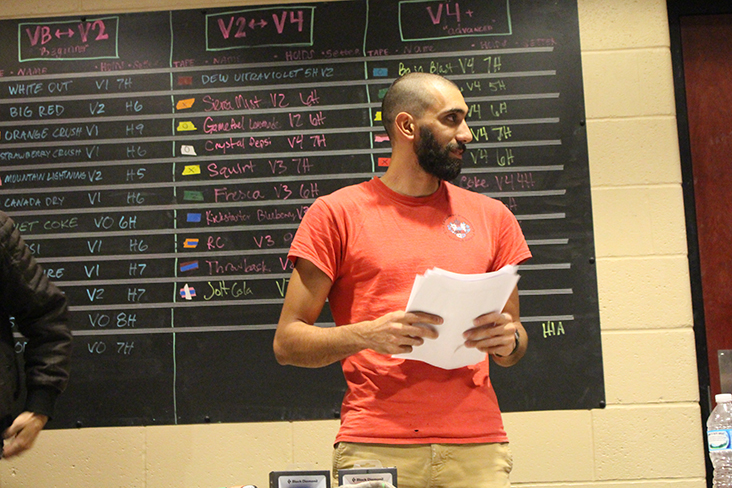 Brewer Butte and Scrogg's Peak are outfitted with three types of climbing that are available for interested parties: lead climbing, top rope climbing, and bouldering. Top rope climbing is the best way to start for those that have no previous experience, as the belayer constantly pulls out the slack of the rope so the climber need not worry about falling, or staying on the wall, as the rope will always be taut. Bouldering, the type of climbing featured at BoulderFest, is the more technical level of climbing, for those wishing to hone their movements as well as build their finger strength.
Bouldering is typically done on a boulder or small rock formation without the use of any rope. The route follows a specific set of holds that the climber must follow to "top-out." Foot work and body position become particularly important, as some of the holds, called "crimps," are so small that only the placement of one or two fingers is feasible. Each of the routes fall somewhere on a scale of V0 to V17, V0 being the easiest and V17 being the most difficult.
At this year's fall BoulderFest, the most difficult route featured, "Ale," consisted of a six-hold route that was rated at a V10.  Very few climbers were able to top-out, but many appreciated the challenge. The urge for people to meet and surpass their expectations in climbing is the true purpose surrounding BoulderFest. It's not about the prizes, or beating others, but rather competing against yourself, no matter what level of climber you happen to be.
The MU climbing club is always looking to welcome new members, no matter their abilities. "We have people of basically all skill levels: those who can barely climb the 'easy' stuff to people doing crazy things outside," says Husain. So, no matter how rudimentary your skills, rock climbing is something that you should give a full-hearted attempt to (at least once).
"Don't be self-conscious." Husain says. "I know that it can be daunting, and you don't want to make a fool of yourself, but climbers are some of the most welcoming people around. I've never seen anything but helpfulness when a new climber comes into the wall. We don't care if it's your first time — we all had a first time. I couldn't even make it up the wall the first time I came in, so don't feel bad. Just come back, we would love to have you!"