photos by Keith Borgmeyer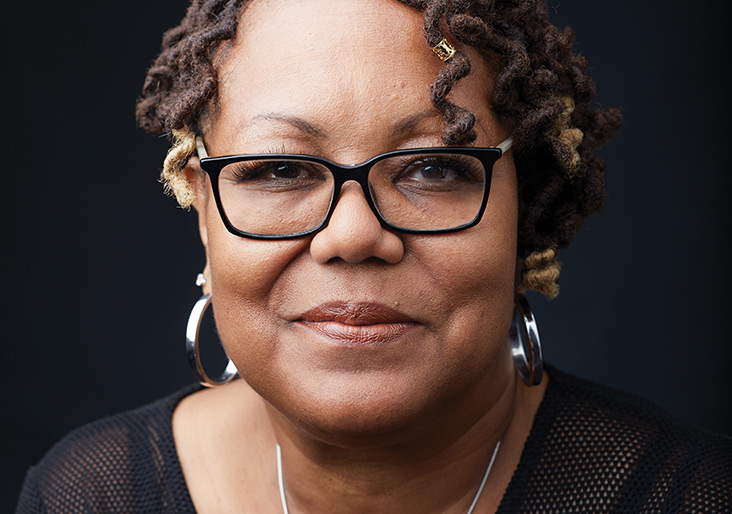 Local nonprofit directors dedicate their lives to the common good.
Cheryl Howard, Nora Stewart Early Learning Center
As a former graduate of the Nora Stewart Early Learning Center, Cheryl Howard (pictured above) never thought she'd be running it one day.
Then, 10 years ago, her life hit a crossroads. Having worked for a national nonprofit that wanted her to relocate, she began looking for a way to stay in the town she loved. The learning center was also at a crossroads. Mary Jane Davis, their director since 1965, had died, leaving the organization without leadership.
Mary had been Cheryl's teacher. Cheryl had grown up at Nora Stewart. There was only one thing to do — accept the challenge. "I still remember my first day," Cheryl says. "It was a brand-new arena for me. I had worked in nonprofits, but not in early childhood education. It was like starting a whole new business."
Cheryl believes her history with the learning center now serves as a strength of her leadership. "I've been both an attendee and a leader," she says. "I've seen both sides."
The Nora Stewart Early Learning Center was started in 1933 by Amanda Estes, with the property donated by "Mama" Nora Stewart. It was the first nursery school in Columbia to serve African-Americans, and it now cares for 43 families with children from 6 weeks to 8 years old. The center strives to provide a nurturing environment for families in need of affordable care while preparing the children for kindergarten.
Cheryl knows the center desperately needs to expand without leaving their location in the heart of the community. Her plan to solve the problem? Raise the funds to build a second level.
"The fundraising side of the job is time-consuming and demanding," Cheryl shares. "It takes a lot of energy and effort, but without it, you can't move forward."
The center's funding comes from four main sources — the United Way, USDA, tuition, and fundraising efforts like grants and the center's annual Post Holiday Blues event each February.
"I love my job," Cheryl says. "I put more time in this job than I ever have. You're not going to get rich in this business, so you've got to have your heart and soul in it."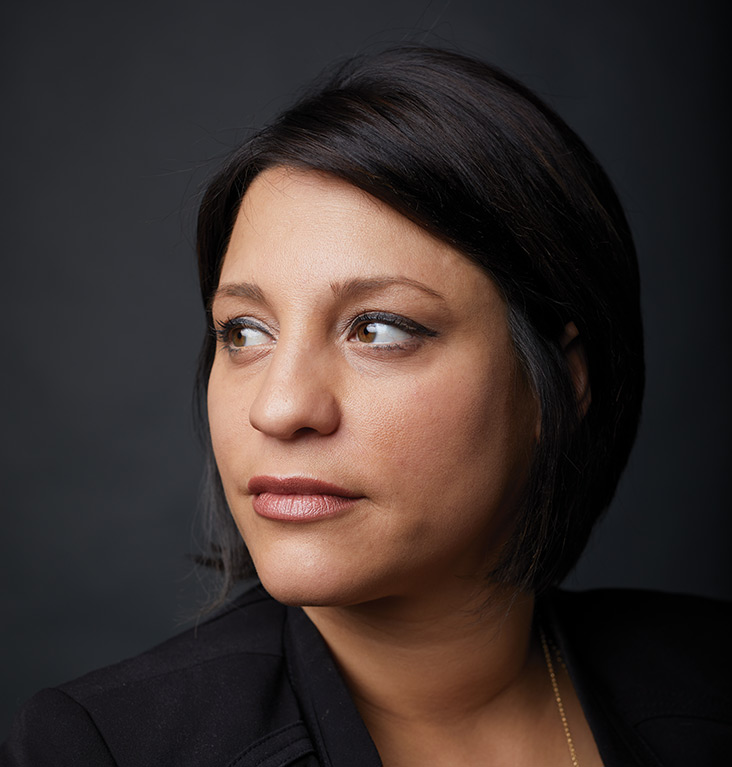 Elizabeth Herrera, True North of Columbia
Elizabeth Herrera moved to Columbia for love.
The daughter of Dominican immigrants, Elizabeth (pictured above) grew up in Puerto Rico. After receiving her master's degree in not-for-profit management, she worked at PACE Center for Girls Inc. in Jacksonville, Florida before opening a PACE center in Miami in 2013.
Then she got bit by the love bug. With her partner living in Columbia, the couple had to choose whether to settle in Miami or Columbia. Elizabeth, who is expecting her first child in August, picked Columbia. "It's a wonderful place to raise a family," she says. "There's fresh air, and you can breathe here."
One condition of her move, however, was that she find work she was passionate about. Elizabeth celebrated her one-year anniversary in Columbia — and at True North — in July.
"I want to help women find their value and reach their full potential," Elizabeth shares. "I believe a community can be transformed when we invest in women."
True North was started in the 1970s as a shelter for rape victims, and it exists today to provide a safe environment by educating, empowering, and advocating for victims of domestic and sexual violence.
Elizabeth sees her strengths as her unique ability to merge best business practices with heart-centered leadership.
"I lead with my heart," Elizabeth says. "I believe many management systems are outdated and don't contribute to elevating the human spirit. I find that the most effective performer is one who loves their work, is engaged, and is treated with respect and consideration."
Elizabeth enjoys working with her team of 27 staff and 30 volunteers and getting to know them personally. "They provide the ideas, and then my job is to find ways to make them happen," she says.
In her first year, Elizabeth and her team have been busy making the shelter more welcoming and enhancing the programs True North offers. In April, volunteers from For Columbia painted the inside of the shelter and remodeled the bedrooms using décor provided by local businesses. "The people of Columbia are so kind and generous," Elizabeth shares. "The new décor really communicates to the women that they are loved and valued."
In addition to a warm environment, True North now provides life skill classes, counseling programs, AA and NA meetings in-house, mindfulness coaching, and yoga to help the women become more fully independent.
"We've worked for 30 years to be a safe place," Elizabeth says. "Now we want to become the gold standard for the holistic approach to programs we provide."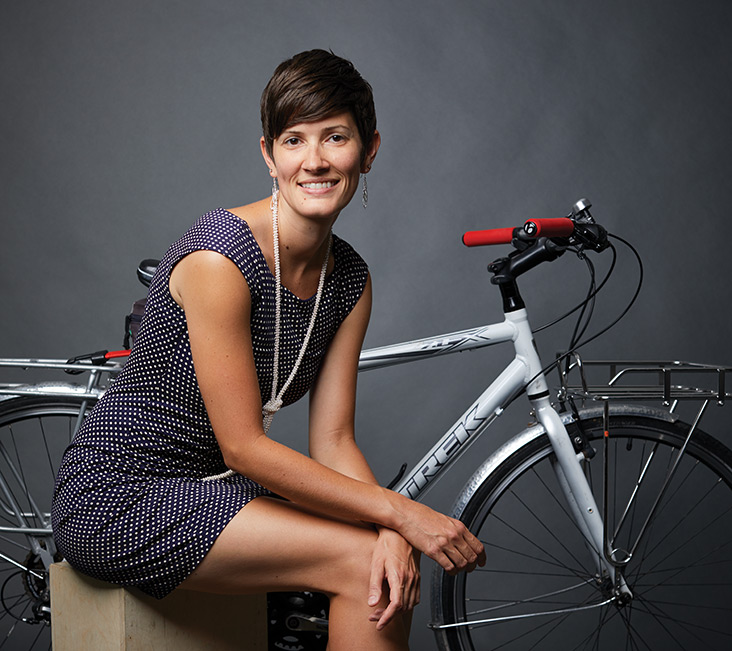 Annette Triplett, PedNet Coalition
When Annette Triplett started working for PedNet, she felt like an outsider.
"The position seemed like a stretch for sure," Annette says (pictured above). "I definitely struggled with imposter syndrome and not feeling qualified. It was surprising!"
Annette hadn't worked for a nonprofit before, and she wasn't a bike commuter. What she did have was a background in health, experience commuting on foot, the organizational skills and attention to detail needed to move PedNet forward, and the determination to learn the rest.
So, in January of 2013, after Ian Thomas stepped down to run for City Council, Annette stepped in as executive director, and together with assistant director Lawrence Simonson, she's been working to keep Columbia safely on the move.
Annette finds a lot of joy in seeing the impact of her work in a brief period. "We work primarily at the policy and built-environmental level, and less one-on-one at the individual level," she explains. "It's an extended process, but at the end, something will change."
She recalls a recent trail project that the organization advocated for with City Council. "Now it's built and I can ride it," she says. "The results are tangible."
PedNet is now focused on growing their team and broadening their impact. Their future includes Vision Zero, a transportation policy goal and data-driven strategy to achieve zero traffic deaths or serious injuries on Columbia's roadways. "The number one obstacle to having a comprehensive active transportation network is safety," Annette says. "We need to grow organizationally to help create that transportation system, to have the capacity to be involved in road projects."
The vision may seem like a stretch, but Annette plans to meet it with the same focus and determination that have brought her this far.
More Maximizing the Impact? Meet Barbie Banks, Teri Walden, and Erin Reynolds.