Elizabeth Loboa, Dean, MU School of Engineering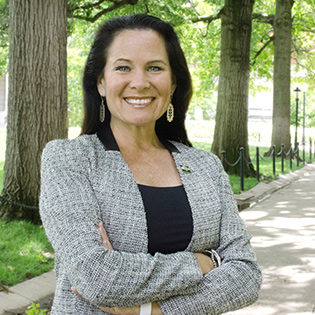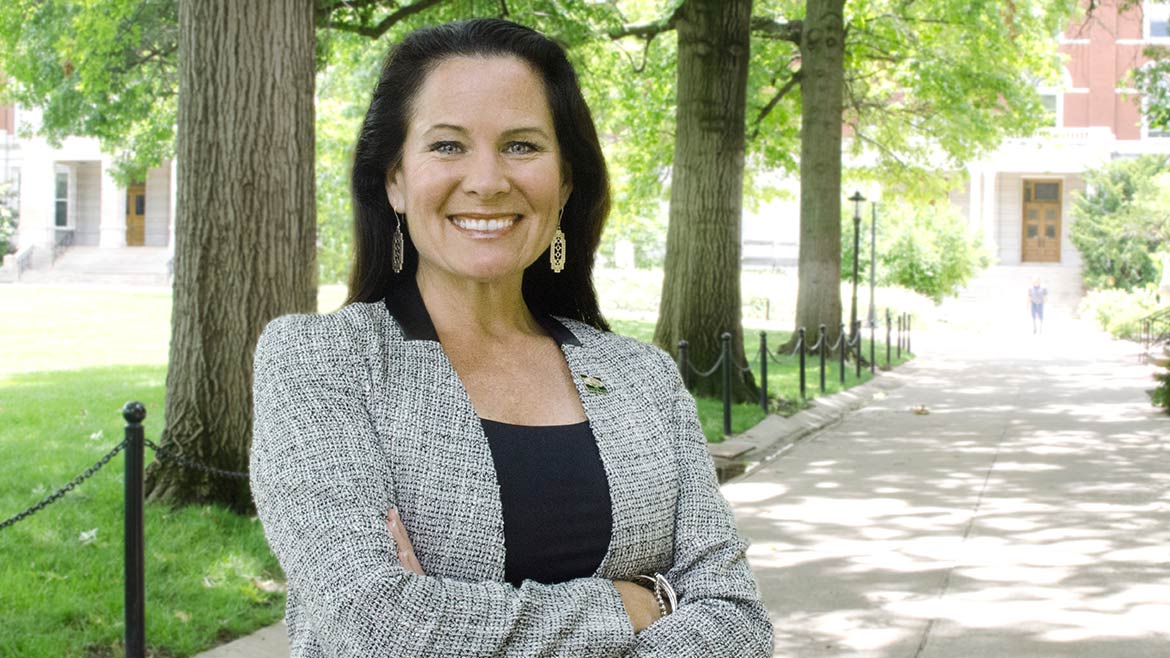 Did you know you would be the first female dean of the School of Engineering? Does that influence how you view your job? Yes, I was honored to be Mizzou's first female dean of engineering. I am a firm believer in mentoring the next generation and have worked to increase the number of women in engineering for many years. I've worked with middle school girls in challenged socioeconomic areas, presented to girls in high schools across the country (most recently at St. Teresa's Academy in Kansas City), and tutored undergraduate women in engineering. A critical component of growing the number of women engineers is to encourage younger women and underrepresented ethnic minorities to look to the front of the classroom. For example, throughout my academic journey, I had only one female professor. I often was the only woman in the classroom. I encourage women rising through the ranks to continue their great work in engineering, and I remind them of their status as role models to the generation after them.
Having recently completed work as the co-chair of the MU Chancellor Search Committee, can you tell us a bit about what that experience was like? It was a great experience. We had a number of exceptional candidates apply, a testament to MU's reputation as Missouri's flagship, AAU, Research 1, land-grant university. The search committee members and co-chair UMKC Chancellor Leo Morton worked hard and were extremely dedicated to finding the best person to serve as MU's permanent chancellor. And all of our hard work paid off; I think Mizzou has found a great leader (and engineer!) in Chancellor-designate Alex Cartwright. I look forward to working with him when he starts August 1!
What changes has the School of Engineering had to make in light of the budget problems at MU? When campus announced budget cuts last year, we were able to use data-driven metrics and plan for the future. As a result, we made over $2 million in cuts in fiscal year 2017 and approximately $350,000 for 2018. Most of the budget shortfalls will be recognized with revenue growth and retirements. For now, we're able to withstand the budget cut with no layoffs.
Obviously, you came on board at quite an eventful time in MU's history. What has the biggest challenge been? Communication. We have our challenges at Mizzou, as does every university, but we also have stellar achievements. Our faculty are performing cutting-edge, globally renowned research that is changing the world. Our students are exceptional. We are the flagship, land-grant campus for the state, with a strong 178-year history that has allowed us to become the only public AAU university in the state and to achieve Research 1 status, the highest Carnegie research classification for a university. We attract phenomenal faculty, staff, and students from around the world. Mizzou is great, and it's time we bragged about it.
What's the School of Engineering doing to recruit new students? As part of our strategic plan, we have incorporated an enhanced recruitment and enrollment plan. For our graduate school efforts, we established a new Diversity in Engineering Fellowship and encourage potential candidates to get to know Mizzou through Tiger View and "Grad101: The How-tos of Grad School" sessions for our own undergrads and potential candidates. We've also partnered with national programs, and we're working close to home with local schools in Kansas City, St. Louis, and Columbia to increase our interaction with local students. Recently, we hosted Columbia Public Schools and the Academy of Early Childhood Learning. Additionally, we've increased our presence at national conferences.
Did the adoption of academic leadership positions come naturally to you? This is an interesting question and one I have never considered before. On paper, I guess the short answer would be yes. When I look back at my career and my training, I've always gravitated toward positions that allowed me to help play a significant role in shaping the future of the organization I was with. As far back as my undergraduate and graduate school days, I held leadership positions in various student organizations. I greatly enjoy forward-thinking strategic planning to build an organization and its people, and I naturally tend to think and plan for the future using data-driven metrics and best-practice approaches. But what I find the most fulfilling about academic leadership is being able to work with and mentor exceptional people and provide them the opportunities to succeed — faculty, students, and staff. It's incredibly gratifying.
What will the School of Engineering have to do moving forward to be successful? I'm excited to further advance Mizzou's College of Engineering by recruiting and retaining the best and the brightest. With the recent improvements to Lafferre Hall and the world-class laboratory and teaching facilities it now offers, Mizzou has a distinct advantage over any other university in the country for training engineering students and for providing the tools necessary for our faculty to conduct globally renowned research. Mizzou is one of just 10 universities with engineering, medical, and veterinary medical schools on the same campus nationwide and one of only six public universities nationwide that have law, business, and medicine on one campus. There is no other place that can offer what we do at Mizzou.
Before coming to MU, you taught at the University of North Carolina–Chapel Hill. What process brought you to Columbia?I was happy in my position in the Joint Department of Biomedical Engineering at the University of North Carolina at Chapel Hill and North Carolina State University, so I had not been looking for a new position. I was surprised when I was approached by MU to become the dean of the College of Engineering. When I interviewed at MU, I realized the incredible interdisciplinary environment here, with its 21 academic units within walking distance of the College of Engineering, and I knew I wanted to be here. I believe that today's 21st century engineer needs to be trained differently than in the past. Global challenges require that MU's engineering faculty and students be surrounded by, and work side by side with, individuals with very different backgrounds and skill sets.
Several successful startups in Columbia have roots in the bioengineering program at MU. How would you describe the School of Engineering's relationship with private businesses in Columbia? I think this is a testament to the excellent research faculty and graduate students of MU Engineering. We are very proud of our connections to business and industry in Columbia and throughout Missouri, and as part of the college's strategic plan, we're working to increase our connections to private companies on a number of levels. Having a strong engineering college within walking distance of 21 academic units makes for an environment few other AAU institutions have. The MU College of Engineering wants to leverage our advantages to the greatest extent. The college is bringing business and industry into the area and region, creating jobs for our students and residents, and stimulating the economic development of our state, and this will be critical as we face the challenges of tomorrow.
To get a little more personal, what drew you to the engineering field in the first place? In high school, I excelled in math and science and put those skills to good use in junior college where, I received my associate's degree. Based on these achievements, I was accepted to UC Davis in the electrical engineering program. There, I became interested in the musculoskeletal system. I wanted to apply my math and science background to work in that area, so I changed my major to mechanical engineering because I saw overlap between the bones and joints in the body and the beams and cantilevers in my engineering courses. While pursuing my bachelor's degree, I had the opportunity to perform undergraduate research that allowed me to apply my mechanical engineering skills to biomedical problems. I was accepted to Stanford for graduate school, where I earned my MSE in biomechanical engineering and Ph.D in mechanical engineering. I always knew I wanted to do work that would help others; therefore, pursuing an area of study and research that could lead to significant medical advances was, and is, very fulfilling.

10. What do you do in your own research? And can you explain it to non-engineers? I love my research! When I first started my lab as an assistant professor, I studied how mechanical forces that occur inside our bodies as a result of daily activities (i.e. walking, running, etc.) could be applied to adult human stem cells in order to tissue engineer bone, cartilage, and other musculoskeletal tissues. In my lab, we specifically focused (and still focus) on human bone marrow derived mesenchymal stem cells (hMSC, stem cells in bone marrow) and human adipose derived stem cells (hASC, stem cells in fat). We showed that specific mechanical loads could be used to "tell" hMSC and hASC to become bone cells or cartilage cells and to regenerate new bone or cartilage. As my work progressed in this area, I expanded it to include creation of novel biomaterials that, either alone or in conjunction with the mechanical loads, would further direct the hASC and hMSC to become specific types of musculoskeletal cells. In my most recent work, we've taken it a step further and used our biomaterials to not only direct the stem cells to form the desired musculoskeletal tissue, but also to release compounds that kill multi-drug resistant bacteria. For example, our new materials can both direct hASC and hMSC to form bone while the materials also kill methicillin-resistant staphylococcus aureus, or MRSA, a superbug of great concern in hospitals and some community settings.