Midwest Wedding Crashers: Adventure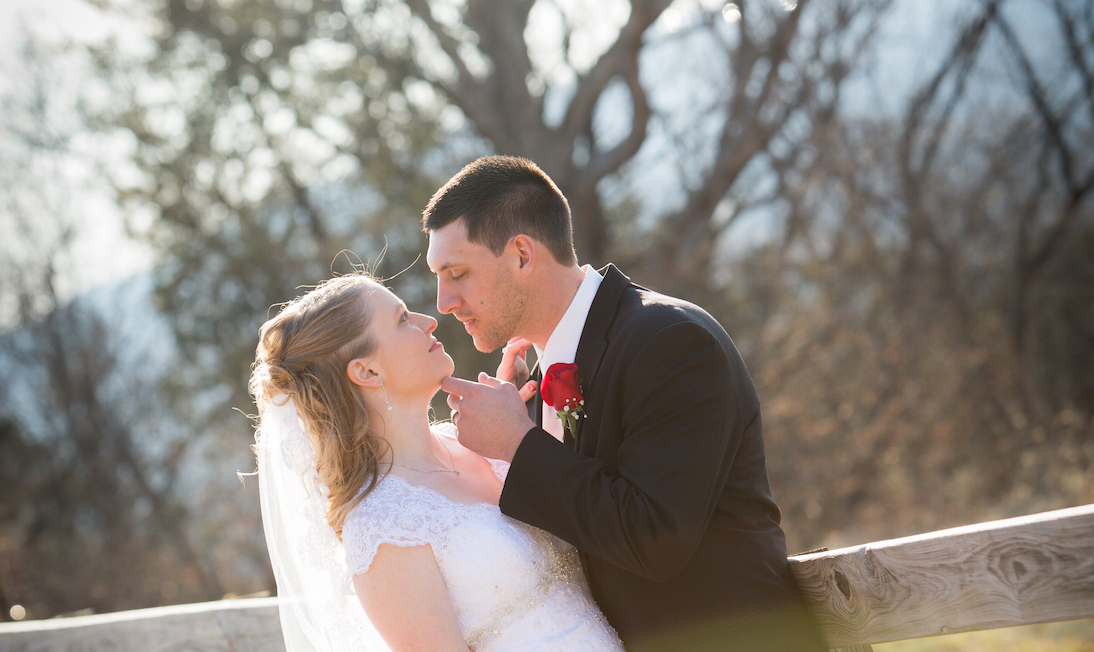 The third wedding we crashed lived up to the cliché; third time was the charm. We had crashed two other weddings (see our blog on the COMO Living website), and they weren't so successful. This time around, we met a lovely photographer in St. Louis – Rhonda Favor from Rhonda Favor Studios – and casually asked her if she had any weddings coming up. She had a wedding that weekend in Hermann, and we were ecstatic. We adore her photography and have wanted to crash a wedding in Hermann. In fact, all of the photography seen here is hers. She explained that the couple met though mutual friends, and they were smitten from that day forward. We dug a little deeper to find out a little bit more about the happy couple. Liza Hackman and Matt Paulsmeyer were getting married the weekend before Valentine's Day at Valentine's Hall. Is that not perfect? Liza was a registered nurse and worked for the emergency room at SSM Health St. Mary's Hospital in Jefferson City. Matt worked for his family-owned business, Paulsmeyer Farms Inc.
Liza grew up in Hermann and dreamed of a wedding in the town she called home. This lovely German town with incredible history is where I hoped our real wedding crashing adventure would begin. According to one of the ushers, the entire wedding party spent the night having fun and playing games at a local Bed and Breakfast, Up Up & Away B & B, overlooking Hermann. The next day the men stayed to get ready for the wedding, and the women headed over to Impressions Salon and Tanning to get all dolled up. Their wedding style included rustic wreaths, natural wood accents and a sharp color scheme of navy blue and a vibrant red. It was a magnificent way to add color and sophistication to a country wedding.
The ceremony began at 1 p.m. at a quaint country church in Morrison called St. James United Church of Christ, which was just a few minutes from Hermann. It was packed and dressed in the most beautiful greenery thanks to Hermann Florist. It was the same church where her parents got married more than 20 years ago and where she had attended church services since she was a little girl. Is that not the sweetest thing you have heard? My parents were married in a courthouse, and we were married in a converted bowling alley. You can probably see why I found it touching.
Liza and Matt were married by two officiates. Guests that we spoke to explained that these were incredible mentors to Liza in her youth. We were moved by the small traditional touches that often get overlooked in today's fast-paced world. We watched them light a unity candle that is a longstanding tradition in marriages long ago. By the time they exchanged vows and shared their first kiss, my mascara was running. I really can't crash weddings without shedding a few tears. Watching couples commit their lives to each other is so moving, especially surrounded by their closest friends and family members.
Did I mention they were traditional? Yeah, those of you who have attended very traditional weddings know what is coming next — the receiving line, of course. We had to think fast and found a side door to sneak out. The reception did not start until 3 p.m., so we had an hour to kill. We may or may not have stopped by Stone Hill Winery, one of my favorite places in Missouri.
By 3:00, we made our way to the reception hall. Everyone was super friendly, and we just said we were college friends of the groom. Why not? We loved hearing stories about the bride and groom. It was clear that they were loved, cherished and teased throughout their lives. Stone Hill Wine was served in abundance. Apparently, the maid of honor is Liza's lifelong friend and her family owns the winery. Amazing wine! Who needs Napa Valley when you have Hermann?
The bridal party arrived at 4:30 p.m., and we began eating soon after. We were finally attending a wedding where there were no seating arrangements and a buffet line. The hubby was in heaven, and the cutting of the cake sealed the deal. Catering was provided by Trailside Catering, and the cake was made by Sugar and Spice Laura's Delight. It was (ready for a pun) a slice of heaven. I think it takes a lot out of my husband to get out of his shell and crash weddings, but great food helps him forget. In fact, I think if he was writing this article, it would evolve into a food critic of wedding catering.
We stayed, danced, and continued to suggest our favorite songs to the DJ. We even participated in the dollar dance. Somehow by the end of a wedding crash, we can forget that we are wedding crashers and begin to think we know the couple. We believe our own stories and gain new friends. Life is full of highs and lows, success and failures, but it's all a part of the adventure.
What about the happy couple, you ask? They're in Australia for the next month. Adventure on! From all of us at The Ink Café and COMO Living, we wish Liza and Matt a lifetime of romantic adventures!
Resource List
Up Up and Away B & B
Hermann, Missouri
upupandawaylodging.com
(314)604-3726
Impressions Salon & Tanning
Hermann, Missouri
573-486-3797
Around the Clock Mobile DJ- Bill Farr
Jefferson City, Missouri
573-694-8228
www.aroundtheclockmobiledj.com
Sugar & Spice Laura's Delight
Montgomery City, Missouri
573-564-2573
Hermann Florist
Hermann, Missouri
314-226-1964
www.hermannflorist.net
Trailside Catering
Rhineland, Missouri
573-236-4411
www.trailsidebarandgrill.com
David's Bridal
573-446-0255
Savvi Formal Wear
573-445-6602
Rhonda Favor Studios
St. Peters, Missouri
573.291.7715