Home » Spirit Forward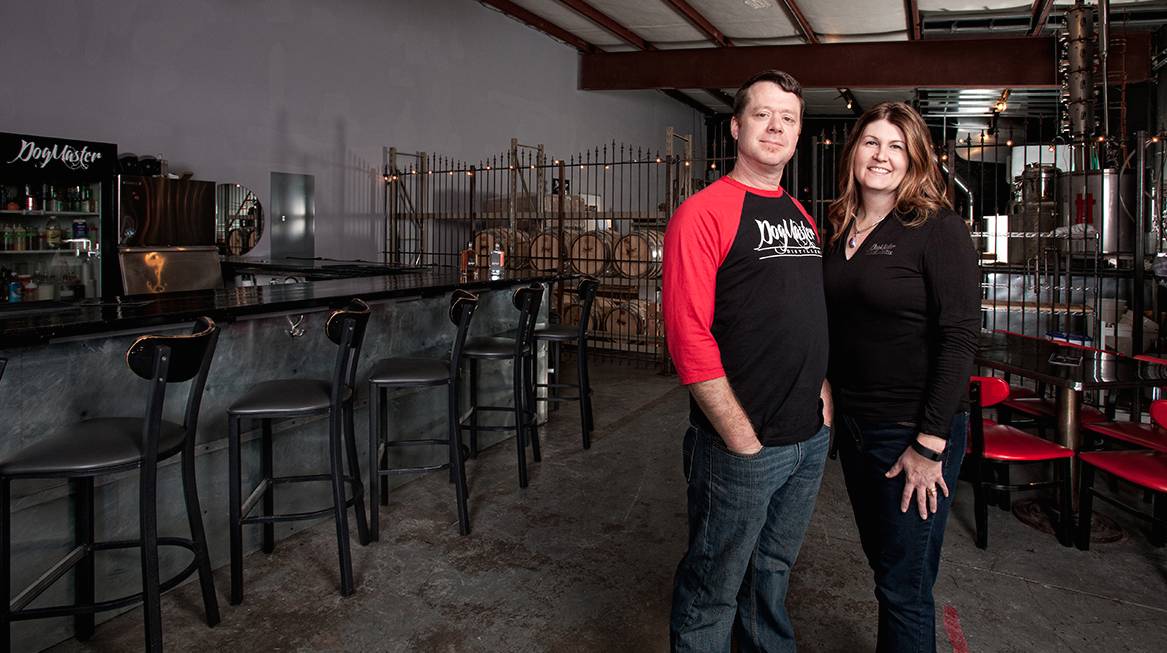 DogMaster Distillery brings back the classic cocktail.
It's 10 a.m. and I'm drinking whiskey on the job. It's straight from the barrel, free of mixers, chasers, even ice. It burns my throat on the way down — my liquor is usually masked with a Diet Pepsi. It's a lot of pressure, trying a glass of whiskey while its distiller stands by waiting for my enthusiastic, albeit ignorant, review.
He's more than a distiller though. Van Hawxby is more like a booze scientist. When you enter DogMaster Distillery and pass through the wrought-iron gates into his laboratory, you'll find liquids in various states of chemical processes. Corn, wheat and malted barley stacks six or seven feet high in brown sacks in the corner. Giant silver vats with various knobs take over most of the room. We come to a vat filled with brown liquid, which Van explains is in the process of becoming whiskey.
"Get your nose in there, you can smell the yeast, a little C02…" I sniff it, and all that my ignorant olfatics can discern is that it smells like beer. Van dips two fingers in the vat to sample the product. Right now, he says, it's fermenting and is the equivalent of beer before it goes through the distillation process.
"I make a really bad beer," Van says. "You would not want to drink this because it tastes horrible. I make a really bad beer, but I distill it into really good whiskey."
One wall of the laboratory is stacked with a dozen 30-gallon barrels, which hold whiskey, rum and vodka. It's a good thing the product inside is almost ready for bottling, because it's early January, and the holidays have cleared out the lab of product. Van has just a handful of whiskey bottles, sitting on a table; a box or two of rum bottles; and some vodka ready to bottle in a few days. All told, he has less than 20 bottles ready to sell at the moment. Most of his retailers are completely out of his products.
"Some people would say that's a good thing, some people would say that's not such a good thing," Van says. "But what it means to me is that there is a great demand for my products."
Kicking and Screaming
Van and his wife, Lisa Driskel Hawxby, sit at the tasting room bar that same morning. The tasting room feels more like a hangout with a secret password than a public bar. With Van's laboratory in full view, the entire room feels familiar. There's something exciting about the idea of watching the vodka you're drinking distill while sipping a martini at the bar.
When I ask them about the origins of DogMaster, Van is quick to take responsibility.
"This is my story, and I dragged her into this almost kicking and screaming," Van says.
Lisa pauses to think. "Not so much kicking and screaming in the beginning as kicking and screaming along the way."
Six years ago, Van wrapped up an MBA and dreamed of manufacturing a consumable product. He knew it would be a product that could build a loyal customer base. A professional bartender for several years, the distillation process appealed to him.
In July 2014, Van and Lisa opened the distillery and tasting room on St. James Street, in the North Village Arts District, and began with their unaged whiskey and vodka — products that could go from grain to bottle in seven days or less.
Distilling is a growing industry nationwide, according to the Distilled Spirits Council of the United States. In 2015, supplier sales grew 4.1 percent, and it was the sixth straight year of increased market share relative to beer. According to DSCUS, overall retail sales of distilled spirits in the U.S. reached nearly $72 billion in 2015, supporting 1.4 million jobs in the hospitality industry.
Rat Pack Meets Rockabilly                                                   
Van and Lisa crafted the brand to reflect their philosophy — take what you do seriously, but don't take yourself seriously. Their strategy was to create a classic brand with a funky component to it. Rat Pack meets rockabilly, Lisa says.
The DogMaster name is rooted in Van's history. His group of college friends ran tight – but if one of them had the gumption to break away from the group to study or go on a date, that person was tagged as the "dogmaster" for dogging their buddies and doing their own thing.
"For us, it means no matter what anyone else is doing, you're willing to do your own thing. You're forging ahead your own way," Lisa says.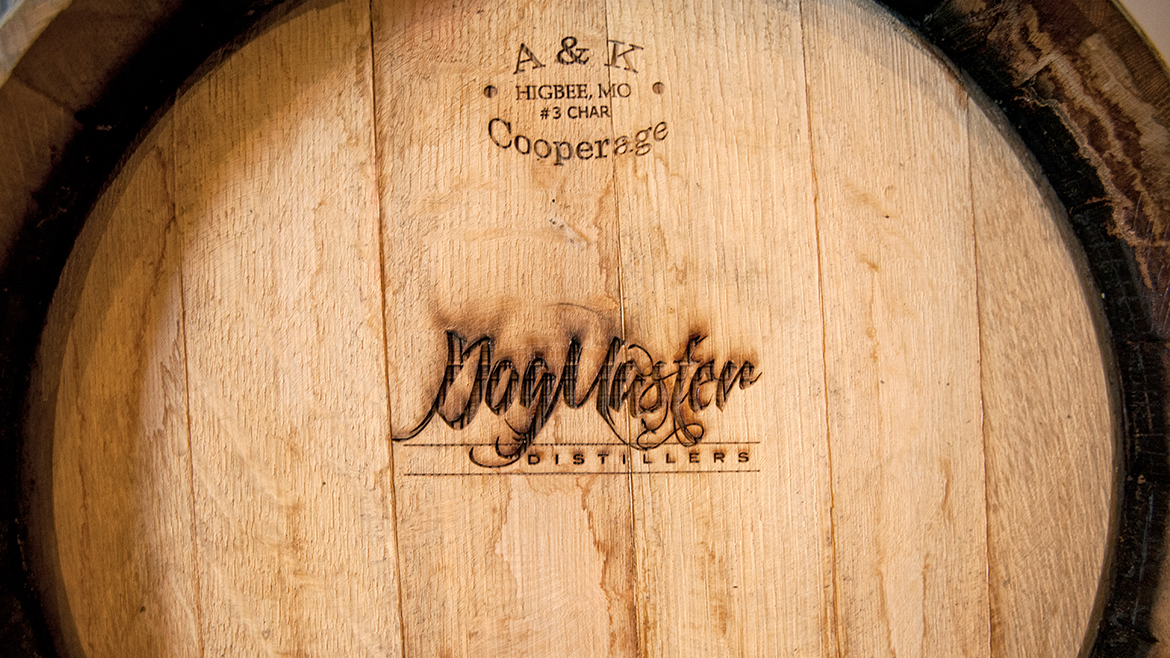 That mentality transcends age or income bracket. Clients range from graduate students, pinching pennies to enjoy a cocktail, to professionals at meetings to home inspectors. But they're all looking for one thing: good liquor, local products and a quiet place to enjoy a drink.
"We feel like we have a broad appeal because we're real people and we make them feel special, but we don't act like we're more special," Lisa says.
The Products                                                                         
Once the unaged whiskey and vodka took off, DogMaster introduced an aged whiskey, a white rum (last Halloween) and a bourbon whiskey (this January). Gin and dark-aged rum products are on the way.
The products are an evolution, Van says, as there are so many variables in the distillation process to experiment with that can affect the product's flavor.
"I really can't say that I know what I'm doing just yet," he says. "But the products that we have seem to be very pleasing to the public."
Lisa is quick to point out that while there may be an evolution, the whiskey — DogMaster's signature product — is mostly unchanged. That signature product allows them to be experimental with other products.
And, unlike major brands of whiskey, there is a level of variance in the product. DogMaster doesn't blend barrels, so the taste will always differ slightly.
The distillery uses many local products, including barrels, and all the grains except barley are sourced from central Missouri.
Part of DogMaster's small-town vibe means regular patrons who come into the tasting room sometimes get exclusive samples, direct from the barrel, of the next batch of liquors on the way to bottle.
"Being able to try a whiskey or bourbon straight out of the barrel is quite an experience for many people," Van says.
Lisa might be more concerned with the bottom line ("You're killing me," she sometimes thinks when Van gets too liberal with the samples of product), but she recognizes that sharing the process with customers creates a brand buy-in.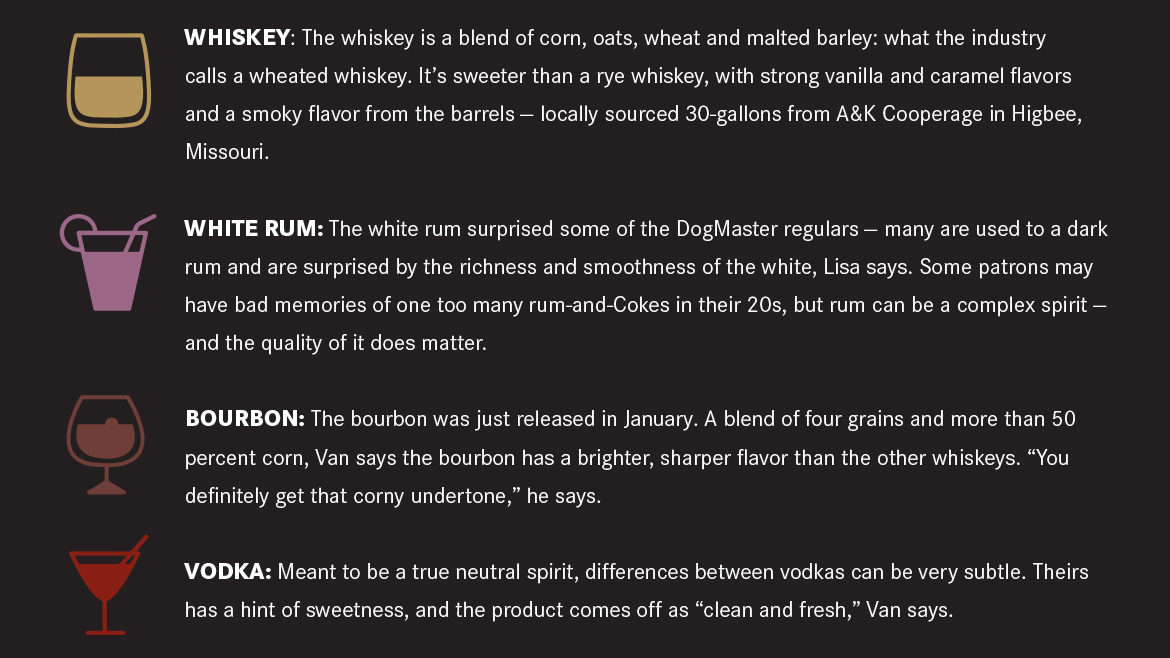 Crafted by Committee                                                                                                       
There's sometimes an education when a new customer comes into the DogMaster tasting room. It's not a bar — clients who request wine or PBR will be disappointed and quickly corrected by the regulars.
"When you have our cocktails, you will get a good hint of the spirit that's in there," Van says, "because we tend to pour a little heavy handed, and we want to make sure that you get a hint of what we're doing here."
They also make many of the simple syrups, like vanilla, berry and grenadine, in-house.
Their cocktails are "liquor forward," and you won't find frozen or frou-frou drinks on the menu. While the standards — martini, manhattan — are always available, the cocktail menu is crafted by committee.
"We're not so bold to think that we have our thumb on the pulse of the cocktail culture in Columbia," Van says. "We allow our customers to tell us what they like and what they want."
Every three months, Van and Lisa gather a group of 12 customers (some fight "tooth-and-nail" to be invited, Lisa says) to choose the season cocktails. Nearly every decision the company makes is vetted by customers.
DogMaster regular Shawna Johnson has attended two of those "committee meetings."
The group lines up around the bar, Johnson says, and Lisa introduces everyone.
"I don't know how they do it," Johnson says. "But you show up, and these people you've never met before, within minutes, you're just talking and sharing opinions, and it's a very unique thing."
The group receives a list of 10 to 12 cocktails, which they sample in a shot glass one by one. They then discuss as a group and provide feedback on ingredients and names.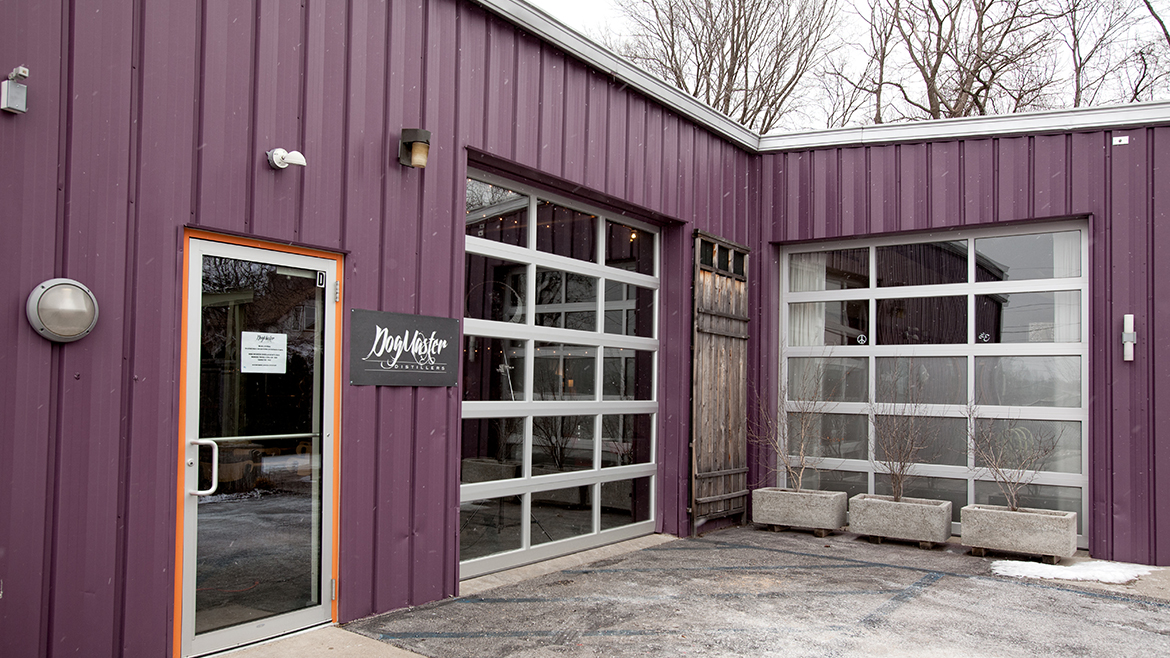 Johnson considers herself a cocktail "purist." She enjoys the dirty martinis, the neat whiskeys, not frozen or fruity drinks. For her, DogMaster is a return to quality products, which matches the atmosphere of the tasting room.
"No one's hanging out trying to get drunk," Johnson says. "It's people who appreciate the product. I like that. I'm a grown-up, and I like to be in a place where I can enjoy my drink without crazy shenanigans going on."
The Standard in Columbia                                                          
Though word-of-mouth for the new, local flavor has led to growth for the company, Lisa says the business model is based on creating a solid, consumable product.
"We want to put something out that people will drink and enjoy and seek out not only because it's local, and they feel good about that and they might know us," Lisa says, "but it's also a solid product that they enjoy drinking."
That also means keeping prices reasonable for middle class clients who will never spend $150 on a bottle of liquor. The bottles range from $23, for vodka, to $42, for bourbon.
The couple's goal this year is to make DogMaster a household name in Columbia. They're off to a good start, with self-distribution in most liquor retail outlets – HyVee, Macadoodles, Lucky's, Craft Beer Cellar and more.
Dan Campbell, owner of Craft Beer Cellar, says CBC sells each DogMaster product. "He's local and making some interesting stuff, and we wanted to support that."
But it's about more than local support, Campbell says — DogMaster products are quality.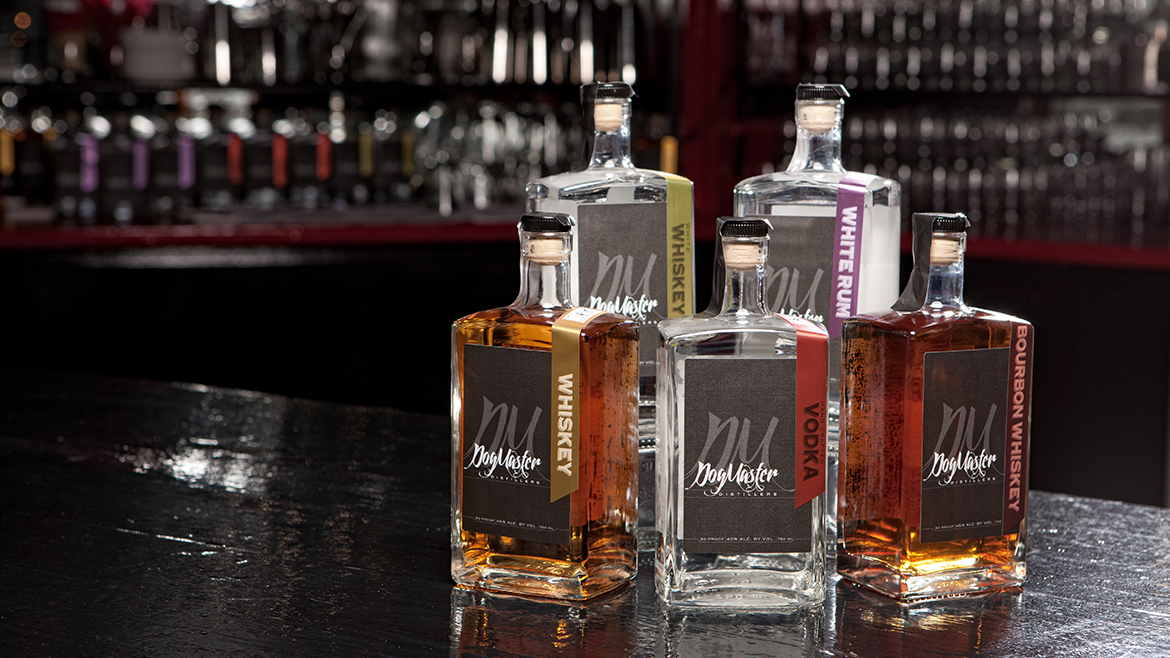 "They're really smooth," Campbell says. "They're some of the best I've had mixing. His vodka, you can put it in a mixed drink and hardly even know it's there. It makes for delicious mixed drinks."
DogMaster is also behind many local bars, like Flat Branch Pub & Brewing, Logboat Brewing Co., 44 Stone, Billiards on Broadway, Bleu, Booches and Room 38.
"We would love to be in so many more restaurants and bars and not just be on the shelf, but have brand loyalty from the serving staff to recommend our products," Lisa says. They're also looking into expanding to Jefferson City, Lake of the Ozarks or Springfield.
DogMaster sold more than 3,000 bottles from July 2014 to December 2015.
"There was a time, a little over a year ago, when I was sitting outside on an air conditioning unit, being open for business, watching cars go by and just hoping that someone would come in," Van says. "And now, a little over a year later, I've got people calling me up early in the morning to see if I would be able to open up early for them because they want to be able to bring a large group in for a happy hour."