Finding your niche in life isn't easy, but that hasn't stopped these five Columbia seniors from chasing what they love. See how they're making their dreams a reality as they pursue their passions after high school and beyond.
Double the Ambition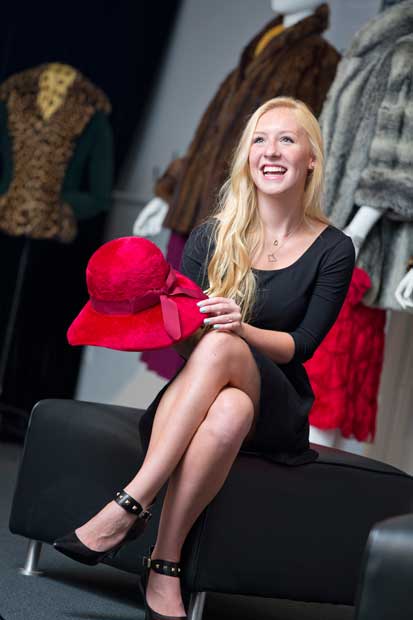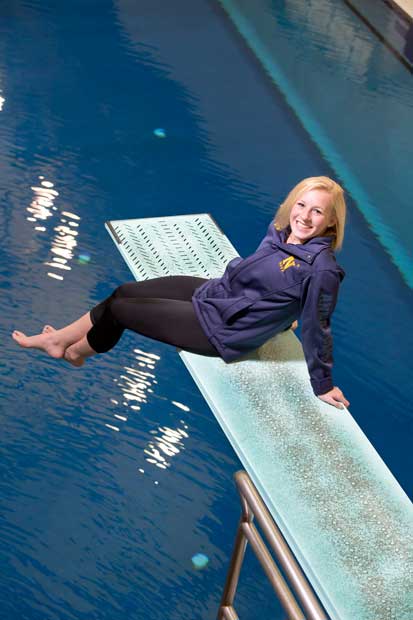 Name: Ann Stone
Post-grad plans: Parsons The New School for Design
Major: Fashion design
Dream job: Broadway costume designer
Name: Abby Stone
Post-grad plans: United States Naval Academy
Major: Political science
Dream job:Secretary of State
Anything you can do, I can do better. It's the friendly rivalry behind this phrase that's driven identical twins Ann and Abby Stone to continually improve in their respective interests. Now their dreams are taking them in different directions, but they're sure their close bond will keep them connected.
Ann, an aspiring fashion designer, is headed to Parsons The New School for Design in New York City. Her love for fashion started early when Santa delivered a design kit; he probably didn't know she'd be unwrapping a lifelong passion. "It's always come naturally," she says. "When I do a sketch of an outfit or model, I don't even have to think about it."
After setting her sights on the No. 1 fashion design school in the country, she's been busy creating the ultimate accessory: her portfolio. She attended Parsons' summer sessions in New York and Paris and by junior year had completed its precollege academy. She even changed high schools to take advantage of more art-focused options.
As she looks to the future, Ann sees endless opportunities. "I'd love to design Broadway costumes and maybe eventually win a Tony," she says. "I love the confidence that fashion brings and enjoy the whole production behind it. I can't wait to see where it takes me."
Abby has chosen a much different career at the United States Naval Academy in Annapolis, Maryland, where she'll study political science with a minor in Russian and graduate as an officer in the Navy. Abby's love of international affairs started in high school and further developed through her numerous studies abroad.
A competitive diver, she always assumed she'd pursue a more traditional route as a collegiate athlete. However, after attending the highly selective Naval Academy Summer Seminar program, she could envision a different future. "I just fell in love with it; it's a perfect fit for me," she says. She won't be trading in her swim cap just yet though. Abby was officially recruited to the Division 1 Navy Women's Swimming and Diving Team and will compete for Navy throughout college.
Although they'll be living apart for the first time, the twins are sure that distance won't affect their relationship or their sisterly rivalry. "I hope my sister never loses her competitive spirit because she's gone so far with it," Abby says.
"Many people don't realize that the Naval Academy is among the very top colleges in the country," Ann adds. "Abby is strong intellectually, physically and mentally. I know she'll succeed."
They both plan to live up to a quote that their parents shared with them years ago, one they say has driven them to succeed. "Be willing to spend a few years of your life like most people won't so you can spend the rest of your life like most people can't," Abby recites.
"It means never settle; find what you want to do, and go after it," Ann says. "Even though the path might be challenging, you can achieve something amazing if you pursue your dreams."
Soaring to New Heights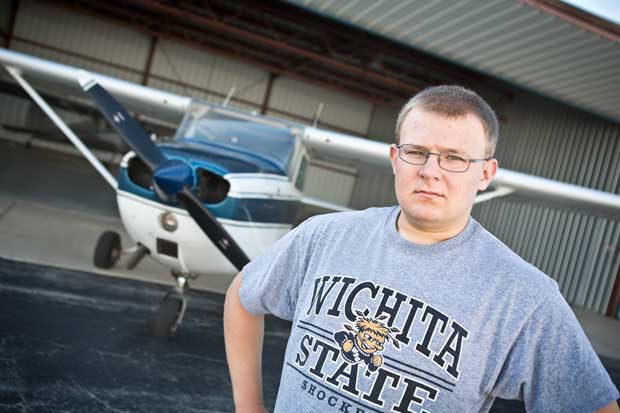 Name: Ian McMurtry
Post-graduate plans: Wichita State University
Major: Aerospace engineering
Dream job: Aircraft design or test pilot
Planes, trains and automobiles: Most young boys are fascinated with the whizzing world of transportation, but for Ian McMurtry, it's always been more of a calling. "I grew up close to the Pennsylvania Railroad, so I loved seeing trains," he says. "But when we moved to Missouri, I didn't have a railroad nearby to train spot, so I took my interests to the clouds." He later became enthralled with American Trans Air and Song Airlines, which eventually morphed into a fascination with airplanes in general, and his future career took off from there — literally.
Ian is planning to attend Wichita State University in the fall to study aerospace engineering with the hopes of one day designing aircraft or becoming an airplane test pilot. A self-described aviation geek, or "avgeek" for short, he's incredibly passionate about all things plane. "I've always found math and science to be intriguing," he says. "I love aviation, and the idea of being an aerospace engineer has been the goal since day one."
It's a dream he's been working toward for years. Throughout high school, Ian took flying lessons, and he uses social media to interact regularly with other avgeeks. He's also a senior writer for AirlineGeeks.com, an online niche publication.
He's now in the final stages of obtaining his pilot license. "The instructor flies with you until you master landing, taking off, steep turns, etc., which usually takes 30 to 40 hours of flight time," Ian says. "Solo work follows, which should take around five hours. The flight work concludes with three flights to distant airports, a medical physical, a flight test and written test."
According to Ian, piloting a plane is a feeling like no other. "I get a feeling of freedom and accomplishment while also understanding that I have a job to do," he says. "To see the earth from a 180-degree view is amazing. Flying above the St. Louis Arch and over Faurot Field before the 100th homecoming game have been my most incredible experiences because I got to do something not many people have a chance to."
As he thinks about the next four years at Wichita State University, he can't help but look forward to the wide open skies ahead. "The school's connections to the local aerospace employers really wowed me," he says. "My goal is to join a large aerospace company either in Wichita or with Boeing Commercial in Seattle. I'm very passionate when it comes to aviation, and I have a vast knowledge about aircraft; it's something I know I'd love to do every day."
Before he takes off on his latest adventure, he hopes to assure others that the sky's the limit. "My advice is to not be afraid to do the hard work necessary to achieve your goals," he says. "Don't fear failure; you will always have friends and family to support you no matter what the outcome."
The Equation for Success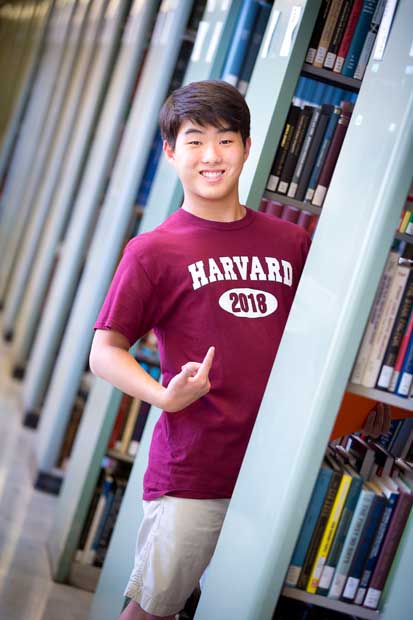 Name: Mingu Kim
Post-graduate plans: Harvard University
Major: Applied mathematics and pre-med
Dream job:Cutting-edge researcher and musician on Saturdays
"Why?" It's the age-old question that plagues children across the world. And it's one that Mingu Kimhas been asking since he can remember. An outgoing and passionate learner, he has always been fascinated with math and science, and they've led him to the prestigious Harvard University, where he'll attend school this fall.
"There's a good chance that my first sentence was a question because I've always been curious," Mingu says. "I'm what you might call an explorer. I love doing calculations in my head, just for fun. The rigor and logic in math really interests me. But I also enjoy how science can sate my curiosity with the world around me."
Over the years, Mingu has developed his skills through continual practice. He's completed math and science research, participated in after-school organizations and even competed in numerous state, national and international competitions. He's also incredibly passionate about music. In fact, he's been playing the violin and piano since the age of 6 and composes whenever an idea hits. "Music has always been a very large part of my life, and I plan to continue during college by joining orchestra and taking private lessons," he says. "It's my creative outlet; it allows me to express emotions in ways that math and science can't quite encompass."
When it came time to plan for college, Mingu never had a question as to what he would pursue after high school. "The harder part for me was deciding exactly what I wanted to focus on," he says. "My mind is very open, but I'm thinking about a major in applied mathematics and fulfilling requirements on the pre-med track as well."
As he moves onto his next adventure, he's eager to see what the future holds. "Ultimately, I'm divided between math and medicine," he says. "I'm hoping that college will help me decide on one or integrate the two, but in the end I just want to be engaged in a career that I enjoy doing and that allows me to give back to the community in a meaningful way."
Before he leaves Columbia, he has some final words of wisdom to share with future high school graduates. "Every college has its own personality, so admissions officers aren't just evaluating you based on numbers but on how you'd fit in the college's community," he says. "Your application is a chance to show colleges who you are. Always be true to yourself, balance your academics and social life, keep a good sense of humor and an open mind. Those four pieces of advice are tenets of my own personal philosophy and have really helped me so far."
Dancing Toward a Dream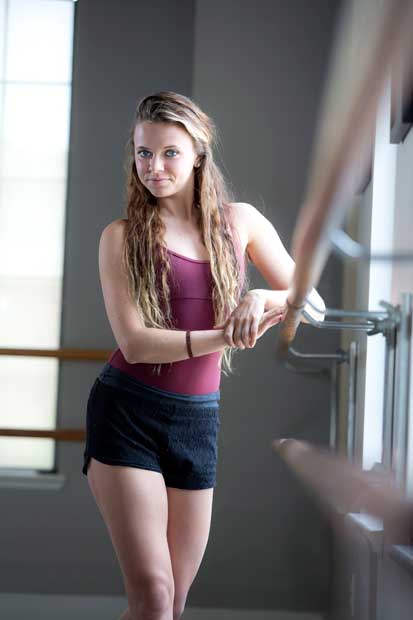 Name: Stephanie Stricker
Post-graduate plans: The Juilliard School
Major: Dance
Dream job: Perform in a worldwide dance company
If you ask most girls, they'll probably tell you that they wanted to be a ballerina at one point in their lives. But for Stephanie Stricker, who will be studying dance at the renowned Juilliard School this fall, that wasn't always the case. Although she began dancing at age 3, it wasn't until much later that the interest became a true passion.
"At the time, it was just like any other activity I was in including T-ball, gymnastics, swim team, golf, piano and tennis," she says. "It wasn't until age 10, when my mom let me join the competition team, that I became really invested. When dance got even more demanding in high school, I knew I had to decide if I was going to keep going or tone it down."
Torn between pursuing dance and studying pre-med, Stephanie did her research. "I looked into nearly 10 schools that offered both dance and a great education," she says. "By the beginning of my senior year, I'd decided that I wanted to focus on dance. At that point, I just knew I couldn't give up on what I love to do, so I started auditioning to see what was out there."
For most colleges with dance programs, the application process requires a live or taped audition. For Juilliard, however, Stephanie underwent five different auditions: a ballet class, modern class, solo performance, choreography lesson and interview. On top of that, she had to send in test scores and her GPA much like a typical college application. Although this process might overwhelm most students, Stephanie leaped ahead.
"I would describe myself as determined," she says. "I love a great challenge and trying new things. Columbia Performing Arts Center trained me to be ready for my journey to the dance world, which really helped. We train every day of the week for five hours in ballet, tap, jazz and contemporary. What gave me that extra boost was traveling on the weekend to conventions with intensives taught by teachers from all over the world."
Her hard work and dedication undoubtedly paid off. Stephanie was one of 12 girls worldwide accepted to the Juilliard School's fall 2014 class. "It was a very big honor," she says. "I ultimately chose dance as my career because it is something that I love to do. I am very thankful that I was able to find my passion at such a young age. I spent so much of my time training and dancing that I couldn't imagine my life without it."
To Stephanie, all the world's a stage, and she's ready to be front and center. And she hopes others adopt the same perspective. "My advice to people pursuing their dreams is to go for it; there's never a dream too big," she says. "If you have passion for something, then pursue it, and don't let others negatively influence you. Live your life how you desire."