Forty years ago, Elinor Arendt's mother handed her $3,000 to pursue the American dream of becoming a business owner. Fifteen years and one successful company later, Arendt sold her corporation for $60,000 and single-handedly started the entrepreneurial enterprise all over again. In 1980, she erected her own brokerage business, a company she continues to run to this day. At the time, the self-made success did not know about the Service Corps of Retired Executives (SCORE), a national nonprofit organization that aims to help business owners conquer the difficulties of entrepreneurship. Yet, when she heard about the organization, she joined immediately. And like everything else her life, she quickly rose to the top.
"When I started, I was the chapter chair; now I'm the chapter president. I'm going for Queen, but I may have to retire before then," she jokes.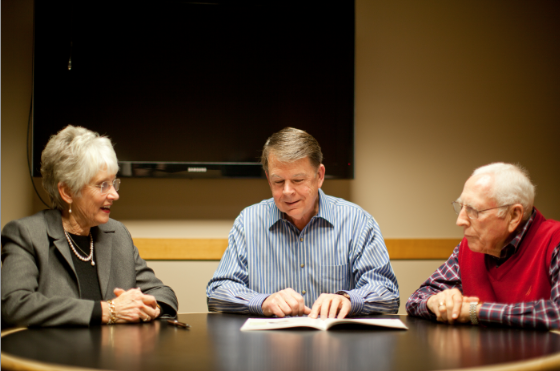 Heartbeat of the economy
Created in the 1960s, SCORE originally used the expertise of retired executives to help others start businesses. However, like Arendt, many of the present employees continue to run their own businesses while serving at SCORE.
"The money to run the world comes from business," Arendt says. "We, as business owners, are the ones that generate the income; we give people jobs, we produce services and business. Government doesn't create money. They can print it, but the money comes from us.
"At SCORE, we have done this and are doing it," she continues. "I'm still running a business, and I'd say most of the people in there are."
Yet, unlike most other financial counseling companies, the employees of this nonprofit association volunteer 100 percent of their services. As a nonprofit organization and resource partner with the U.S. Small Business Administration, SCORE's annual budget varies depending on the amount of money Congress chooses to allocate. The association houses 364 chapters nationwide and boasts more than 13,000 volunteers who offer their time and insight to up-and-coming business owners. Together, those volunteers tally 3,000 years of experience across 62 industries. Last year alone, they counseled 60,000 American entrepreneurs, and 200 of them set up shop in Columbia.
"We believe that we're the heartbeat of Columbia economy," Arendt says. "If you look at the numbers, more than half of the income comes from small businesses. Our mission statement is to make Columbia a more viable place just by improving and increasing the economy."
Community of volunteers
To capitalize on its mission, the mid-Missouri 340 Chapter has nearly 35 volunteers of its own, many of whom have attained national or international acclaim in their industry. With their superior expertise, they counsel newcomers on how to create effective business plans and avoid pitfalls. "The men and women that are in this group are not ordinary," Arendt says. "They're very talented; they're modest; they're generous. There's a lot of people here who are very famous, but they choose to give themselves to helping others because they want to help other people be a success. That's why I love SCORE."
Gary Duncan, one of the current SCORE counselors, is one such example. A plant breeder by training, Duncan has been in business for a half-century and has sunk his teeth into the agriculture industry. Thirty years ago, he started a rice feeding company for the prince of Lichtenstein, and that business is now an international success. Later, he became president and CEO of an agricultural-based company in Lincoln, Neb., and then relocated to Rio Grand Valley, Texas, to begin his own seed company. As his career elevated, so did his geographical location, and he soon found himself in Columbia to start a headquarters for a small biotechnology firm out of California.
When the dot-com bubble burst at the turn of the century, however, the company filed for bankruptcy and left Duncan with no funds to continue his department. Like any other person with the entrepreneurial spirit, he and his wife were not stopped by the status of the economy. Instead, they decided to spearhead a new company, this time in retail. Due to his inexperience in the field, he called for help from his fellow SCORE brothers and sisters. They advised him on savvy ways to manage inventory, growth and even social media. And in 2001, Frameworks Gifts & Interiors was born at 901 Old 63 N.
'Knowledge begets knowledge'
"I've been a big believer all my life that I should seek help when needed and give back as much as I possibly can," Duncan says. Now as a SCORE counselor and entrepreneur, Duncan both doles out advice and receives aid when he needs it.
"I still call on some of my SCORE members, and they help me with little things that come up from time to time," Duncan says. "Knowledge begets knowledge. If you're reaching out all the time, then you're learning from it. Then if you pass it on, you've helped somebody else learn."
During his experience with SCORE, Duncan has counseled about 40 people every year and volunteered between three and 10 hours each week. His handiwork now sits on sidewalks and streets around the city, one being Hot Box Cookies, a beloved Columbia staple. "Those young men were absolutely phenomenal in bringing a business plan, a marketing plan, everything that it took to do," Duncan says. "We helped, but I give all the credit to them. They developed a plan and demonstrated that it was very workable."
Several other companies have popped their heads into the Columbia market thanks to SCORE's advice and direction. Entrepreneurs simply contact the organization, and then they are paired with a group of mentors with knowledge and experience in that industry.
"That's one of the things that makes us strong," Duncan says. "We use our knowledge and our experience and try to blend those to help people get started or help existing companies with problems they might have.
Arendt and Duncan also agree there are many similarities and business principles that extend across every industry. Arendt also points out that it takes a special kind of person to embark on the journey of owning one's own business. "The truth is that success may have more to do with who you are than what you do," she says. "Columbia is like a goldmine. With the amount of talent, brains and accomplishment here, it's like a new discovery every week."