Your inner artist is anxiously awaiting its debut. Let your creative juices flow with these tips and tricks from Columbia Art League's Diana Moxon.
Tune in: Start looking at the world with artist's eyes, and you will find beauty in unexpected places. Take a walk around your neighborhood, and challenge yourself to find at least five things that are aesthetically appealing to you.
Collect: Whenever you see something that inspires or intrigues you, snap a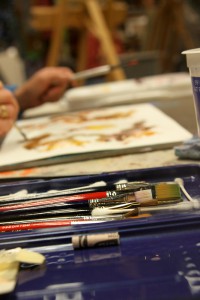 picture, tear it out, pick it up and pin it down. Don't overthink it. The inspiration could be as simple as color, a texture, a pattern or a lighting scenario. The point is to begin to take stock of what appeals to you. Before you know it, you will start to see the continuity of your own aesthetic sensibilities emerging.
Play: Allow yourself to dive into a new process or material without knowing what the outcome will be. Experiment.
Embrace stillness: Take time to unplug, sit quietly and allow your ideas and experiences to coalesce. There are times when we
might need to walk away from our work to make space in our psyche for insight. The most
See it in a new way: Don't like where your work is going? Turn the canvas upside down, tear the page into little pieces, break it apart and put it back together again; do whatever it takes to see it with new eyes.profound breakthroughs often come to us in stillness.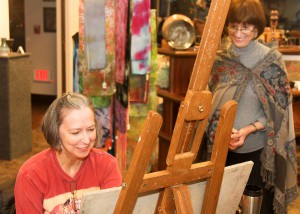 Work through the ugly stage: Every work of art has an ugly stage. Just ask any artist you know. It's part of the process. This is when sheer determination and perseverance come in. Don't give up!
Set a goal: The Boone County Art Show takes place Oct. 11 to 12 this year. There's no scary jury process. All entered work gets displayed. Make a goal to be in the show!
Every third Wednesday of the month, the Columbia Art League is crowded with artists of varying skill levels exploring new projects at Art Uncork'd. The popularity of the event stems from its informal environment, and the included wine-tasting keeps the creativity flowing. Each class offers a new skill, technique or different medium to work with. Polymer clay, oil painting and art journaling are just a few of the topics you've missed out on if you have yet to experience the event.
"Rather than signing up for an eight-week class about something you are not sure about, you get to have a little taste of everything," Diana says.
If your Wednesday evenings are a bit booked, CAL offers lots of other chances to participate in art instruction. And if art isn't your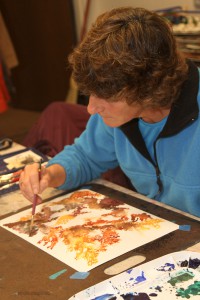 thing, but your house is nurturing a premature Picasso, check out CAL's selection of children's classes. In the past year, CAL has offered more than 500 classes. The opportunities are endless.
Six times a year, CAL also hosts shows. Four of the shows are juried, which means members' and nonmembers' artwork is chosen to display. The other two shows display artwork of members only.
"When you look at an art league show, it really is the voice of the community," Diana says. The artists include people of all ages and abilities, such as high school students, art professors, beginners, professionals and more.
According to Diana, the simplest way to get involved is to open the door and walk in.