Columbia businesses lighten power load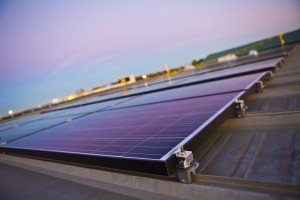 Business owner Beau Aero slashed the electric bill of the new Columbia Safety & Industrial Supply headquarters by 80 percent even before he opened the building's doors last May.
Paving the way for the business move from Burlington Street to 1801 Westfall Drive, Aero replaced 300 halogen light bulbs in the new 26,000-square-foot site with energy-efficient light–emitting diode (LED) bulbs and high-efficiency fluorescent tubes. LED bulbs last as much as 25 percent longer than halogen lighting while producing less heat and consuming considerably less energy than halogen or incandescent lights. Aero also installed high-tech skylights to use the sun to help light the building. The skylights — specifically, Suntracker skylights — use GPS-guided mirrors to track and reflect the sun's light into the building. New automated and zoned heating and air-conditioning systems added to the building's energy efficiency.
Those energy-efficiency improvements brought the building's electricity consumption down from 25,000 kilowatt-hours (kWh) per month to 5,000 kWh per month, says EnergyLink co-founder Christopher Ihler, who designed and installed the projects. From there, it was feasible to make the facility the first interconnected commercial building in Columbia producing enough energy to offset the electricity it uses — to become, in other words, a net-zero electric energy building. Aero did that by installing a 35-kilowatt solar panel system over roughly 10 percent of the building's roof last fall.
All told, the energy-efficiency projects cost nearly $200,000. Federal and city rebates and credits brought that cost down to about $105,000. Aero expects to save more than $20,000 per year in electricity bills from now on, a payback of about five years.
"In all honesty, it's not only smart for the environment, it's good for business," Aero says.
Making the city greener
A number of Columbia business owners agree. Forty-nine downtown businesses took advantage of a City of Columbia offer to help foot the bill for energy-efficiency improvements between 2011 and 2013. Although the city has been subsidizing energy efficiency since 2007, Columbia boosted its support when it received a $285,000 U.S. Environmental Protection Agency grant that allowed it to develop a cooperative project targeting energy efficiency in downtown businesses in 2011. Entitled "City Green: The District," the project encouraged businesses to reduce the amount of energy they use by offering to cover half the cost of energy conservation improvements up to a maximum of $12,500. Downtown businesses completed some $712,290 in improvements through the roughly two-year program, says Frank Cunningham, Columbia Water and Light energy services supervisor for commercial properties. The city estimates those improvements reduced participants' demand for electricity by 376.52 kilowatts, at a savings of nearly $143,000 per year.
"They can do this — improve their bottom line — and at the same time help reduce the impact of the environmental cost of producing energy," Cunningham says.
Sustainable returns
Environmental benefits made participation in Columbia's City Green program a natural for Leigh Lockhart, who has long sought to run her Main Squeeze Natural Foods Café on Ninth Street as a sustainable business. Lockhart completed a wide variety of efficiency projects in 2012 ranging from insulating the restaurant's dropped ceiling to installing thermal windows, more efficient lights and a gas-on-demand water heater. The improvements have cut her utility bill by $300 to $500 a month, Lockhart says.
Yet, because Lockhart rents rather than owns her business space, she says the nearly $9,500 worth of energy-efficiency work she completed on her building in 2012 would not have been affordable based on those savings alone. The federal grant money that covered half the work's cost made it possible, Lockhart says, and it was still "kind of a tough call" to invest in a building she doesn't own.
"It was just more of a way for me to support my business," Lockhart says. "Since we've tightened up this business this way, it just helps me sleep better."
Not far away, the Columbia Art League also had environmental benefits in mind when it joined forces with the city to improve the gallery's energy efficiency. The art league had used halogen lights since it opened its doors at 207 S. Ninth St. in 2008 and tolerated the heat the halogen bulbs gave off as well as the high energy bills and maintenance they entailed in order to provide gallery-quality lighting, says Diana Moxon, the art league's executive director. "They burned so hot; I was up and down ladders every week fixing light bulbs that had gone out."
So art league members welcomed the idea of switching to LED lighting when Columbia officials informed them of the rebates available through the City Green program. Once the league decided in 2011 to go with LED lighting, the new system, which went from $5,841.15 to $1,504.57 with the rebates, was installed within four to six weeks, Moxon says. Since then, Moxon says the gallery has been saving between $50 and $60 per month on its utility bills as it does its part to conserve and increase energy efficiency.
"In two years, I have not been up a ladder to change a light bulb," Moxon says.
Lifestyles Furniture owner Jerome Rackers also takes note of the time he saves with LED lighting. Rackers switched from halogen bulbs to LED lighting at his store at 63 E. Broadway in 2011 and hasn't replaced a bulb since then.
Although the new lighting cost nearly $10,000 — offset by a $2,490 city rebate — Rackers considers the investment a "no-brainer." Because the building's electric bill is $300 to $400 less each month, the lights paid for themselves within about 26 months, Rackers says. Now they are simply providing savings. Rackers considers the environmental benefits a bonus for making a wise business decision and adds that being "green" is a lot about saving money.
"This is a really great way to do both," he says.

Continuing opportunities
Although Columbia's EPA-funded energy-efficiency program is complete, the city continues to support energy conservation through a handful of rebate programs.
Among the most popular is Columbia's lighting incentive program, which offers commercial or industrial electric customers a $300 rebate for every kilowatt they save by installing more efficient indoor lighting systems. The rebate is capped at half the lighting project's cost, or $22,500 per location. Columbia also provides rebates of up to $3,770 for business customers installing more efficient air-conditioning units, depending on the size and efficiency of the unit. Commercial or industrial customers who install solar water-heating systems may receive a $400 rebate from the city, and the city offers $500 per kilowatt for 250- to 10,000-watt solar electric systems.
Business owners who have tapped into Columbia's expertise and rebate programs encourage others to consider energy-efficiency projects of their own.
"Do it," Moxon says.

Brighter Energy Ideas for Business

As much as one-fourth of a typical Columbia company's energy bill pays for lighting. The city will help any of its commercial or industrial electric customers cover the cost of installing a more efficient indoor lighting system if it cuts energy use by at least one kilowatt, or 1,000 watts. Applicants are eligible for rebates totaling $300 per kilowatt saved or half the lighting project's cost, up to $22,500 per location.
Below are instructions for applying for Columbia's Lighting Incentive Program.
1.  Determine whether a new lighting system will reduce the amount of electricity the company uses, either independently or with the help of a lighting contractor or vendor. Businesses may ask the Columbia Water and Light Department for help conducting this assessment by calling 573-874-7325.
2.  Fill out the city's lighting analysis form, available online at gocolumbiamo.com/WaterandLight/Documents/LightRebateForm.pdf or at the Columbia Water and Light Department headquarters at 701 E. Broadway. The form requires applicants to spell out proposed lighting improvements and the wattage each improvement would save.
3.  Get a cost estimate — including both materials and labor — for the proposed lighting improvements.
4.  Use the estimate to fill out the city's Lighting Incentive Application, also available online at gocolumbiamo.com/WaterandLight/Documents/LightRebateForm.pdf or in the Water and Light Department office. Submit a completed application along with the lighting analysis form to the Columbia Water and Light Department.
5.  Provide details on the lighting upgrade project to a Columbia Water and Light staff member who will visit the business and decide whether the project is approved for a rebate.
6.  Await preauthorization for the lighting project before starting work on it.