PURE plans to promote photography as art
PURE Photography Gallery and Studio opened its doors at 504 E. Broadway on April 23. Already showcasing fine art photography from eight local artists, the new gallery plans to continue supporting the photography community with classes, studio space and professional services.
"What we are doing here at PURE Photography Gallery and Studio is unprecedented in the Midwest," co-owner Lisa Adams-Lloyd said. "We are representing local fine art photographers and their work as well as offering professional studio space for photographers of all skill and experience levels."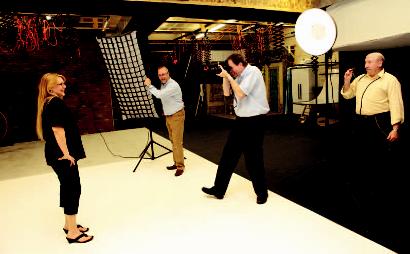 With more than 100 years of combined photography experience, owners Art Smith, Lisa Adams-Lloyd, Dale Lloyd and Jack Stanley created PURE to promote photography as art.
"The opportunity to open a door for artists in a format that is professional is very exciting," Stanley said. "The idea that we can take photography as an art form and promote it by stepping it up a level is probably the most inspiring part of this."
The gallery offers a vast collection of fine art images for home and office decoration from award-winning photographers such as Lloyd, Woody Woodward, Carry Yonley and Martin Spilker.
"If you're a bank or a shop and need some fine art for your walls, we're a one-stop shop for that," Stanley said.
Artists selected to be part of the gallery pay a monthly fee to display their work and have access to the studio and conference room facilities.
For other artists and photographers in the community, a 2,400-square-foot studio space can be rented out by the hour. Four studio spaces with multiple backdrops and backgrounds and more than $10,000 worth of lighting equipment are available.

"You can do cars with our large 22-foot-long soft box, interior home shots with our brick wall, fashion photography, product lighting and even film shots with our green screen," Stanley said. "We created PURE so photographers could get access to the gallery and deliver most of their work and business from this location."
In addition to providing studio and gallery space, PURE has a photographic reference library open to the public. The company offers classes and provides photo walks and photo trips throughout the year. This summer, PURE is offering classes for studio lighting and amateur and advanced photography, as well as a kids day camp. To sign up for classes or to get more information, visit www.pureimaginggroup.com.