People You Should Know: Vicki Powell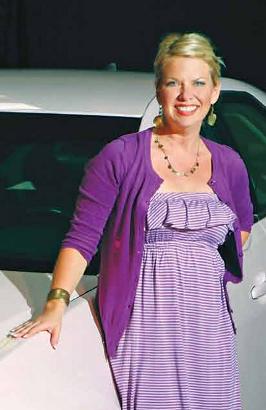 AGE:
37
JOB DESCRIPTION:
Executive management/sales
YEARS LIVED IN COLUMBIA:
Eight years
ORIGINAL HOMETOWN:
Jefferson City
EDUCATION:
Bachelor of Science in English
COMMUNITY INVOLVEMENT:
Other than Mary Kay, my No. 1 priority is my children. When I'm not working my personal business or with my unit, I'm volunteering at my children's school, going on field trips, helping with my daughter's basketball team, lunch bunches and many other activities. I think it's important not to forget about our community. I strive to do a set amount of charitable contributions every year.
PROFESSIONAL BACKGROUND:
Mary Kay Corp., 2003 to 2010
A COLUMBIA BUSINESSPERSON I ADMIRE AND WHY:
Dan McNerney because of his success story and the way he motivates others. He reminds me of Mary Kay Ash and her ethics.
WHY I'M PASSIONATE ABOUT MY JOB:
I love watching women grow in all areas: faith, family and career. Mary Kay is a safe place for women to realize their God-given talents. The company helps women feel better about themselves and grow as individuals and replaces their 40-hour/week jobs for a more fulfilling career in which they are recognized and compensated for their efforts.
IF I WEREN'T DOING THIS FOR A LIVING, I WOULD:
I would be a motivational speaker who encourages others and changes lives.
BIGGEST CAREER OBSTACLE I'VE OVERCOME AND HOW:
Leading people and learning to serve. Being an effective leader is one of the most rewarding things I've done.
A FAVORITE RECENT PROJECT:
I'm currently working on a project that is extremely important to me. Having recently lost a close friend to spousal abuse, I have set out on a campaign to do an extra 100 facials in May/June, and I'm donating 20 percent of the total sales to the local women's shelter.
WHAT PEOPLE SHOULD KNOW ABOUT THIS PROFESSION:
Mary Kay is the only company I know of where you can promote yourself and are in complete control of financial freedom. It's literally $100 to start your own multibillion-dollar business and make 50 percent profit your first day. Mary Kay is not a public company run by a board of directors but instead is privately owned and is totally debt-free.
WHAT I DO FOR FUN:
Spend time with my family, travel and read about leadership/entrepreneurs.
FAMILY:
My amazing husband, Kirk, and three sweet children: Myles, 11; Lexi, 10; and Chloe, 7.
FAVORITE PLACE IN COLUMBIA:
I don't know if I can single out one particular place. Columbia is such a great town with all the parks, restaurants and shops. I enjoy it all!
ACCOMPLISHMENT I'M MOST PROUD OF:
Earning our first pink Cadillac. I remember it like it was yesterday, even though it was June of 2005. My family was so excited!
MOST PEOPLE DON'T KNOW THAT I:
Played the viola for years.