The Columbia Farmers Market
Photos by Chris Padgett
This story originally appeared in the August 2023 issue of COMO Magazine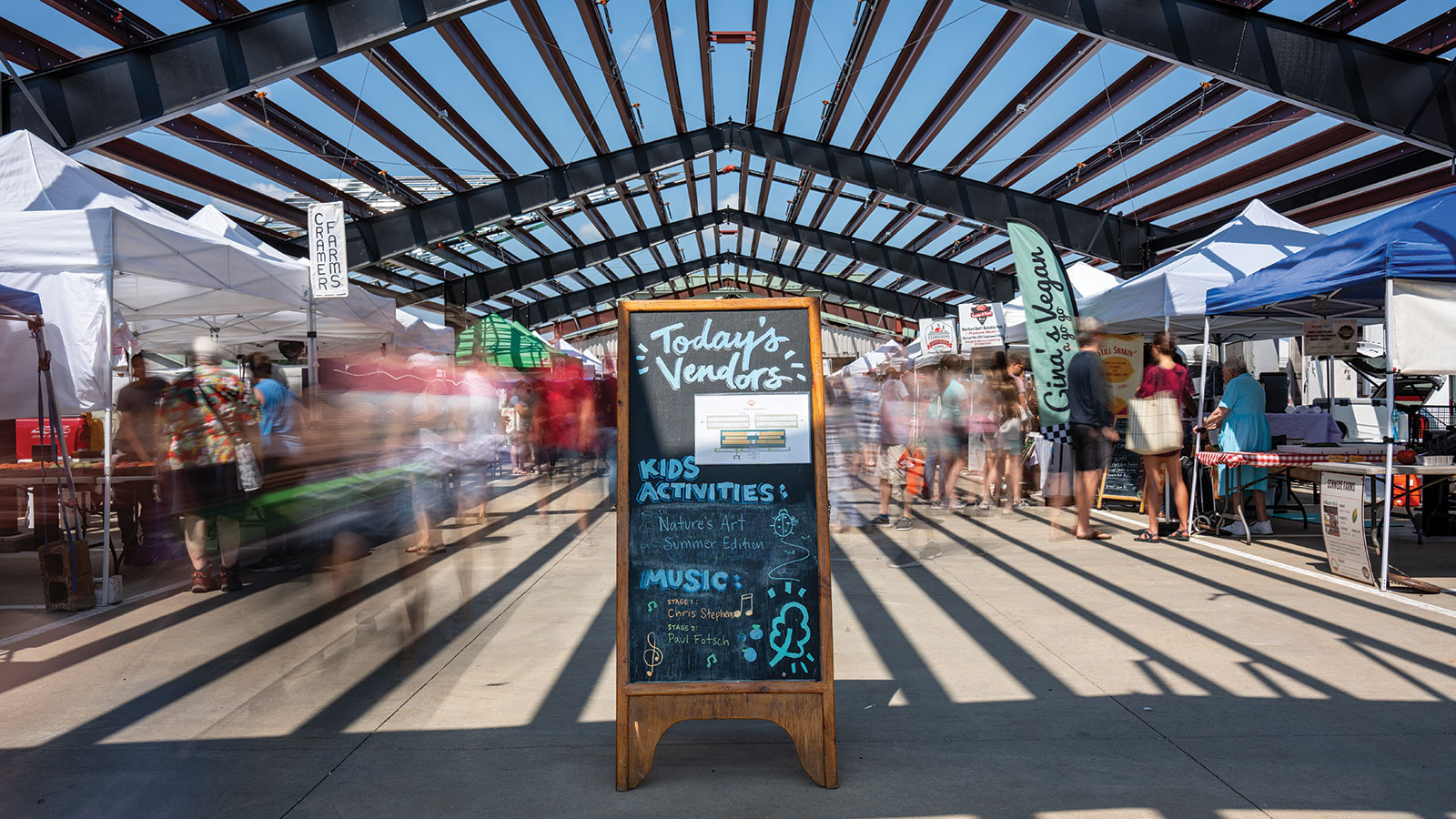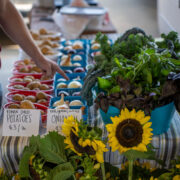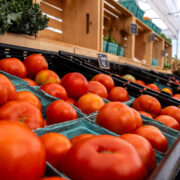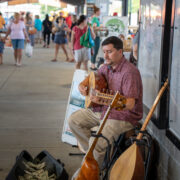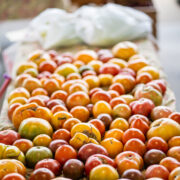 View Gallery
CFM is celebrating 43 years of harvesting the freshest local produce
If you live in Columbia and have never been to the Columbia Farmers Market, what are you waiting for?
CFM, in the middle of Columbia's Agriculture Park, is one of the city's crown jewels. Nestled in 20 acres adjacent to the 73,000-square-foot Activity and Recreation Center at 1701 W. Ash St., you can shop from local farmers who are selling everything from fresh flowers, produce, and meats to honey, jams, artisan breads, and even bath products.
The local farmers market is a main attraction year-round, but especially at the Saturday Market during the summer, where there's something for everyone — a playground and activities for the kids, live music, educational workshops, and food trucks. The Saturday Market enjoys a festive vibe, thanks in part to the eye-popping attendance, which topped 6,000 several times in 2022, says CFM Executive Director Corrina Smith, who has been at CFM's helm since 2013.
"So there are 98 stalls here," Smith explains, describing the scope of the sprawling, covered market structure, of which the center third — the MU Health Care Pavilion — is the only completed portion as of July 2023. Two long wings of steel structure on either side await their roof.
Forty of the stalls are under the MU Health Care Pavilion, which was completed in 2019.
"This was always the plan — we were always going to put all 98 under [a covered structure], but we had to do it as we raised money. And also in a way that allows us to still operate here" as the structure is being built, Smith says. She said in July that the roof should be done in early August. All 98 stalls have been filled.
Columbia natives and long-time residents will remember when the Boone County fairground was located at Ash Street and Clinkscales. CFM got its start at that site in 1980, and after decades of changing locations, CFM is back where it started, only now the area is Clary-Shy Park, managed by Columbia Parks and Recreation. The producer-only market features vendors who are within a 50-mile radius of Columbia. That means that every vendor at the market has been inspected by CFM to verify it is actually producing what is being sold.
In 2015, the perfect combination of public-private partnerships bloomed between CFM, Sustainable Farms & Communities (SF&C), Columbia Parks and Recreation, and Columbia Center for Urban Agriculture (CCUA). They envisioned a park where the farmers market is just one attraction in a larger, agricultural park. Today, CCUA runs the urban farm and offers children's programming at the park's schoolhouse, while CFM runs the market. SF&C has been a long-time fundraising group for CFM and has bolstered access to the market through its SNAP and WIC benefit matching programs.
"In 2015, we had the right partners finally come together," Smith says. "None of us could have achieved this on our own. It was really this collaborative public-private partnership that allowed us to get to where we are today and we've raised, I believe over $7.7 million, since 2015 [to build the park]."
The market's success is evidenced by being named the best farmers market in the nation in 2021, and second best in 2022 by American Farmland Trust.
While finishing the roof on the market structure is front-and-center right now, CFM and CCUA are fundraising to build a welcome center at the park that will include a large event space, teaching and rentable commercial kitchens, a resource center for people to rent out garden tools, and the offices for CCUA and CFM.
Columbia Farmers Market
1769 W Ash Street
columbiafarmersmarket.org
Summer Market: 8 a.m. to noon Saturdays, April through October.
Wednesday Market: 3-7 p.m., May 24-September 27. Plus a Columbia Parks & Recreation Food Truck Roundup every second and fourth Wednesday.
Winter Market: 9 a.m. to noon Saturdays, November through March.
---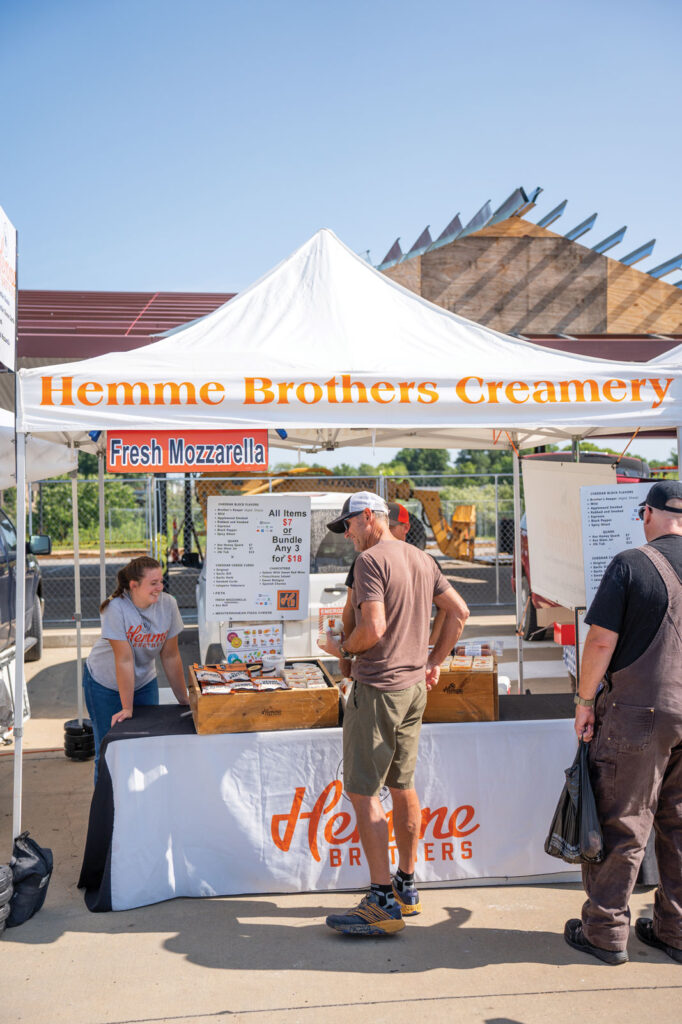 (Cheese) Curd is the Word
If you live for cheese, and only the freshest will do, you should add Hemme Brothers Farmstead Creamery to your list of go-to Market vendors. BFC is owned and operated by three brothers — Jon, Nathan, and Michael — and their parents, in Sweet Springs. Farming has been in the family for a long time.
"Our family came over in 1848 from Germany, and we've been in the same township ever since, so I'm the seventh generation," says Nathan, who has four kids of his own.
What makes their Hemme Brothers cheese so special? The cheese is the definition of farm-to-table. The Hemmes raise the cows from which they get their milk, and they grow their own feed for the cows. Fifty-six cows make anywhere from 100 to 150 pounds of cheese per year. The cheeses include a spreadable German-style quark; an applewood smoked cheddar; two aged cheddars, Brother's Keeper Aged, and Brother's Keeper Reserve Aged (those are Nathan's favorites); and curds that range in flavors from ranch and garlic dill cheddar to jalapeño, habanero, and sriracha.
Nathan says they do everything they can to make sure their cattle are as healthy and as happy as possible to ensure the highest quality milk.
"All of our cheeses are handmade in the traditional way with milk from cows that spend their days feeding on flavorful grasses, hay, and grain from our own farm. They produce milk high in butterfat and protein — perfect for rich, flavorful cheeses," the HBFC website says.
Each brother oversees a different aspect of the creamery. Jon, 39, oversees the crops grown to feed the cattle; Michael, 34, manages the animal husbandry of the herd; Nathan, 37, makes the cheese; and their father, David, handles sales and deliveries. The Hemmes opened their dairy in 1996 after switching from raising pigs to raising cattle with the intent of going into the milk industry. Then the brothers opened the creamery in 2016 to make and sell cheese using the dairy's milk. Nathan refers to the creamery as a value-added business.
"So when we started this value-added business, in 2016, our business plan didn't even have us going to the farmers market," Nathan remembers. "But the more we started to look at markets around the area, [the more we] saw the benefits they could bring to us to really get our name out there." The Hemmes started selling at CFM in 2017.
"It always surprises me," Nathan says, referring to CFM. "It could be a cold, nasty day, or a rainy spring day, or just a hot day in August. It doesn't really matter; the people of Columbia always show up and support their local farmers."
The Hemmes do make one product that can only be found at CFM: fresh mozzarella.
"The one thing that we do specifically for the farmers market — and it's actually because of the people of Columbia — is mozzarella," Nathan says with a laugh. "I got tired of listening [to customers ask] for two years, 'Are you gonna make fresh mozzarella?' And so they nagged me enough that we started making it and now they won't let me stop."
You can find the Hemmes at CFM on Saturdays, and their products are available all over Missouri; the Root Cellar is your best bet in Columbia, and all of the St. Louis Dierbergs.
Hemme Brothers Farmstead Creamery
660-992-0030
[email protected]
hemmebrothers.com
---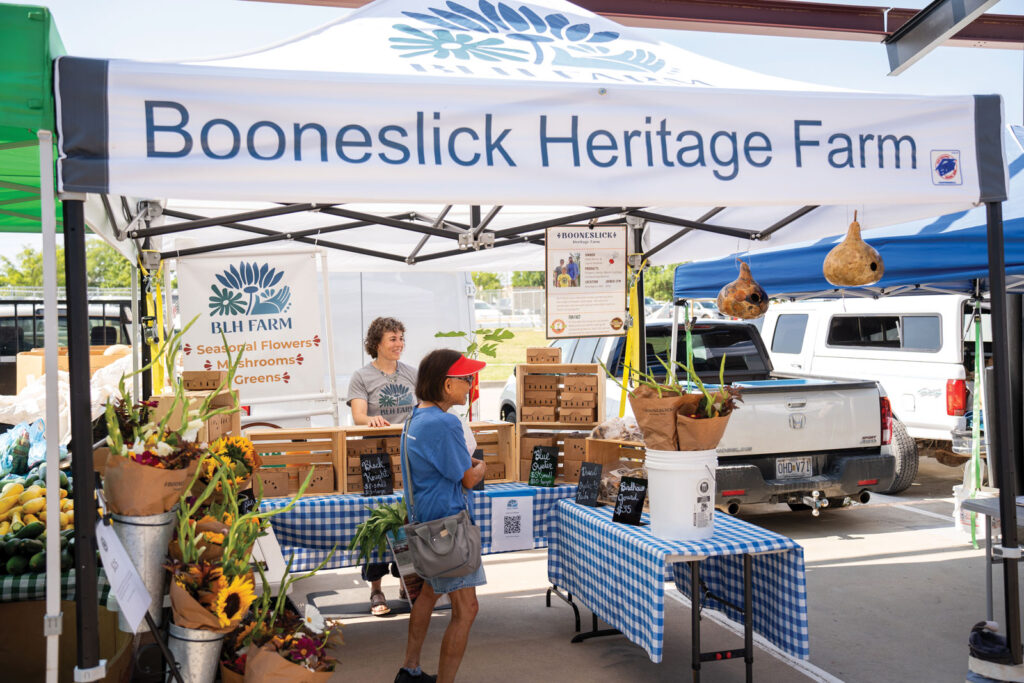 'Shrooms & Blooms
Matt Arthur, his wife, Laura Hudson, and their 10-year-old daughter, Waverly, own and operate Booneslick Heritage Farm, which specializes in an variety of culinary mushrooms and a host of fresh-cut flowers.
Arthur grew up on a farm west of Columbia, just northwest of Midway, while Hudson is from upstate New York; the couple lived there for a while around 2015. The summer growing season is exceptionally short there. Arthur says the last frost usually is sometime during the first week of June. But they had a damp, dark basement that was perfect for growing mushrooms. As they grew their fungi, they plotted how to get back to Missouri where they could scale up their operation. The family made that move in 2017.
"We have a flower and vegetable farm on my parent's land, and a mushroom farm just outside of Fulton," Arthur explains. The family lives in the middle of Columbia; the Arthur land has been in the family for more than 50 years and was once a part of the Boone's Lick Trail. Thus the name of the farm: Booneslick Heritage Farm.
Part of what makes the farm special is its commitment to regenerative agriculture and soil health. Arthur's parents went to no-till farming in the 1990s, and he knew he'd want to do the same with his flowers.
"Traditionally, farmers would till or plow to turn the soil over, both to disrupt weeds and also to make a smooth surface for good seed-to-soil contact," Arthur explains. "In the '90s, row crops started to move away from tillage, recognizing that it's a huge source of soil disturbance that destroys the m icrobiome, and leads to both wind and water erosion. We just knew going into it that we were going to be a no-till farm from the start."
The flowers are grown in permanent raised beds that spend one season a year in a cover crop to ensure the health of the soil. They even compost their mushroom substrate to add to the beds, and they do sell a variety of compost products, as well. Their flowers include yarrow, snapdragons, narcissus, dahlias, and sunflowers. And because flowers are so susceptible to pesticides, they don't use any chemicals in their operations.
This is the farm's third year with CFM. You can purchase bouquets from their market stand, as well as buckets of flowers if you want to make your own. Waverly makes most of the bouquets you'll find at the market. You'll also find lion's mane, blue oyster, and king trumpet mushrooms.
Booneslick Heritage Farm
314-347-7568
[email protected]
blhfarm.com
---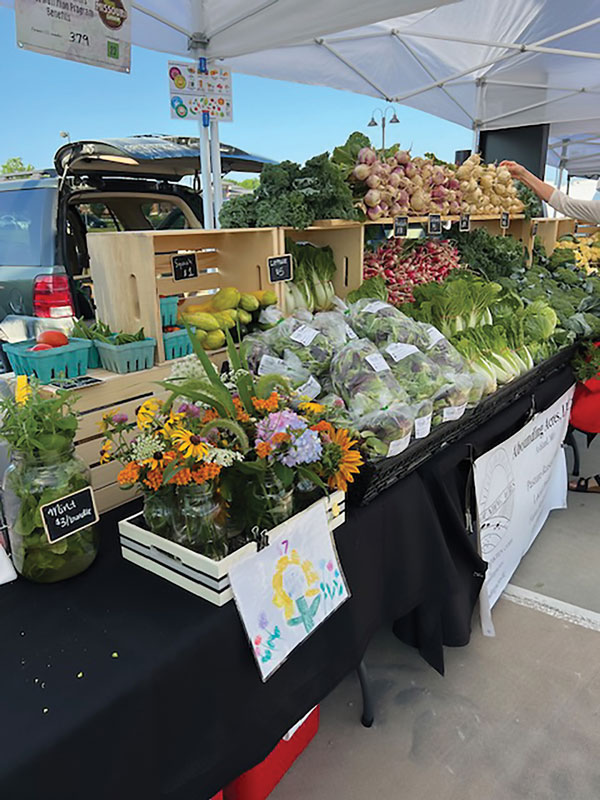 Abundance Galore
McKinley and Ashley Worley, who are just 31 and 30, respectively, bought their 10-acre farm in Ashland in 2015, the same year the high school sweethearts from Farmington, Missouri, were married. Ashley came to Columbia to study agriculture education at Mizzou; McKinley followed her here, and they never left, and they now have three young boys.
The couple had dreamed of farming for years, and running a pasture-based farm was their goal from the outset. In 2020, while it seemed that the world was sheltering from the pandemic, the Worleys amped up their farm and now raise 40 produce items, plus rabbits, goats, pigs, and chickens. Abounding Acres is a fitting name for their farm.
"So primarily in our high tunnel, we're growing cucumbers, tomatoes, and peppers," Ashley says. "However, in the field, we do everything from root vegetables – beets, turnips, carrots – to okra and watermelon. We sell a lot of lettuce and spinach. We have a spicy green mix that we like to sell."
And that's just the produce.
"Right now we have egg-laying chickens. We also raise meat chickens, also known as broilers, and we also have meat rabbits as well." Ashley explains. "We run all of our animals on pasture; the chickens are in chicken tractors that are moved twice a day. We also have Kune Kune pigs for pork. And we have a small [goat] herd of Nigerian dwarfs mainly for our kids. Originally we got them for milk, but now they're just more for pleasure."
This year is AA's first year at CFM, and you can find them there on Saturdays and Wednesdays during the summer, and during the Winter Market. On Thursday, you can find them at the Southern Boone YMCA Farmers Market at 400 E. Broadway in Ashland. You also can shop their online store for pickup at the Market.
"It's been wonderful," Ashley says about joining CFM. "The customers are wonderful and we really enjoy getting to know different people. We have regular customers who come by every weekend, and it's exciting to see people coming back and embracing our farm."
Abounding Acres, LLC
Ashland, MO
[email protected]
AboundingAcres.com
---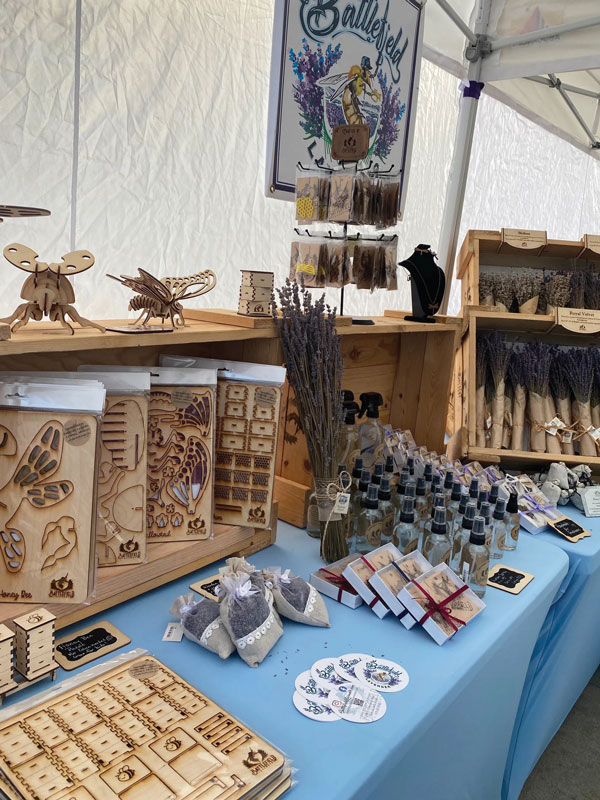 Follow Your Nose
One farmer who has been selling regularly at the Market since the Pavilion opened in 2019 is Battlefield Lavender. Located in Centralia, Battlefield is the largest lavendar farm in Missouri, say owners Jason and Katie Lockwood.
The couple started growing vegetables as a hobby in the 1990s and had good success. They bought the property in Centralia in 2010 and immediately started establishing a garden. After some field tests, they discovered that the land was blessed with clay-free soil, and the lavender was thriving. In 2016, they launched Battlefield Lavender. They continue to work their full-time jobs at Mizzou. Their three teenagers also help on the farm.
"Just down the road from our farm, the Centralia Battlefield memorial honors the fallen from a battle between the Union army and Confederate guerrillas on Sept. 27, 1864," the Lockwoods explain on the BL website.
"We grow 16 varieties of lavender," Katie explains. "We have more than 2,400 plants. The big bloom is in June, but they bloom again, some of them in late August, and early September."
The long blooming season means any time of summer is a great time to visit the farm, which opened to the public in 2019. Open daily from 10 a.m. to 6 p.m. admission to Battlefield Lavendar is free, making it a beautiful place to escape to without driving too far. Wander the 1.3 miles of lavender fields, pick your own, and even schedule a professional photography session to capture the perfect engagement or family pictures amidst all the purple.
At the farm's CFM booth, you'll find lavender soaps, sachets, jellies, chocolates, coffee, culinary salts, sugars and syrups, dried bundles, and a lot more. Katie says the sachets and dried bundles are among her best sellers, along with the soap and the linen spray.
Battlefield Lavender sells at CFM yearlong. Look for the giant purple sign, or simply follow your nose.
Battlefield Lavender
20601 N. Rangeline Road, Centralia, Missouri 65240
(573) 227-2242
battlefieldlavender.com
[email protected]
---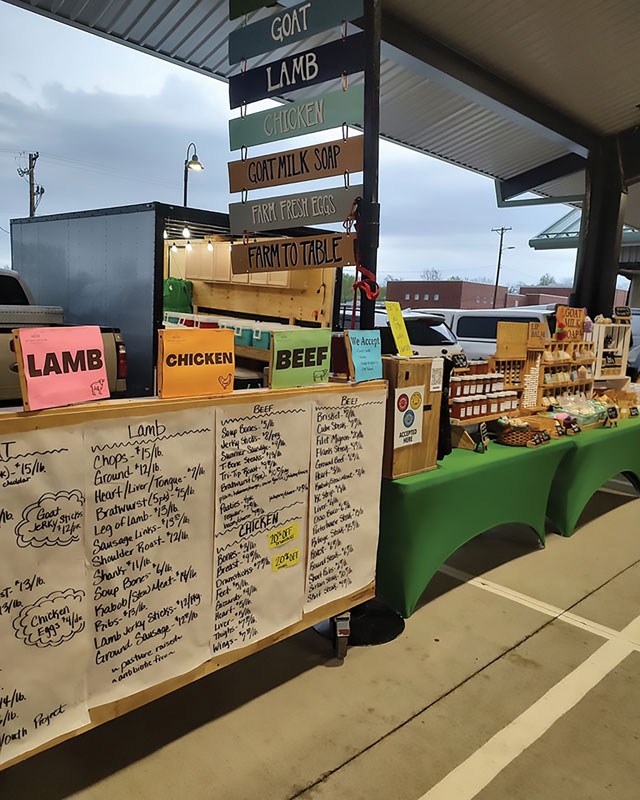 Give a Holler for Humanely Raised Meat
It's hard not to get excited about farming after spending a few minutes talking about it with Matt Van Schyndel and his son, Nick, of Hedge Holler Farms in Mexico, Missouri. Their business model centers around "faith, family, food." They raise goats, beef cattle, lambs and chickens, and turkeys for meat, in addition to eggs, and a line of goat's milk beauty products, including soaps, bath bombs, lip balm, and beard oil.
Matt and Leah Van Schyndel were married in 2003 and have three children; together they live on their family farm in Mexico. Both Matt and Leah grew up on farms in Audrain County and wanted to raise their family on farm life.
The way Matt got into farming is somewhat unique. As a tall young man (Matt is 6-foot-6), his father just couldn't understand why Matt didn't want to play sports. At 13, Matt told his father, "Dad, I just want to farm." His father was not a farmer, but he believed in his son's dream and went out and bought Matt a farm.
"So, it's cool how a dad turned around and believed in his son," Matt says. "The Lord pulled me back and said 'Feed people. That's your love.'" And for the Van Schyndels, raising happy animals is a key priority. Matt says they are there when the animals are born as well as when they are slaughtered; he says he wants his animals to only have one bad day in their lives.
The livestock are free-range, and the farm uses no growth hormones or antibiotics. Matt says they are planning to add pork to their operation this year to help diversify their product offerings in a time of drought. Earlier this year, Matt had to sell his 14 best heifers because keeping them watered and fed in this hot, dry summer wasn't cost-effective; pigs don't eat as much hay as cows, so this is a good route for them.
They did the Mexico Farmer's Market for three years. Matt and Leah quit their jobs and decided to make feeding people their full mission in life – feeding people with food that is raised as sustainably and healthfully as possible. But that market wasn't large enough for the Van Schyndels to cover their bills, so they decided to join CFM. Matt said CFM was a little intimidating at first.
How intimidating? 6,000 customers in a single Saturday.
And now their 17-year-old son, Nick, a rising senior at Mexico High School, is in on the business.
"I'm currently third-generation on the farm," Nick beams. "My parents started with the beef and chicken operation. It all started with a few honeybees and then the honey bee [business] exploded from me owning honeybees and now owning chickens and now owning goats."
Nick has learned all about raising goats for meat, and you can find his eggs at CFM on Wednesdays and Saturdays, as well as at the Winter Market.
"My mom and dad are in charge of the meat part of the venture, and I'm in charge of the egg side," Nick says. "So we try to separate those. Both of these industries are huge right now. So we're trying to keep it separated. It really decreases the workload for all of us."
Nick is hoping to attend Mizzou to study agriculture, which would keep him close enough to home to keep up with the business. In fact, he look forward to taking over HHH someday.
Hedge Holler Harvest
1256 Highway Z, Mexico, MO 65265
hedgehollerharvest.com