Building Community Impact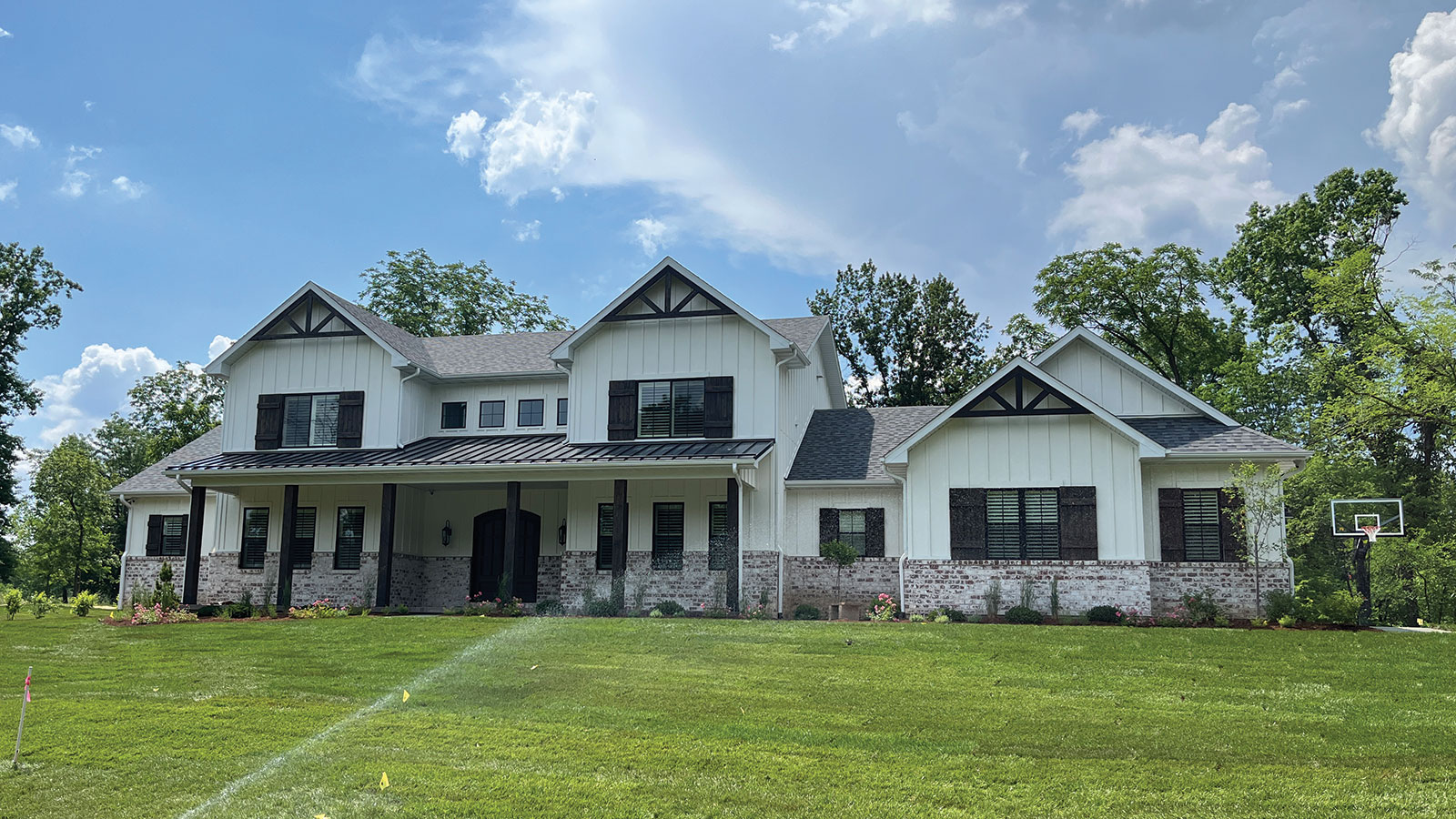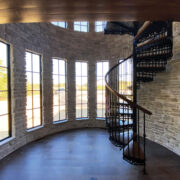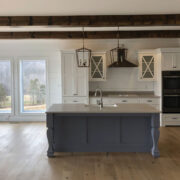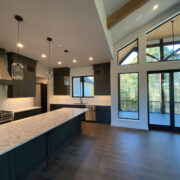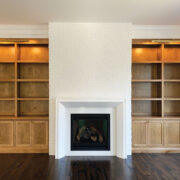 View Gallery
How a third-generation homebuilder keeps Columbia growing.
Sitting down to talk with Shaun and Felicia Tompkins, owners of Tompkins Construction, feels like sitting down for coffee with old friends. The couple exudes a down-to-earth, personable mood, so it's not hard to see why their small business has enjoyed so much success.
It's hard to pick one aesthetic to describe their style because Tompkins Construction, now in its 37th year, builds custom homes. There are no pre-designed floor plans to choose from; instead, Tompkins designs homes based on each individual client's desires.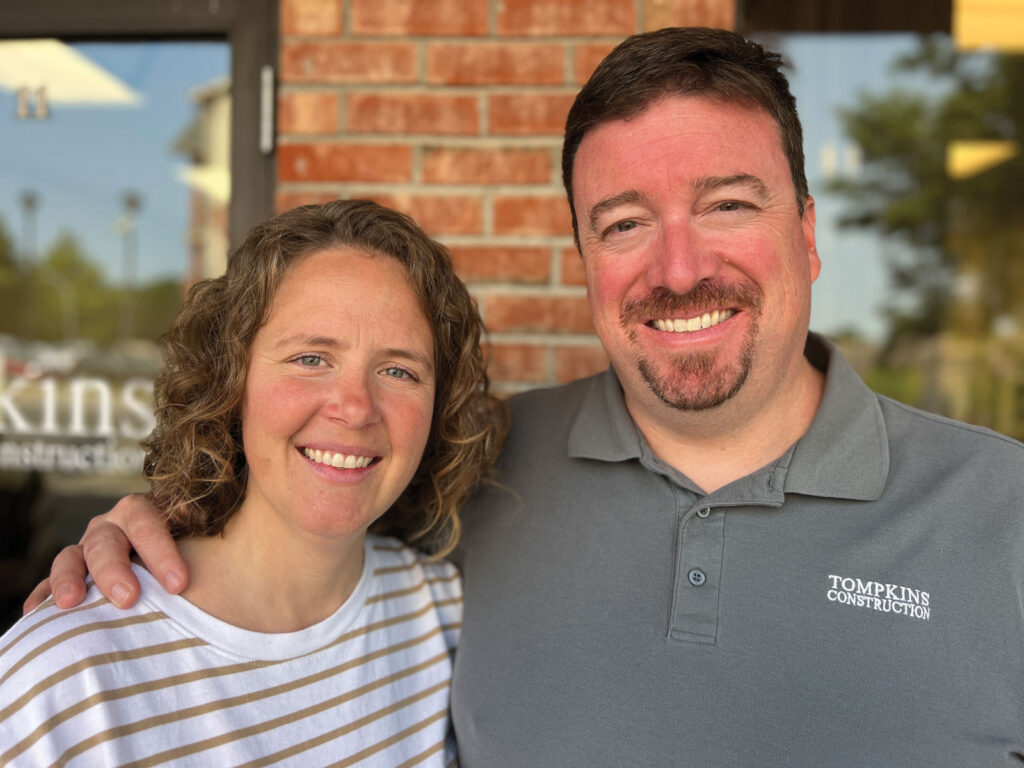 A Colorado Start
Back in the 1970s, Shaun's grandfather was a homebuilder in Fruita, Colorado. At the time, the oil industry in that area was booming, which drove demand for housing.
"In the mid-'80s, there was a big bust in that industry, and the building industry dried up and they actually kind of lost everything and needed to start over," Shaun Tompkins explains about his grandparents and TC's beginnings. "And so, they were researching what areas of the country would have a very stable economy by comparison and not be so reliant upon one industry."
His grandfather did some thorough research, and Columbia came up as a place that was unlikely to have that sort of a problem, because of its diverse nature with the university and healthcare industry.
Columbia seemed to be "sort of a unique place they hoped they could be successful in," Shaun explains, adding that the move from Colorado to Columbia took place in 1985.
The following year, Tompkins's grandfather started Tompkins Construction in Columbia, building spec homes. Getting the business off the ground after losing everything in Colorado wasn't easy, so Shaun's father, Mike, also moved to Columbia to help. By the 1990s, Mike Tompkins was running the day-to-day business and Tompkins Construction began making a name for itself.
Felicia Tompkins says that Sean's grandfather was especially known for his framework and trim work — cabinets, built-ins, and similar features — using natural oak wood.
A Modern Touch
In the early 2000s, Shaun's grandfather transitioned to being a laborer for TC, which was his preference over running the business. Shaun's parents were running it, with his mother designing the floor plans and his father building them.
He graduated from Hickman High School in 1999, attended Mizzou for one year, then transferred to what was then Southwest Missouri State in Springfield, where Felicia was attending school. Shaun had his sights set on becoming a highway patrolman until his dad asked him to take over TC.
Shaun took over in 2004 with his parents still being involved. Felicia had been an elementary school teacher, and after having their son in 2008, wanted to be at home. She began taking over her mother-in-law's duties at TC.
"I've always loved looking at floor plans and just that design element. I had wanted to go to architecture school and that path didn't come to fruition," Felicia explains. "But, you know, I just love that creative side of home design."
Felicia started learning the computer-assisted design (CAD) and drafting system that the company uses.
"And so I started drawing floor plans and learning with her and my father-in-law about the design and client relationship — that initial phase of meeting with clients and working with them, to create a plan that suits their needs, and then getting to a final point that also meets their budget," Felicia says, adding that she joined TC in 2008.
With Felicia working with the CAD system, Soft Plan, TC is able to offer 3D renderings of its builds, which helps clients visualize how their custom house will look.
"Generally, people find a lot or land, we have a meeting about … what do you want to build?" and the design process starts there, Shaun says.
"So they might give us a list of how many bedrooms they want on each level, do they want a wet bar?" Felicia notes. "All the various things that go into a house design, we just kind of create a list and help them find a starting point with a rough idea of a floor plan, and we then can complete a 3D design."
The popularity of home-makeover shows on HGTV has influenced homeowners, who now have come to expect the offering of 3D renderings. (But don't get Shaun started on HGTV.)
"It's just like any reality show — they don't give you the full picture of things, but it is good for coming up with creative ideas and getting it," he says. "Our customers really like it because it gives them all kinds of good ideas that we can figure out for them."
Something that stands out about Tompkins Construction is its bidding process. Clients are guaranteed no surprises.
"We do a guaranteed bid," Shaun explains. "Once we bid the house, you know on day one what it's going to cost. It's the same price at the end when you're done."
Shaun and Felicia say they don't do much advertising for TC because they don't need to. Word-of-mouth keeps them busy enough to build several custom houses per year.
"So, in about 2015, my parents were completely not involved in the day-to-day aspect of the business at all, and Felicia and I took it over," Shaun says. "We kind of have built up a reputation in the community … just by people coming to us and wanting us to build their home."
Shaun's father, Mike, transitioned from building into development, opening Tompkins Homes & Development in 2011. Breckenridge Park is one of his developments, which opened an opportunity for Felicia and Shaun to build there, but they have built homes throughout Boone County — around 400 houses in all.
"We have a 15-year-old son who, you know, today, he thinks maybe he might not want to go into home construction, but you know, he's a 15-year-old boy, so that may change," Felicia says.
Only time will tell, but meanwhile, Shaun and Felicia are staying focused on their community impact. Th pair explain that they pay their workers well, they treat their clients, employees, and vendors well, and they build beautiful homes that people can love and enjoy for years.
"That's what's keeping Columbia strong. That's what keeps us and our business moving forward," Shaun says.
Felicia adds, "We also try to do certain things in the community, just simple things like supporting the senior all-night party for the high schools in town. We're not a big enough company to be donating hundreds of thousands of dollars. But we try to make some contributions to local charities whenever we are able."