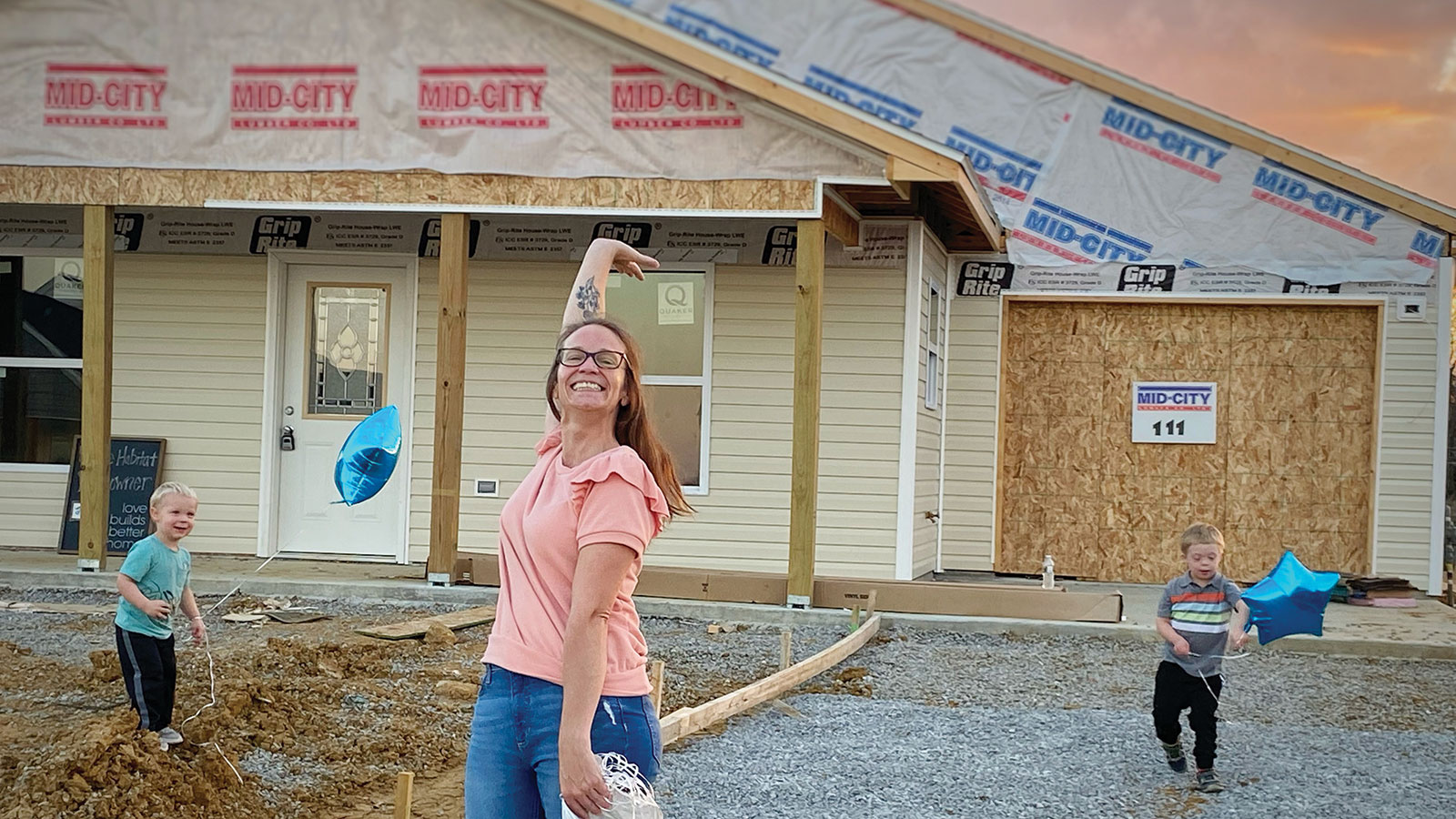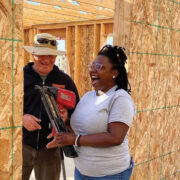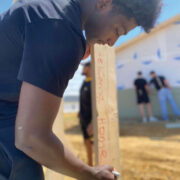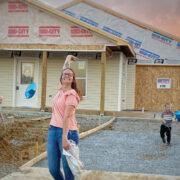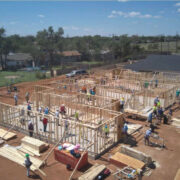 View Gallery
Show-Me Central Habitat for Humanity has built 171 affordable homes for Columbia families. This year, it's an all-out blitz.
Homeownership. It's part and parcel of the American dream. Yet, barriers to owning a home are a nightmare to many people, including some families living in Columbia.
Since 1988, Show-Me Central Habitat for Humanity has helped Columbians buy affordable new homes to raise their families in, accommodate those with physical disabilities, and build a stronger community. Habitat has built 171 homes, and has come a long way since building the first. In fact, this year, it's in for a blitz.
If we build it fast, they can move in faster
Blitz Home Builders is a nonprofit organization composed of volunteers from across the country. The organization works with local groups like Show-Me Central Habitat for Humanity to plan, organize, and execute the building of several homes in a short period of time. The 2023 site for the organization's annual homebuilding effort? Columbia. 
In September, Blitz and local Habitat volunteers will build four new houses in just 10 days — from Sept. 18 to Sept. 29. The new builds will be constructed at the Boone Prairie subdivision being developed by Show-Me Central Habitat. The 50-acre subdivision off Brown Station Road in north Columbia will someday feature 143 Habitat homes, representing 143 families that can realize the dream of homeownership and plant their roots firmly in Columbia soil.
"For generations, home buying was the most attainable way for families to build wealth," says Austin View, executive director of Show-Me Central Habitat for Humanity. "The affordable housing crisis has made that dream out of reach for many. We are one of the only organizations building new homes for under $200,000 in Columbia."
In fact, according to realtor.com, the current median listing price of a home in Columbia is $315,000, well up over last year. As housing prices continue to increase, more and more residents are left behind. Habitat provides a path for as many families as possible. And once a family buys a home, it creates space for other Columbia families who need housing under the federal Section 8 housing voucher plan that is designed to assist low-income families, the elderly, and disabled individuals with housing costs.
Austin says that every new affordable housing unit created frees up Section 8 housing for someone else who needs it. Of the last 10 accepted Habitat applicants, four were on Section 8 vouchers, freeing up thousands of those dollars for others every year.
These homes are earned
There are a lot of myths surrounding Habitat homes, including a belief that the homes are given away for free. On the contrary, applicants must meet income guidelines, generally have a minimum credit score of 600, pass a criminal background check, and demonstrate a need for the home. Then, the real work begins.
Habitat provides a 30-year interest-free mortgage, but homeowners pay principal, taxes, insurance, and maintenance back to Habitat. What's paid for in maintenance is kept in a savings account to be used by the homeowner for repairs down the road. The principal paid on the mortgages is placed in Habitat's "Fund for Humanity" and is used for future builds.
And then, there's the sweat equity. Families are required to provide 250 hours of work on their home or other Habitat builds as part of the deal. Although there are some exceptions for applicants who are disabled, Habitat families average 275 sweat equity hours. A family's new home is generally ready in six to nine months.
It takes a village to build a village
Habitat employs a full-time construction manager. Currently, the manager is overseeing 14 houses in various stages of construction.
"His job is to plan work, order materials, manage volunteers, and decide when it is appropriate to hire contractors," Austin says. "For electrical, HVAC, and plumbing, we always hire licensed professionals. For other jobs, we make the decisions based on our budget and our volunteer pool."
Not surprisingly, volunteers are critical to Habitat's ability to build homes, and they don't need to have building experience. Although Habitat welcomes groups that want to spend a day or two working on a house, volunteers working on regular schedules provide the bulk of the labor the effort depends on most. Moreover, volunteers are needed to drive a box truck to pick up donations around Columbia and to staff the Habitat ReStore.
"Good volunteers are always in short supply," Austin says. "We currently have roles available for regular volunteers and group volunteer slots."
Austin believes the Blitz Build will be an "inspiring event," and Habitat is counting on a large team of local volunteers to work alongside the Blitz volunteers converging on Columbia.
And of course, the nonprofit organization relies on donations to carry out its mission. People can donate cash or make Habitat a beneficiary of their will or other estate planning tools. Companies can become sponsors. And any business or individual can donate items to the Habitat ReStore, which the organization sells to help fund its mission of building affordable homes.
"We believe that strong families make strong communities," says Austin. "Many of our families are first-generation homebuyers. The stability and strength that homeownership provides allow them to climb the economic ladder."
---
Show-Me Central Habitat for Humanity
1305 Business Loop 70 East
573-499-1202
showmehabitat.org