Photos provided by Aloma's Antiques & Estate Services and Como Estate Sales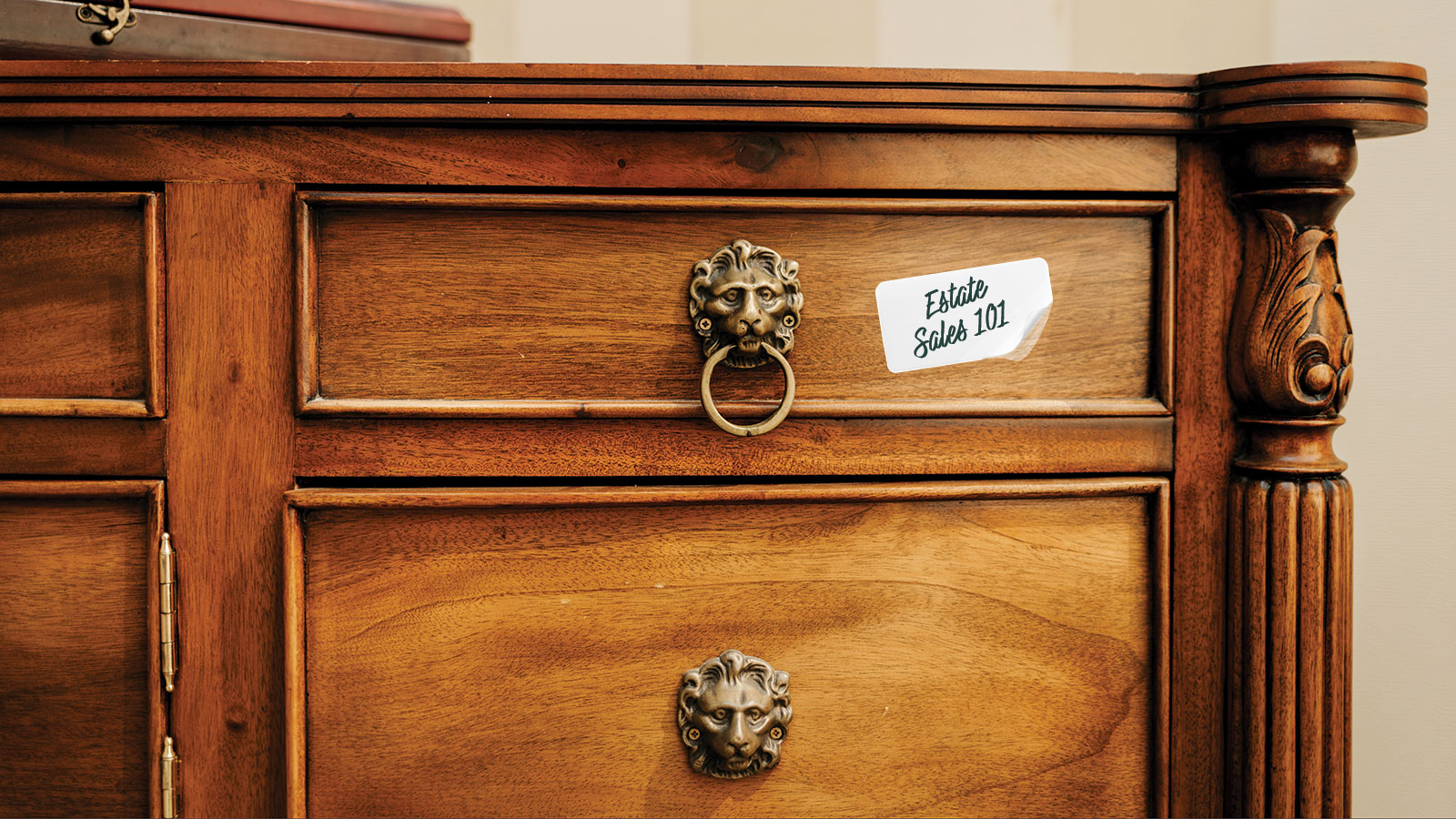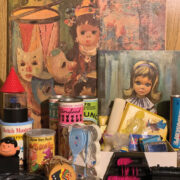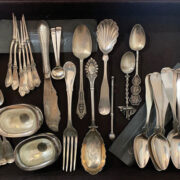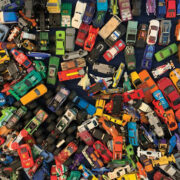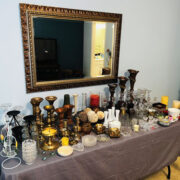 View Gallery
How to stage a successful estate sale.
What do you think of when you think of an estate sale? Perhaps a palatial home packed with untold treasures? Does it make you automatically assume that the sale is the result of someone's death?
There are many reasons why someone might choose to hold an estate sale, and as many reasons to shop them. Aloma DeVaux, owner of Aloma's Antiques & Estate Sales, and Nicole Forshee, co-owner of CoMo Estate Sales, take us inside the world of estate sales and how to navigate the steps of holding a sale.
Understanding the Estate Sale
An estate sale is the selling of one's entire inventory of personal property. It is held in the home where the inventory resides. It is true that a significant number of estate sales occur after someone has died – when parents die, the selling of a household's items often falls to a surviving child, for example. But living estate sales are a thing, too, occurring when someone is downsizing to move into a retirement home, or moving due to a job change. Estate sales are not garage sales, but they also aren't marketed to just the most affluent shoppers available; if you think you'll only find high-priced items at estate sales, think again.
"You can shop at an estate sale and get gently-used things for your home for a fraction of the cost of retail," Nicole says. "For example, if you want a new couch for your living room, and you watch our sales and our pictures, you can get a beautiful couch for $200 to $400 as opposed to buying retail for $800 to $1,000. Shopping our sales helps people get the things they need at a good price."
Nicole co-owns CoMo Estate Sales with Shari Margheim and Dawn Nichols; the three met 10 years ago while working together at a different estate sale company. They decided to team up and strike out on their own, opening their business in July 2018.
Some estate sale companies also do auctions, though neither Aloma's nor CoMo Estate Sales offer an auction service.
"I believe an estate sale can be a great alternative to an auction," Nicole explains. "At our estate sales, we price almost everything individually so you're buying exactly what you want. If an auction groups a number of items together and sells them in lots, as a buyer, you may leave with extra items you don't necessarily want or need. We also feel we are able to make more money for our client when we price and sell their things individually."
"We typically just do one [sale] a week, because we like to give our undivided attention to that particular sale going on," Nicole says, adding that her team runs 40 to 45 sales per year. Similarly, Aloma does just one to two sales per month.
Nicole says most estate sale companies will offer a free meeting to see if they can be of service; they'll do a walk-through of the home to get a basic idea of the volume and worth of all the stuff. You don't have to have a house full of antique crystal, china, or silver to hold an estate sale, but you do have to have enough items of value in good condition for it to be worth your time, and the company's time. The company will appraise the value of the items and has at its disposal expert resources in niche items and collectibles that it can call on if it encounters unusual items.
The team will present the client with a contract for the terms of the sale. Every item is individually priced, and the estate sale company makes a commission on each piece sold. The company will tag each item, and stage each room of the house with what is to be sold.
Depending on the number of items that need to be sold, an estate sale usually lasts two to three days, with everything sold at full price on the first day; whatever remains on the second day is sold at a deep discount — but if the original prices were good, don't expect that cool piece to still be there for half-off tomorrow.
If anything remains after the sale ends, the client decides if the items should be kept, donated, or hauled off. During the sale — which is open to the public — people fill the home and go from room to room to hunt for treasures.
Who Shops Estate Sales?
Successful estate sale companies have loyal, repeat customers.
"I would say [estate sales] are very popular," says Aloma, whose business is based in Auxvasse and serves the mid-Missouri area. "Most people who come to our sales are collectors and flippers. We have a lot of regular customers." Aloma even knows people who shop estate sales full-time.
"We have various reasons why the same shoppers show up week after week for our sales," Nicole adds.
Flippers are buyers who are buying inventory for their eBay or Etsy shops and antique mall booths. Collectors of all things show up, too, from fine china to Star Wars memorabilia. Don't feel intimidated if you don't fall into either of these categories; you don't have to be any kind of "high roller" to pop into an estate sale and take a look around. Estate sale shopping is not unlike antiquing, and it's a pleasurable hobby for many.
Aloma moved to Auxvasse in 2019 from the San Diego area for family reasons, where she had previously owned an antique store before going into estate sales. She found a fascination with antiques at an early age, going to thrift stores with her mother, grandmother, and aunt. She loved finding cool, old stuff; and she loved the smells and the nostalgia. These days, it's about the thrill of the hunt for Aloma, a flipper herself with her own eBay store.
"There's just something about antiques, I'm obsessed with them," Aloma says with a laugh. It's clear how much she enjoys staging the home with all of the "cool, old stuff," and making it organized and appealing.
"We come in and prepare the home, we set up tables, we make everything look nice," Aloma explains. "We don't want it to look junky or like a yard sale. We do full price the first day, second day is 50 percent off. If we have a third day we go as far as 75 percent off."
Like, Aloma, Nicole also is enthusiastic about the staging process.
"At CoMo Estate Sales, we set up every sale to mimic a boutique-style shopping experience," Nicole explains. "We take a lot of pride in the presentation and staging of items throughout the home. When people walk in, we want them to be wowed by the way everything looks."
Making the Money
In addition to the commission on items sold, some companies may charge an advertising fee to get your sale out there, and some companies may have you pay for labor, as well, to staff the sale.
The fee structure for CoMo Estate Sales is 50/50 between the client and the company on items less than $100. For example, if a vintage lamp sells for $80, both parties get $40. On items that sell for more than $100, the company's commission shrinks to 25 percent, leaving the other 75 percent to the client. CoMo Estate Sales pays its crew from the commission.
"The client is making money, and we're making money — but we're here to make you money first — and the stuff isn't going to a landfill. It's being repurposed, rehomed, reloved," Aloma says.
And, if the house itself is for sale, an estate sale is a great way to advertise it.
---
Pro Tips
Ample parking at the place of the sale is strictly required.
Don't try to haggle at estate sales like you would at a garage sale.
Don't throw anything away before having it appraised.
Before having a sale, focus only on the stuff you want to keep and what you'll do with it. The estate sale company will take care of everything else. 
Look for companies that offer free consults, are communicative, and show compassion.
Do your homework; ask around or read reviews of an estate sale company before committing.
Find estate sales in your area at estatesales.net.
---
Aloma's Antiques & Estate Services
760-443-0513
[email protected]
alomasantiques.com
CoMo Estate Sales
573-777-2403
[email protected]
comoestatesales.com