Photos courtesy of Julie Nardy of Yonder, Jennifer Book Haselswerdt, and Elizabeth Braaten Palmeiri.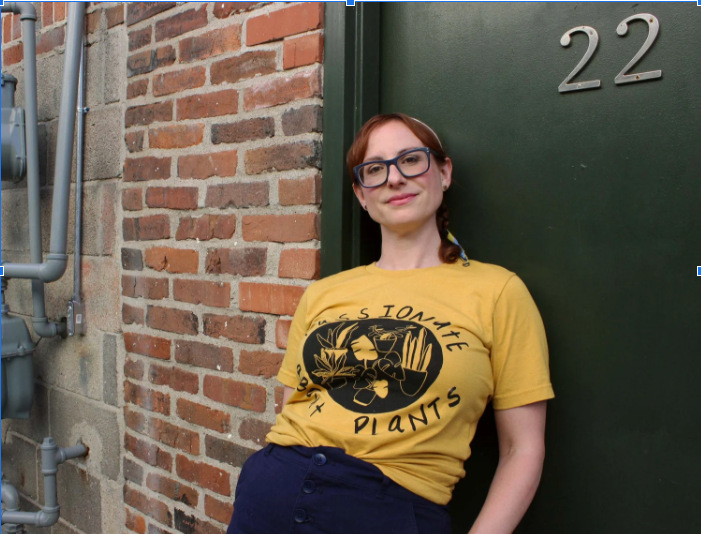 Artistic and creative by nature and profession, two #COMOMoms reveal their form-meets-function faves.
Like many who came to Columbia for college, I put my roots down here, and now I am a #comomom. I never thought it would happen to me, but I also never thought my friends would see me waving from across a crowded music festival and think, "Why is that mom waving at me?"
In an effort to make my friends think, "Is that hot mom waving at me?" I decided to ask a few Columbia mom experts to share their favorite form-meets-function items you can find locally. Their submissions had to be functional for parenting, while also being aesthetically pleasing — and they did not disappoint.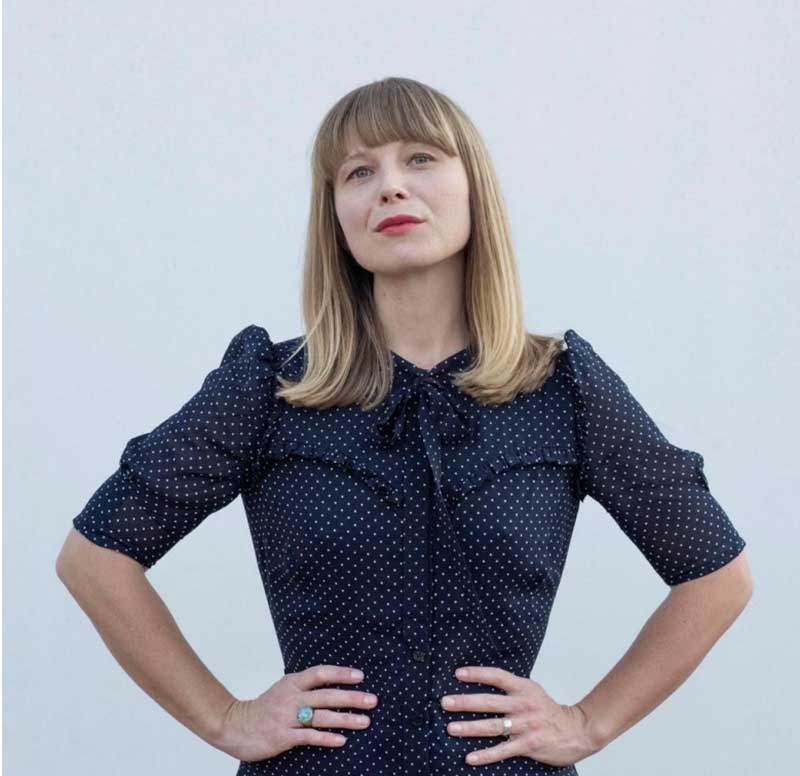 Elizabeth Braaten Palmieri is the creative director and founder of GreenHouse Theatre Project, and an adjunct professor and director at Stephens College. Last year she had her second baby, and her family opened CoMo Rocks, the climbing gym so many Columbians have dreamed of.
She is on the move, to put it mildly. Her clothing essentials are pieces that make life easier, allowing her to move from one act to another without the need for constant costume changes.
We caught up by phone the week before she opened Winchester, a play she wrote, directed and performed in, based on the real life of Sarah Winchester.
Winchester follows the heiress to the repeating arms company fortune of the same name as she is haunted by the deaths on which her fortune was built. The haunting of those deaths drives her to ever expand her mystery mansion until her death, when the house became an oddity. An attraction.
Elizabeth's youngest was two weeks from her first birthday when the play opened.
Living such a multifaceted lifestyle requires specific "armor," as Palmieri put it.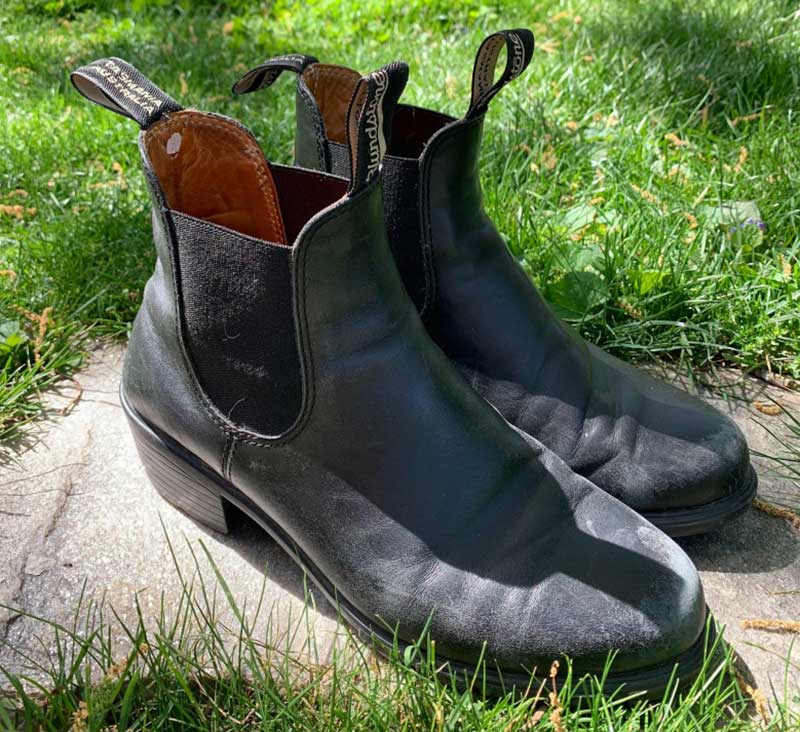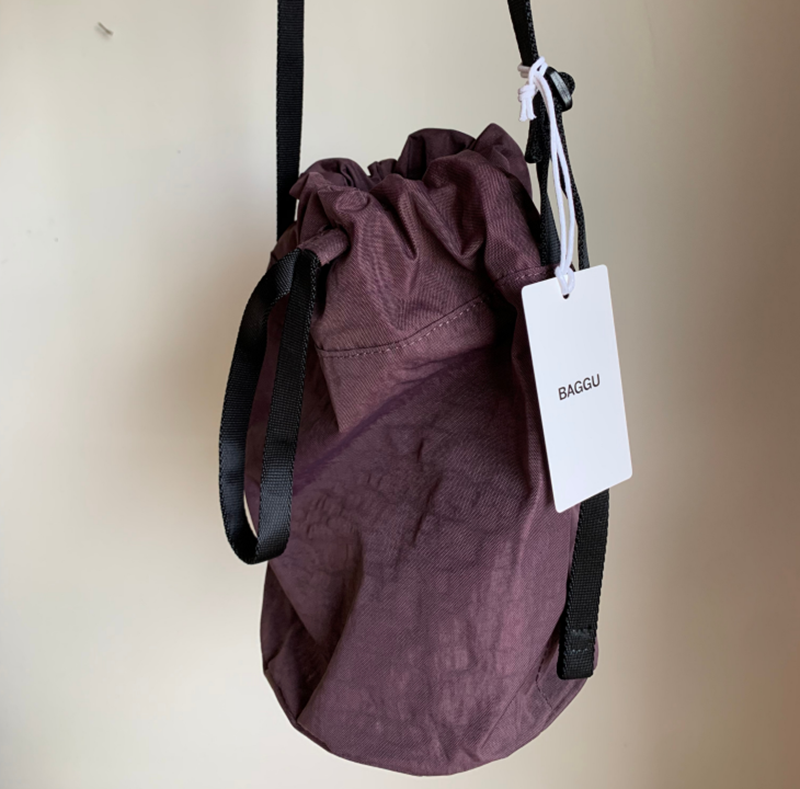 "I need to be able to move, so often, I am wearing yoga pants, or my favorite pair of jeans, which are the Madewell, high rise with ample stretch," she says. "These pants I am telling you about— man. I'm on my third pair in maybe a decade. They're just the best. I literally wear them out. You know you get your money's worth."
Pair them with Blundstone Chelsea boots, which can be ordered through American Shoe downtown, a vintage t-shirt, and a Baggu tote from local mom-owned boutique, Hedda, and you've got an EBP look down.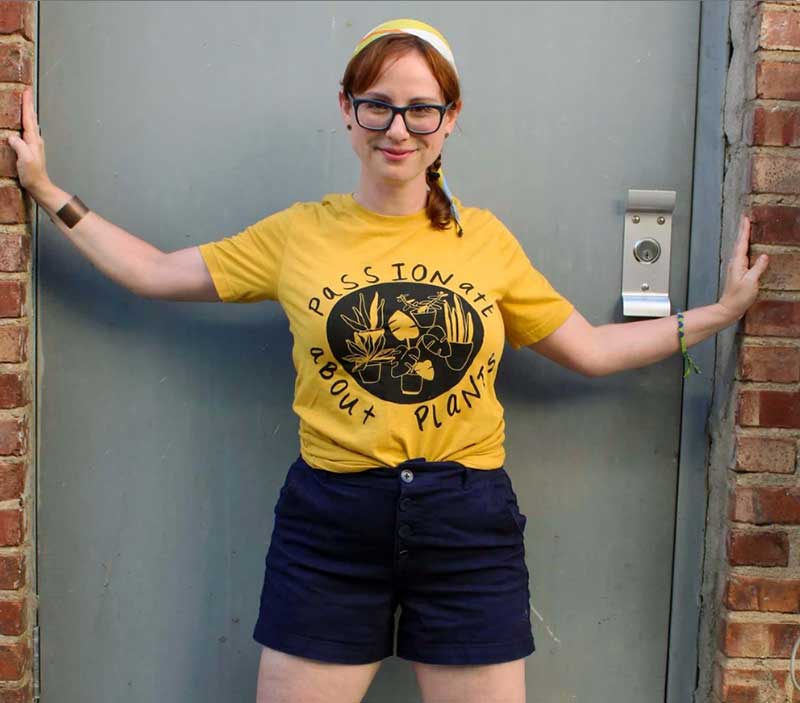 Jennifer Book Haselswerdt is the Arts Integration Specialist at The Atelier School of Creative Learning, a school for toddlers through sixth graders that focuses on creativity and learning through music and arts education.
Jenn's formal training is in theater, which means she learned to do everything. She is a writer, teacher, artist, singer, reader, dancer, gardener, and chef. She is a leader in her faith community at Congregation Beth Shalom, and you really should ask her about Purim costumes before next March.
We were able to sit down (with our respective kids, because motherhood…) after school one day to talk about some of her favorite mom gear.
Understandably, Jenn carries many bags to keep all of the things for her life together.
"This is the main bag," Jenn says, showing me her Himawari Backpack, which comes with a built-in charger.
"It has my journal, my tinted chapstick, my hair things. Oh, Eloise really likes my cards," she says, smiling at her toddler while gently taking her wallet back and replacing it with a toy xylophone, from her bag, which I assume once belonged to Mary Poppins. "The second bag," she says, showing me her Green Papaya jute bag, "is the miscellaneous one."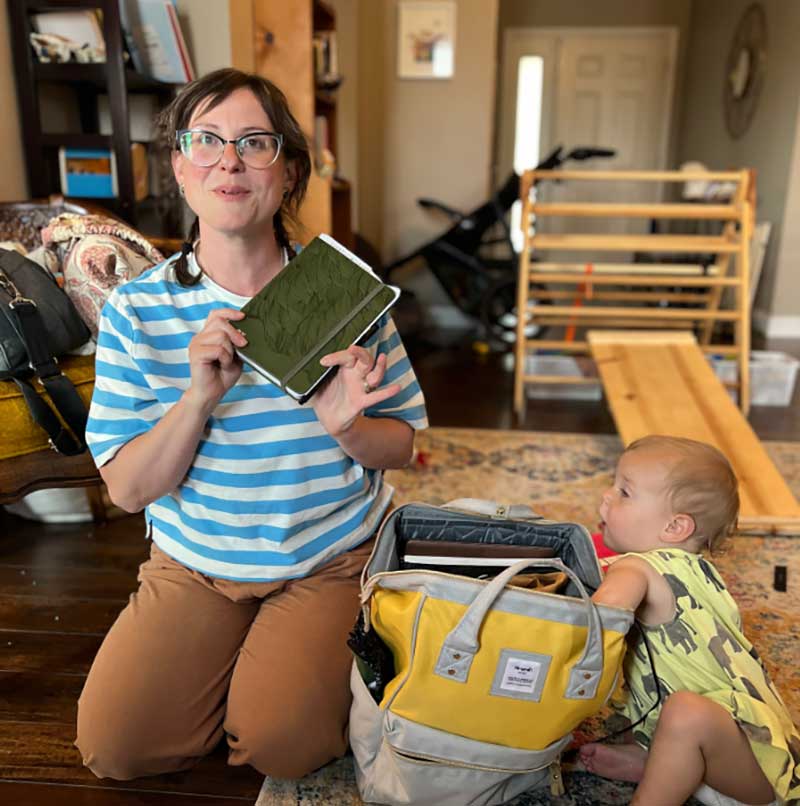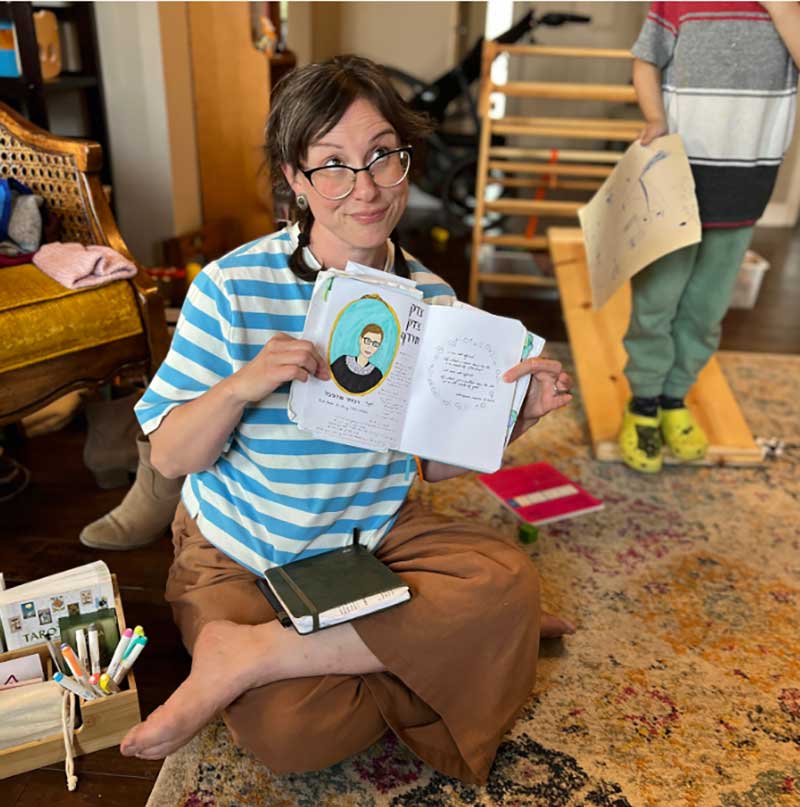 Jenn likes jute bags for their durability and their environmentally conscious use of recycled plastic grocery bags woven into more sturdy totes.
For clothing, comfort is key. Jenn wears clothes that she can do almost anything in. Cute, comfy bottoms, shirts that allow her to reach, stretch and bend, and she always has an unexpected accessory to tie it all together.
You can see her here modeling a shirt from Yonder Studios, a locally owned and operated design and screen-printing business. The owner's designs include a lot of plants and cats, some of Jenn's favorite things. You can also see an inherited vintage silk scarf in her hair.
In the above photo she is modeling not only the beautiful "Passionate About Plants" Yonder shirt, as well as a vintage silk scarf in her hair. The scarf once belonged to her beloved great aunt who collected them.
These moms showed up not just with examples of comfort meeting form meeting style, but with hard learned explanations of why their gear works.
I shouldn't be surprised. Moms understand the assignment.