Videography by Sarah Hempelmann
Photos by Jodie Jackson Jr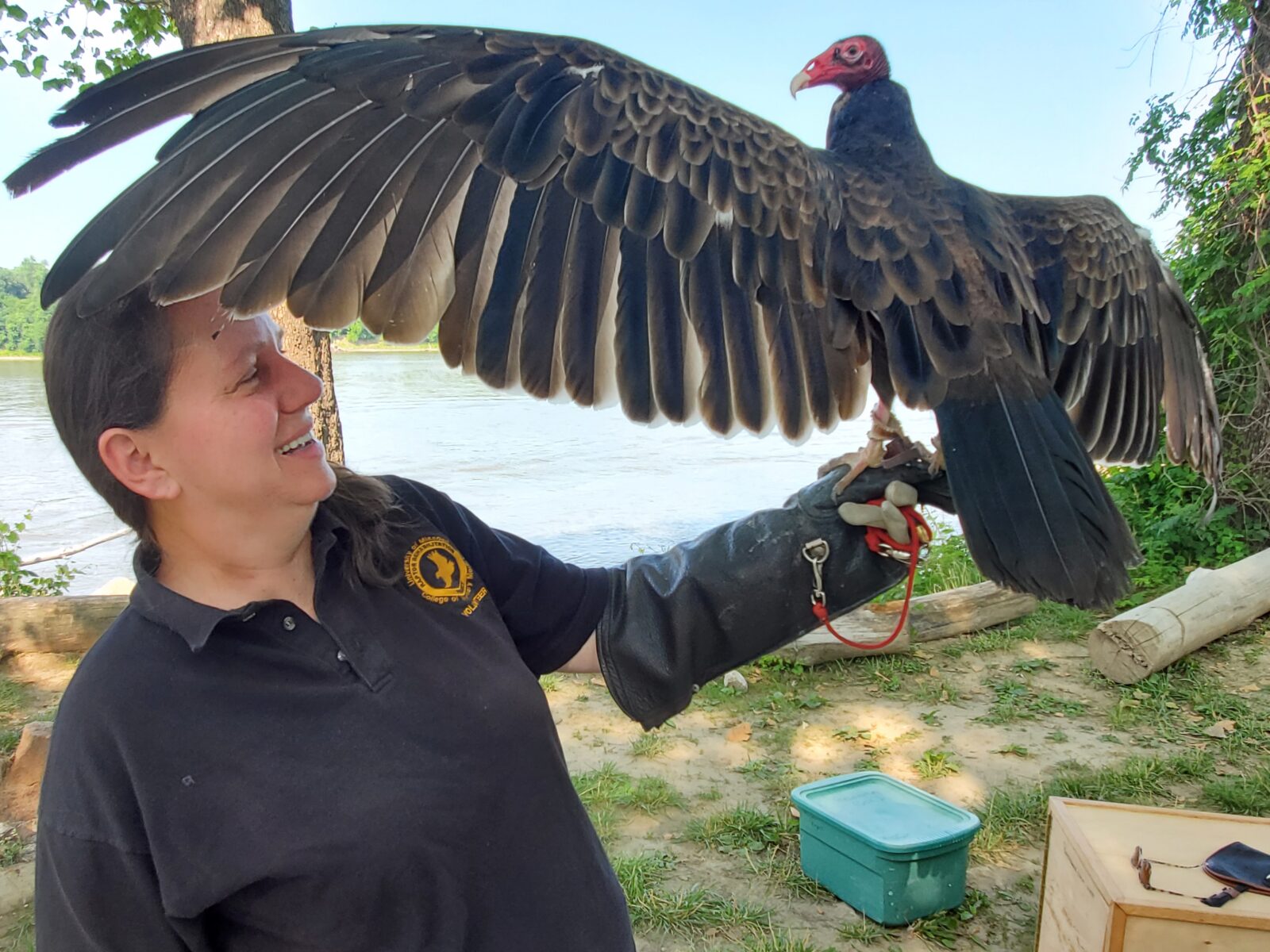 Kids converge for Missouri River Relief's hands-on, outdoor learning program.
Four-year-old Knox Knierim dashed to a kiddie pool full of rubber duckies, sloshed the water just long enough to make a tiny wave, then darted to the play campground. The energetic youngster repeated the dash and dart process as he and scores of other zero-to-5-year-olds enjoyed myriad exhibits and pretend-play stations at "Mornings at the River," a program offered by Missouri River Relief.
Now in its third year, the program's 2023 edition set an attendance record on June 15 when Knox and his mom, MacKenzie, were among some 250 parents and kids taking in the picture-perfect weather and two hours of kid-friendly, hands-on nature activities. That total pushed the cumulative total over 800 attendees.
---
"Mornings at the River" was set up over the course of three weeks — two days a week — during June at Cooper's Landing Marina & Resort, on the banks of the Missouri River. Registration for the final morning at the river, which is Thursday, June 22, was closed more than a week ago.
Missouri River Relief (MRR), a nonprofit dedicated to connecting people to the Missouri River, is perhaps best known for hosting Missouri River clean-ups and education programs. Kristen Schulte, MRR education director, said "Mornings at the River" is designed to give children ages 0-5, their parents, grandparents, and caregivers a chance to "spend time exploring, discovering, and making memories together at the Missouri River."
Schulte said the annual event is "quickly becoming one of our most recognizable events."
And it certainly fit the bill for what Knox and his mom were looking for on Thursday last week.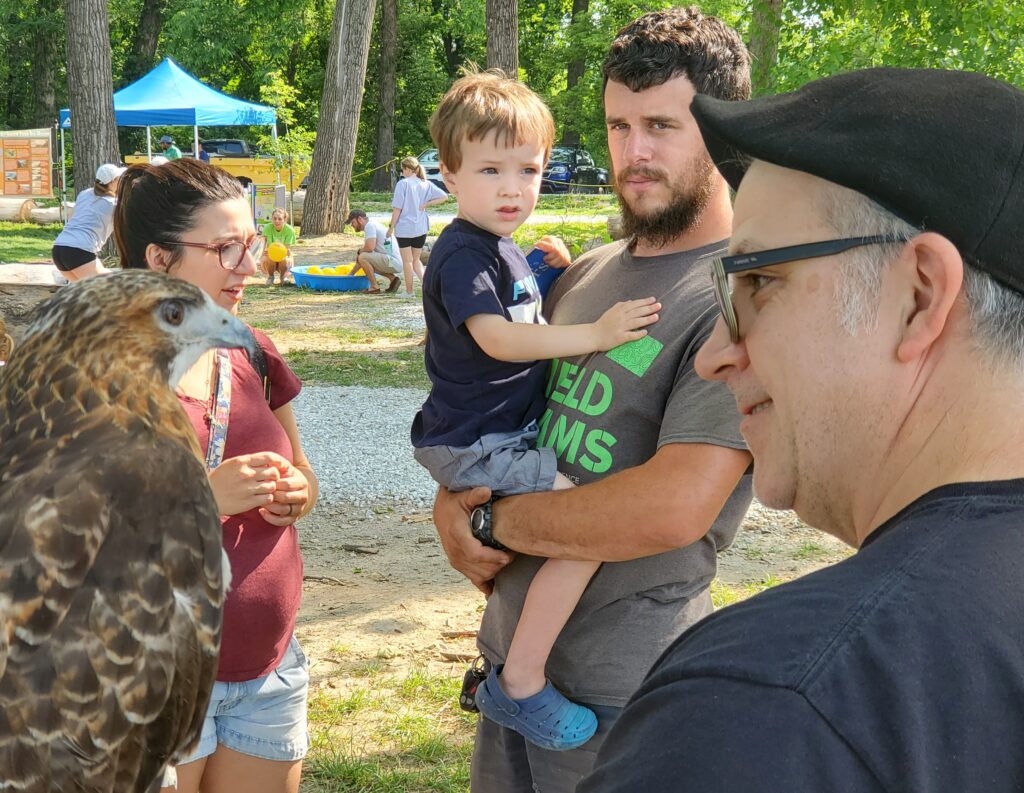 "He's interested in learning all sorts of facts right now," MacKenzie Knierim said. "He's at an inquisitive and fun age." She remembers similar childhood experiences of her own and wants to be sure her kids "find opportunities to be hands-on and to be in nature."
"We wanted to find something fun that was close to home – be out in nature," she explained, adding that they live near New Bloomfield in neighboring Callaway County. With Knox tugging her toward the great horned owl and red-tailed hawk on display, MacKenzie added, "It's been super fun checking out all the different stations."
The hawk and owl, as well as a massive turkey vulture, were part of the MU Raptor Rehabilitation Project's traveling display. Project manager Lizette Somer and volunteer Chuck Parzych had a lot of big, little eyes on them as the stately birds perched on their wrists. (Incidentally, the Raptor Rehabilitation Project is marking its 50th anniversary this year.)
Another eye-opening exhibit was the booth that displayed pollution education and unique litter items that have been removed via river clean-up activities. Dave Combs, MRR fleet manager, manned that booth, which showed a variety of plastic doll heads, a one-legged Barbie doll, and other toys.
"One of the things we try to do is connect people with the river," Combs said, explaining that household trash and anything washed down a drain can enter a creek or stream, eventually going to Perche Creek – just upstream from Cooper's Landing – and then into the Missouri River.
"A lot of people are surprised to see the different things we find on the cleanups," he said, adding that most people properly dispose of trash. Some of the litter items on display probably weren't deliberately tossed into the trash or into the river but were left behind from a camping trip or day on the river.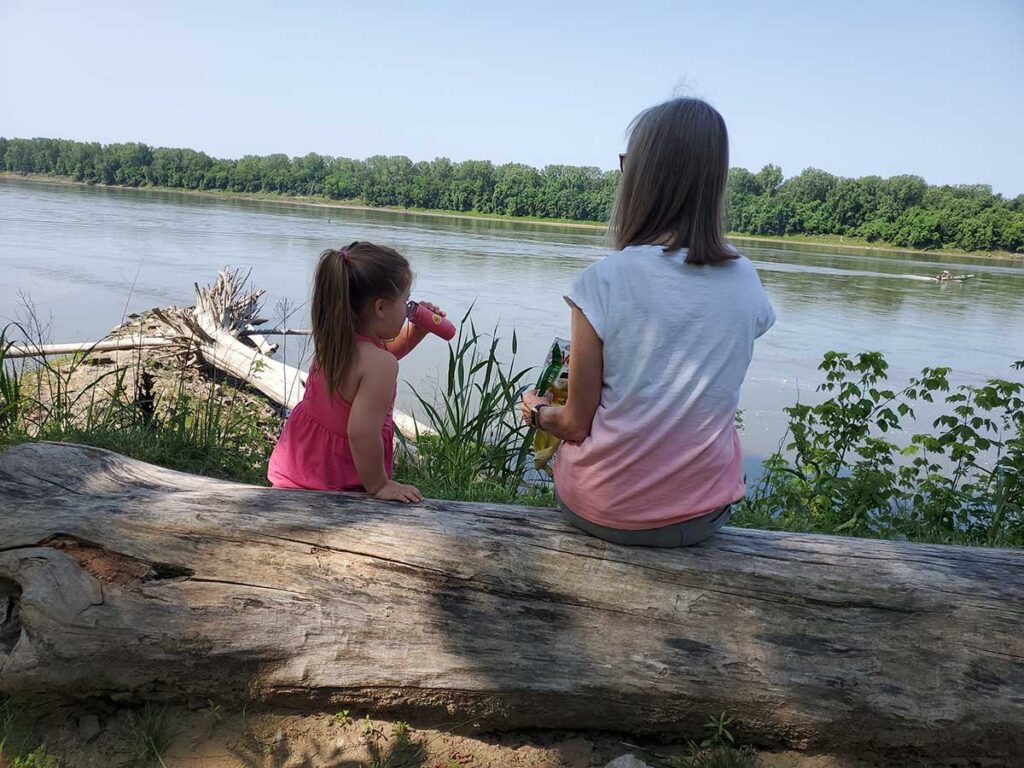 Each week of "Mornings at the River" featured a different theme. The outdoor event was presented in partnership with First Chance for Children. Other partners that provided volunteers for the third annual event were:
Missouri Master Naturalist
AmeriCorps
Local artist Adrienne Luther
Daniel Boone Regional Library bookmobile
Columbia Audubon Society
Missouri River Bird Observatory
WildHeart
MU Raptor Rehab
Schulte said the zero-to-5 age group is an audience that's typically not served by MRR, but that changed in 2020.
"When the pandemic hit and a lot of the library programming that serves zero to 5 was no longer offered, Missouri River Relief saw an opportunity to step in the space and fill the gap," she explained.
With three years of experience in that space, MRR is in an even stronger position to further its river education campaigns.
"We have had some of the same families come to this event for the last three years," Schulte said, "which is awesome because we are literally watching kids grow up at the Missouri River."