Marking Douglass football history
Photos by Jodie Jackson Jr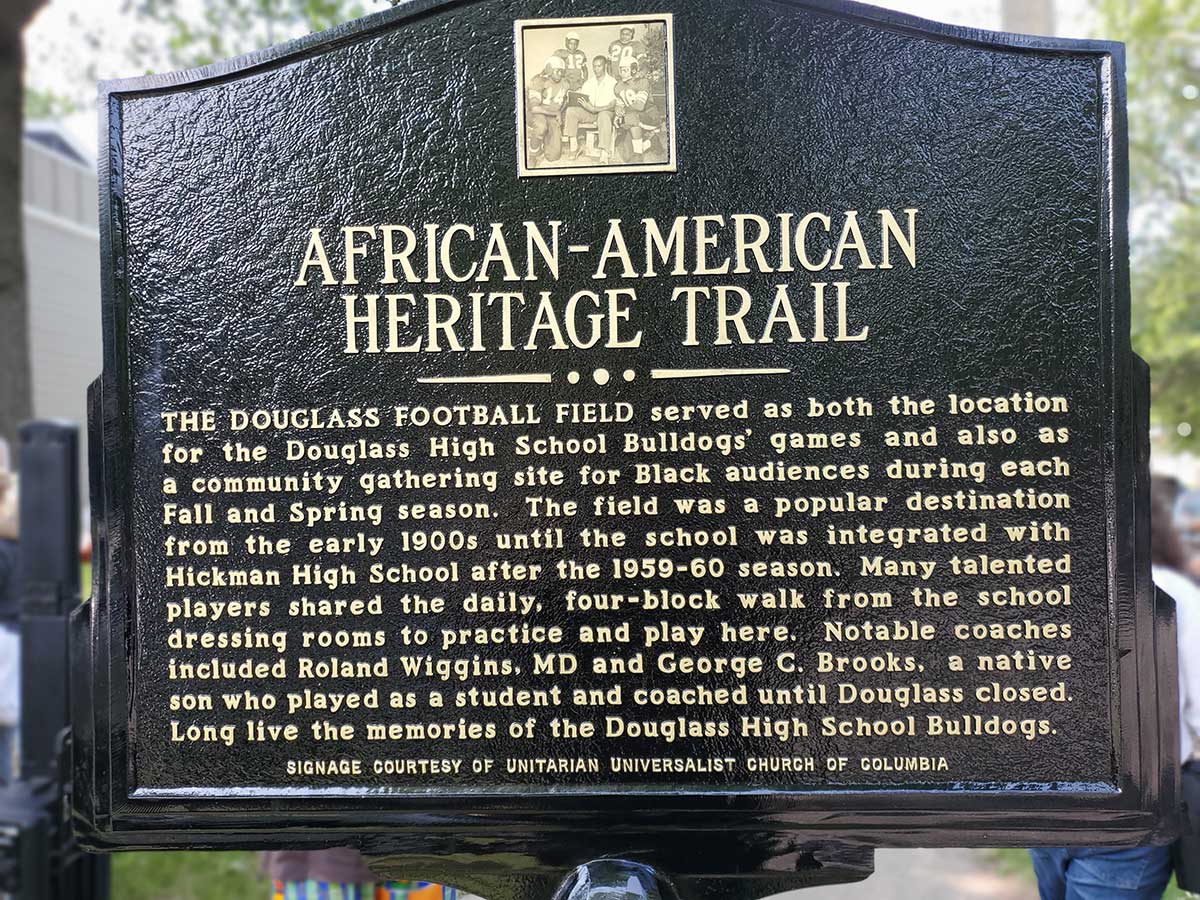 New African American Heritage Trail sign memorializes former Douglass football field
On the same spot where he and other Douglass High School football players practiced, huddled, and played 63 years ago, John Kelly seemed to remember those gridiron glory days afresh on Tuesday afternoon during a ceremony to unveil the 24th marker on Columbia's African American Heritage Trail. 
Barbra Horrell, co-chair and impassioned organizer of the Sharp End Committee that championed the trail's creation, introduced her former Douglass school mate to the crowd of about 100 that included local residents, city and county officials, Chamber of Commerce representatives and ambassadors, media, and other organizations.
"It is kind of ironic that she asked me to talk about Douglass football," Kelly quipped. "When you look at the list of the top 10 worst football players at Douglass, I'm on it."
His gentle self-deprecation drew hearty laughter from onlookers. Kelly also talked about the team's coach, George Brooks, whose daughter, Sharon Brooks Miller, was on hand for the ceremony. Later, as Brooks Miller and Kelly's wife, Jacqueline, snapped photos of the shiny new trail marker and plaque, the truth of Kelly's athletic ability got some clarity.
"He was probably being a little bit humble," Jacqueline said with a smile. She and John celebrated their 50th anniversary in August 2022.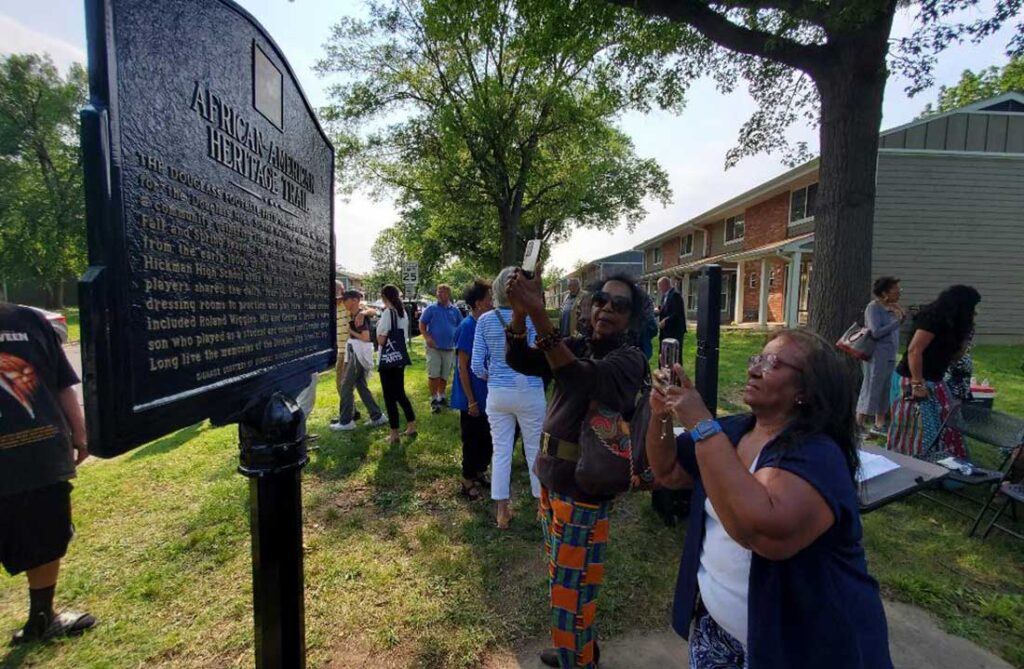 The former football field that was located along and at the intersection of what is now Oak Street and Unity Drive has been the site of public housing and apartments since the 1960s, when the process of "urban renewal" displaced houses – many in dilapidated conditions – and the community's vibrant and significant Black business and entertainment district known as the Sharp End. 
John Kelly made a brief but poignant reference to the city's racial history when he mentioned that the football field had no locker rooms. Teams met in opposite end zones to make halftime adjustments, he said, noting, "Separate but equal."
"It was an event for the community," Kelly continued. "People came out in droves to watch us play." Even better? Going back to the school for a dance after the game.
"You got to dance with the beautiful young ladies at Douglass," he said, adding, "and they would tell you how well or how poorly you played." 
A Fresh Memory of Sharp End – from our archives
The African American Heritage Trail is a two-mile urban trail in the heart of Columbia. The trail honors local Black history, residents, and institutions from the city's first 200 years. Douglass was the last segregated school in Columbia and integrated with Hickman High School to start the 1960 school year. 
"We wanted to share with you who we are, our contributions, and our excellent amount of history that we all are very proud of," Horrell said to open the 25-minute ceremony.
The African American Heritage Trail was realized after eight years of planning, opening in fall 2019. Three more markers are forthcoming – with others not yet in the planning stages. The next markers will commemorate Rufus Logan — the city's first Black newspaper publisher — and local legends Luther McQuitty and John Lange Sr.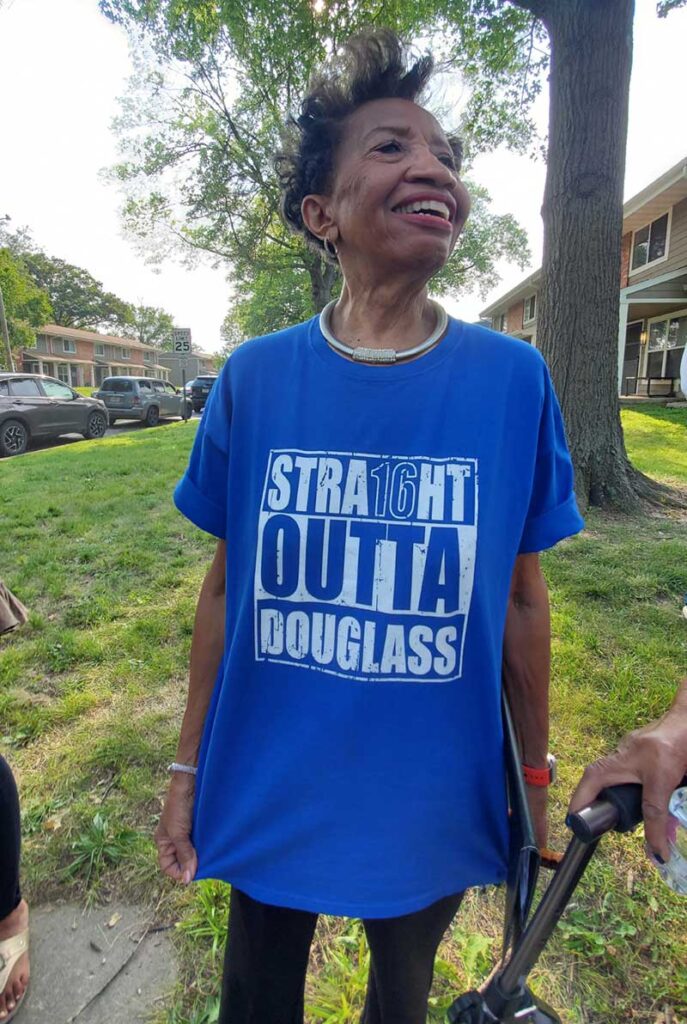 The trail was created in collaboration with Columbia Parks and Recreation, and with financial support from several local businesses and individuals. The new sign commemorating Douglass High School's football field was sponsored by the Unitarian Universalist Church of Columbia.
A detailed description of the Sharp End business district, from the Regional Economic Development Inc. IREDI) website, notes that for much of the city's 200-year history, "Columbia was two cities divided by race. During most of those decades, Blacks were not allowed to shop in white-owned stores, attend their schools and churches, or receive services from most white professionals such as doctors and lawyers. As a result, 'The Other Columbia' materialized. It was largely independent from the rest of the city and was located within about 30 square blocks on the north side of Broadway in central Columbia."
The description recounts how the Sharp End was demolished during urban renewal. Now, REDI's offices are located on the land once home to the Sharp End,
REDI's offices are located on the land once home to Sharp End. REDI is also a sponsor of two of the trail's markers – one to honor entrepreneur Annie Fisher, and another to honor Clara Miles and the Miles Manor subdivision.