Photos by Lana Eklund
This story originally appeared in the May 2023 issue of COMO Magazine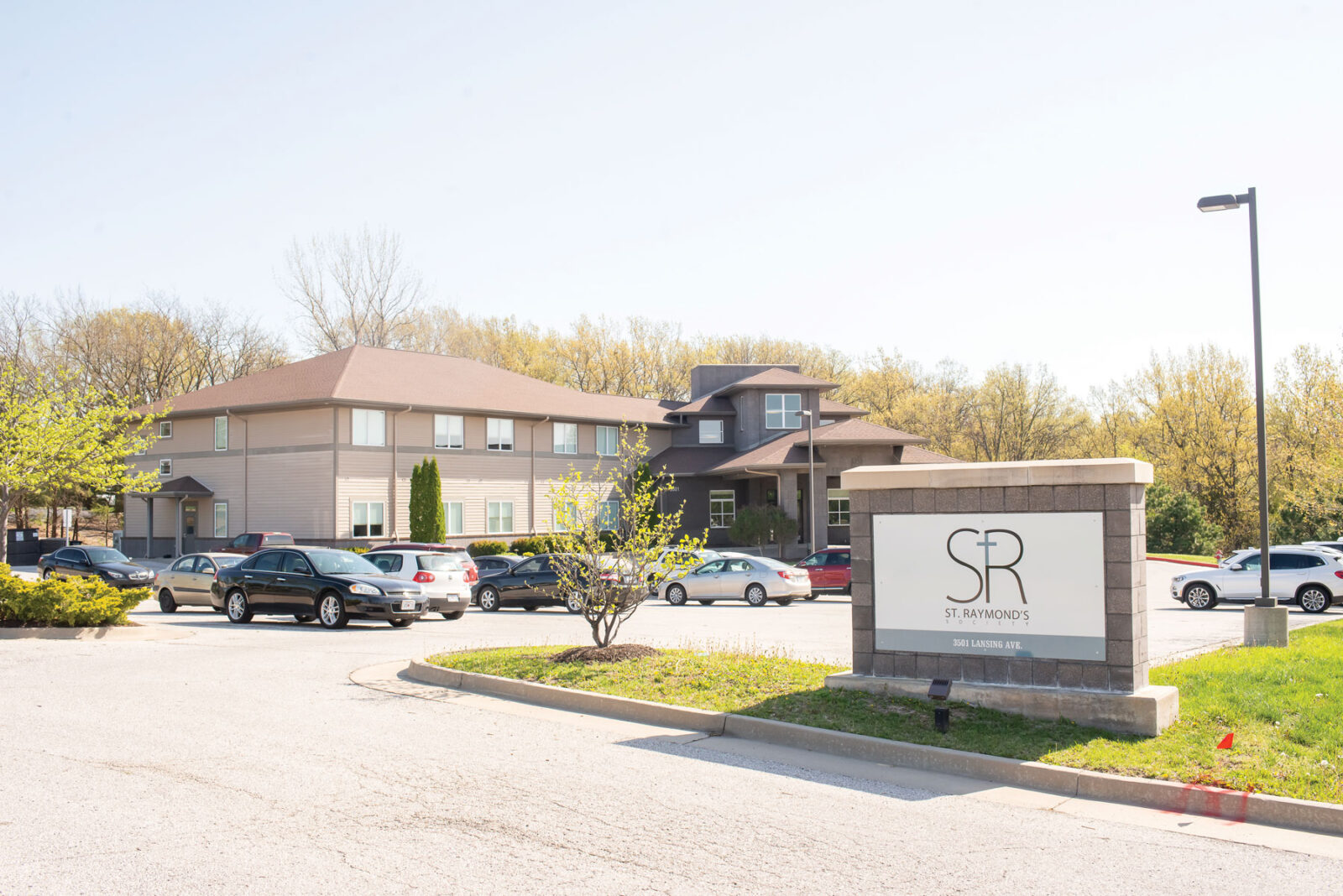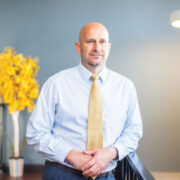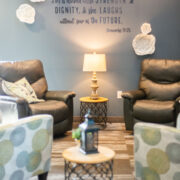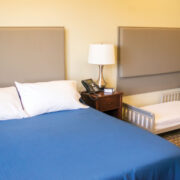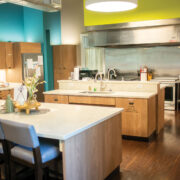 View Gallery
St. Raymond's Society provides a safe haven for mothers who have nowhere else to turn.
Imagine that you are a young woman who is unexpectedly pregnant. You are homeless, lack education, and cannot turn to the father or your family for support. What do you do? Where do you go?
There aren't many options, but St. Raymond's Society is changing that. St. Raymond's Society (SRS) is a maternity home with headquarters in Columbia, plus a home in Jefferson City. There's a good chance you've never heard of this organization — SRS chief executive officer and co-founder, Mike Hentges, says St. Raymond's has flown under the radar since opening in 2010, because, while news of the opening brought in donations, it also attracted more clients than they could serve.
What is a maternity home? This residential facility provides a home to expectant and new mothers who have nowhere else to turn. Mike says most of the women served have no place to live and are not able to count on support from the child's father or family members. And most of the women are also working to overcome some kind of trauma. Their lives are complicated, and with a baby on board, they're about to get more complicated. These are the women SRS serves, and it all started 20 years ago when Mike had what can best be described as a divine calling to serve this population.
SRS is an interfaith organization, but it is rooted in Christian values and the idea that "with God is better than without." It operates with 10 full-time staff and three part-timers.
"We feel like we're saving the mother from a rough road ahead," Mike explains. "We're mother-focused. We love babies, but we're really focused on the mother and giving her the support she needs because if we take care of mom, baby is going to be just fine."
Divine inspiration
In 2000, Mike was invited to Washington, D.C., to chaperone students attending the annual pro-life March for Life rally, when he was struck with a thought.
"Coming back from that trip I found myself thinking about this issue [of mothers going unsupported] and what if the law about abortion were to change — and I never really thought it would change — how many women would need help after the baby is born?" Mike remembers. "That was what kept coming back to me — I can see help for women who face unplanned pregnancies and don't have support, I can see the help for them during the pregnancy, but who is helping them afterward when the going gets tough and they can't turn to the father or to family for support? Who is there to stand with them at that time?"
At the time, Mike was content with his career and life. He and his wife, Jami, have four children. Mike, now 49, started working at a golf course after college, then decided to open his own business installing and maintaining sprinkler systems. He did that for 10 years before merging with Columbia Lawn Care, a company he was with from 2010 to 2020, working his way up to become company president.
Mike wasn't looking to make a change. But he says for eight years after that trip, the thought of how to help unsupported mothers kept bubbling up. He hoped someone would do something.
"And then a small thought popped in my head: 'Why not you, Mike?'" he recalls. "And I thought, 'Nope, not me.' For eight years I tried to wrestle that thought out of my head because I didn't have the time, the availability, or the know-how. I didn't know why this thought kept coming to me — I'm perfectly happy with my career and my family."
In 2010, Mike surrendered to that calling to serve. Mike wanted to honor his parents in the name of the organization; he decided on St. Raymond's because his father is Ray Hentges. Ray was the head football coach at Helias High School in Jefferson City for 33 years, and the school's stadium is named for him.
Having grown up Catholic, Mike didn't know of any Saint Raymonds in history, but a Google search quickly yielded some uncanny results: Mike found that a Saint Raymond Nonnatus lived in 13th-century Spain and was none other than the patron saint of unborn children.
"It was very eerie, but reaffirming; God's telling me to trust him and take that first step, and we've been walking on faith ever since," he explains, adding, "Steve (Smith) got the ball rolling" by suggesting putting some resources together and approaching local pregnancy resource centers to invite them to refer mothers to them.
"In the beginning, it was just Steve and me working with these young mothers," Mike says.
They were able to secure two, four-bedroom homes in those early days — one in Jefferson City and one in Columbia — and they served 12 to 15 women per year. For the first 10 years, SRS had no full-time executive director or CEO with Mike and Steve devoting their spare time to the project. Mike moved into the CEO role in 2020.
"I've heard it before, and I believe it: Sometimes you don't choose your destiny, your destiny chooses you," Mike says with a smile.
A place to call home
In January, SRS moved into the former Ronald McDonald House Charities home at 3501 Lansing Avenue off Keene Street. To make things even better for the small SRS team, the facility was sold fully furnished, including the playground equipment.
The enormous building is less than a decade old, and its tall facade is a little intimidating until you walk inside. A homey lobby welcomes guests just inside the door. A bath of natural light from the second-floor windows enhances the welcoming vibe. Opposite the lobby is the entrance to a big kitchen, cozy communal dining space, and an outdoor play area that is fenced in and complete with a jungle gym. There also is access to a trail that leads to a city park and a soccer field.
A hallway between the lobby and kitchen areas leads to a staff space. In a little alcove in that hallway are portraits of Mike's and Steve's parents.
"This wouldn't be happening if it wasn't for how they raised us," Mike explains. "Because of my upbringing, I learned that my life is not for me, but for those around me. This somehow led me to place myself in the shoes of a young mother who was scared and had no support. From that empathy, St. Raymond's was born."
The largest part of the building contains two stories of bedrooms for its residential clients. There are 18 rooms in total, and women may stay in a room with up to three children under the age of 5 for up to one year. This number of rooms will allow SRS to double the number of moms served each year, at a minimum. Currently, 10 mothers are living there. Mike says they didn't want to fully book the new facility while they're still working out kinks, but they have enough applications to be full tomorrow.
The rooms are a little bit bigger than a college dorm room, comfortably appointed with a double bed, a dresser, and a wing chair. There is room for a single bed or crib for a child. Each room has its own bathroom, and two big windows let in light and look out onto the surrounding wooded area. The second floor includes a fully stocked rec room for kids and a small chapel.
"Women live here rent-free, and most of them are working part-time jobs, which allows them to save at least half of what they make while they're with us," Mike says, adding that not having to worry about bills for a full year gives the women a chance to hit reset at a critical time and to work on self-sustainability.
Teaching them to fish
SRS isn't just a hotel for mothers in need. The organization offers three programs: Residential Client, Community Client, and Temporary Assistance.
The Residential Client program is for the women who live on-site, while the Community Client program is for women who have their own homes, but there is no difference between the self-sufficiency coaching services these two receive.
"It's always been about coaching the women into acquiring what they need," Mike says. "That coaching centers around four meetings they have per week; two are individual, two are group sessions."
The one-on-one sessions focus on life goals, while the group sessions address how to manage the smaller steps needed to achieve those life goals. The sessions are led by volunteers. If more intensive counseling is needed, clients are referred to Burrell, which luckily, is within walking distance.
"And we really stress getting some kind of education or job training that will command a higher salary," Mike adds. "Because you have to be able to make enough money to support yourself and your child."
The Temporary Assistance program is for clients who have hit a financial speedbump in life — a health crisis, a broken down car, or a job loss. Clients may apply for financial assistance once a year. SRS is completely funded by private donations.
Blessings to come
In yet another turn of fortune, Mike discovered that a building a few steps away from SRS was available for lease. He inquired with the owner about opening a preschool there, and SRS is working to open that facility August 1.
"The space was previously a medical office," Mike says. "We'll be able to serve 80 kids — 20 spaces will be reserved for St. Raymond moms — and the other 60 will be open to the public. [SRS] moms will pay on a sliding scale."
This will meet another community need while adding a revenue stream for SRS.