Boys & Girls Clubs of Columbia Celebrates 25 Years 
This story originally appeared in the May 2023 issue of COMO Magazine.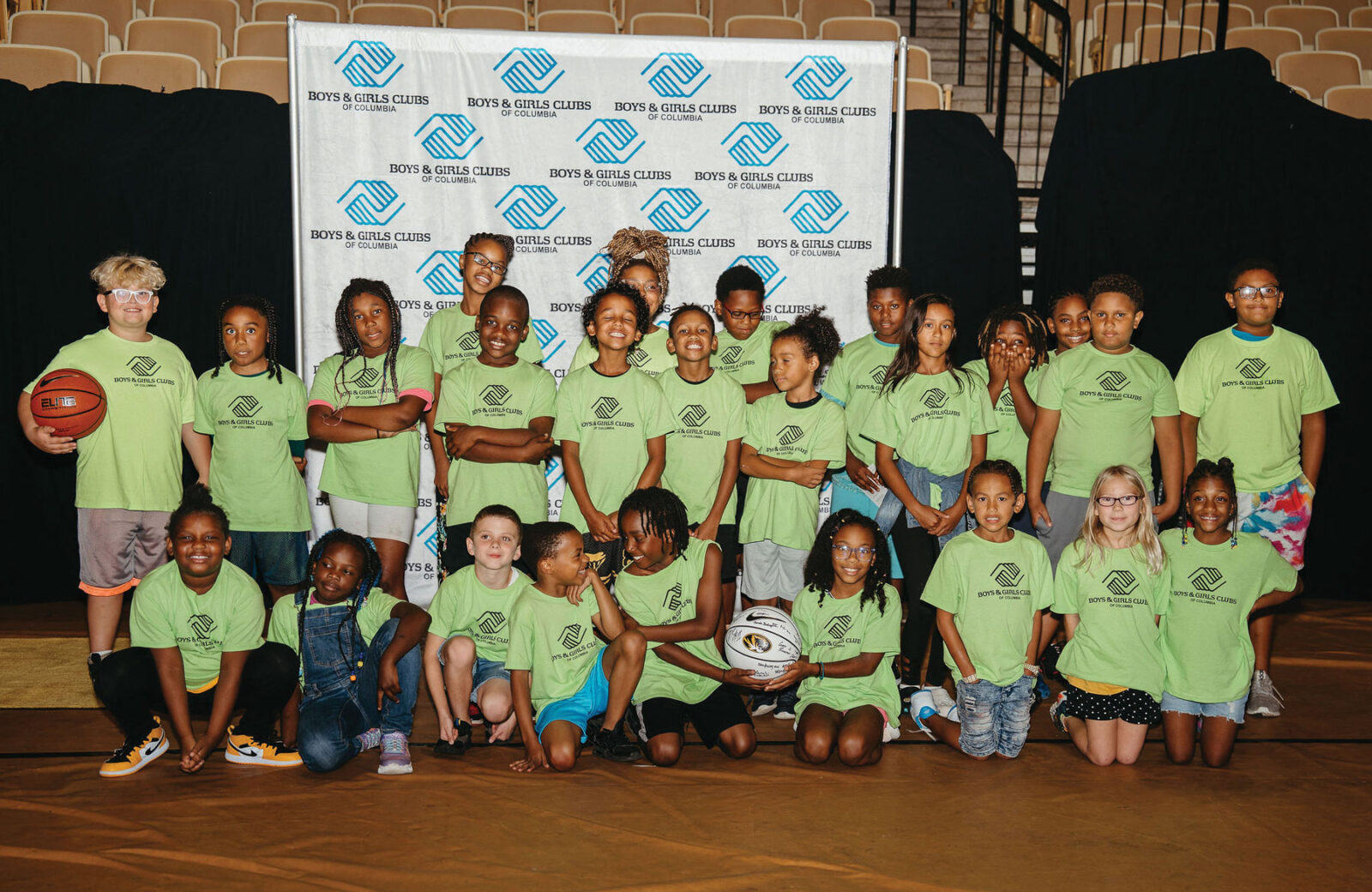 The organization restructures for another quarter-century of success.
There's a good chance you have heard of the Boys & Girls Clubs of America, well-known nationally for its popular after-school programs for kids in elementary through high school. You may even remember the series of national commercials club alumnus Denzel Washington did in the late 1990s to early 2000s.
Boys and Girls Clubs of Columbia is one of more than 3,800 club chapters nationwide that serve around 3.6 million youth annually. The organization got its start in 1860 by four women in Connecticut who believed that boys roaming the streets should have something better to do; they started a club that focused on character development, improving behavior, and setting personal goals. In 1906, several other boys' clubs decided to team up to create the Federated Boys Clubs in Boston, which started a national movement.
The organization became Boys Clubs of America in 1931. It wasn't until 1990 that girls were added to the name.
The Columbia chapter was formed in 1997, in a small house, serving about 10 to 15 kids. The mission of "Boys and Girls Clubs of Columbia is a safe place to learn and grow — all while having fun. It is the place where great futures are started each and every day" has not changed, though the number of children served has grown exponentially.
BGCC serves around 700 youth annually through its clubhouse at 1200 North 7th Street and in-school locations at Alpha Hart Lewis, Blue Ridge, Derby Ridge, and Battle elementary schools. The club served around 700 youth during the 2020-2021 school year, which included serving more than 91,000 meals and providing more than 57,000 hours of in-person program hours, and 14,500 virtual program hours. Roughly 93 percent of youth members are from single-parent homes, and 80 percent of members qualify for free and reduced-price school meals.
The BGCC marked its 25th anniversary in 2022 and the organization chose to mark the milestone in an unusual way: With a complete organizational restructure.
Hitting reset
"[We celebrated] internally. Twenty-five years is a great accomplishment, but admittedly, we're still dealing with post-pandemic challenges, so it's been a year of transition," explains BGCC CEO Abigail Anderson. "Our club decided to basically do an organizational reset."
Abigail says the goal of the restructuring was to ensure equitable access to high-quality programming for all youth.
"Everything changed, from job descriptions to reporting model to staffing model. We went from a stationary staffing model to a hybrid," Abigail explains. "We have some staff who provide stability in terms of relationships with kids, think of like, a homeroom teacher; we have one of those staff at each of our sites, and then we invite traveling educators who provide an activity at one site one day, then go to the other sites on other days to provide the same activity."
Abigail started in January 2022, so she has been a big part of the change. She previously was with the American Red Cross and has lived in Columbia for 15 years.
"So, did we celebrate 25 years?" she asked. "Yes, internally, but we also rolled up our sleeves and asked how the next 25 years will make a difference."
More programs than you imagined
While youth ages 5 through 17 attend BGCC from 3 to 7 p.m., the Club offers so much more than your average after-school program. For example, did you know it offers programming in six core areas? Character and leadership; sports and recreation; arts and expression; health and wellness; academics and mentorship; and social and emotional learning support. BGCC also offers summer camp and spring break programming.
"The club is where kids come to be kids, to grow and learn, and to receive positive mentorship," Abigail explains. "We enable all youth to be successful. We present opportunity, whether that's through leadership or academic achievement, we prepare kids for life [in ways] that go beyond the core curriculum in the schools and extend into life."
Examples of that include teaching the value of giving back to their community or voting, respecting each other, and knowing how to communicate and solve problems.
"Those are things that can extend to every single kiddo in town," she adds. "They don't have to be a part of any certain demographic. And kids learn in ways that they don't really know they're learning. That's how we make a difference, by preparing kids to be successful in life."
Abigail says the club starts daily around 3 p.m. and goes until 7 p.m. at all five locations. Youth get a hot meal, mentorship, time with peers, and structured time to do things like homework. She says the club employs youth development officers who work at every site and are trained on developmental milestones, and social and emotional support. She notes that the development officers are positive youth mentors in real-time, providing one-on-one attention to help the youth through problem-solving and managing stress.
"We know that this works," Abigail says. "There's a lot of evidence that proves that if a kid can self-regulate and walk through those self-reflections, we're finding less gun violence, less participation in gangs, and less dropping out of school, fewer fistfights — we're measuring all of those things … "
Help where help is needed.
The club relies on volunteers and paid tutors. Teacher liaisons — daytime teachers who work for the club for a couple of hours a week — are also involved, helping communicate with the after-school staff about what's going on in school and where a student may need additional help.
Membership costs just $5 per year per child, plus additional fees for programs, based on a sliding scale. At least 80 percent of BGCC members qualify to pay just the annual $5 fee.
The main clubhouse on North 7th Street boasts some attractive features sure to capture the interest of teens, like a recording studio, a performing arts stage, two basketball gymnasiums, a culinary kitchen, and an art gallery.
"We have a recording studio where kids learn how to find their voice. They don't have to be talented at singing or spouting off poetry," Abigail says. "[Using the studio is about] identifying with their feelings and being able to put words to them. They learn to find their voice and how to use it, and that's powerful."
Helping youth to find their voice, whether via the performing arts stage, the art gallery, the basketball court, or in the kitchen, is a critical part of the club mission, as this helps them to think critically, set boundaries, and gain confidence.
The programming shows evidence of being effective. Following the spring break program at the club, parents told Abigail that when they came to pick up their kids at the end of the day, the kids didn't want to go home because they were having so much fun.
Keeping an eye on the future
"What we're really focusing on this year is getting that programming out. We're taking some of the recording equipment out to the schools and doing those fun activities there," she says. "Building the infrastructure that allows us to do that."
Abigail says that because so many members are from single-parent homes, many youths lack access to after-school transportation to the clubhouse where all the "really cool stuff" is. Taking it to the schools makes access more equitable. Abigail says that's important because the needs of youth have changed dramatically post-pandemic. She says the achievement gaps that existed before COVID only grew wider during the pandemic, which brought to light some inequities in the accessibility of the programs, which BGCC is now addressing.
"The other half of our mission is to serve those who need it most," Abigail says.
To that end, the club is planning on running a capital campaign in the next five to seven years to expand its footprint, with sights set on building a clubhouse at Brown Station and Rangeline. 
Abigail says decisions like these don't happen in a vacuum. The club is counting on community feedback about the ever-changing needs of local youth. And she encourages people to get involved. The club is actively looking for tutors and positive youth mentors; volunteer opportunities start with a commitment of just one hour a week.
"We're listening — to the community, the parents, teachers, administrators — about the needs of our youth," she explains, "because they've changed a whole lot since the pandemic."
---
Boys & Girls Clubs of Columbia
1200 North 7th Street
(573) 874-1697
bgc-columbia.org