Photos courtesy of Ben Nickleson Photography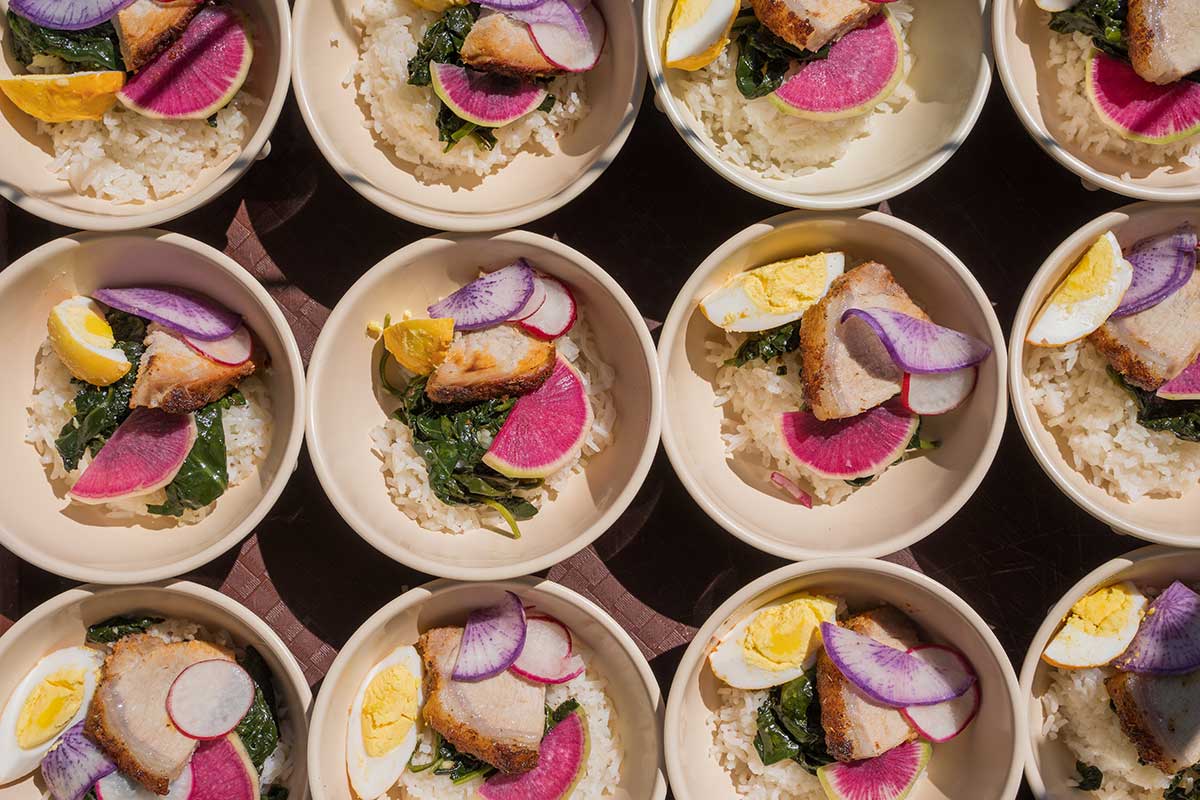 Gaby Weir Vera nourishes young minds at Windsor Street Montessori School
Once there was a chef who loved inspiring change. But, even more, she loved making food for others, whipping up the great power of nourishment. Every day the chef went about her journey teaching and giving her kitchen wisdom as kids gathered and greeted her. They ate and learned. Together, they planted seeds of knowledge — and actual seeds — to sprout and thrive. The chef cooked with the delights from this garden, instructing her young audience about the connections among the Earth, plants, culture, history, and health.
She poured from her cup of kindness and compassion. The kids grew.
And the chef was happy.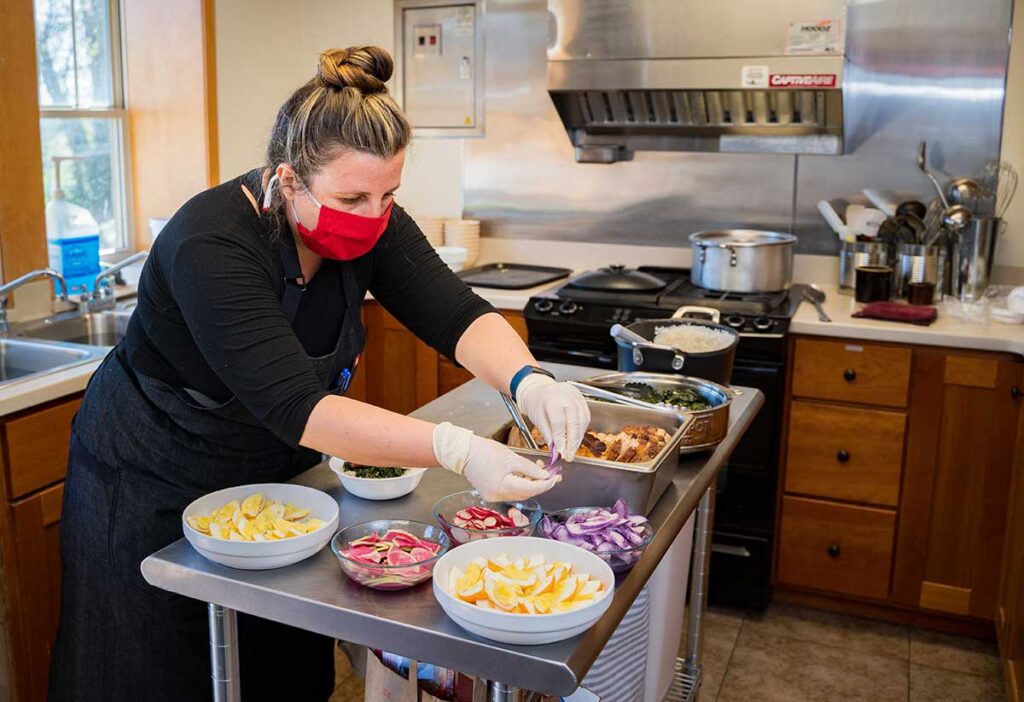 The Sprout
Chef Gaby Weir Vera is a local food activist working to improve our understanding of cuisine, from how it is grown and prepared to how it fuels our health. Motivated by giving, aiding, and teaching others, her magnetic personality has heaping measures of compassion and charisma.
One of the driving forces behind the concept of giving and teaching is a vivid memory of the young chef cooking with her grandma. Gaby can still picture her grandmother's hands over her small ones, holding a dull, used-for-all-kitchen-purposes paring knife. Gaby can still feel the chicken leg as they cut.
Eight-year-old Gaby learned how to quarter a chicken that day, a reminiscence that cooks up the rice, chicken, and vegetable recipe of arroz con pollo. It was the first recipe she ever made alongside her grandma — and one that she now prepares without even thinking. Instead, she can "feel" it.
Although Gaby's grandmother is no longer with her, she lives on through that recipe. Every time she makes it, Gaby experiences the visceral memory of that first time. The priceless memory, among others, stirs her desire to love others through food.
"She helped me realize that I love the process of feeding people and nurturing people because she nurtured me," Gaby says. " Because she shared that with me."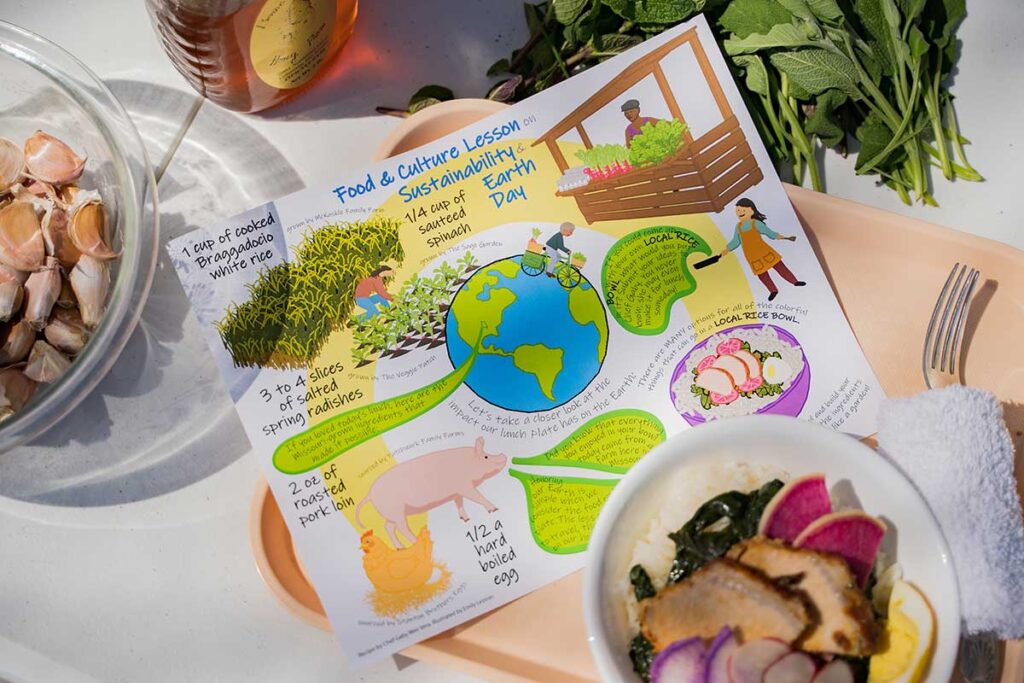 Choosing sustainability
Chef Gaby's love language is food. She provides delicious sustenance to her friends, family, and students, and she's equally generous with her teaching. For instance, Gaby taught the kitchen staff at Beet Box how to make arepas for their Sunday brunch service last fall.
"I remember when she gave my entire school samples of arepas. I just felt so proud when that happened because [she's] my stepmom," says 13-year-old Cyrus Holzhauser, one of Gaby's two children.
Gaby's unmistakable commitment to her craft and her mission to enhance food education is especially apparent when it comes to kids. She is an ardent activist in that environment, inspired by educating and feeding young minds, important ingredients for her recipe to bloom as the chef at Windsor Street Montessori, a post she's held for six years.
Gaby acts as a private chef to the children in the Montessori program. Planning the meals consists of considering what the kids find appetizing, and understanding limitations and familiarities. Of course, she must also follow federal school lunch nutrition guidelines. The icing on the cake, so to speak, is a meal plan that features luscious, fresh veggies that are locally sourced and sustainable.
How popular are Chef Gaby's creations? Even the kids sing her praises, says Kristen Schulte, education director at the nonprofit Missouri River Relief. Her tiny tot attends the school.
"My daughter is 3 years old, and we just finished an extensive home remodel," Kristen says. "We were talking about throwing a party, and I asked my daughter what kind of food we should have, and she said, 'Chef Gaby food.' I was a little surprised because most toddlers would say something like pizza or cheeseburgers but not this kiddo. Every day we see the ways that Chef Gaby has impacted her standard for fresh, flavorful food."
Chef Gaby is giving and inspired to give. Through her daily, thoughtfully planned meals, she teaches the kids various aspects of food.
"Introducing a lesson, telling a story, and having a conversation about it" are vital parts of Gaby's approach.
For instance, hoecakes were featured for a recent lunch. All students were given handouts with the subtitle, "Lunch with an origin story based on resilience." The engagingly-designed handout listed historical facts, research, and the recipe, thoughtfully adorned with illustrations. As a result, the lunch was also a feast of questions, discussions, and insight.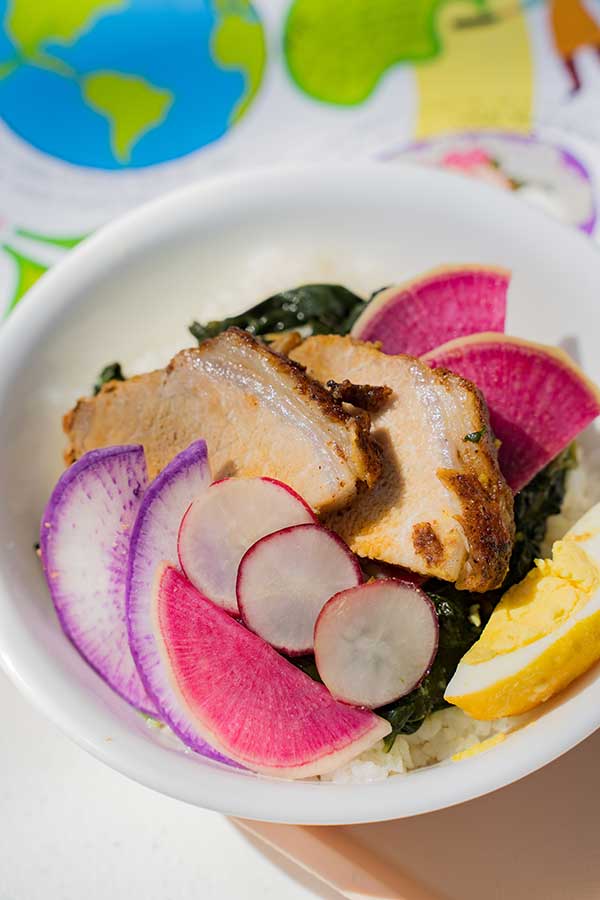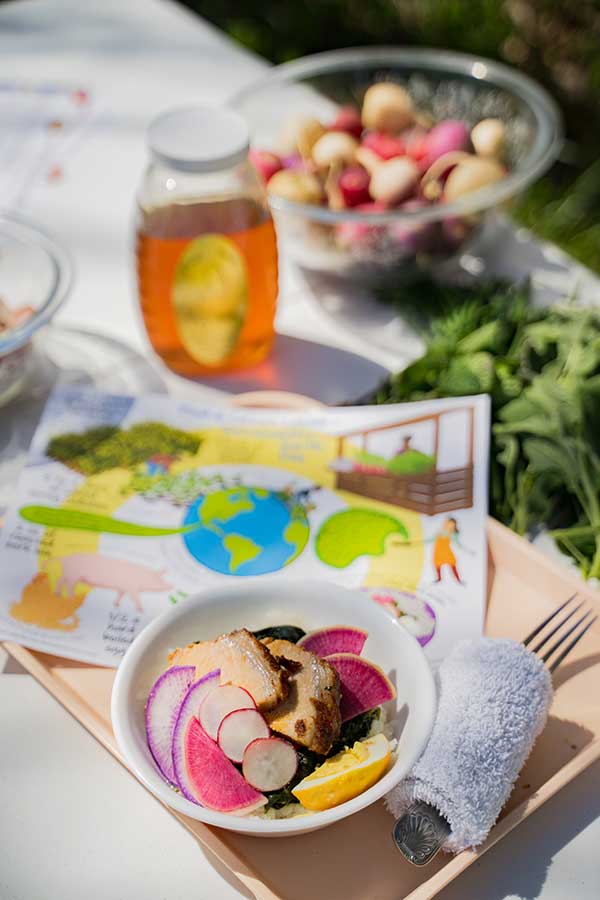 Inspiring kids' kitchen confidence
The children are not only taught but also involved in daily tasks. In partnership with the Columbia Center for Urban Agriculture and Lincoln University/Extension, Windsor Street Montessori School and Chef Gaby began a program titled The Edible Schoolyard in which the kids are growing their own garden of food. Veggies including arugula, bok choy, collard greens, kale, and lettuce are planted and, once ready to harvest, the students will take on that task, also getting involved in the processes of cleaning, prepping, and cooking the plants.
"I make a huge effort to make sure that they can connect the dots. So, I want them to see if they participate in growing a vegetable, or if they help participate in harvesting an herb, I make that food very obvious on their plate," Gaby explains. "So they can see. And then with that connection, not only are they connected to their work, but they're also connected to the whole thing."
And at the end of the meal, a couple of the kids are even invited to help wash the dishes. The idea of a chore as something special has even led to many kids going home to their parents asking to help with doing the dishes. Understanding and accomplishing these simple tasks — the children are confident in the kitchen and understand each step in the process — has astounded parents, Gaby notes.
"The kids get hands-on experience prepping ingredients and serving meals," says WSMS parent Caroline Dohack. "My 5-year-old has — very rudimentary, but still — knife skills thanks to Gaby."
Gaby's childhood was surrounded by food and affection. She grew up in the Andes region of Venezuela frequenting her mother and stepfather's restaurant. She was obsessed with the cuisine and "always very hungry," Gaby recalls.
School lunches there were "fantastic," she says, with succulent fresh foods, fruits, and juices. Eating local, sustainable food was a reality for her region.
Budding
At age 15, Gaby experienced substantial culture shock. Moving to the United States was not only a transition geographically; there was an unappetizing transition from bold, vibrant, colorful foods to a square tray with dividers — and a brown lunch.
That memory was like yeast for her passion for teaching.
"You know, in the past six years, I've been very intentional about, 'I don't want any of these kids to ever experience a tray' because I feel like those trays communicate something big," Gaby stresses. "That's like we have to keep food separate; that things cannot touch. And so what does that tell a kid?"
The chef nurtures and loves with every meal. She expresses love with a local sourdough tartine with honey, freshly made ricotta, a variety of fruits, and veggies. Or by including the kids to prepare and serve hallacas, a traditional dish from her country. In taking careful consideration with each meal she provides to the young minds, Gaby shows each individual that their experience is thoughtfully planned and nurtured.
She has the same intentional, nurturing approach to preparing fresh food at home. Her daughter, Erika, did not know what tater tots were until she was 12.
Flowering
By holding sustainable values, the Chef also shows the Earth — and food — that she cares. Sustainable cooking is a consuming passion that Gaby has continued to demonstrate to her students.
"When I think of my cooking, people always assume, 'Like, okay, so you cook Venezuelan food or something?' I think that my cuisine is just sustainable, and it involves all aspects like the story of my origin, where I come from, my roots," Gaby says. "I'm very fluid in my cooking and there's always new experiences. The one thing that never changes is the fact that I'm very sustainable in my cooking."
Chef Gaby has gathered a broad experience with the concept of sustainable eating and cooking. She never hesitates to use an ingredient to its complete potential; nothing goes to waste. Peels and pads from fruits are fermented to become vinegars. Bones, especially from local meats, are stewed into stocks.
"I see food as having the potential to be an avenue for many things: one being an educational tool, an opportunity for us to have conversations or see ourselves through a representation, and also just a thing that can really positively impact our environment," she continues. "You know, if we're more thoughtful about it, we can think about the impact that food can have — not just what it does to the atmosphere but also our relationship with ourselves and just long term, which is what drove me to working with kids — it's the long term impact."
The children she teaches are in on the idea as well. Windsor Street Montessori operates a compost that heavily relies on student contributions – whether bringing out the paper napkins, layering the compost with kitchen scraps, or turning the pile to encourage movement and air. The idea of a homestead is keenly present in the schoolyard. (Perhaps not surprisingly, the school also collects rainwater for watering plants, and — of course — the kids use reusable silverware.)
Ripening
A variety of crops are sprouting within the school and beyond — in minds and in literal gardens. Chef Gaby is an activist empowering many with the possibilities and craft of food, a delectable avenue for her expressions of passion, loss, resurrection, affection, and healing.
It is her language — "food is like justice"— and it is powerful.
The chef was happy to give. She found comfort in teaching and feeding the figment of her younger self sitting among all the other children. She smiled at all the lessons the kids learned, knowing they will carry the new knowledge with them. They hold a home and passion for nourishment after discovering the bright, enchanting, and loving world in which food holds answers — rather than daunting questions. It was all because he chef gave.
And the chef was happy.