Neighborhood Watch is on the Lookout
Photos by Lana Eklund
This story originally appeared in the March 2023 issue of COMO Magazine.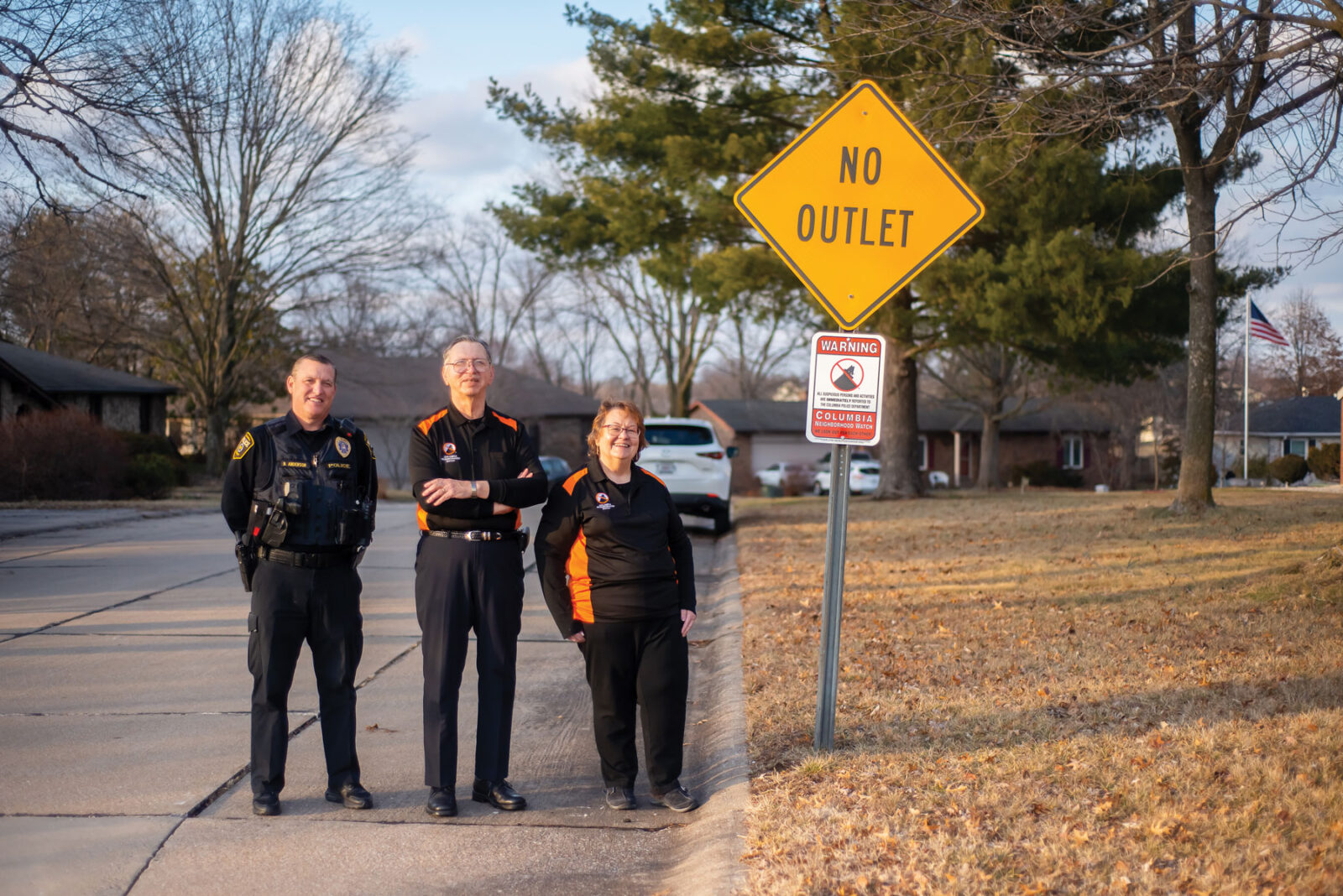 For nearly 50 years, Columbia Neighborhood Watch has helped make the city a safer place to live.
If you've logged onto Nextdoor.com recently, you've likely scrolled through dozens of posts from concerned neighbors. Detailed descriptions of suspicious strangers strolling through the neighborhood, minute-by-minute observations of an unrecognized car driving around, an inquiry about a missing package that was marked as delivered — often accompanied by clips from a video doorbell — warning neighbors to be on the lookout. 
With the rise in popularity of apps that allow neighbors to connect, along with the increased accessibility of video doorbells and other surveillance technology, it can be easy to feel like crime is happening everyday, all around you. But did you know that, according to 2021 FBI data, property crimes like theft and home or auto burglary have been steadily decreasing over the last 20 years?
While you may be safer today than you were 20 years ago, crime is still a reality that many residents are looking to help prevent in their neighborhood. And that's where Neighborhood Watch comes in. The national organization has an active chapter in Columbia, which is solely managed by volunteers. It's easy to get involved, and you could make a difference in your neighborhood by doing so.
"I believe Neighborhood Watch is an effective deterrent as long as Columbia residents are actively involved," Columbia Police Officer Brad Anderson says. Brad is the department's liaison to Columbia Neighborhood Watch. He adds, "Crime models in Columbia have shown over the years that crime is down in neighborhoods where Neighborhood Watch is actively involved."
Filling a need
Crime in America was on the rise in the tumultuous 1960s, and the nation saw a heyday of serial killers that decade, including the Zodiac Killer and the Boston Strangler. Cult leader Charles Manson ordered his group's members to carry out grisly murders. Before that time, people didn't lock their doors, and they didn't think twice about letting their kids roam free on a summer day. In response to rising crime, the National Sheriffs' Association started the National Neighborhood Watch program in 1972 as a means to involve residents in the safety of their own neighborhoods. Columbia was relatively quick to hop on the bandwagon in 1976. Forty-six years later, about 300 blocks in Columbia are part of Neighborhood Watch.
"In the 1970s, the Columbia Police Department noticed that crime was increasing," says Jeff Hempstead, Columbia Neighborhood Watch vice president. As a way to combat the rising crime rate, Columbia Neighborhood Watch Crime Blockers was formed. Jeff says the program was run by the Columbia Police Department's crime prevention unit with a civilian board of directors.
Adjusting to constant change
"When my wife and I moved to Columbia in 1999 from Illinois, our subdivision, Parkade, was involved in Neighborhood Watch, so I joined," Jeff says. An electrician, he retired from Columbia Public Schools in 2013 and joined the Neighborhood Watch board, where he continues to serve.
Jeff has seen a lot of changes to CNW over the years.
"In 2009, the city hired a new police chief. One of his first acts was to do away with the Police Department's crime prevention unit," Jeff adds. As a result, the civilian board of directors took over the operation of Columbia Neighborhood Watch Crime Busters and ran it as a nonprofit.
Jeff says the program struggled with low funding for about five years but kept the program going. It was also challenging to keep board members, he says, and at one point only four of the nine board positions were filled.
Funding for the nonprofit often has been an issue.
"In 2014, one of the board members approached City Councilman Mike Trapp about getting a grant from the city to fund the program," Jeff says, describing the initial "purchase of service contract" that provided the group $5,000 annually for five years. The contract "made a huge difference in the program," he adds, noting that prior to the grant, board members were putting in their own money to run the program.
With the new funding, the board updated its training video and PowerPoint presentation.
In 2014, the board changed the organization's name to Columbia Neighborhood Watch, and the group began participating in outreach events. In 2020 the city manager terminated the grant contract as a result of the city losing revenue during the pandemic.
As a result, Columbia Neighborhood Watch funding is back to the pre-grant level, Jeff says.
"This time we are a little better off as we have a reserve fund that will take us through our expenses for another year while we look for additional funding," he says. As part of its fundraising objective, the board has applied and qualified for the Better Business Bureau accreditation and obtained the gold level of transparency with Gold Star.
Now certified by BBB as a charity, the organization won the BBB Torch Award for ethics in December.
---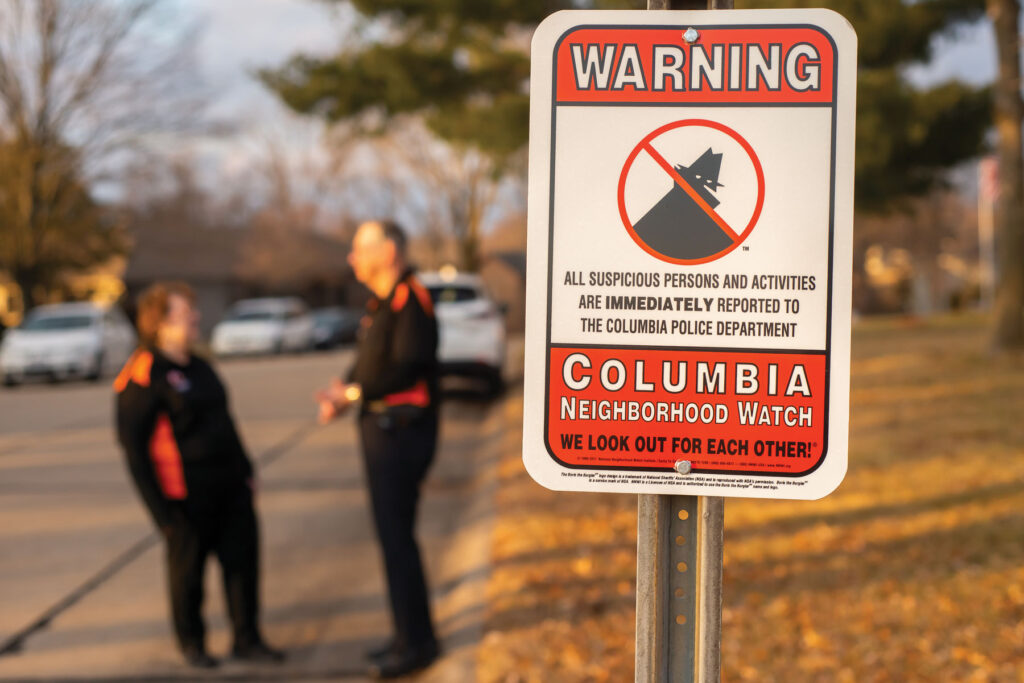 Fun fact:

The familiar black-cloaked silhouette on the Neighborhood Watch sign is named "Boris
the Burglar."
Getting trained
Participating in Neighborhood Watch requires a two-hour training, which generally is offered monthly. The first hour is run by CNW and involves the updated video and PowerPoint to inform participants about the mission, goals, and responsibilities of Neighborhood Watch. The second hour is conducted by Brad. He has been the CNW liaison since August 2022, and he's been on the force for 21 years. He's often spotted on patrol downtown, where he is the downtown business district officer.
"I provide the communication and cooperation between the CPD command staff and the CNW board of directors," Brad explains. He also helps facilitate CNW training and special events and attends the monthly board meetings.
He says the law enforcement training portion teaches residents about crime prevention techniques, how to report suspicious activity — as opposed to crimes in progress — and how to use the CPD website to report minor crimes or provide information and intelligence on criminal activity in their neighborhoods. The training differentiates between calling 311 for non-emergency matters and 911 for emergencies.
Citizens can call 311 to report suspicious activity in their neighborhood. This is an important part of Neighborhood Watch, as CNW members are instructed not to intervene to stop crime.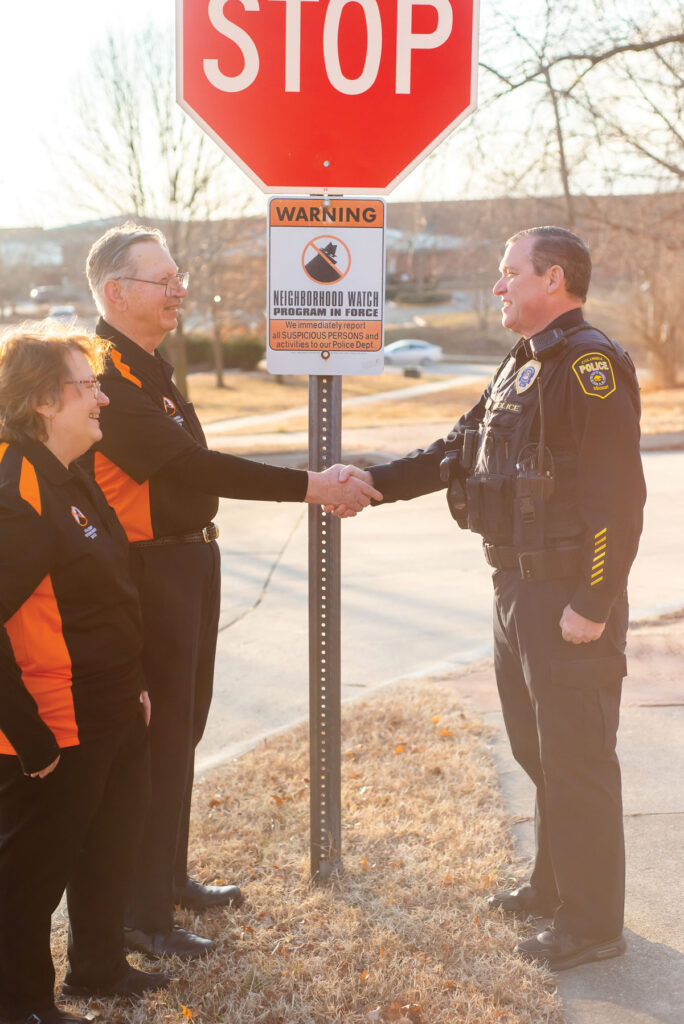 "We are not a police force of any kind. We don't do any patrolling," Jeff says. "We recommend observing and reporting. We recommend against interfering." If trained members see something suspicious, they should call 311 to report it to the police. The information is documented or logged if an officer cannot respond.
"If there are a lot of calls logged, CPD can increase its patrol of that area," he says.
Brad says the crime reporting and prevention training is important for Neighborhood Watch members. The training also gives members direction on how to register or log serial numbers on high-dollar property items, such as electronics.
"If these items happen to get stolen, it is much easier for officers to locate these items later," Brad explains The training gives residents the knowledge about how to observe and report suspicious activity in their neighborhood, which in turn can be used by the police investigations and patrol divisions.
Brad adds that the training also is helpful in dispelling a common misconception about CPD: whether Columbia residents should even contact police in certain circumstances. For example, some residents believe they may have to wait for an extended period of time for an officer to contact them in a non-emergency call.
"Unfortunately," he says, "sometimes this happens because of our staffing shortages. But we encourage residents to be patient because their information on suspicious activity may lead officers to an actual suspect and an arrest."
Once the training has been completed, CNW assigns a level of participation, as explained on the organization's website.
Based on national standards, CNW will recognize a block, and a person(s) as block captain, when they submit a roster to CNW showing the percentage of neighbors trained on their block. If the percentage of the occupied houses to have at least one occupant attend the training reaches 25 percent, the block is designated as "recognized" and a "block in progress," working toward the 50 percent national standard.
Once the 50 percent training level is achieved, the block becomes fully certified. CNW, after reviewing this information, installs a free neighborhood watch sign.
While there are some 300 blocks with active watches in Columbia, Jeff says membership is lacking in the downtown and northeast areas.
"The Columbia Police Department relies on the residents just as much as the residents rely on the Police Department," Brad says, calling residents "the eyes and ears of their neighborhood."
"As long as they communicate any criminal or suspicious activity in those neighborhoods directly to the police department," he adds, "we can assist them in keeping their neighborhoods safer."
---
Columbia Neighborhood Watch
[email protected]