COMO's K-9s keep paw and order
Photos by Chris Padgett
This story originally appeared in the March 2023 issue of COMO Magazine.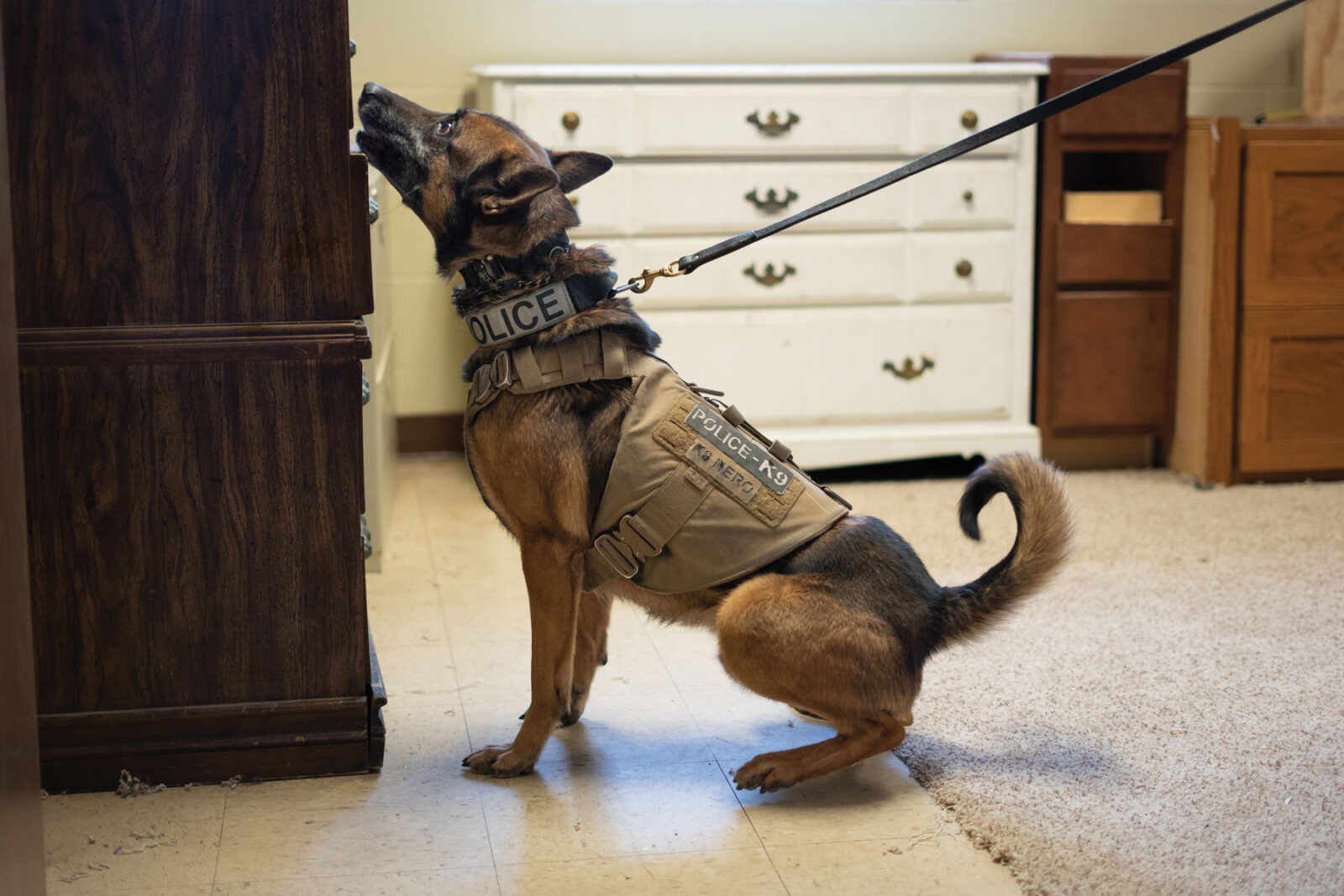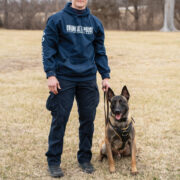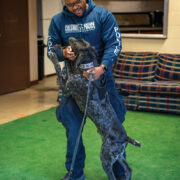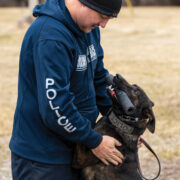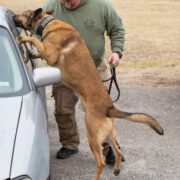 View Gallery
CPD's K9 unit helps take a bite out of crime.
Of all the tools Jameson Dowler has at his disposal as a sergeant with the Columbia Police Department, he seems most impressed with the leash in his hand.
Unlike pepper spray and a taser, which are one-purpose tools, a dog — a K-9 officer — is so much more.
"When I have that leash in my hand, I have a tool that can do so many things," Jameson says. "These dogs are the multi-tool. A police dog can search for narcotics, carry out article searches, track and apprehend dangerous suspects, and locate lost people in need of care.
"All of those things are possible with this one tool," Jameson explains. "A canine and their noses – it is the most amazing thing about them, and we can't master the way their noses work. They are just unbelievable."
The Squad
The courageous canines currently serving and protecting Columbia are part of a history that dates to 1995 when CPD reestablished its K-9 corps 20 years after the first K-9 unit had been disbanded. A shooting at Nowell's grocery store prompted the department to search for safer ways of tracking and apprehending dangerous suspects, leading to ending the K-9 unit's hiatus.
The K-9 unit in 1995 consisted of two handlers and two canines. Officer Michael Hayes was the handler for Cosmo III and Officer Kevin Moroney was the handler for Nero, who served with the department until 2001. In 2014, the unit went through an expansion and grew to four dogs and stayed in the range of three to four canines until the recent addition of an explosives dog.
Currently serving the community on the CPD's K-9 unit are Jameson and K-9 Gorrit, an 8-year-old Dutch shepherd; Officer Eric Wiegman and K-9 Nero, a 6-year-old Belgian Malinois; Officer Nate Turner and K-9 Marek, a 2-year-old Dutch shepherd; Officer Tyler Miles and K-9 Koba, a 2-year-old Belgian Malinois; and Officer Jordan Paynes and K-9 Duke, a 1-and-a-half-year-old German short haired pointer.
A Lifetime Commitment
Officers are selected for the K-9 program through an extensive interview process. Interested candidates are invited to join the K-9 handlers and their canine counterparts at their training facility to get a first-hand experience of the intense work and training that goes into being a part of the CPD K-9 unit. Applicants will have home visits and conferences with their family members to make sure the family is completely on board with the unique requirements of owning a police canine.
The thorough vetting process ensures that by the time the leash is placed in the handler's hand, the whole family is ready, and the officer is committed to the process. If a handler is picked for the K-9 unit, then a canine will be chosen specifically for that handler.
"It's always our hope that the life of that dog will be with that one handler," Jameson says, explaining why there's such an extensive interview process. "There are some dogs that are very social where other handlers could take them and work with them, but for the most part, all of our dogs are a one-handler dog and can be a lifetime commitment."
All Around the World
The canines themselves are vetted just as thoroughly. All the CPD canines are selected from Shallow Creek Kennels in Sharpsville, Pennsylvania. Owned by John Brannon, its website states the Shallow Creek Kennels strive to produce "superior working dogs with balanced drives, great nerves, and excellent temperaments from proven working lines," and that the kennel is dedicated to providing law enforcement agencies with the highest quality police service dogs imported from Europe.
Columbia's K-9's came from Holland, the Czech Republic, and Poland via Shallow Creek Kennels. After arriving in the United States, the dogs receive extensive training at Shallow Creek and are typically at least a year and a half old before they are offered to law enforcement agencies. Jameson says there are multiple factors the CPD considers when choosing dogs for the local K-9 unit.
"We watch for how they hunt for their toys, that they possess the drives we are looking for, we want to make sure they're social, see how they do in different environments," he says. "We go through an extensive in-person testing process with them at Shallow Creek before we choose dogs that are going to be the best fit for our program and the handler."
It's All About the Training
After a dog is chosen, it is brought to Columbia to undergo two to four weeks of pre-training before being turned over to its handler, followed by an eight to 10-week handler's course. The handler and K-9 are assigned patrol duties after completing the course. There are multiple training facilities across Boone County and some joint training takes place with the Boone County Sheriff's Department at a former treatment and rehab house that has been turned into a dedicated K-9 training facility.
"We feel very fortunate to have access to that property for our use," Jameson says. "Before that, we did a lot of training at the Boone County Fairgrounds." Some of the weekly training and exercises can range from simple environmental practices like climbing stairs, getting on tables, traversing different types of surfaces, and basic obedience to having the canines hunt through rooms for toys, as well as narcotics searches and scent tracking.
Let's Go to Work!
The CPD usually sticks to working breeds such as German shepherds, Belgian Malinois, and Dutch shepherds, but recently acquired a German short-haired pointer that will be an explosives dog. However, when it comes to patrol work, Jameson says, the department tends to use the working breeds due to the dogs' breed-specific traits.
A canine's "drive" is the trait that makes a K-9 most successful, he adds.
"The drive that they have to want to work is really what we look for," Jameson says. "We want these dogs to want to come to work, just like our officers want to. These dogs are bred to work, trained to work, that's what he wants to do — go to work."
The main duty of the canine officer within the CPD is patrol support. Canines and their handlers are there to support the patrol officers as much as they can. The canines can carry out narcotic detections, track suspects that flee from a scene, carry out article searches for evidence or weapons that have been dumped, or help locate missing individuals that might be in danger. They also take part in K-9 demonstrations on special occasions at outreach or school events so people can see the dogs work and connect with community members.
Everyone Deserves a Break
At the end of the workday, canines are taken home with their handlers. They live with their handlers, in designated spaces, any time they are off duty. Jameson says the canines are given the exercise they require on their days off, but just like their human handlers, it is important for the dogs to have downtime.
"During their days off it's a good time for the dogs to relax and let go of the stresses that they've encountered during their work week," he says. Most of the canines with the unit work for eight to 10 years before retiring, when they live out their golden years as a house pet, typically with their handler. Jameson makes it clear his current patrol partner will spend his retirement with his family, lounging around a whole lot more with all the chew toys he wants.
Jameson adds, "He's going to be able to get fat and sassy in his retirement."