Familiar Faces Find the Edge
This story originally appeared in the March 2023 issue of COMO Magazine.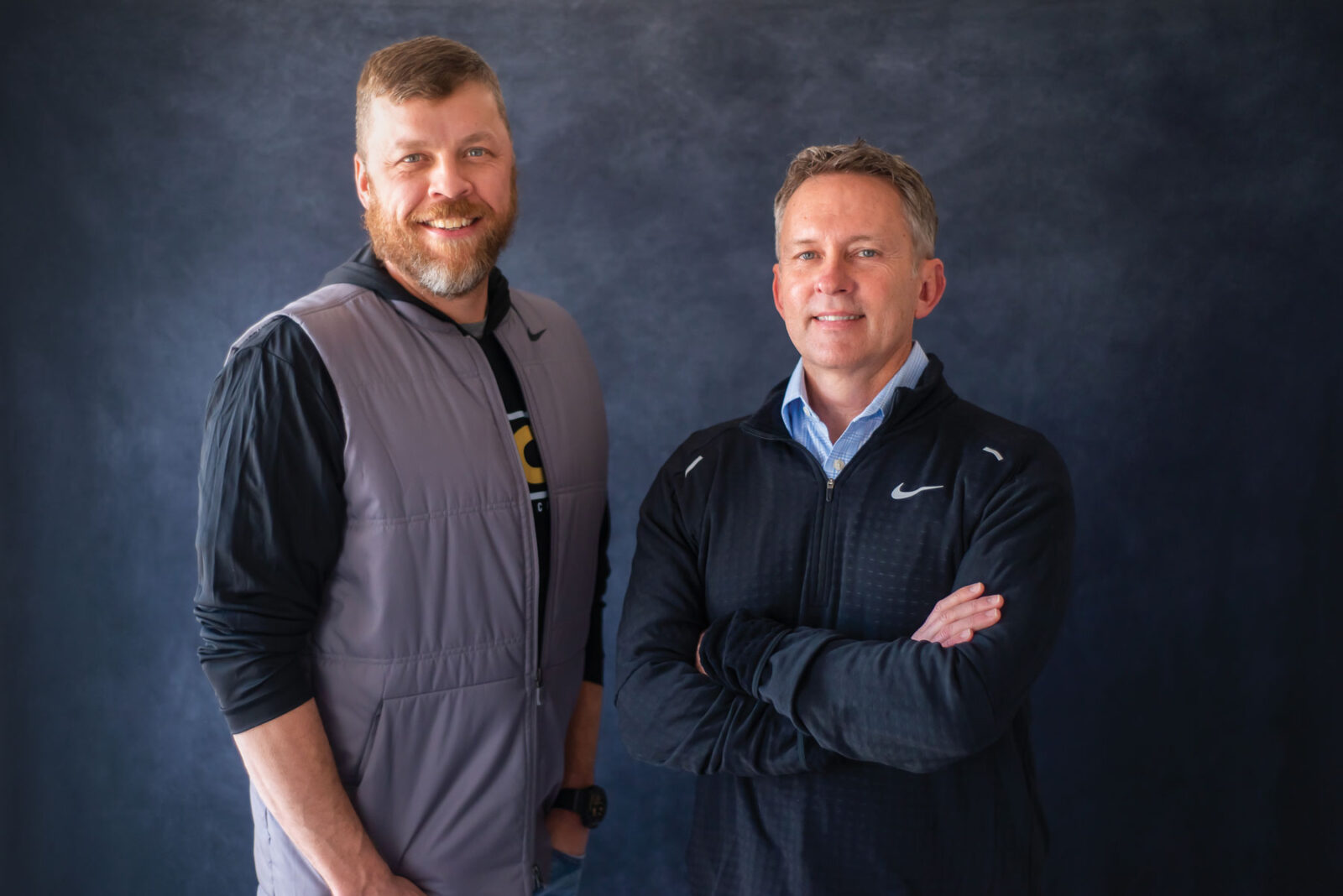 Portrait by Lana Eklund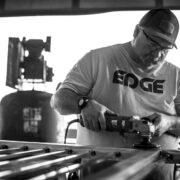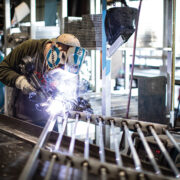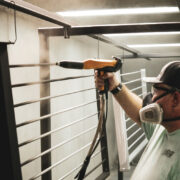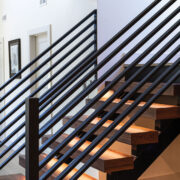 View Gallery
Construction competitors become friends and business partners.
As the owners of Edge Rail & Screen, headquartered in Eldon, Nick Allen and Barry Roewe are working together to grow the business they started in 2019. But, when they first met, they were direct competitors. 
Nick, who started Manor Roofing in 2006, and Barry, who started TrueSon Exteriors & Interiors in 2010, first started chatting across the aisle at a home show at Lake of the Ozarks. The show, they say, was poorly attended, leaving both of them time to stray from their booths and catch a Mizzou basketball game on television at another booth.
"We just stayed in touch. We would run into each other and we would get together for lunch every once in a while," Nick says. "When he left his company to start TrueSon, we talked pretty regularly about things he was facing that I had already faced when I started Manor."
Though Manor was mainly focused on roofs and siding and TrueSon was mainly focused on windows and siding, both Barry and Nick say they were direct competitors in many ways, and the close relationship they formed was unique.
"It was crazy how the timeline of my startup was so similar to his," Barry says. "What I was facing in year two, he had faced in year two, and what I was facing in year three, he had faced in year three. It was like I followed in his wake a little bit."
As their friendship grew, their families bought a condo at the Lake of the Ozarks, setting the stage for many business conversations late into the night. As the outdoor living segment was experiencing massive growth, they shared conversations about a company they both used as a supplier for railings, powder-coated aluminum, and screened rooms. The company had recently changed ownership.
"We didn't know it was for sale, but once it sold, we had more conversations about how it was a missed opportunity," Nick says. "We would have considered going in together and purchasing it."
The right time
A couple years later, Barry and Nick shared another late-night conversation at the lake. There were rumblings that some of the core employees of that company, now under another new ownership, were unhappy, and Nick and Barry decided to seriously pursue the idea of starting their own company.
"In late 2018, we closed on a facility in Eldon," Nick says. "We hired a few of those former employees, along with a chief operating officer, Tyler Gesch, who we both knew, and that formed the core group that got the company started in early 2019."
Today, Edge works with general contractors and remodelers who are installing decks, covered patios, railing, and screen rooms. Though the primary business is centered on custom building, welding, and installing rail and awnings, Barry says they've had the opportunity to fulfill a variety of needs for the community.
"We've done wine racks and an ax throwing cage on a trailer," he says. "We've had people bring us a race car chassis to powder coat. You just never know what you're going to get, and it is a really fun business to be around."
Explosive growth
Now in year four of the business, Nick and Barry look back at their accomplishments — the recent completion of an additional facility that doubled their original building footprint, growing from five original employees to close to 20, and growing more than 40 percent year over year — and feel excited about the future.
"We started off targeting much of Central Missouri, including Columbia, Jefferson City, Lake of the Ozarks, and Eldon, and now we feel like we have the structure from our employee and process standpoint to go into the St. Louis, Kansas City, and Springfield markets," Nick says. "That is a big area of target growth for us over the next five years."
As Edge grows, Nick and Barry say it is vital that they support the people who have supported their growth.
"A lot of our employees from Eldon are now seeing the path of growth, where they can turn their job into a career," Barry says. "Before they were clocking in and clocking out, and giving people a career path is important, especially down here where the mindset is different."
They also know they made the right choice in bringing Tyler into the business. Though he had no previous background in railing or welding, he knew how to treat people, and that was enough for Barry and Nick.
"If you know how to treat people and make good decisions in the interest of your customers and employees, it's almost hard to fail," Nick says. "We knew our employees would gravitate towards him and he would do really well there, and we also knew he would do well with our customers."
A recipe for success
For contractors and remodelers, the service that Edge provides is zero touch. Once a deck or covered patio or porch is framed and the floor is installed, the experts at Edge step in to finish the job.
"Our people come out to template the project so we can custom cut and weld everything to the exact dimensions of the project," Nick says. "Once it is powder-coated, our employees do the installation. What we provide is unique because a big part of the market is to buy a bolt-together system, which looks similar, but isn't as sturdy because it isn't fully welded. Our cost of our installed product is similar to the cost of the materials for a bolt-together system."
Coupled with responsive customer service, quick turnaround times, and a high-quality product that eliminates much of the need for callbacks and repairs, Barry and Nick say that they've found the key to their continued success.
"We both have been through the experience of starting up a company from zero, and we've brought those valuable experiences we've learned along the way to Edge," Nick says. "It's provided a clear roadmap of where we are going next."
Edge Rail & Screen
79 Gensert Rd.
Eldon, MO 65206
573-392-7245
edgerailandscreen.com